INS Kirpan – Background, Specifications, Vietnam
India recently gifted the indigenously-built missile corvette INS Kirpan to Vietnam, marking a significant milestone in the growing defense ties and strategic partnership between the two countries. This is the first time India has gifted a fully operational warship to a friendly foreign country.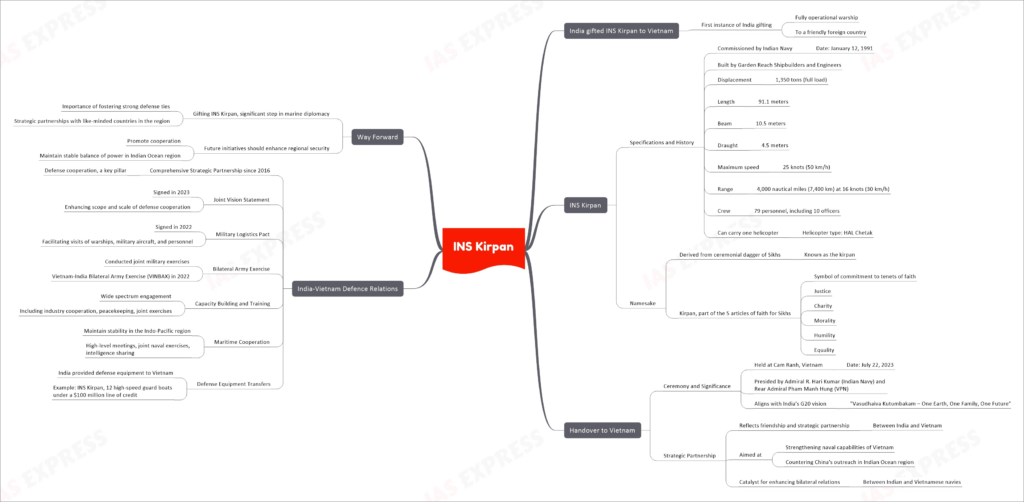 Background
INS Kirpan: Specifications and History
INS Kirpan (P44) is a Khukri-class corvette commissioned by the Indian Navy on January 12, 1991.
Built by Garden Reach Shipbuilders and Engineers.
Displacement: 1,350 tons (full load).
Length: 91.1 meters.
Beam: 10.5 meters.
Draught: 4.5 meters.
Maximum speed: 25 knots (50 km/h).
Range: 4,000 nautical miles (7,400 km) at 16 knots (30 km/h).
Crew: 79 personnel, including 10 officers.
Capable of carrying one helicopter (HAL Chetak).
INS Kirpan: Namesake
The name "INS Kirpan" is derived from the ceremonial dagger worn by Sikhs, known as the kirpan. The kirpan is one of the five articles of faith, often called the 5Ks, worn by initiated Sikhs as a reminder of their commitment to the tenets of their faith, including justice, charity, morality, humility, and equality.
Handover to Vietnam
Ceremony and Significance
The decommissioning and handing over ceremony of INS Kirpan to the Vietnam People's Navy (VPN) took place at Cam Ranh, Vietnam, on July 22, 2023. The ceremony was presided over by Admiral R. Hari Kumar, Chief of Naval Staff, Indian Navy, and Rear Admiral Pham Manh Hung, Deputy Commander-in-Chief and Chief of Staff, VPN. The transfer of INS Kirpan to the VPN resonates with India's G20 vision of "Vasudhaiva Kutumbakam – One Earth, One Family, One Future". copyright©iasexpress.net
Strategic Partnership
The transfer of INS Kirpan to Vietnam is a reflection of the deep-rooted friendship and strategic partnership between India and Vietnam. This move is aimed at strengthening the naval capabilities of Vietnam and countering China's outreach in the Indian Ocean region. The transfer serves as a catalyst for enhancing bilateral relations between the two navies.
India-Vietnam Defence Relations
Comprehensive Strategic Partnership: India and Vietnam share a Comprehensive Strategic Partnership since 2016, with defense cooperation being a key pillar of this partnership.
Joint Vision Statement: In 2023, India and Vietnam signed a Joint Vision Statement on the India-Vietnam Defence Partnership towards 2030, aimed at enhancing the scope and scale of existing defense cooperation.
Military Logistics Pact: The two countries signed a landmark military logistics pact in 2022, enabling their militaries to use each other's bases for repair and replenishment of supplies, and facilitating visits of warships, military aircraft, and personnel to each other's shores.
Bilateral Army Exercise: The two countries have conducted joint military exercises, such as the Vietnam-India Bilateral Army Exercise (VINBAX) in 2022, aimed at strengthening mutual confidence and inter-operability between the Indian Army and Vietnam People's Army.
Capacity Building and Training: India-Vietnam defense engagement spans a wide spectrum, including capacity building, industry cooperation, peacekeeping, and joint exercises. copyright©iasexpress.net
Maritime Cooperation: The two countries have been working together to maintain stability in the Indo-Pacific region and have strengthened defense ties through high-level meetings, joint naval exercises, and sharing of intelligence.
Defense Equipment Transfers: India has provided defense equipment to Vietnam, such as the transfer of the INS Kirpan missile corvette and 12 high-speed guard boats under a $100 million line of credit.
Way Forward
The gifting of INS Kirpan to Vietnam is a significant step in India's marine diplomacy. It highlights the importance of fostering strong defense ties and strategic partnerships with like-minded countries in the region. Moving forward, India should continue to engage in such initiatives to enhance regional security, promote cooperation, and maintain a stable balance of power in the Indian Ocean region.
Learn More