India's Refugee Policy – Need, Challenges and Way Forward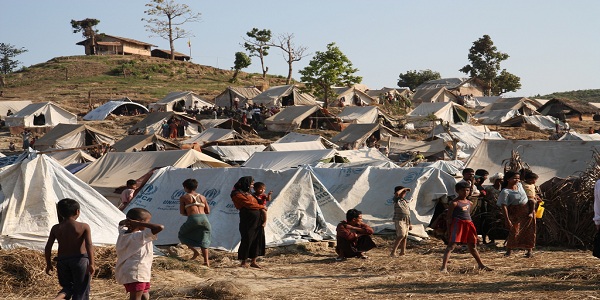 Given the recent crisis in Myanmar and its numerous residents fleeing to India, it has been a difficult situation for India to act promptly and not think about its long term implications. Although India has made promising decisions yet the crisis has highlighted India's policy regarding refugees. The issue has not been new to Indian policymakers. It has been noticed time and again, whether it is the arrival of Bangladeshi nationals or the Rohingyas. India has always been the first choice for those who are fleeing its neighbouring countries in search of peace and livelihood but given its commitment towards its large population, it has always been a difficult task to take bold actions. Therefore, India's very principles which make it great have been put into question now and it will be important to notice how India deals with this situation.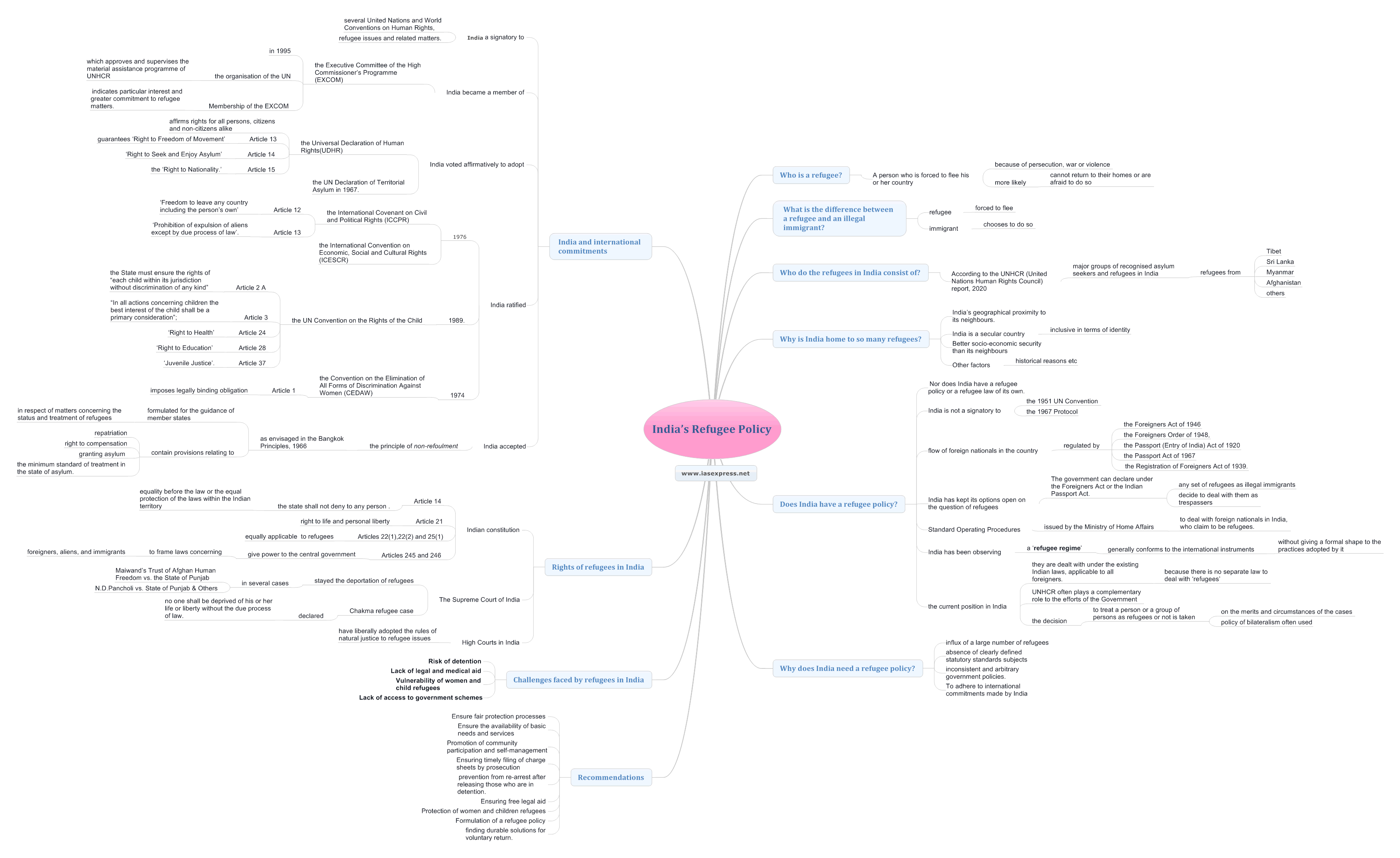 Mindmap Learning Programme (MLP)
Absorb information like a sponge!
Who is a refugee?
A person who is forced to flee his or her country because of persecution, war or violence is called a refugee. Generally, a refugee has fear of persecution based on his or her race, religion, nationality, political opinion or membership in a particular social group. It is more likely that they cannot return to their homes or are afraid to do so.
What is the difference between a refugee and an illegal immigrant?
A refugee is forced to flee his or her country and cross international borders whereas an immigrant generally chooses to do so for various reasons.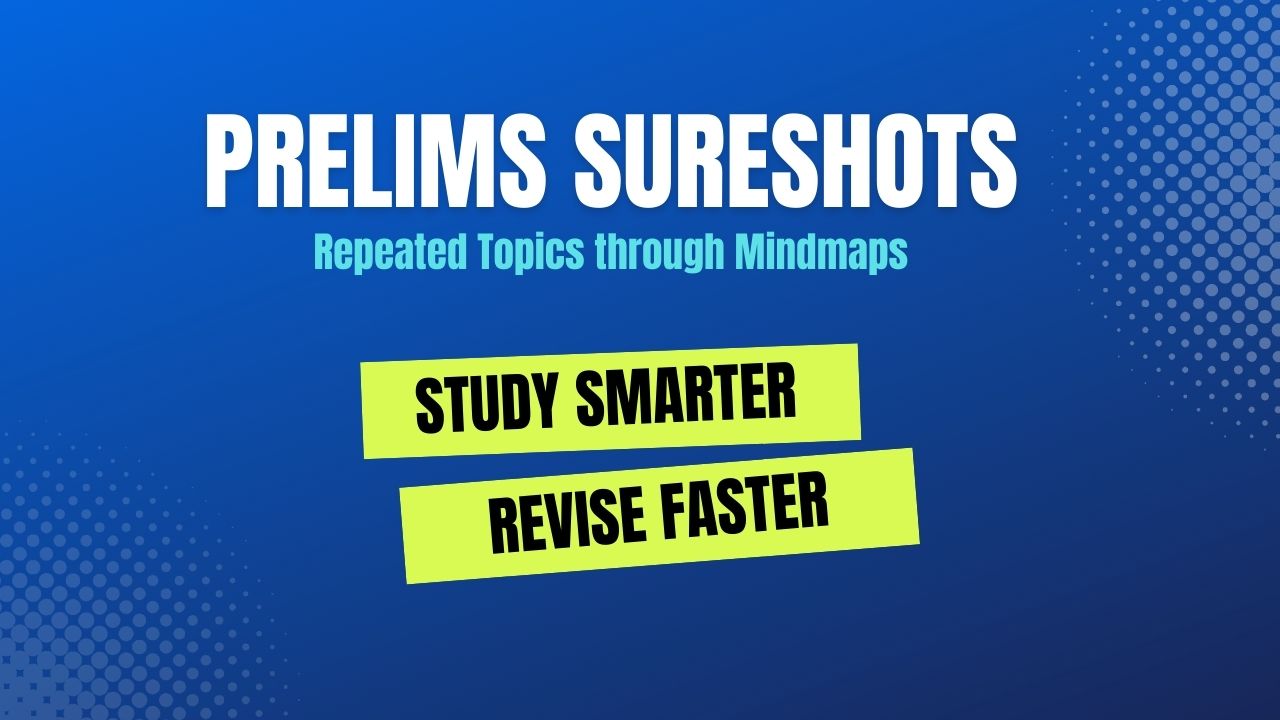 Who do the refugees in India consist of?
The country experienced profound levels of forced migration during the 20th century, as people fled violence up to, during, and after partition with its South Asian neighbours, and it continues to be a haven for many migrants. According to the UNHCR (United Nations Human Rights Council) report, 2020, the major groups of recognised asylum seekers and refugees in India include refugees from Tibet, Sri Lanka, Myanmar, Afghanistan and others. As per the report, a total of 244,094 people have this status. In addition to these recognized refugees, India is home to millions of economic migrants living in the country in irregular status. Official estimates for this population vary, although some suggest there are well more than 10 million irregular migrants—mostly from Bangladesh—who tend to cross the border without necessary documentation and cannot transition into legal residency.
Why is India home to so many refugees?
India's geographical proximity to its neighbours.
India is a secular country and thus it is inclusive in terms of identity.
Better socio-economic security is available in India than in its neighbours.
Other factors include historical reasons etc.
Does India have a refugee policy?
India has welcomed refugees in the past, and to date, nearly 300,000 people here are categorised as refugees. But India is not a signatory to the 1951 UN Convention or the 1967 Protocol. Nor does India have a refugee policy or a refugee law of its own.
The flow of foreign nationals in the country is meant to be regulated by the Foreigners Act of 1946, the Foreigners Order of 1948, the Passport (Entry of India) Act of 1920, the Passport Act of 1967, and the Registration of Foreigners Act of 1939.
India has kept its options open on the question of refugees. The government can declare any set of refugees as illegal immigrants — as has happened with Rohingya despite the UNHCR verification — and decide to deal with them as trespassers under the Foreigners Act or the Indian Passport Act.
In addition, there are Standard Operating Procedures issued by the Ministry of Home Affairs to deal with foreign nationals in India, who claim to be refugees.
It has been observing a 'refugee regime' which generally conforms to the international instruments on the subject without, however, giving a formal shape to the practices adopted by it in the form of a separate statute.
Refugees are no doubt 'foreigners'. Even though there may be a case to distinguish them from the rest of the 'foreigners', the current position in India is that they are dealt with under the existing Indian laws, both general and special, which are otherwise applicable to all foreigners. This is because there is no separate law to deal with 'refugees'. For the same reason, cases for refugee 'status' are considered on a case-by-case basis.
UNHCR often plays a complementary role to the efforts of the Government, particularly regarding verification about the individual's background and the general circumstances prevailing in the country of origin. That agency also plays an important role in the resettlement of refugees etc.
In the case of India, the decision as to whether to treat a person or a group of persons as refugees or not is taken on the merits and circumstances of the cases coming before it. The Government of India (GOI) may be often seen as following a policy of bilateralism in dealing with persons seeking to be refugees.
In the absence of such a specific law, all existing Indian laws like The Criminal Procedure Code, The Indian Penal Code, The Evidence Act apply to the refugees as well.
The closest India has come to a refugee policy in recent years is the Citizenship Amendment Act, 2019, which discriminates between refugees based on religion in offering them Indian citizenship.
Why does India need a refugee policy?
The influx of a large number of refugees is one of the prominent reasons.
The absence of clearly defined statutory standards subjects for refugees and asylum seekers to inconsistent and arbitrary government policies.
To adhere to international commitments made by India.
India and international commitments
India has no specific law or statute book to govern refugees and it is not a signatory to the 1951 Convention on refugees and also the 1967 Protocol yet it is a signatory to several United Nations and World Conventions on Human Rights, refugee issues and related matters. India's obligations regarding refugees arise out of the other international commitments it has made at various forums.
India became a member of the Executive Committee of the High Commissioner's Programme (EXCOM) in 1995. The EXCOM is the organisation of the UN, which approves and supervises the material assistance programme of UNHCR. Membership of the EXCOM indicates particular interest and greater commitment to refugee matters.
India voted affirmatively to adopt the Universal Declaration of Human Rights(UDHR) which affirms rights for all persons, citizens and non-citizens alike. Article 13 of the Universal Declaration of Human Rights guarantees 'Right to Freedom of Movement', Article 14 'Right to Seek and Enjoy Asylum' and Article 15 the 'Right to Nationality.'
India voted affirmatively to adopt the UN Declaration of Territorial Asylum in 1967.
India ratified the International Covenant on Civil and Political Rights (ICCPR) as well as the International Convention on Economic, Social and Cultural Rights (ICESCR) in 1976. Article 12 of the ICCPR deals with 'Freedom to leave any country including the person's own' and Article 13 'Prohibition of expulsion of aliens except by due process of law'.
India ratified the UN Convention on the Rights of the Child in 1989. Under Article 2 A of the UN Convention on the Rights of the Child, the State must ensure the rights of "each child within its jurisdiction without discrimination of any kind"; Article 3 lays down that "In all actions concerning children the best interest of the child shall be a primary consideration"; Article 24 relates to 'Right to Health'; Article 28 to 'Right to Education' and Article 37 to 'Juvenile Justice'.
India ratified the Convention on the Elimination of All Forms of Discrimination Against Women (CEDAW) in 1974 under which Article 1 imposes legally binding obligation.
India accepted the principle of non-refoulment as envisaged in the Bangkok Principles, 1966, which were formulated for the guidance of member states in respect of matters concerning the status and treatment of refugees. These Principles also contain provisions relating to repatriation, right to compensation, granting asylum and the minimum standard of treatment in the state of asylum.
Rights of refugees in India
Several articles in the Indian constitution apply to citizens as well as to the refugees in India.
Under Article 14 of the Constitution, the state shall not deny to any person equality ­before the law or the equal protection of the laws within the Indian territory.
Article 21 of the Indian Constitution dealing with the right to life and personal liberty also applies to refugees in India.
Articles 22(1),22(2) and 25(1) of the Indian Constitution reflect that the rules of natural justice in common law systems are equally applicable in India, even to refugees. The established principle of rule of law in India is that no person, whether a citizen or an alien shall be deprived of his life, liberty or property without the authority of law.
Articles 245 and 246 give power to the central government to frame laws concerning matters that broadly fall ­under subjects relating to foreigners, ­aliens, and immigrants.
The Supreme Court of India has in several cases stayed the deportation of refugees such as Maiwand's Trust of Afghan Human Freedom vs. the State of Punjab; and, N.D.Pancholi vs. State of Punjab & Others.
The Supreme Court judgement in the Chakma refugee case declared that no one shall be deprived of his or her life or liberty without the due process of law. Earlier judgements of the Supreme Court in Luis De Raedt vs. Union of India and also State of Arunachal Pradesh vs. Khudiram Chakma had also stressed the same point.
Various High Courts in India have liberally adopted the rules of natural justice to refugee issues along with recognition of the United Nations High Commissioner for Refugees (UNHCR) as playing an important role in the protection of refugees.
The High Court of Guwahati has in various judgements, recognised the refugee issue and permitted refugees to approach the UNHCR for determination of their refugee status while staying the deportation orders issued by the district court or the administration.
Similarly, in the cases of Gurunathan and others vs. Government of India and others and in the matter of A.C.Mohd.Siddique vs. Government of India and others, the High Court of Madras expressed its unwillingness to let any Sri Lankan refugees be forced to return to Sri Lanka against their will.
In the case of Syed Ata Mohammadi vs. Union of India, The Bombay High Court directed that "there is no question of deporting the Iranian refugee to Iran since he has been recognised as a refugee by the UNHCR."
Challenges faced by refugees in India
Risk of detention – A refugee may face detention as soon as he/she illegally crosses the international border into India. He/she may be suspected to be a spy or infiltrator in the light of inconsistent statements that may have been made by him/her to the authorities. This is bound to be further compounded if the refugee does not have the usual 'travel documents'. In such circumstances, it would be quite justified for the security agency to register a case under the provisions of the IPC/Foreigners' Act etc. and even arrest the refugee and forward him/her to the court having local jurisdiction.
Lack of legal and medical aid – The refugees who cross borders often lack legal and medical aid during detention. Some of them do not have the financial capability to afford legal aid to protect themselves from re-arrest.
Vulnerability of women and child refugees – Women and children appear to be at increased risk of gender-based violence, partly as a result of sharing living space with strangers, due to rising accommodation costs. The number of unaccompanied minors approaching UNHCR has risen sharply. Child labour among refugee and asylum-seeking children is not uncommon and is a serious protection concern.
Lack of access to government schemes – They have no legal right to work, however, they manage to find work in the informal job market. They also do not have access to many social security schemes which are available to the Indian citizens which leave them more vulnerable during disasters and economic shocks.
Recommendations
Ensure fair protection processes like improving or maintaining standards in registration and profiling. Status determination procedures should be made fairer and more efficient
Ensure the availability of basic needs and services. These include strengthening of services for persons with specific needs, providing optimal access to education for persons of concern and ensuring the health facilities.
Promotion of community participation and self-management by improving levels of self-reliance and livelihoods among persons of concern.
Ensuring timely filing of charge sheets by prosecution and prevention from re-arrest after releasing those who are in detention.
Ensuring free legal aid to those refugees who are in need.
Protection of women and children refugees from excesses and violence by security personnel and authorities.
Formulation of a refugee policy and finding durable solutions for voluntary return.
Way forward
India is becoming a major power centre in the world and thus all the eyes are on India how it deals with various issues it faces. The recent developments in India such as the Citizenship Amendment Act (CAA) and the National Register of Citizens(NRC) have raised the issue back to the forefront and thus formulating a suitable refugee policy according to international standards is the need of the hour.
Practise question
Discuss the various challenges that India faces in formulating a refugee policy and suggest the way forward.