[Editorial] Indian Semiconductor Industry- History, Initiatives & Opportunities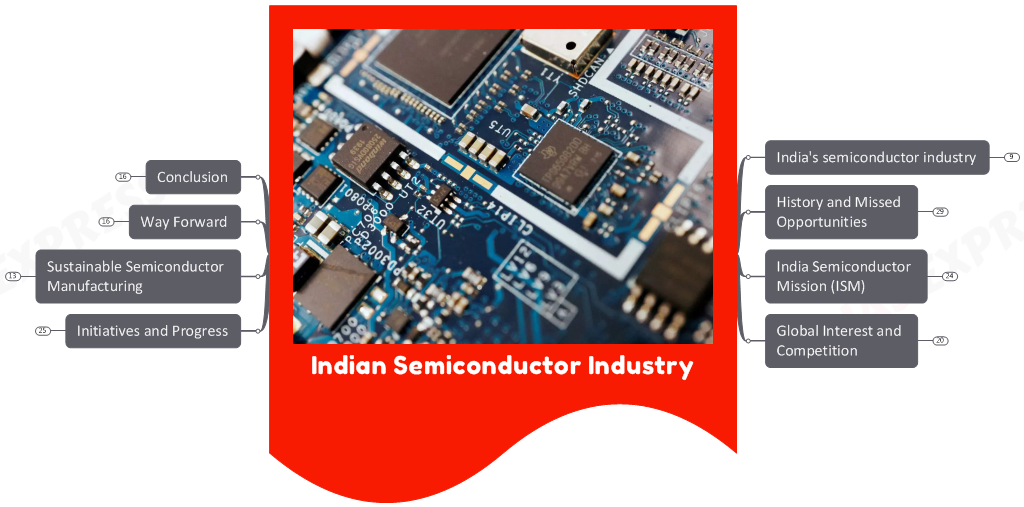 India's semiconductor industry, despite previous missed opportunities, is poised for a significant turnaround. The annual conference, Semicon India, spearheaded by the India Semiconductor Mission (ISM), highlights the government's vision for a thriving domestic semiconductor industry. This vision comes in light of evolving global technologies, supply chains, and geopolitical dynamics.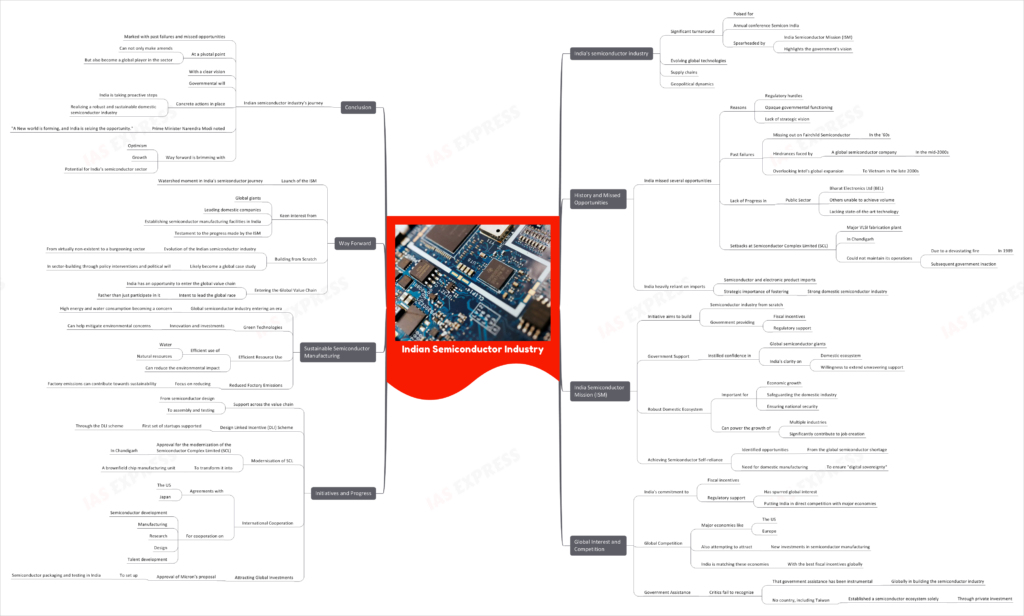 History and Missed Opportunities
In the past, India missed several opportunities to establish itself in the global semiconductor industry due to multiple reasons such as regulatory hurdles, opaque governmental functioning, and lack of strategic vision.
Past failures: Instances include missing out on the Fairchild Semiconductor fab in the '60s, hindrances faced by a global semiconductor company in the mid-2000s, and overlooking Intel's global expansion to Vietnam in the late 2000s.
Lack of Progress in Public Sector: Public sector undertakings like Bharat Electronics Ltd (BEL) and others were unable to achieve the volume necessary for competitiveness, or possess state-of-the-art technology.
Setbacks at Semiconductor Complex Limited (SCL): The major VLSI fabrication plant at the Semiconductor Complex Limited in Chandigarh, although established before Taiwan's foray into semiconductors, could not maintain its operations due to a devastating fire in 1989 and subsequent government inaction.
These failures have rendered India heavily reliant on semiconductor and electronic product imports, accentuating the strategic importance of fostering a strong domestic semiconductor industry. copyright©iasexpress.net
India Semiconductor Mission (ISM)
To rectify these past shortcomings, Prime Minister Narendra Modi's government launched the India Semiconductor Mission (ISM). This initiative aims to build the semiconductor industry from scratch, with the government providing an unprecedented commitment to fiscal incentives and regulatory support.
Government Support: Government commitment has instilled confidence in global semiconductor giants about India's capability, highlighting India's clarity on a domestic ecosystem and the willingness to extend unwavering support.
Robust Domestic Ecosystem: Policymakers have realized that a robust domestic semiconductor industry is crucial for economic growth, safeguarding the domestic industry from global disruptions, and ensuring national security. A semiconductor industry can power the growth of multiple industries and contribute significantly to job creation.
Achieving Semiconductor Self-reliance: The Government has identified opportunities arising from the global semiconductor shortage and realized the need for domestic manufacturing to ensure "digital sovereignty".
Global Interest and Competition
India's commitment to fiscal incentives and regulatory support has spurred global interest, putting India in direct competition with major economies.
Global Competition: Major economies like the US and Europe are also attempting to attract new investments in semiconductor manufacturing. India is matching these economies with one of the best fiscal incentives globally. copyright©iasexpress.net
Government Assistance: Critics of these incentives fail to recognize that government assistance has been instrumental globally in building the semiconductor industry. No country, including Taiwan, established a semiconductor ecosystem solely through private investment.
Initiatives and Progress
The government has provided support across the value chain, from semiconductor design to assembly and testing, indicating its long-term commitment to the industry.
Design Linked Incentive (DLI) Scheme: The first set of startups to be supported through the DLI scheme have been selected.
Modernisation of SCL: Approval for the modernization of the Semiconductor Complex Limited (SCL) in Chandigarh to transform it into a brownfield chip manufacturing unit.
International Cooperation: Agreements with the US and Japan for cooperation on semiconductor development, manufacturing, research, design, and talent development.
Attracting Global Investments: Approval of Micron's proposal to set up semiconductor packaging and testing in India.
Sustainable Semiconductor Manufacturing
The global semiconductor industry is entering an era where its high energy and water consumption is becoming a concern. This challenge provides India with an opportunity to focus on sustainable semiconductor manufacturing.
Green Technologies: Innovation and investments in green technologies can help mitigate environmental concerns.
Efficient Resource Use: Efficient use of water and natural resources can reduce the environmental impact. copyright©iasexpress.net
Reduced Factory Emissions: Focus on reducing factory emissions can contribute towards sustainability.
Way Forward
The launch of the ISM was a watershed moment in India's semiconductor journey. The keen interest from global giants and leading domestic companies in establishing semiconductor manufacturing facilities in India is a testament to the progress made by the ISM.
Building from Scratch: The evolution of the Indian semiconductor industry from virtually non-existent to a burgeoning sector will likely become a global case study in sector-building through policy interventions and political will.
Entering the Global Value Chain: India has an opportunity to enter the global value chain with the intent to lead the global race rather than just participate in it.
Conclusion
While the Indian semiconductor industry's journey is marked with past failures and missed opportunities, the country stands at a pivotal point where it can not only make amends but also become a global player in the sector. With a clear vision, governmental will, and concrete actions in place, India is taking proactive steps towards realizing a robust and sustainable domestic semiconductor industry. As Prime Minister noted, "a New world is forming, and India is seizing the opportunity." The way forward is brimming with optimism, growth, and potential for India's semiconductor sector. copyright©iasexpress.net
Practice Question for Mains
What are India's opportunities with respect to the semiconductor industry? What is the way forward? (250 words)
Learn More