Horticulture Sector in India – Current Status, Challenges, Initiatives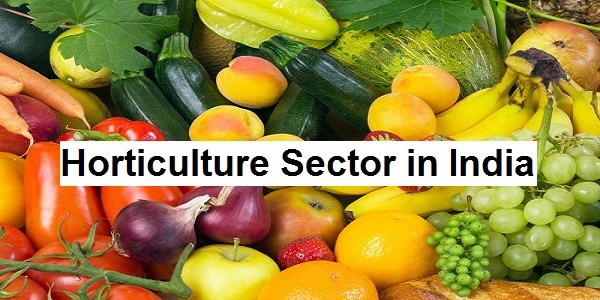 Horticulture is the branch of agriculture. It is art, science. technology and business of plant cultivation. It includes the cultivation of fruits. vegetables, nuts, seeds, herbs, sprouts, mushrooms, flowers, seaweeds and non-food crops for instance grass and ornamental trees and plants and plant conservation, maintenance, and arboriculture.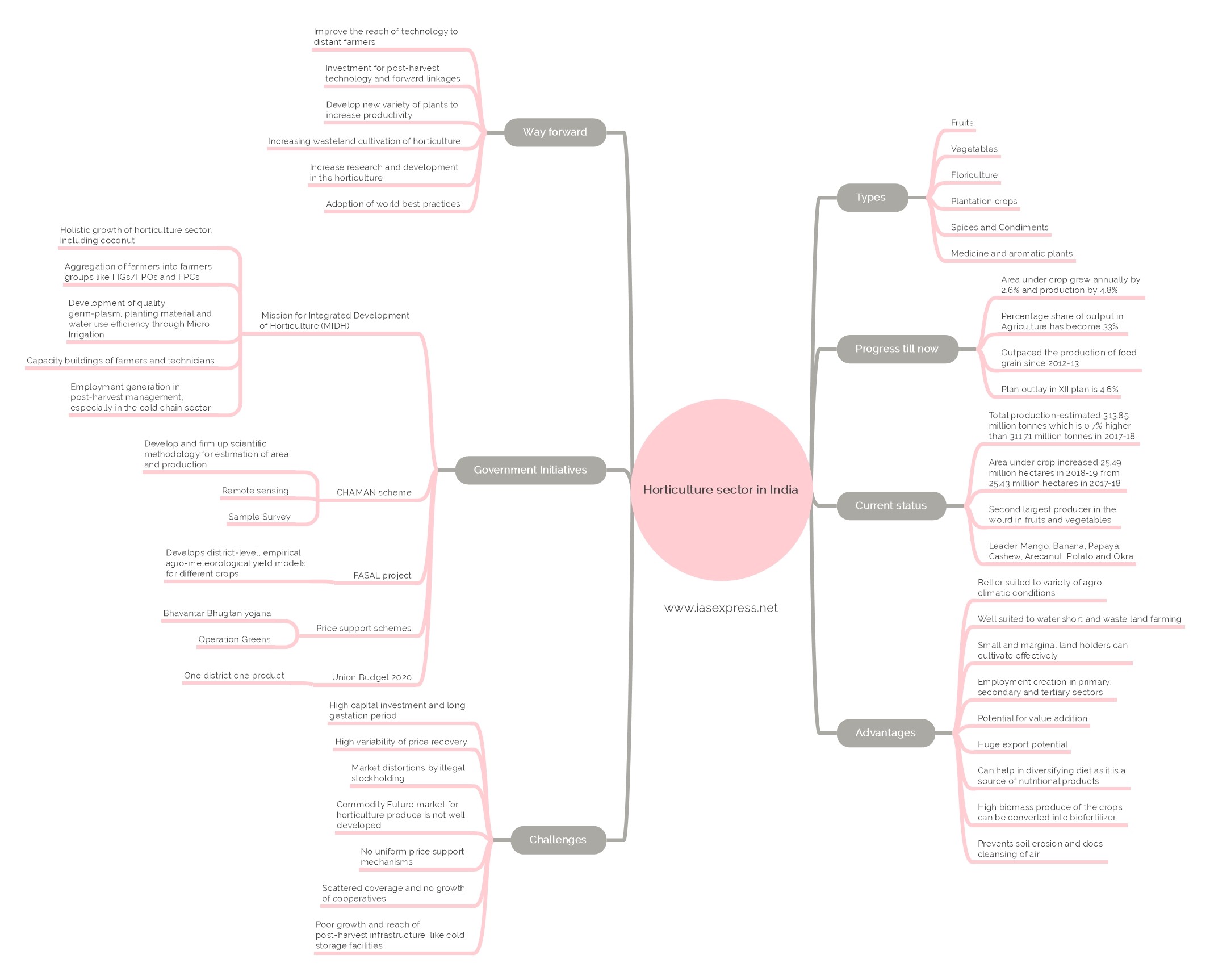 Mindmap Learning Programme (MLP)
Absorb information like a sponge!
What are the crops under Horticulture?
Fruits: Fruits are generally eaten as raw. It is good for our health. The study or cultivation of fruit crops is called pomology. Mango. guava, sweet orange and pineapple are some of the fruits.
Vegetables: Vegetables are herbaceous plants. Generally, it can be used in cooking. After cooking, it is a principal part of the meal. The cultivation of vegetables is called Olericulture. Brinjal, Okra, Tomato and Pumpkin are the vegetables.
Floriculture: Floriculture means the study of flower crops. Flowers are used for devotional purposes. Marigold, jasmine and lily are some of the flower crops. L
Plantation crops: These crops can be cultivated in large nearest areas and the production of these crops can be utilized only after processing. Coffee, Tea, Rubber, Coconut and Cocoa are the plantation crops.
Spices and condiments: Spices are used as food adjuncts to add aroma and flavour. Pepper, Cardamom, Clove, and Cinnamon are some of the spices. Condiments are made use of as food adjuncts to add taste only. Turmeric, Ginger, Red chilies, Onion, and Garlic are the condiments.
Medicinal and Aromatic plants: Medicinal plants are potential sources of drugs and Aromatic plants arc possesses necessary oils in them. Sarpagandha, Ashwagandha, Tulasi, Lemon grass, are some of the medicinal plants.
What has the status of Horticulture in Indian Agri planning been?
The Government of India in the mid-eighties acknowledged the need for diversification in agriculture by focussing its attention on investment in this sector. The result is that the horticulture sector is one of the booming sectors of agriculture.
Over the last decade, the area under horticulture grew by 2.6% per annum and annual production increased by 4.8%
we are the second-largest producer of Vegetables and Fruits and the leader in several horticultural crops, namely Mango, Banana, Papaya, Cashew, Arecanut, Potato and Okra.
The share of horticulture output in Agricultural output has reached 33%.
There is a shift of status from food grain towards horticulture crops. The production of Horticulture crops overtook the production of food grain since 2012-13.
Source– Horticulture statistics at glance, 2018- Ministry of Agriculture, and Farmers Welfare
The share of plan outlay for Horticulture has increased to 4.6% during the XII Plan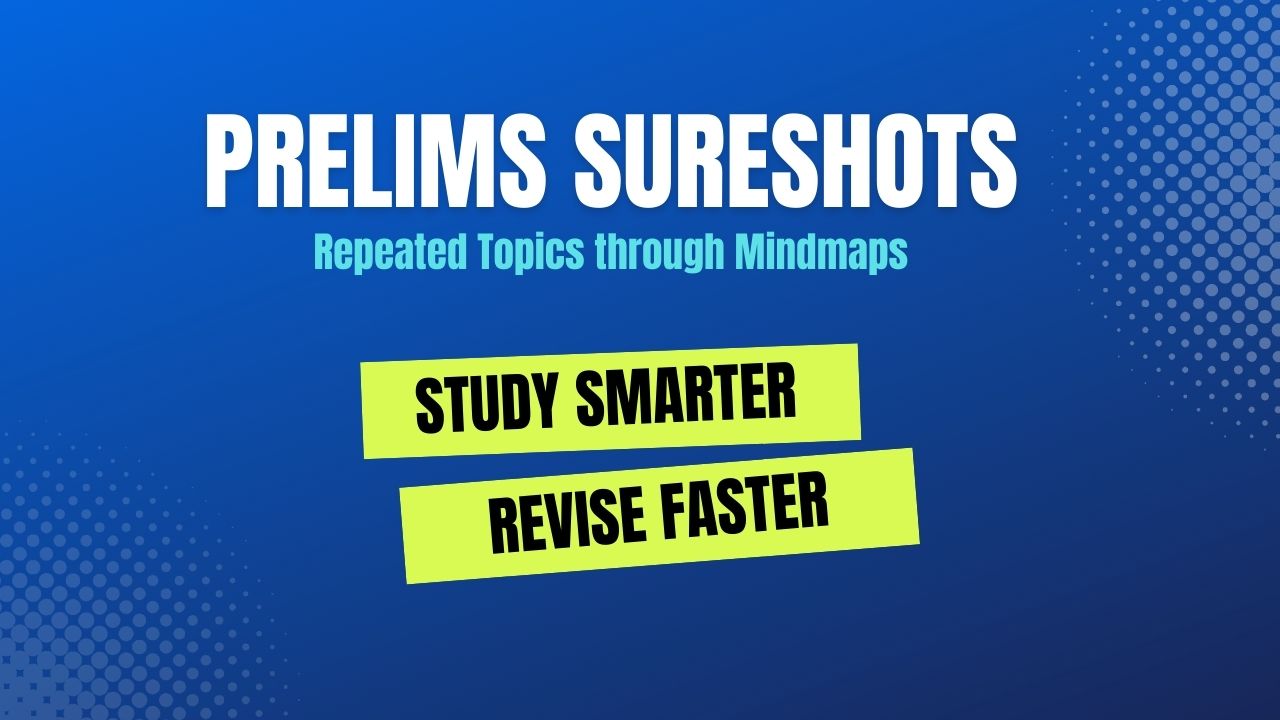 Current status of Horticulture in India
According to the Third Advanced Estimate (2018-19) of Area and Production of various Horticulture Crops released by Department of Agriculture, Cooperation and Farmers Welfare-
the total horticulture production-estimated 313.85 million tonnes which are 0.7% higher than the horticulture production of 311.71 million tonnes in 2017-18.
The area under horticulture crops- increased to 25.49 million hectares in 2018-19 from 25.43 million hectares in 2017-18.
Source– Horticulture statistics at glance, 2018- Ministry of Agriculture, and Farmers Welfare
What are the Advantages of horticulture?
agro-climatic conditions-
Because of the variety of agro-climatic conditions of India, variety crops, including, root and tuber crops, mushroom, coconut, areca nut are grown.
Distribution of farmlands-
horticulture is more suited to millions of India's small and marginal farmers with low irrigation facilities.
Intercropping and multiple cropping are possible making it economically more viable.
Potential for development wastelands through planned strategies.
IT can create employment opportunities for all the sectors in the economy i.e. Primary, secondary and tertiary sectors.
Driver of economic growth
It consists of one-third of agricultural GDP with immense export potential.
Potential for value addition of the horticultural crops.
Can contribute to the aim of doubling the farmers' income.
It is a source of nutritious food and can be a part of a diversified diet for a country like ours with problems of hunger and malnutrition. According to the ICMR (Indian Council of Medical Research) recommendation on dietary, 120 gm fruits and 250 gm vegetables are necessary per person per day.
Horticultural crops produce higher biomass than field crops per unit areas resulting in inefficient utilization of natural resources.
It is helpful in cleansing air and preventing soil erosion.
What are the challenges faced by the Horticulture?
As it requires a decent capital investment and long gestation period, only well-off farmers can afford premium horticultural products like Grapes, Mango, Cashewnut, etc
Very high variability of price recovery makes it less attractive for mainly small and marginal farmers with subsistence-based agriculture.
Market distortions by illegal stockholding make the price recovery even difficult.
Exempting vegetables and fruits from the agricultural produce marketing committee (APMC) laws in some states has not been fruitful.
No well-developed Commodity Future market for horticulture produce in India.
No uniform price support mechanisms.
Very scattered coverage and no growth of cooperatives in the horticulture sector.
Lack of support from the government in case of finance, crop insurance, etc
Poor growth and reach of post-harvest infrastructures like cold storage and forward linkages.
What the government is doing?
Nodal agency-The Department of Agriculture, Co-operation & Farmers Welfare (DAC&FW) of the
Ministry of Agriculture & Farmers Welfare
Mission for Integrated Development of Horticulture (MIDH)
MIDH is Centrally Sponsored Scheme and it has been implemented by State Horticulture Mission (SHM).
In the total outlay of SHM, the centre contributes 60% for the general States and 90% for NE and Himalayan States whereas the general States contribute 40 % and NE and the Himalayan States contribute 10%. The government of India contributes 100% for UTs and National Level Agencies (NLAs).
MIDH subsumed ongoing missions/schemes of the Ministry–
National Horticulture Mission (NHM),
Horticulture Mission for North East & Himalayan States (HMNEH),
National Horticulture Board (NHB),
Coconut Development Board (CDB),
Central Institute for Horticulture (CIH), Nagaland.
Activities under MIDH–
promote holistic growth of the horticulture sector, including coconut through area based regionally differentiated strategies
encourage aggregation of farmers into farmers groups like FIGs/FPOs and FPCs to bring the economy of scale and scope
Introduction of quality germ-plasm, and water use efficiency through Micro Irrigation, support skill development and employment generation opportunities.
Capacity buildings of farmers and technicians
CHAMAN i.e. Coordinated Horticulture Assessment and Management using geoinformatics
Objective- To develop a scientific methodology for estimation of area and production under horticulture crops. It has two main components : (1) Remote sensing Technology and (2) Sample Survey (SS) methodology.
FASAL project, under Meteorological Department, develops district-level, empirical
agro-meteorological yield models for different crops.
Price support schemes for Potato, Onion and Tomato like Bhavantar Bhugtan yojana, etc at the state level
one product one district – The Union Budget 2020, For better marketing and export, proposes supporting States that will focus on "one product one district" leading to specialisation, cluster-based approach and cooperative formation for improved export.
Way forward
Though the government is taking forward the horticulture, more needs to be done. Some of the steps could be-
improve the reach of technology to distant farmers. Subsidisation of technology can be a good incentive.
A higher percentage of investment for post-harvest technology and forward linkages.
Development of a new variety of plants to increase productivity.
Increasing wasteland cultivation of horticulture as India has more than 200 million of wasteland yet to brought under cultivation.
Increase research and development in horticulture. Even distribution of research institutions all over India.
International cooperation for the adoption of world best practices.
Horticulture with huge potential still to be untapped can revolutionised agriculture and allied activities. More focused approach along with states' cooperation to encourage cluster-based approach, cooperation and by making finance and technology available India horticultural sector can contribute to the ambitious project of doubling the farmers' income.
Test Yourself:
Status of the Horticultural sector today represents the overall potentials and lacunae in the agricultural sector in India. (comment) (250 words)