[In-Depth] Urban Land Use in India – Recent Trends and Implications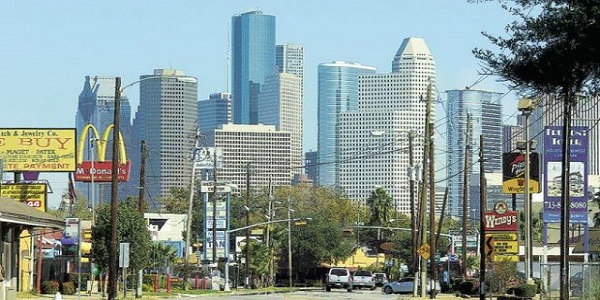 India is the second-most populous country in the world and is projected to be the country with the highest population by 2024 adding around 375 million urban dwellers by 2050 to its present 440 million (UN World Population Prospects, 2017). This rapid growth in population leading to the growth of cities has a significant impact on land-use and land-cover changes due to both socio-economic and natural factors. Thus, understanding these processes and dynamics has become an important factor in urban land use planning in India.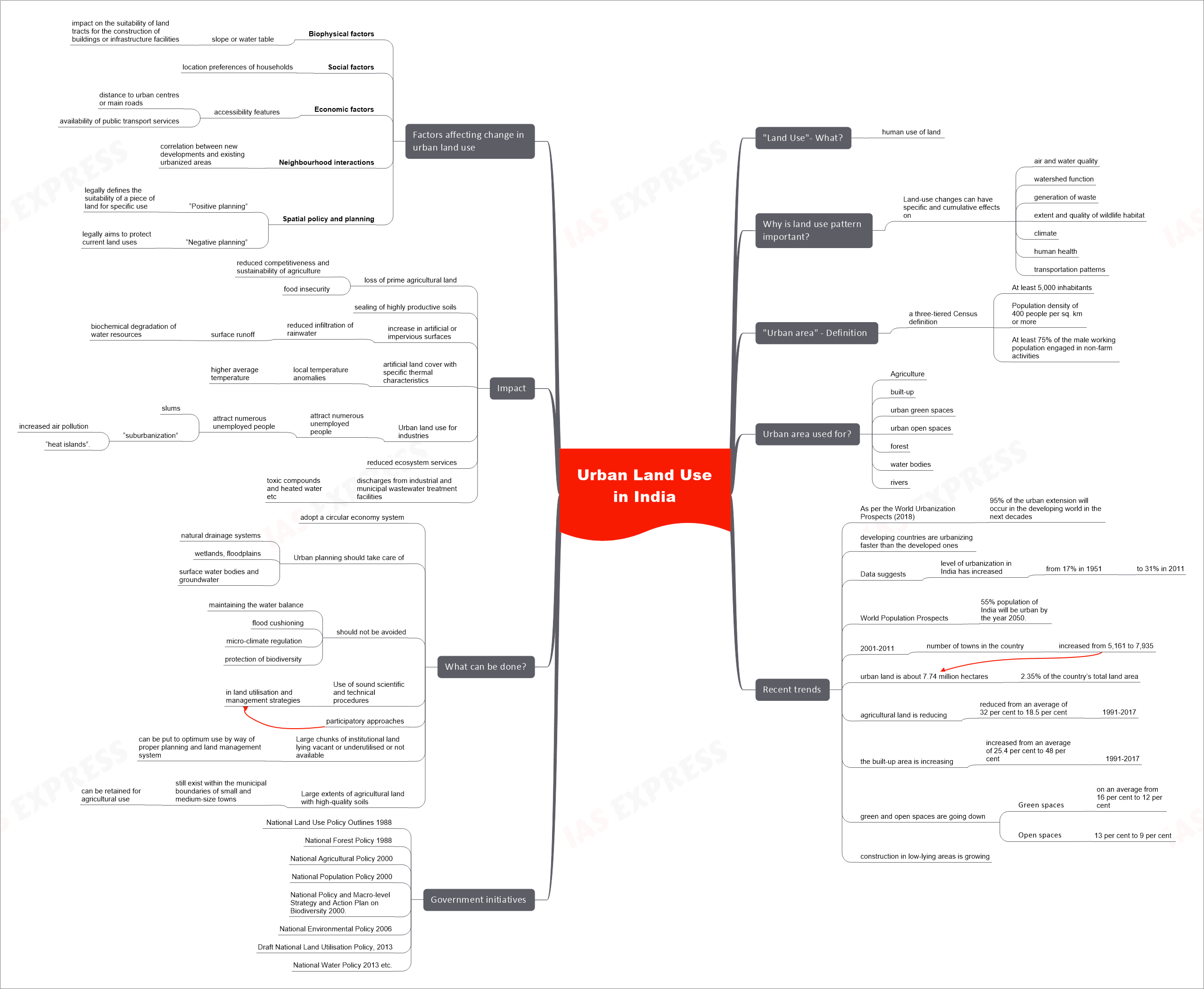 What is "Land Use"?
"Land Use" can be defined as the human use of land or the purposes for which humans use land in a particular area.
It represents the economic and cultural activities (e.g., agricultural, residential, industrial, mining, and recreational uses) that are practised at a given place.
Why is it important to study the land use pattern?
It is important because the way people use the land available to them has a significant impact on their present and future.
Land-use changes can have specific and cumulative effects on air and water quality, watershed function, generation of waste, extent and quality of wildlife habitat, climate, and human health.
Land-use changes could also impact transportation patterns and choices of transportation modes in a city, thus defining travel behaviour, energy-vehicle mix and local air pollution. These in turn could alter a city's resilience and liveability over time.
How is an urban area defined in India?
India has a three-tiered Census definition of 'urban' habitation (excluding a municipality, corporation, cantonment board and a notified town area committee). These include:
At least 5,000 inhabitants.
Population density of 400 people per sq. km or more.
At least 75% of the male working population engaged in non-farm activities.
What is urban area land used for?
Urban land use in India can be classified into the following groups:

Agriculture, built-up, urban green spaces, urban open spaces, forest, water bodies, and rivers.
Recent trends
The world is transforming into an urbanised one progressively where 3.5 billion people inhabit the cities today which may increase by 60% by 2030 (Sustainable Development Goal 2021).
As per the World Urbanization Prospects (2018), 95% of the urban extension will occur in the developing world in the next decades.
Most of the developing countries are urbanising faster than the developed ones as the latter have already large portions of their territories been urbanised.
Data suggests that developing countries in Asia are experiencing an unprecedented wave of urbanization.

The level of urbanization in India has increased from 17% in 1951 to 31% in 2011.
According to the World Population Prospects by the United Nations, 55% population of India will be urban by the year 2050.
During the decade 2001-2011, the number of towns in the country has increased from 5,161 to 7,935.
The urban land is about 7.74 million hectares, which is only 2.35% of the country's total land area.
However, several land-use conflicts and environmental problems originate from urban areas.

An increase in the urban clusters with an increase in the urban population has significantly changed the land surface which is the most important natural resource at the expense of the destruction of the natural landscape, a decline in open spaces and a reduction in the capacity to provide ecosystem services and goods.
The recent trends in India suggest that agricultural land is reducing, the built-up area is increasing, green and open spaces are going down, and the construction in low-lying areas is growing.
The urban built spaces have increased from an average of 25.4 per cent to 48 per cent, while the agricultural land has reduced from an average of 32 per cent to 18.5 per cent from 1991-2017.
The green spaces and open spaces have also reduced on an average from 16 per cent to 12 per cent, and 13 per cent to 9 per cent respectively.
The transformation of natural to artificial land cover in the cities has become a major concern not only in India but all around the world.
Factors affecting urban land-use change in India
Biophysical factors

These include the slope or water table that has an impact on the suitability of land tracts for the construction of buildings or infrastructure facilities, and why certain areas are excluded from development.

Social factors

These include location preferences of households (or household types) depending on the income level or ethnic composition of nearby neighbourhoods and the availability of open green spaces.
Such factors may encourage or discourage a household's choice of a development site.

Economic factors

These include accessibility features such as distance to urban centres or main roads and the availability of public transport services within a walkable distance.
Properties that have not developed as much as they are required to with good accessibility have a high possibility to become urbanised in the future.

Neighbourhood interactions

There is a correlation between new developments and existing urbanised areas.
On the contrary, some potentially conflicting land uses (e.g., residential and industrial development) have a lesser possibility of being located directly next to each other.

Spatial policy and planning

"Positive" or "negative" planning may affect land use in an urban area.
"Positive planning" legally defines the suitability of a piece of land for specific use (i.e., where they explicitly designate sites for urban development).
"Negative planning" legally aims to protect current land uses (habitat conservation, prime farmland).
Impact of urban land use
Cities in India occupy just 3% of the nation's land, but their contribution to the GDP is a whopping 60% and thus have the capacity to bring enormous opportunities for economic growth and global competitiveness. However, there are several problems associated with urban land use in India. Some of them are stated below:
The loss of prime agricultural land due to rapid urbanisation may lead to reduced competitiveness and sustainability of agriculture.

This may even result in food insecurity in a highly populated country like India which has more mouths to feed at a low cost.
It is also leading to the sealing of highly productive soils that may be found in these regions. These productive regions could have been used for agriculture.

An increase in artificial or impervious surfaces, including built-up land, i.e., rooftops, roads, parking lots, pavements, etc. may lead to reduced infiltration of rainwater into the ground.

The inability to infiltrate through impervious land surfaces may further lead to surface runoff.

The World Wide Fund for Nature India (2020) has found that Indian cities dominate both current and future lists of cities from across the world with the highest overall water risk.
Moreover, 30 Indian cities, including Jaipur, Indore, Amritsar, Pune, Srinagar, Kolkata, Bangalore, Mumbai, Kozhikode, and Vishakhapatnam, are likely to face acute water shortages in the next few decades.

This urban runoff water carries with it chemical pollutants (e.g., from automobile traffic or industrial land uses), thus imperviousness also contributes to the biochemical degradation of water resources.
Moreover, the concentration of artificial land cover with specific thermal characteristics also creates local temperature anomalies.

This leads to a higher average temperature in the dense urban fabric compared to the urban periphery ("urban heat island").

Urban land use for industries may attract numerous unemployed people to the urban centre. This may give rise to the demand for residential areas or dwellings. The low-income groups may settle in the urban peripheries giving rise to

As per Census 2011, 17.3% of the total urban population was under slums in India and about 70% of this slum population was concentrated in six States such as Maharashtra, Andhra, Uttar Pradesh, West Bengal, Tamil Nadu and Madhya Pradesh.

Some people may tend to settle in suburban areas. Such dispersed growth of urban areas or "suburbanization" can contribute to a variety of environmental concerns such as increased air pollution or "heat islands".

The land-use change from vegetation-abundant rural land to urban land with fewer trees and shrubs can lead to the absorption of more heat by pavement, buildings, and other sources.
Heat islands can affect local, regional, and global climate, as well as air quality.

Some other effects include reduced ecosystem services and point source discharges from industrial and municipal wastewater treatment facilities adding toxic compounds and heated water etc.
What can be done?
To save our cities from the clutches of unplanned urbanization and unregulated construction activities, we need to take several measures. Some of them could be:
Over the years, the country has witnessed the expansion of cities based on car-centric planning. Transportation forms an integral part of urban mobility and urban living needs but we need to be very compact and adopt a circular economy system to minimize their negative impacts on the environment.
Urban planning should take care of natural drainage systems, wetlands, floodplains, surface water bodies and groundwater while planning cities and regions.

The importance of maintaining the water balance, flood cushioning, micro-climate regulation and protection of biodiversity should not be avoided.

Sound scientific and technical procedures in land utilisation and management strategies, supported by participatory approaches may ensure sustainable urban land use.
Large chunks of institutional land lying vacant or underutilised or not available for urban development can be put to optimum use by way of proper planning and land management system. They can be re-densified by augmenting the existing infrastructure.
Large extents of agricultural land with high-quality soils still exist within the municipal boundaries of small and medium-size towns due to the slow pace of physical growth. These lands can be retained for agricultural use.
Government initiatives
There are several existing policies relating to land use. These include:

The National Land Use Policy Outlines 1988.
The National Forest Policy 1988.
The National Agricultural Policy 2000.
The National Population Policy 2000.
The National Policy and Macro-level Strategy and Action Plan on Biodiversity 2000.
The National Environmental Policy 2006.
Draft National Land Utilisation Policy, 2013.
The National Water Policy 2013 etc.
Conclusion
Lowering groundwater levels and loss of farmland and biodiversity are some serious concerns related to urban land use. However, with administrative and technical expertise the negative impacts could be reduced and the advantages of urbanisation can be reaped.