[In-depth] Human Trafficking in India – Causes, Effects, Responses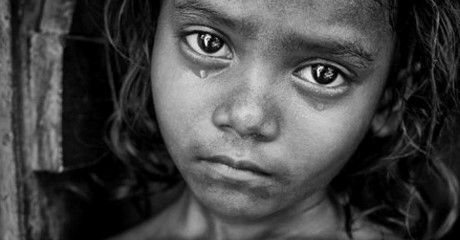 Human trafficking is one of the major problems of the 21st century that has a huge growth because of the free movement and free trade under globalisation. India is not resistant to this threat and has been ranked as a "Tier 2" country by the US Department of State with regard to Human Trafficking, even though India has been one of the pioneer countries to pass strict labour laws to reduce exploitation.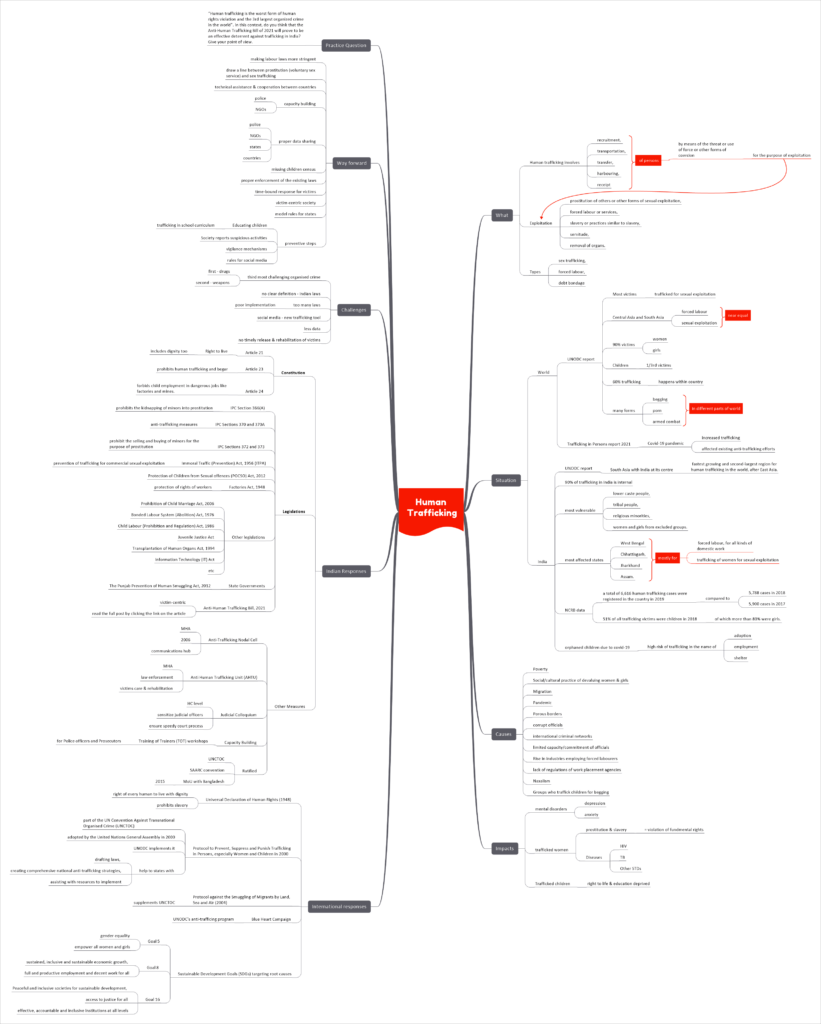 What is Human Trafficking?
The United Nations defines human trafficking as: "Human trafficking involves recruitment, transportation, transfer, harbouring, or receipt of persons, by means of the threat or use of force or other forms of coercion, for the purpose of exploitation."
Exploitation includes, at a minimum, the exploitation of the prostitution of others or other forms of sexual exploitation, forced labour or services, slavery or practices similar to slavery, servitude, or the removal of organs.
The 3 most common types of human trafficking are sex trafficking, forced labour, and debt bondage. Forced labour, also known as involuntary servitude, is the biggest sector of trafficking in the world. Debt bondage is another form of human trafficking in which an individual is forced to work in order to pay a debt.
What is the Human Trafficking situation across the world?
According to the report by the UNODC, most of the victims detected globally were trafficked for sexual exploitation, although this pattern is not consistent across all regions.

In Central Asia and South Asia, trafficking for forced labour and sexual exploitation are near-equally detected.
90% of detected victims of sexual exploitation are women and girls.
There is a popular understanding that trafficking is happening a lot more between countries but the report highlights that close to 60% of trafficking happens internally in countries.
Many other forms, such as trafficking for exploitation in begging or for the production of pornographic material or armed combat, are reported in different parts of the world.

According to the Trafficking in Persons report 2021, released by the US State Department, the Covid-19 pandemic has led to an increase in vulnerability to human trafficking and affected existing anti-traffic efforts.
What is the Human Trafficking situation in India?
According to the UN Office on Drugs and Crime, South Asia with India at its centre, is the fastest growing and second-largest region for human trafficking in the world, after East Asia.
About 90% of trafficking in India is internal and the most vulnerable are lower caste people, tribal people, religious minorities, and women and girls from excluded groups.
The most affected state presently is West Bengal followed by Chhattisgarh, Jharkhand and Assam.
The trafficking of children for forced labour, for all kinds of domestic work and the trafficking of women for sexual exploitation, is the heaviest in these areas.
According to the National Crime Records Bureau (NCRB) data, a total of 6,616 human trafficking cases were registered in the country in 2019, as compared to 5,788 cases in 2018 and 5,900 cases in 2017.
Children make up almost a third of all human trafficking victims worldwide, with the situation being more disturbing in India for children. According to the NCRB 2018 data, 51% of all trafficking victims were children, of which more than 80% were girls.
The recently orphaned children in India, due to the Covid-19 pandemic, also run the increased risk of trafficking in the garb of adoption, employment or livelihood and shelter.
What are the causes of Human Trafficking?
Poverty is a cause behind child trafficking. Some parents sell their children, not just for the money, but also in the hope that their children will escape the situation of chronic poverty and move to a place where they will have a better life and more opportunities.
Social or cultural practice of devaluing women and girls in society, thus making women disproportionately vulnerable to trafficking.
Migration: The desire of potential victims to migrate is exploited by offenders to recruit and gain initial control or cooperation, only to be replaced by more coercive measures once the victims have been moved to another state or region of the country, which may not always be the one to which they had intended to migrate. Some of the common reasons behind migration are poverty, oppression, lack of human rights, lack of social or economic opportunity, dangers from conflict or instability and similar conditions.
Pandemic: The concurrence of the increased number of individuals at risk, traffickers' ability to capitalise on competing crises, and the diversion of resources to pandemic response efforts have resulted in an ideal environment for human trafficking to flourish and evolve.
Other causes are

the porous nature of borders,
the involvement of international organized criminal groups or networks
the limited capacity of or commitment by immigration and law enforcement officers to control borders.
The rise in mobility and growth of industries employing forced labourers
Lack of regulations for work placement agencies which attract adults and children for sex trafficking and forced labour including domestic servitude under false promises of providing work.
Terrorist groups such as Naxalites are trafficking children as young as six for the purpose of spying, couriers, planting improvised explosive devices and fighting against the government.
Various groups are working across the country who traffick children and force them to beg.
What are the impacts of Human Trafficking?
Human trafficking results in mental disorders including depression and anxiety for the victims.
Trafficked women are forced into prostitution and slavery, which adversely impacts their fundamental rights.
Women who are forced into trafficking are also affected by diseases such as HIV, Tuberculosis and other Sexually Transmitted Diseases (STDs).
Children as young as six are removed from their families and their basic rights such as the right to life and education have been deprived.
What are the international responses against Human Trafficking?
Universal Declaration of Human Rights (1948): is a non-binding declaration that establishes the right of every human to live with dignity and prohibits slavery.
Protocol to Prevent, Suppress and Punish Trafficking in Persons, especially Women and Children in 2000:
as a part of the UN Convention Against Transnational Organised Crime (UNCTOC).
This protocol was adopted by the United Nations General Assembly in 2000.
The United Nations Office on Drugs and Crime (UNODC) is responsible for implementing the protocol.
It offers practical help to states with drafting laws, creating comprehensive national anti-trafficking strategies, and assisting with resources to implement them.
Protocol against the Smuggling of Migrants by Land, Sea and Air:
It entered into force on 28 January 2004.
This also supplements the UN Convention Against Transnational Organised Crime.
The Protocol is aimed at the protection of the rights of migrants and the reduction of the power and influence of organized criminal groups that abuse migrants.
Blue Heart Campaign: is an international anti-trafficking program started by the United Nations Office on Drugs and Crime (UNODC).
Sustainable Development Goals: Various SDGs aim to end trafficking by targeting its roots and means viz.
Goal 5 (Achieve gender equality and empower all women and girls),
Goal 8 (Promote sustained, inclusive and sustainable economic growth, full and productive employment and decent work for all)
Goal 16 (Promote peaceful and inclusive societies for sustainable development, provide access to justice for all and build effective, accountable and inclusive institutions at all levels).
What are the measures taken by India to counter Human Trafficking?
Constitution:
Article 21: The Supreme Court held that the right to live is not merely a physical right but includes within its ambit the right to live with human dignity.
Article 23: prohibits human trafficking and begar (forced labour without payment).
Article 24: forbids the employment of children below the age of 14 years in dangerous jobs like factories and mines.
Legislations:
IPC Section 366(A): prohibits the kidnapping of minors into prostitution.
IPC Sections 370 and 370A: provide for comprehensive measures to counter the menace of human trafficking including trafficking of children for exploitation in any form including physical exploitation or any form of sexual exploitation, slavery, servitude, or the forced removal of organs.
IPC Sections 372 and 373: prohibit the selling and buying of minors for the purpose of prostitution.
The Immoral Traffic (Prevention) Act, 1956 (ITPA): is the premier legislation for the prevention of trafficking for commercial sexual exploitation.
Protection of Children from Sexual offences (POCSO) Act, 2012, is a special law to protect children from sexual abuse and exploitation.
Factories Act, 1948 guaranteed the protection of rights of workers.
There are other specific legislation enacted relating to trafficking in women and children – Prohibition of Child Marriage Act, 2006, Bonded Labour System (Abolition) Act, 1976, Child Labour (Prohibition and Regulation) Act, 1986, Juvenile Justice Act, Transplantation of Human Organs Act, 1994, Information Technology (IT) Act, among others.
State Governments have also enacted specific legislations to deal with the issue (e.g. The Punjab Prevention of Human Smuggling Act, 2012).
Anti-Human Trafficking Bill, 2021: the successor of the 2018 bill which failed to pass as didn't take into consideration the plight of trafficked victims. The new bill is victim-centric as it prioritizes the trafficked victims' dignity, care and rehab. Click here to read the full post.
Other Measures:
Anti-Trafficking Nodal Cell was set up in the Ministry of Home Affairs (MHA) in 2006 to act as a focal point for communicating various decisions and following up on action taken by the State Governments to combat the crime of Human Trafficking.
Anti Human Trafficking Unit (AHTU): The Ministry of Home Affairs under a Comprehensive Scheme 'Strengthening Law Enforcement Response in India against Trafficking in Persons' (2010) has released funds for the establishment of AHTU for many districts of the country. The primary role of an Anti Human Trafficking Unit (AHTU) is law enforcement and liaising with other concerned agencies for the care & rehabilitation of victims. MHA conducts coordination meetings with the Nodal Officers of Anti Human Trafficking Units nominated in all States/UTs periodically.
Judicial Colloquium: These are held at the High court level. The aim is to sensitize the judicial officers about the various issues concerning human trafficking and to ensure a speedy court process.
Capacity Building: Various Training of Trainers (TOT) workshops on 'Combating Trafficking in Human Beings' for Police officers and for Prosecutors at the Regional level, State level and District level have been organized by the government throughout the country.
UN Convention: India has ratified (in 2011) United Nations Convention on Transnational Organised Crime (UNCTOC) which among others has a Protocol to Prevent, Suppress and Punish Trafficking in Persons, especially Women and Children.
SAARC Convention: India has ratified the SAARC Convention on Preventing and Combating Trafficking in Women and Children for Prostitution.
Bilateral Mechanism: A Memorandum of Understanding (MoU) between India and Bangladesh for Prevention of Human Trafficking in Women and Children, Rescue, Recovery, Repatriation and Re-integration of Victims of Trafficking was signed in June 2015.
What are the challenges in anti-trafficking measures?
Human Trafficking is the third most challenging organised crime in the world, the first being drugs and the second being weapons.
Human Trafficking has not been defined clearly anywhere in the Indian laws.
There is no scarcity of the related laws in the country but there is a problem of inadequate understanding and unfaithful implementation of laws. In the police priorities, human trafficking does not figure in the top five.
Social media is becoming a new tool for human trafficking. India does not have any law to regulate the use of Facebook, WhatsApp and even Twitter in certain matters.
There is not enough data on the crime.
The government has not been able to ensure the timely release and rehabilitation of victims.
How to effectively prevent Human Trafficking?
Trafficking is very often related to exploitation in the name of work – be it domestic or industrial. Thus, making labour laws more stringent is a more humane and fundamental way of dealing with the problem.
It is important that we draw a line between prostitution (voluntary sex service) and sex trafficking. This will help us identify the victims in a better manner and form legislation specifically according to their needs. We can take lessons from the Sex Buyer's Law of Sweden and Norway, which is a highly effective legal framework for preventing commercial sexual exploitation. It criminalises buying sex acts while decriminalizes selling them. It also provides for those exploited through prostitution. This law has prevented the further victimization of people who have already been victims of poverty, trafficking and violence.
There is a need to create technical assistance and strengthen cooperation, to support all countries to protect victims and bring criminals to justice.
The capacity building of the Police along with that of the NGOs is necessary to tackle the menace of human trafficking.
There is a need to ensure proper data sharing, internally in an administration or between agencies like the police or the NGOs, or between the different countries as well. The state government and the central government should work together to make data reporting more robust.
The Justice Verma Committee, 2012 had recommended a census of the missing children.
The proper enforcement of the existing laws should be a priority. Law enforcement needs to be strengthened in terms of its capacities, awareness, and resources, for e.g, building the capacity of the Anti Human Trafficking Units (AHTUs).
There has to be an element of time-bound response for victims.
Society needs to be made sensitive toward victims of human trafficking.
Since the effective implementation of the Act is dependent on lucid and consistent rules, it would be useful for the Central Government to prepare model rules for use by the States.
The government needs to take some preventive steps, such as

Educating children on the crime of trafficking by including the same in their school curriculum.
Making people aware as a society i.e. if an individual comes across any suspicious activity, s/he should report the same to the concerned authorities.
Devising vigilance mechanisms to check such cases in the first place.
The government needs to look at the scope of trafficking crime in respect of social media. The new law should have a provision to address human trafficking crimes via social media.
Conclusion
The menace of human trafficking is huge, and there is a need to not just prevent such crimes but also ensure that the relief and rehabilitation process takes place in a smooth manner. Policies further need to be improvised and appropriate actions should be taken by various agencies and stakeholders. The right to be protected against human trafficking is a constitutional right. This right needs to be protected to provide a dignified life to every child, every man and every woman in the country. Apart from being a grave human rights concern, trafficking has impacts on trade, Foreign Direct Investment and tourism among other things. Thus, it is high time we strategically remove this scar from our country's image.
Practice Question
"Human trafficking is the worst form of human rights violation and the 3rd largest organized crime in the world". In this context, do you think that the Anti-Human Trafficking Bill of 2021 will prove to be an effective deterrent against trafficking in India? Give your point of view.