Human Challenge Trial – Need, Benefits and Challenges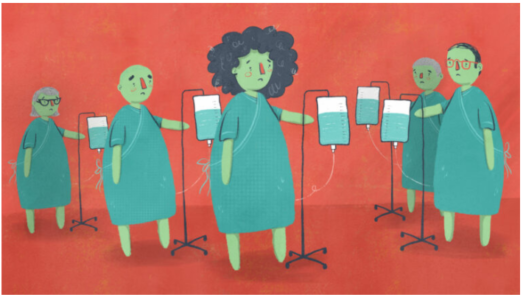 As Companies race to bring out a vaccine against the Covid-19, Experts are divided on whether the challenge model for vaccine trials should be put to use in the current pandemic. Many people have volunteered to take part in the Human Challenge Trials (HCTs) which involves intentionally infecting volunteers with the novel Coronavirus, in order to speed up the vaccination development. Initiatives like 1DaySooner have seen massive registration of people in many countries who had signed up for such trials voluntarily. Clinical trials are essential to test the safety and efficacy of new treatments in any population. Advocates of  HCT believe that such trials could save valuable time in developing vaccines like a Covid-19 vaccine, as researchers would not have to wait for participants to contract the infection under real-world conditions. A paper in The Journal of Infectious Diseases has proposed replacing Phase 3 with human challenge trials which may subtract many months from the licensure process, making efficacious vaccines available more quickly. However, human challenge studies are ethically sensitive and raise several controversial and unresolved issues in research ethics.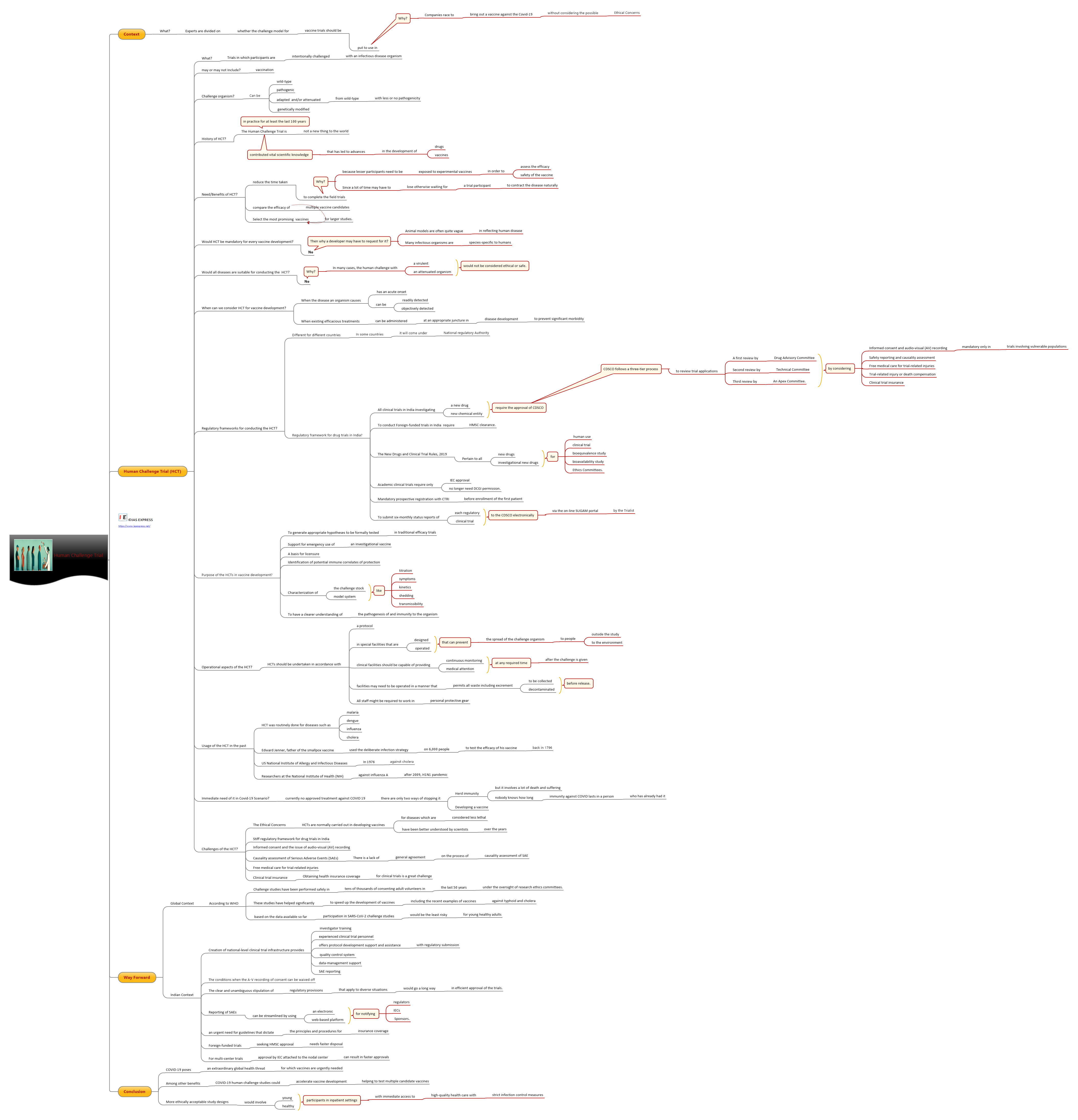 It is in this context, let's try to make an in-depth analysis on all dimensions of Human Challenge Trial.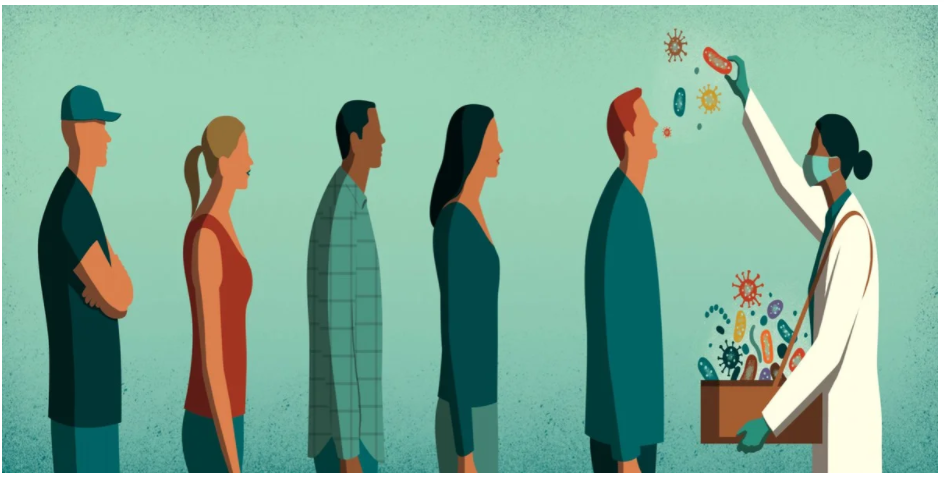 What is Human Challenge Trial?
Trials in which participants are intentionally challenged with an infectious disease organism is called Human Challenge Trial
It may or may not include vaccination in the process.
The challenge organism can be wild-type, pathogenic, adapted and/or attenuated from wild-type with less or no pathogenicity, or genetically modified in some manner.
The Human Challenge Trial is not a new thing to the world. They were in practice for at least the last 100 years and They have contributed vital scientific knowledge that has led to advances in the development of drugs and vaccines
What is the need for a Human Challenge Trial?
Human Challenge Trial can reduce the time taken to complete the field trials because lesser participants need to be exposed to experimental vaccines in order to assess the efficacy and safety of the vaccine.
Such studies can compare the efficacy of multiple vaccine candidates and thus select the most promising vaccines for larger studies.
Since a lot of time may have to lose otherwise waiting for a trial participant to contract the disease naturally, Human challenge Trial can accelerate the trials.
It will be difficult to check whether the vaccine works or not until such time that happens,
If the infection does not happen normally, then there is little way of finding out whether it is because of the vaccine or whether it is because the person was never exposed at all.
Would human challenge trial be mandatory for every vaccine development?
Although human challenge trials are not a required element of every vaccine development program, there are many reasons why a developer may request to conduct Human Challenge Trial that otherwise normally be conducted in animals such as
Animal models are often quite vague in reflecting human disease.
Many infectious organisms are species-specific to humans
Would all diseases are suitable for conducting the Human Challenge Trial?
The crucial point to note regarding the Human Challenge Trial is that not all diseases for which vaccines might be developed are suitable for conducting human challenge trials.
In many cases, the human challenge with a virulent or even an attenuated organism would not be considered ethical or safe.
For example, if an organism causes a disease with a high case fatality rate or there is a long and uncertain latency period and there are no existing therapies to prevent death, then it would not be appropriate to consider human challenge trials with such an organism.
When can we consider Human Challenge Trial for vaccine development?
When the disease an organism causes has an acute onset, can be readily and objectively detected and existing efficacious treatments can be administered at an appropriate juncture in disease development to prevent significant morbidity, a human challenge trial might be considered.
What are the regulatory frameworks for conducting the human challenge trial?
In some countries, Human challenge trial stocks are expected to be regulated in the same manner as vaccines and are expected to be studied with authorization in accordance with clinical trial regulations.
An investigational vaccine may or may not to be used in the same clinical investigation protocol in such cases.
In such cases, Since the clinical trial regulations or requirements would apply, there will be greater clarity about regulatory expectations, including the quality of the challenge stock to be used.
However, in many countries, because the challenge stock is not itself is not considered to be a medicinal product, any such regulation and clarity won't be there.
Regulatory framework for drug trials in India
All clinical trials investigating a new drug or new chemical entity in India require the approval of the Central Drugs Standard Control Organization (CDSCO)
The CDSCO is headed by the Drugs Controller General of India (DCGI), who is also responsible for inspection of drug manufacturing facilities, trial sites, and sponsors.
To conduct Foreign-funded trials in India require the Health Ministry's Screening Committee (HMSC) clearance.
The CDSCO follows a three-tier process to review trial applications

A first review by the Drug Advisory Committee consisting of subject experts followed by a second review by the Technical Committee, and finally by an Apex Committee.
Informed consent and audio-visual (AV) recording

A-V consent is mandatory only in trials involving vulnerable populations (at risk of undermining the process of informed consent as in destitute, military recruits, or medical/nursing students among many others) and when new chemical entities are studied.

Safety reporting and causality assessment

Investigators are required to report all SAEs within 24 h of their occurrence to the sponsor, the regulatory authority (CDSCO) and the IEC.

Free medical care for trial-related injuries

The sponsor is required to provide free medical care for all trial-related injuries in the participant as long as required or till it is established that the injury is not related to the trial, whichever is first.

Trial-related injury or death compensation

In addition to free medical treatment, the sponsor is required to pay financial compensation for permanent injuries or death causally related to the trial.

Clinical trial insurance

All medical care and compensation for trial-related injury are borne by the sponsor.

The New Drugs and Clinical Trial Rules, 2019

These rules pertain to all new drugs, investigational new drugs for human use, clinical trial, bioequivalence study, bioavailability study and Ethics Committees.

Academic clinical trials require only the independent Ethics Committee (IEC) approval and no longer need DCGI permission.
Before enrollment of the first patient, all clinical trials need to be registered with the clinical trial registry of India (CTRI)  as a mandatory prospective registration.
The trialists are also required to submit six-monthly status reports of each regulatory, clinical trial, to the CDSCO electronically via the on-line SUGAM portal.
The new rules also waive off the need to conduct a phase III clinical trial of a new drug in the Indian population, if the drug has already been approved and marketed in selected countries.
However, they still need to conduct a phase IV trial after the drug has been marketed in India to evaluate the long-term effects.
The DCGI can also exempt drugs used for diseases that have unmet needs or have special relevance to Indian health scenarios and orphan drugs which treat conditions affecting less than 5 lakh Indians, from both phase III and IV clinical trials.
What is the purpose of human challenge trials in vaccine development?
Characterization of the challenge stock and model system: titration, symptoms, kinetics, shedding, transmissibility.
A clearer understanding of the pathogenesis of and immunity to the organism in order to make decisions on what type and/or quantity immune responses a vaccine might need to elicit in order to protect against that disease.
Identification of potential immune correlates of protection
To generate appropriate hypotheses to be formally tested in traditional efficacy trials
Support for emergency use of an investigational vaccine
A basis for licensure
What are the operational aspects of the Human Challenge Trial?
There are some unique and important operational aspects of the conduct of a human challenge trial, which are in addition to general principles for all clinical trials in human subjects.
Human challenge trials should be undertaken in accordance with a protocol and in special facilities that are designed and operated in a manner that can prevent the spread of the challenge organism to people outside the study or to the environment.
These clinical facilities should be capable of providing continuous monitoring and medical attention at any required time after the challenge is given.
The facilities should be designed to prevent the spread of disease, especially when the challenge organism is a genetically modified one or an organism that is not endemic to the locality.
These facilities may need to be operated in a manner that permits all waste, including excrement to be collected and decontaminated before release.
All staff might be required to work in personal protective gear appropriate for the pathogenicity of the challenge organism and its potential hazard to the environment.
Usage of the Human Challenge Trial in the past
Human challenge trials are routinely done for diseases such as malaria, dengue, influenza and cholera, which extract a heavy public health toll but are not deadly.
Back in 1796 Edward Jenner, father of the smallpox vaccine used the deliberate infection strategy on 6,000 people to test the efficacy of his vaccine that eventually became the principal reason for the eradication of smallpox.
In 1976, the US National Institute of Allergy and Infectious Diseases did a challenge study against cholera.
The US-based vaccine advocacy group in 1937 published the study of the first well-described influenza challenge and involved the inhalation of a human influenza virus.
Researchers at the National Institute of Health (NIH) began using human challenge models to investigate and develop countermeasures against influenza A after 2009, H1N1 pandemic.
What is the immediate need of the Human Challenge in COVID-19 scenario?
There is currently no approved treatment against COVID 19 and this means that there are only two ways of stopping the global proliferation of SARS-CoV-2.
The first is herd immunity when a critical mass of people in a given population gets infected by the virus, develop some immunity against it and stop further transmission of the disease but it involves a lot of death and suffering and there is also an element of uncertainty because nobody knows how long immunity against COVID lasts in a person who has already had it.
Developing a vaccine immediately is the second way of stopping it.
What are the benefits of the Human Challenge Trial?
Though the purpose of an HCT is the same as that of animal challenge studies and models, there are various added advantages for studying the potential drug/vaccine candidates directly in humans in a controlled environment.
This allows the research community to screen potential drug/vaccine candidates and move the most promising candidates for larger trials.
The speed an HCT offers for identifying a good drug/vaccine candidate is the major advantage of an HCT over an animal challenge study.
Typically, when the drug/vaccine candidates are studied in several different species of animals, the results are extrapolated to how these drug/vaccine candidates can be effective in humans and then tested in volunteer participants.
Not all drug/vaccine candidates that show promise in animal studies produce successful results in Phase I studies. With an HCT, the effectiveness of a drug/vaccine candidates that show promise can be determined much faster. The new drug/vaccine candidates still have to go through the routine Phase I, II, and III trials, but the speed of taking a drug/vaccine candidate from the lab to Phase I trials can significantly reduce with HCTs.
What are the major challenges of the Human Challenge Trial?
The Ethical Concerns:

Human challenge trials are normally carried out in developing vaccines or medications for diseases which are considered less lethal and have been better understood by scientists over the years, such as malaria.
Critics have questioned undertaking such trials for Covid-19, a potentially deadly disease for even those who are less at risk.

Stiff regulatory framework for drug trials in India: 

Approvals for new clinical trials decreased significantly and many foreign-funded trials moved out of India after these regulations came into effect.

Informed consent and the issue of audio-visual (AV) recording: 

The process of A-V recording of consent in addition to written informed consent is time-consuming and requires specific infrastructure.

Causality assessment of Serious Adverse Events (SAEs): 

There is a lack of general agreement on the process of causality assessment of SAE.
The World Health Organization Collaborating Center for International Drug Monitoring-the Uppsala Monitoring Center (WHO-UMC) and the Naranjo probability scale are the two most common tools used in adults, but these are not appropriate for use in the neonatal population of hospitalized subjects.

Free medical care for trial-related injuries:

Adjudication and establishing causality of an SAE takes time.

Clinical trial insurance: 

Obtaining health insurance coverage for clinical trials is a great challenge, especially if the trial sample size is large, involves a high-risk population, for specific drug types or interventions or when adverse events are anticipated.
What is the Way forward?
Global Context:
According to WHO, Challenge studies have been performed safely in tens of thousands of consenting adult volunteers in the last 50 years under the oversight of research ethics committees.
These studies have helped significantly to speed up the development of vaccines, including the recent examples of vaccines against typhoid and cholera.
WHO estimates based on the data available so far, that participation in SARS-CoV-2 challenge studies would be the least risky for young healthy adults.
In ages 18-30 years (whether healthy or not), hospitalization rates for COVID-19 are currently estimated to be around 1% and fatal infection rates around 0.03%
The human immune response to influenza and test preventative and therapeutic measures can be understood largely from these challenge studies.
Indian context:
Creation of national-level clinical trial infrastructure that provides investigator training, experienced clinical trial personnel, offers protocol development support and assistance with regulatory submission, quality control system, data-management support, SAE reporting, etc.
The clear and unambiguous stipulation of regulatory provisions that apply to diverse situations would go a long way in efficient approval of the trials.
The conditions when the A-V recording of consent can be waived off needs to be specified.
Investigators need to consider infrastructure and additional funding for A-V consent recording when planning the trials.
Reporting of SAEs can be streamlined by using an electronic or web-based platform for notifying regulators, IECs, and Sponsors.
There is an urgent need for guidelines that dictate the principles and procedures for insurance coverage, which the sponsor of a clinical trial must provide to protect trial participants.
Foreign-funded trials, seeking HMSC approval needs faster disposal.
For multi-centre trials, approval by a centralized ethics committee or IEC attached to the nodal centre can result in faster approvals.
Conclusion
COVID-19 poses an extraordinary global health threat for which vaccines are urgently needed. Among other benefits, COVID-19 human challenge studies could accelerate vaccine development, helping to test multiple candidate vaccines. More ethically acceptable study designs would involve young, healthy participants in inpatient settings with immediate access to high-quality health care and strict infection control measures. All risks should be minimized to the extent that risk minimization would not unduly compromise potential research benefits. Consultation with scientific experts, prospective participants, and the wider community will help to determine the extent to which residual risks are acceptable and outweighed by the expected benefits.
Practice Question for Mains
Critically examine the need of conducting the Human Challenge Trial to find out an inoculation against Covid-19 (250 Words)