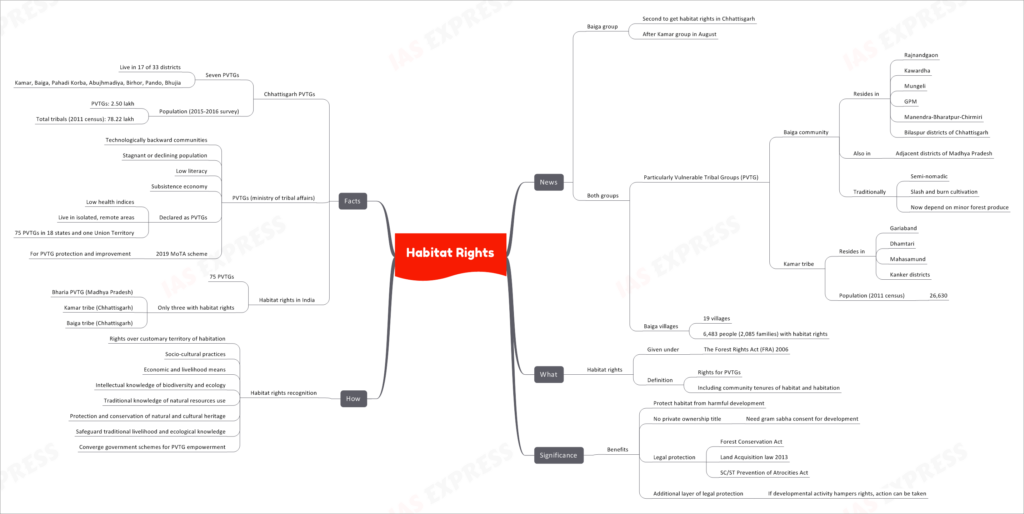 In recent news, the Baiga group has become the second community to receive habitat rights in Chhattisgarh, following the Kamar group's recognition in August. Both these communities belong to Particularly Vulnerable Tribal Groups (PVTGs) and have been granted these rights under The Forest Rights Act (FRA) of 2006.
Understanding Habitat Rights
Definition
Habitat rights, as granted under The Forest Rights Act (FRA) of 2006, encompass the rights of Particularly Vulnerable Tribal Groups (PVTGs) to their customary habitat and habitation. These rights are crucial for their protection and well-being.
Significance
Habitat rights provide essential benefits, including the protection of the community's habitat from harmful development.
Importantly, these rights do not grant private ownership titles. Instead, they require the consent of the gram sabha (village assembly) for any developmental activities in the area.
Habitat rights offer legal protection to PVTGs, ensuring that their rights are safeguarded even in the face of laws like the Forest Conservation Act, the Land Acquisition law of 2013, and the SC/ST Prevention of Atrocities Act.
In cases where developmental activities impede these rights, PVTGs have an additional layer of legal protection, allowing them to take action.
The Recognition of Habitat Rights
Habitat rights recognition is based on various criteria: copyright©iasexpress.net
Rights are granted over the customary territory of habitation.
It considers socio-cultural practices, economic and livelihood means, intellectual knowledge of biodiversity and ecology, traditional knowledge of natural resource use, and the protection and conservation of natural and cultural heritage.
These rights aim to safeguard traditional livelihood and ecological knowledge while also converging with government schemes for PVTG empowerment.
Facts About PVTGs in Chhattisgarh
Chhattisgarh is home to seven Particularly Vulnerable Tribal Groups (PVTGs) who live in 17 of the state's 33 districts. These groups include the Kamar, Baiga, Pahadi Korba, Abujhmadiya, Birhor, Pando, and Bhujia communities.
As of the 2015-2016 survey, the PVTGs in Chhattisgarh numbered around 2.50 lakh individuals.
PVTGs are technologically backward communities with stagnant or declining populations, low literacy rates, and subsistence economies. They are declared as PVTGs based on low health indices and their residence in isolated, remote areas.
Nationally, there are 75 PVTGs across 18 states and one Union Territory.
In 2019, the Ministry of Tribal Affairs (MoTA) launched a scheme for the protection and improvement of PVTGs.
Habitat Rights in India
While there are 75 PVTGs in India, only three communities have received habitat rights so far: the Bharia PVTG in Madhya Pradesh, and the Kamar and Baiga tribes in Chhattisgarh. copyright©iasexpress.net