[In-depth] Farmer Producer Organizations – Benefits and Challenges and Way Forward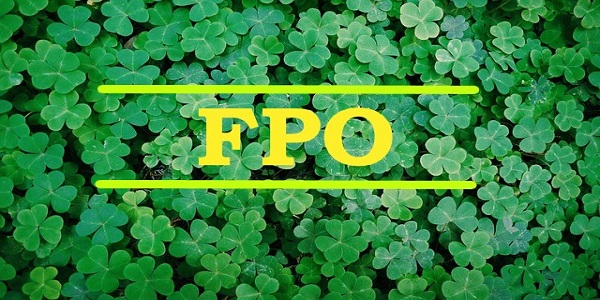 Recently, Jammu and Kashmir Rural Livelihoods Mission (JKRLM), 'UMEED', through its Self Help Group (SHG) platform has initiated a first of its kind all-women dairy Farmers Producer Organization (FPO) at Mitrigam in Pulwama district. The initiative is quite a milestone as it comes at a time when the Governement is promoting such organisations through numerous schemes.. Nowadays, farmer producer organisations are quite famous among farmers as these are playing a crucial role by helping their members achieve better produce prices and creating employment. The Government of India through its various initiatives has been trying to promote such organisations for quite some time. As the trends suggest, they have a larger role to play in the coming time.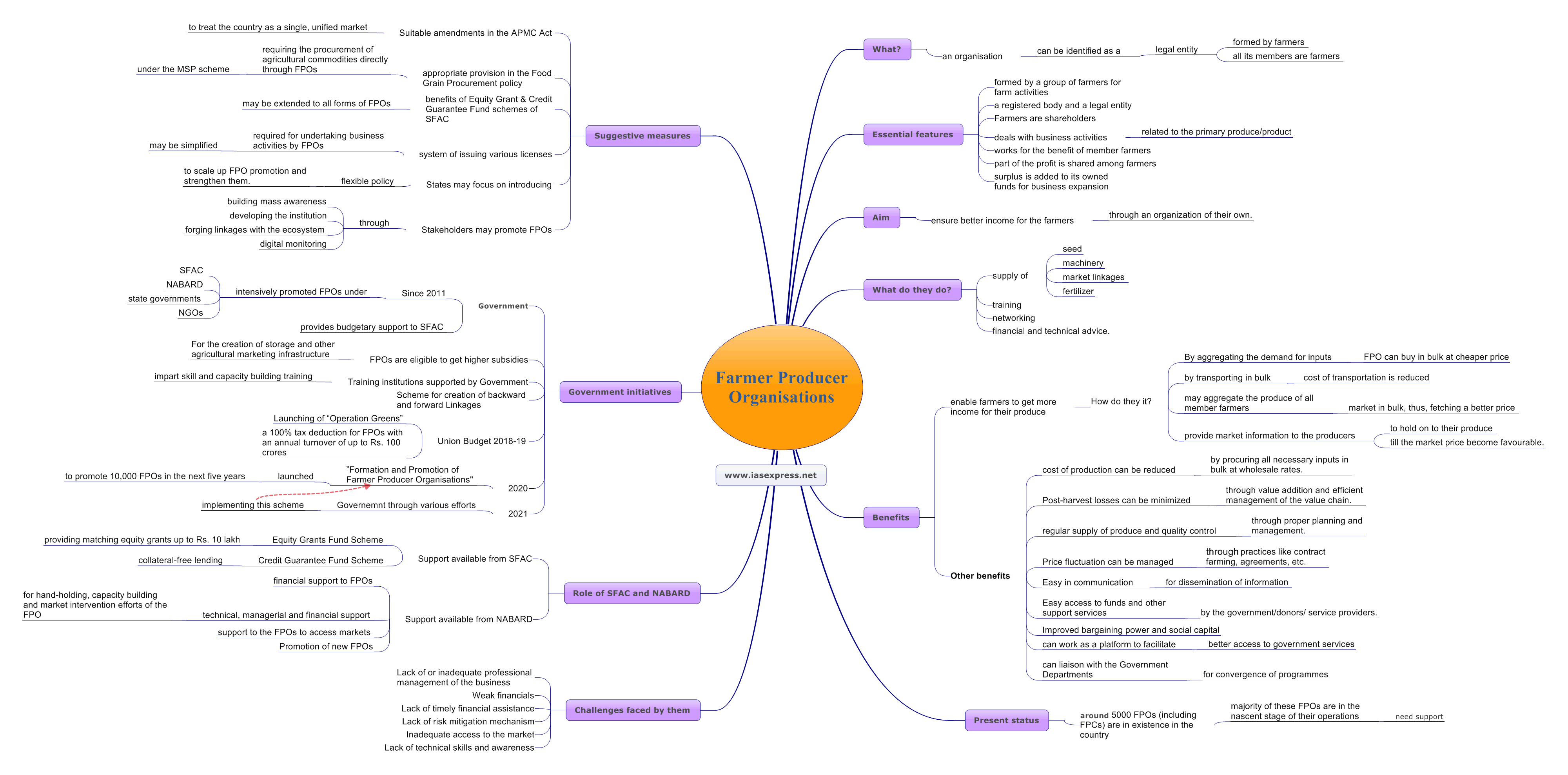 What are Farmer Producer Organisations (FPOs)?
A Farmer Producer Organisation (FPO) is an organisation that can be identified as a legal entity formed by farmers and where all its members are farmers themselves. In other words, FPOs are farmers' collectives, with membership mainly comprising small/marginal farmers (around 70 to 80%).
Essential features of FPOs
It is formed by a group of farmers for farm activities.
It is a registered body and a legal entity.
Farmers are shareholders in the organisation.
It deals with business activities related to the primary produce/product.
It works for the benefit of member farmers.
A part of the profit is shared among farmers.
The rest of the surplus is added to its owned funds for business expansion.
Aim of FPOs
The main aim of FPO is to ensure better income for the farmers through an organization of their own.
Small farmers do not have the volume individually (both inputs and produce) to get the benefit of economies of scale.
Besides, in agricultural marketing, there is a long chain of intermediaries who very often work non-transparently leading to the situation where the farmer receives only a small part of the value that the ultimate consumer pays.
Through aggregation, the primary producers can avail the benefit of economies of scale. They will also have better bargaining power vis-à-vis the bulk buyers of produce and bulk suppliers of inputs.
What do they do?
The major operations of the farmer producer organisation (FPO) include the supply of seed, machinery, market linkages & fertilizer, training, networking, financial and technical advice.
Benefits
They enable farmers to get more income for their produce.
How do they enable farmers to get more income?
By aggregating the demand for inputs, the FPO can buy in bulk, thus procuring at a cheaper price compared to individual purchase.
Besides, by transporting in bulk, the cost of transportation is reduced. Thus reducing the overall cost of production.
Similarly, the FPO may aggregate the produce of all member farmers and market in bulk, thus, fetching a better price per unit of produce.
The FPO can also provide market information to the producers to enable them to hold on to their produce till the market price become favourable.
All these interventions will result in more income for the primary producers.
The cost of production can be reduced by procuring all necessary inputs in bulk at wholesale rates.
Post-harvest losses can be minimized through value addition and efficient management of the value chain.
A regular supply of produce and quality control is possible through proper planning and management.
Price fluctuation can be managed; if there are practices like contract farming, agreements, etc.
Easy in communication for dissemination of information about price, volume and other farming-related advisories.
Access to financial resources against the stock, without collateral.
Easy access to funds and other support services by the government/donors/ service providers.
Improved bargaining power and social capital.
It can work as a platform to facilitate better access to government services, like PDS, MNREGA, Scholarships and Pensions, etc.
It can liaison with the Government Departments for convergence of programmes, like drinking water, sanitation, health and hygiene.
Present status of FPOs in India
Presently, around 5000 FPOs (including FPCs) are in existence in the country, which were formed under various initiatives of the Government of India (including SFAC), State Governments, NABARD and other organizations over the last 8-10 years.
A majority of these FPOs are in the nascent stage of their operations with shareholder membership ranging from 100 to over 1000 farmers and require not only technical handholding support but also adequate capital and infrastructure facilities including market linkages for sustaining their business operations.
Challenges faced by FPOs
Lack of or inadequate professional management of the business.
Weak financials.
Lack of timely financial assistance.
Lack of risk mitigation mechanism.
Inadequate access to the market.
Lack of technical skills and awareness.
Role of SFAC and NABARD
SFAC and NABARD play an important role in supporting the FPOs in various ways.
Support available from SFAC(Small Farmers Agribusiness Consortium)

Equity Grants Fund Scheme – Support the equity base of FPCs (one form of FPO) by providing matching equity grants up to Rs. 10 lakh, provided the FPC has a minimum shareholder membership of 50 farmers to enhance borrowing power, and thus enables the entities to access bank finance.
Credit Guarantee Fund Scheme – It facilitates collateral-free lending to FPCs.This helps the FPCs to access credit from mainstream financial institutions for establishing and operating businesses.

Support available from NABARD(National Bank for Agriculture and Rural Development)

It provides financial support to FPOs

NABARD created Producers Organization Development Fund (PODF) with an initial corpus of Rs. 50 crores out of its operating surplus during 2011-12, for supporting the existing POs including PACS to create innovative financing models for mainstream banking.
Credit support against collateral security for business operation.
Also, credit support without collateral security for business operations to FPCs which are eligible under the Credit Guarantee Scheme of SFAC.
NABARD created its subsidiary (NABKISAN Finance Ltd.) for meeting the credit requirements of FPOs by adopting a flexible approach based on life cycle needs.

It also provides technical, managerial and financial support for hand-holding, capacity building and market intervention efforts of the FPO.
NABARD also provides support to the FPOs to access markets for their produce.
Promotion of new FPOs.
Government initiatives
Since 2011, the Government of India has intensively promoted FPOs under the Small Farmers' Agri-Business Consortium (SFAC), NABARD, state governments and NGOs.
The Government of India provides budgetary support to SFAC for its Equity Grant and Credit Guarantee Fund Scheme for the Farmer Producer Company.
For the creation of storage and other agricultural marketing infrastructure under the Integrated Scheme for Agricultural Marketing (Ministry of Agriculture, Government of India), FPOs are eligible to get higher subsidies.
Training institutions supported by the Ministry of Rural Development, Government of India also impart skill and capacity building training which can be made use of by the FPO for its members.
Scheme for creation of backward and forward Linkages

Under the scheme, financial assistance is provided for the setting up of primary processing centres/ collection centres at the farm gate and modern retail outlets at the front end along with connectivity through insulated/ refrigerated transport.
The scheme is implemented by the Ministry of Food Processing Industries, Government of India to provide effective and seamless backward and forward integration for the processed food industry.

Union Budget 2018-19 announced the following measures to promote FPOs

Launching of "Operation Greens" for onion, potato and tomato crops on the lines of Operation Flood with an allocation of Rs. 500 crores. The initiative aims to address price fluctuation in vegetables for the benefit of farmers and consumers. It will promote FPOs, agri-logistics, processing facilities and professional management.
To encourage enabling environment for aggregation of farmers into FPOs and take advantage of economies of scale, the Government announced a 100% tax deduction for FPOs with an annual turnover of up to Rs. 100 crores.

In 2020, the scheme- "Formation and Promotion of Farmer Producer Organisations" was launched to promote 10,000 FPOs in the next five years, starting 2019-20, which would help small, marginal and landless farmers to enhance their income.
In 2021, through its various efforts, the Government is implementing this scheme.
Suggestive measures for scaling up and strengthening FPOs
Suitable amendments in the APMC Act to treat the country as a single, unified market for agri-produce with no restrictions on commodity movement as also to enable FPOs to market their produce directly to the consumers/ bulk-buyers, without payment of mandi fee.
An appropriate provision in the Food Grain Procurement policy of the Government of India requiring the procurement of agricultural commodities directly through FPOs under the MSP scheme.
The benefits of Equity Grant & Credit Guarantee Fund schemes of SFAC may be extended to all forms of FPOs as also to smaller FPOs having shareholder membership of less than the existing limit of 500 farmers.
The system of issuing various licenses required for undertaking business activities by FPOs may be simplified to make it a single-window state-wide license.
States may focus on introducing a flexible policy to scale up FPO promotion and strengthen them.
Stakeholders may promote FPOs through building mass awareness, developing the institution, forging linkages with the ecosystem and digital monitoring.
Conclusion
As the issues related to farmers are rising, it is time that FPOs play a decisive role in promoting farmers' welfare. With the government putting in numerous efforts to promote FPOs, there is a huge possibility of their success in the coming time. A multi-pronged collaborative approach of all the stakeholders is needed.
Practise Question
Comment on the role of FPOs in India and what is the government doing to promote them?
Learn More