[Editorial] Solar as the Third Crop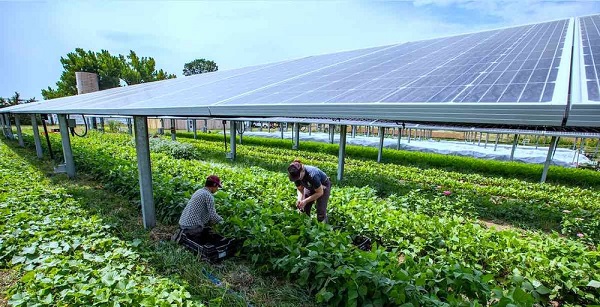 What is the situation India is looking at?
At the time of independence, India was home to about 340 million people. Now the population has increased by over 4 times now.
The Indian population is set to surpass China by 2023. The number is likely to touch 1.66 billion by 2050, according to UN Population reports.
Notably, Indian per capita income still lingers around the $2,300 mark. Under normal conditions, this will grow by 5-6% per annum. As people experience rising income levels, the demand for food would increase- not only in terms of quantity, but also in terms of quality i.e. safety and nutrition.
Hence, the biggest challenge will be feeding the growing masses.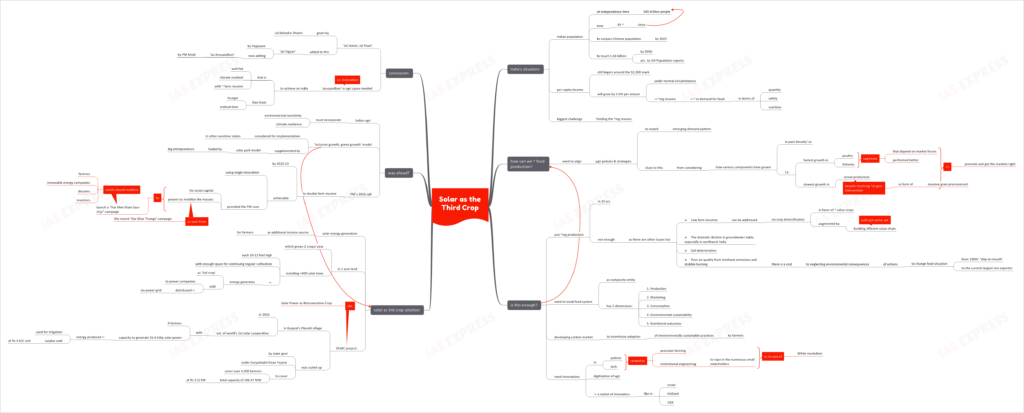 How can we increase food production?
In such a scenario, there is a need to align the country's agricultural policies and strategies to match the emerging demand patterns. Clues for formulating these could be gained from a consideration of how the various components of Indian agriculture have grown over the past decade or so.
It can be seen that poultry and the fisheries sector have seen the fastest growth. The slowest growth was in cereal production.
This is despite the fact that the most of the government intervention has been for the cereals segment- via massive grain procurements. At the same time, those segments that depend on market forces, despite its imperfections, have performed better.
From this, it is clear that the policies must promote and get the markets right. This will aid a revolutionary growth in Indian agriculture.
Is increasing food production enough?
However, just increasing the production in the next 25 years won't cut it. There is a need to treat the food system as a composite entity.
There are also other issues that need addressing include

Low farm incomes
The dramatic decline in groundwater table, especially in northwest India
Soil deterioration
Poor air quality from methane emissions and stubble burning

This has 5 dimensions:

Production
Marketing
Consumption
Environmental sustainability
Nutritional outcomes

Diversification of crops, in favour of high value crops, would help address the low farm wage issue. This needs to be augmented by building efficient value chain, with the aid of the private sector.
Our past experiences have taught us the cost of neglecting environmental consequences of the actions taken to change our food situation from 1960s' 'ship-to-mouth' to the current largest rice exporter in the world.
Developing the carbon markets in such a way that the farmers are incentivized to choose farming practices that are environmentally sustainable would be an effective step.
This needs innovations in policies and technologies related to precision farming and institutional engineering to rope in the numerous small stakeholders- as was done in case of the White Revolution.
What is needed is a nation of agricultural innovators- as in case of Israel, Holland and the USA. Digitization of agriculture is an effective step in this regard.
What is the 'solar as a third crop' solution?
One of the out-of-the-box innovations that can double farm incomes quickly, 'solar as a third crop' is one. In this solution, solar energy generation brings in additional income for the farm.
In an acre of cultivated land, which grows 2 crops/ year, over 400 solar 'trees'- each 10-12 feet high- can be installed with enough space for continuing regular cultivation.
The renewable energy generated from these 400 panels would be the '3rd crop'. It would be sold to power companies and distributed via the power grid.
SPaRC Project
The world's 1st solar cooperative was formed in Gujarat's Dhundi village in 2016. It comprises of 9 farmers and has the capacity to generate 56.4 kWp solar power.
The farmers use the energy for irrigation and the surplus is sold to the grid at Rs 4.63/ unit. This energy has been acting as an additional source of income.
This successful experiment, called SPaRC or Solar Power as Remunerative Crop, was scaled up by the state government, under the Suryashakti Kisan Yojana to cover over 4,500 farmers.
The SKY scheme has a total capacity of 106.47 MW. The tariff under this scheme is set at Rs 3.5/ kW.
What is the way ahead?
The way ahead for Indian agriculture must incorporate environmental sensitivity and climate resilience.
This 'inclusive growth, green growth' model could be considered for implementation in other states that enjoy ample sunshine.
It needs to be supplemented with solar park model, fuelled by big entrepreneurs.
The PM's 2016 call to double farm income by 2022-23 could be achieved using a single innovation, provided he uses his social capital and powers to mobilize the masses (as seen in the recent 'Har Ghar Tiranga' campaign) to launch a "Har Khet Main Saur Urja" (solar power in every farmer's field) campaign.
Such a campaign should mobilize farmers, renewable energy companies, discoms and investors for it to be successful.
Conclusion:
Lal Bahadur Shastri gave the iconic slogan, 'Jai Jawan, Jai Kisan'. It was extended to include 'Jai Vigyan' by Vajpayee and now, PM Modi has added 'Jai Anusandhan' to the slogan. 'Anusandhan' or innovation in agri-food space is vital to achieve an India that is well-fed, climate resilient, devoid of hunger and malnutrition and with high incomes for the farmers by 2047.
Practice Question for Mains:
How does the 'Solar as a Third Crop' solution work? What problems would it address? (250 words)