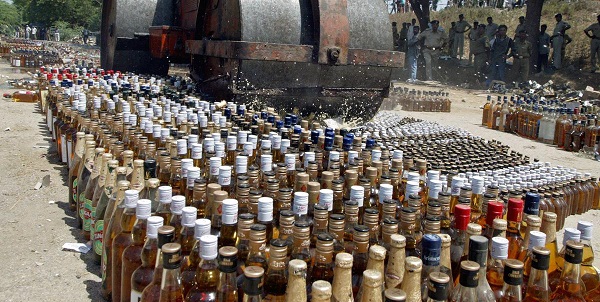 Recently, more than 40 people died in Botad district of Gujarat in a hooch tragedy. The incident, that too in a dry state, has pulled up the question of the effectiveness of prohibition.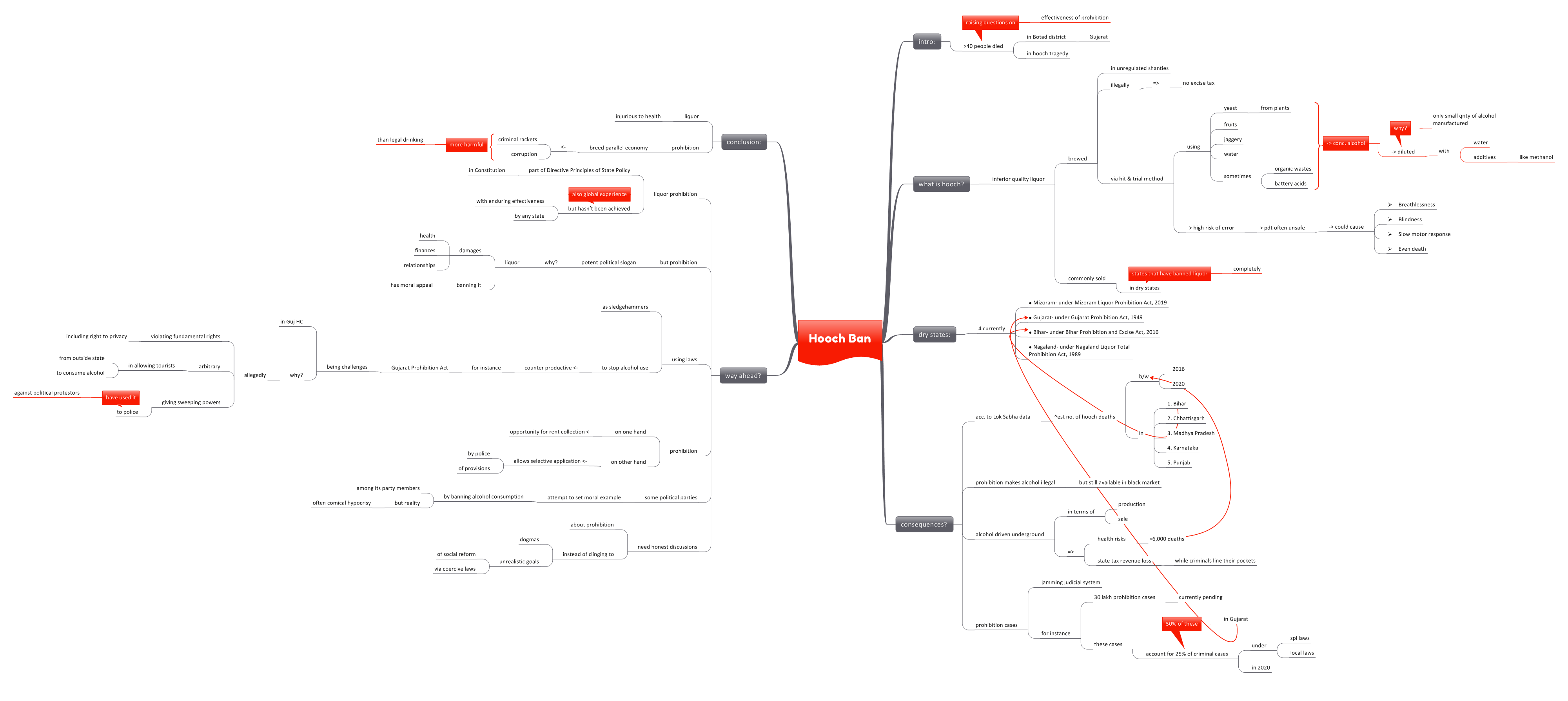 What is hooch?
Hooch refers to an inferior quality of liquor that is brewed in

unregulated shanties.

This is

illegally manufactured

and don't attract excise tax.
This drink is generally made using

yeast

(extracted from plants),

fruits

,

jaggery

and

water

. In some cases, bootleggers even add

organic wastes

and

battery acid

to the mixture.
As the quantity of concentrated alcohol produced through this method is very little, it is diluted with water and other additives like

methanol

.
Since this is

hit and trial method

of alcohol production, there is a high risk of the product being

unsafe

. For instance, the methanol in hooch can lead to:

Breathlessness
Blindness
Slow motor response
Even death

Such liquor is commonly sold in

dry states

i.e. states that have imposed a complete ban on liquor.
Which states have banned liquor?
Currently, 4 states prohibit alcohol:
Mizoram- under Mizoram Liquor Prohibition Act, 2019
Gujarat- under Gujarat Prohibition Act, 1949
Bihar- under Bihar Prohibition and Excise Act, 2016
Nagaland- under Nagaland Liquor Total Prohibition Act, 1989
What are the consequences?
According to data, given in the Lok Sabha, 5 states which reported the h

ighest number of deaths

from hooch consumption between

2016

and

2020

:

Bihar
Chhattisgarh
Madhya Pradesh
Karnataka
Punjab

While Prohibition makes alcohol illegal, the drink continues to hide in the

black markets.

By driving production and sale underground, the consumers are exposed to a lot of

health risks.

Between 2016 and 2020, India recorded

more than 6,000 deaths

due to hooch consumption.
In addition to this, the state loses tax revenues, while criminals line their pockets.
Prohibition cases are unnecessarily jamming up the judicial system, which ought to be employing the time in clearing more-pressing criminal cases. Some

30 lakh prohibition cases

are currently pending trial. About

25% of criminal cases

registered under

special laws and local laws

were prohibition cases in 2020. About 50% of these cases are from Gujarat.
What is the way ahead?
Liquor prohibition is one of the

Directive Principles of State Policy

, listed in the Constitution. However, no state has been able to achieve prohibition with

enduring effectiveness.

This is the case world-over.
However, the policy of prohibition is a

potent slogan for politicians

for liquor damages an individual's

health

,

finances

and

relationships

. Also, there is a

certain moral appeal

in calling for a total ban.
Using the

law as a sledgehammer

to stop alcohol consumption is

counterproductive

– as seen from experience.
For instance, the

Gujarat High Court

is looking into petitions challenging the constitutional validity of

Gujarat Prohibition Act

, on grounds that it violates f

undamental rights

– including the right to privacy. It is also being criticised for its alleged

arbitrariness

in allowing

tourists

(from outside Gujarat) to consume liquor in the state. The legislation gives

sweeping powers

to the police, who have wielded them against political protestors in the past.
Prohibition, on one hand, throws open the opportunity for

rent collection

and on the other, allows police to

selectively apply its provisions

.
Some political parties attempt to set a moral example by barring alcohol consumption among the party members- but in practice, this often turns out to be comical hypocrisy.
Instead of clinging to dogmas and unrealistic goals of social reform via coercive laws, the government would do well to hold

honest discussions

on prohibition.
Conclusion:
Liquor is injurious to health. However, prohibition breeds a parallel economy that engenders criminal rackets and corruption- making it far more harmful than legal drinking.
Practice Question for Mains
Examine whether prohibition is the answer to Article 47 of the Indian Constitution. (250 words)