[Editorial] HIV Drug Shortage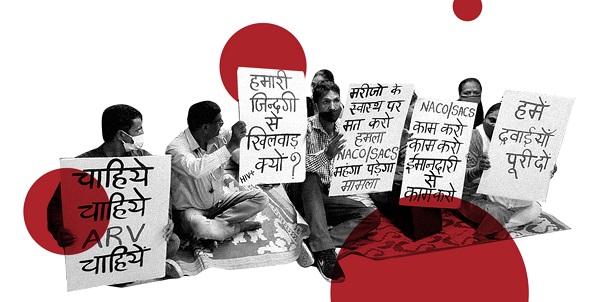 According to WHO, there are some 40 million PLHIVs (Persons Living with HIV) across the world. Of this, 2.31 million live in India. While India has been taking strides in managing HIV case-load, its performance has been waning in the last few years. For instance, several PLHIVs have been protesting against the recent disruptions in HIV drugs' supply.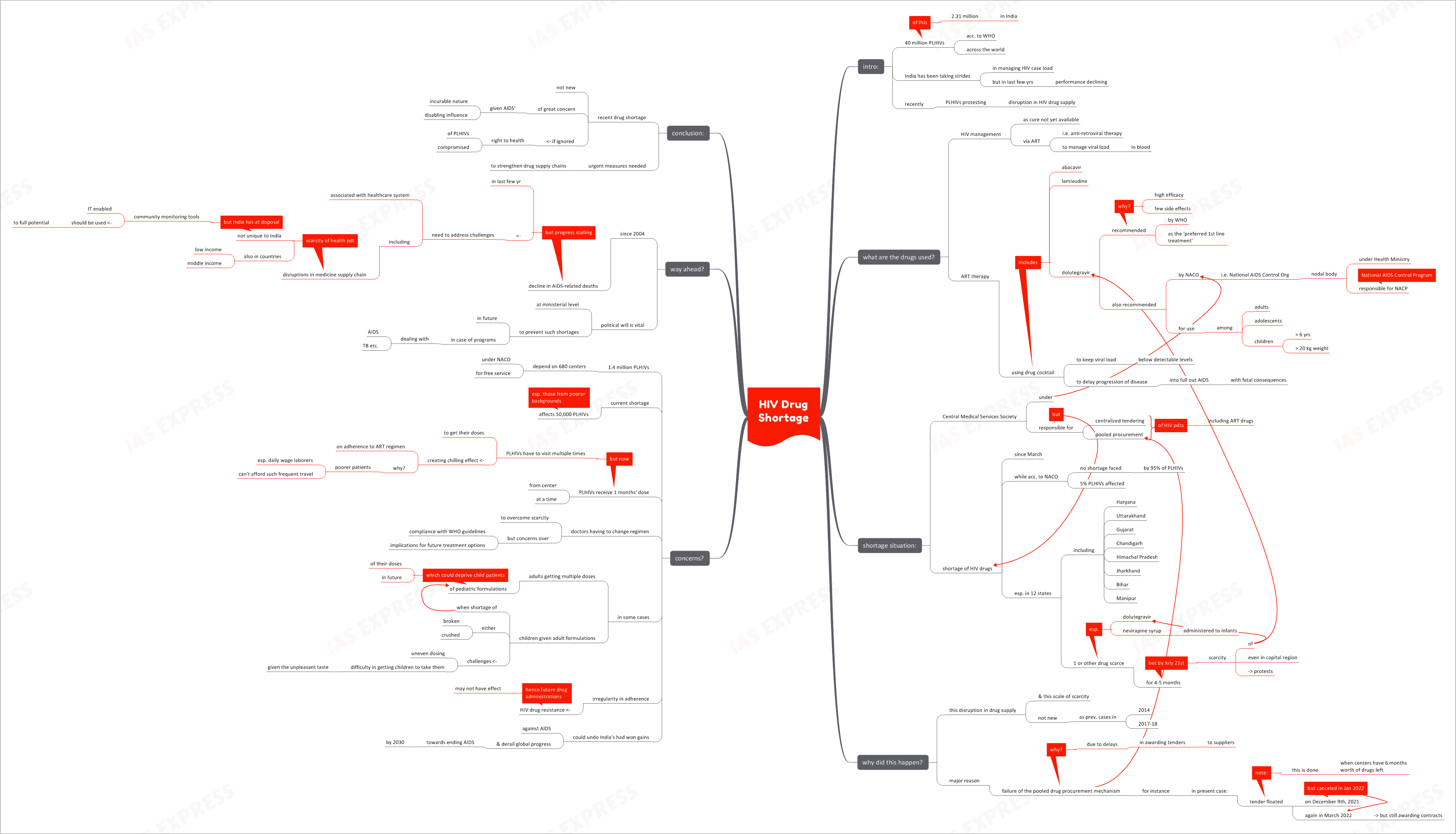 What are the drugs used in managing HIV?
There is

no cure

for HIV infections yet, but the

viral load

in the patients' blood can be managed with

ART or Anti-Retroviral Therapy.

ART uses a cocktail of drugs to reduce the viral load to u

ndetectable levels

. It helps

delay the progression

of the infection into

full-blown AIDS

with

fatal

consequences.
Some of the drugs used in ART include

abacavir

,

lamivudine

and

dolutegravir

.
Of these drugs, dolutegravir is recommended by

WHO

as the 'preferred 1st line treatment' for its

high efficacy

and

few side effects

.

NACO

(National AIDS Control Organization), the

nodal agency

for NACP (National AIDS Control Program) under the Health Ministry, recommends its use in treating

adults

,

adolescents

and even

children

(> 6 years old and weighing > 20 kg).
What is the situation?
The

Central Medical Services Society

, under NACO's oversight, is responsible for

centralized tendering

and

pooled procurement

of HIV products, including ART drugs.
According to the PLHIVs and the bodies concerned with HIV patients and their treatment, there has been a shortage of HIV drugs

since March

this year. The NACO held that

95% of the PLHIVs

haven't faced any shortage. However, it agrees that the current shortage affects

5%

of the 14.2 lakh PLHIVs.
Some

12 states,

including Haryana, Uttarakhand, Gujarat, Chandigarh, Himachal Pradesh, Jharkhand, Bihar and Manipur, have been experiencing scarcity of one or other drug, for the past

4-5 months

. By July 21st, even the dispensing centres in the

capital region

ran out of dolutegravir stocks, triggering protests.
In addition to

dolutegravir

, used in 1st, 2nd and 3rd line ART regimen, there is also a scarcity of

nevirapine syrup

which is administered to infants with HIV infection.
Why did this shortage occur?
Such a disruption in supply of life-saving ART drugs and even the current scale of shortage aren't a new occurrence. Similar situations arose in

2014

and in

2017-18.

In all these cases, the major reason is the

failure of the pooled drug procurement mechanism

, stemming from the

delays

in awarding the tenders to the drug suppliers.
NACO typically floats

tenders

when the centre have

6 months' worth stock

left. The latest tender was floated on December 9th, 2021, only to be

cancelled

in January 2022 due to certain problems with the shortlisted company. A tender was floated again in

March

, but even here the contracts are still being awarded.
Why is it concerning?
Of the 2.31 million PLHIVs in India,

1.4 million

depend on NACO's

680 ART centres

for

free treatment.

The current shortage would affect some

50,000 PLHIVs

– many of them from the

lower economic strata.

Usually, PLHIVs receive

at least 1 month's dose

from these centre, but now, they are

travelling

to the centres frequently to avail their doses. This is causing a

chilling effect on adherence

to the ART regimen as poorer patients, including daily wage laborers, can't afford such frequent travel.
In some cases, doctors are

changing the regimen

to overcome this scarcity. However, there are concerns over compliance with

WHO

guidelines

and implications for f

uture treatment options.

In yet other cases, adult PLHIVs are being given multiple doses of

pediatric formulations.

There is a concern that this could deprive the child patients of their doses in the future.
When centres run out of pediatric doses, children are being given

broken/ crushed adult formulations

. This is leading to

uneven dosing

and difficulty for caregivers in getting the children to take the pills as they have an

unpleasant taste.

Irregularity

in adherence to the prescribed regimen could lead to

HIV drug-resistance

, according to NACO. This would make drugs, even if administered in future, may not have the desired effect.
This could potentially undo India's

hard won gains

against AIDS and

derail the global progress

towards ending AIDS by

2030

.
What is the way ahead?
Since 2004, there has been a

decline in AIDS-related deaths

, however, the progress has been stalling in the recent years.
This indicates a need to address challenges associated with healthcare system, one of which is the disruptions in medicine supply chain.
Scarcity of health products in health programs' supply chain isn't a problem unique to India. Many

low

– and

middle-income countries

face similar issues. However, India has the advantage of

community monitoring tools

that are

IT-enabled.

These should be used to their full potential.

Political will

is required at the ministerial level to take necessary measures to

prevent medicine shortages

, not only in India's HIV program, but also in others like TB program.
Conclusion:
The recent drug shortage isn't a new issue. This is of great concern given the incurable nature of AIDS and its disabling influence over the patients' lives. If such an issue is ignored, PLHIVs' right to health is being compromised. Urgent measures to strengthen medicine supply chain is the key to prevent this.
Practice Question for Mains:
Examine the reasons and implications of the recent HIV drug shortage. (250 words)