[Editorial] Heatwave in India – Reasons, effects and the way forward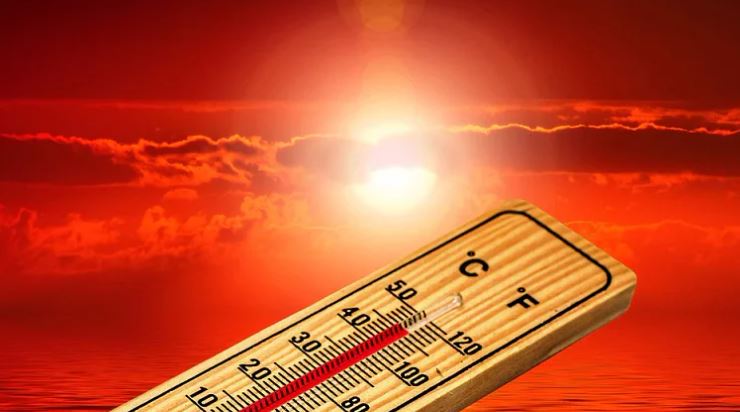 Context: Heatwaves are common in India during May and June but summer began early this year with severe heat conditions being consistently reported over large parts of the country. Temperatures in parts of north India are expected to cross 45 degrees Celsius.

Heatwave
IMD announces a heatwave when the maximum temperature of a place crosses 40 degrees Celsius over the plains, 37 degrees Celsius along the coast and 35 degrees Celsius in hilly areas.
A severe heatwave is declared when the recorded maximum temperature of a locality departure from normal is over 6.4 degrees Celsius.
Also, if an area records over 45 degrees and 47 degrees Celsius on any given day, then the IMD declares heatwave and severe heatwave conditions, respectively.
Why do some regions experience heatwaves?
According to IMD, if there is advection of warm and dry winds from northwestern India, prevailing clear skies and low humidity values, the mercury surges and results in severe heatwave and heatwave levels for a couple of days.
The rising mercury is also due to the increased solar radiation and the formation of a high-pressure zone over parts of central and western India.
The reason for extreme heat
The usual light-intensity rainfall, hail, and lightning have remained absent by and large over many areas of the country since March.
Normally, passing western disturbances – the eastward propagating stream of winds originating from the Mediterranean Sea – interact with moist winds blowing from southern India to trigger thunderstorms. The intermittent light rain and thunder help keep a check on the heat.
According to IMD, this time the western disturbances have not been strong enough.
Extreme heat can be deadly, especially in a region where many lack access to cooling.
Climate change is making heat waves more frequent and severe, with periods of hot days stretching out longer.
Effects of severe heatwave conditions in India
The average maximum temperatures in the month of March in India were the highest in 122 years.
Wheat harvest:
As the condition continues to worsen, farmers are facing the unexpected effect on their wheat harvest, a development that could potentially have global consequences considering the supply disruptions due to the ongoing Russia-Ukraine war.
The heat has also triggered an increase in power demand, resulting in outages in many states and fears of a shortage of coal.
The heatwave has also flagged the increased risk of fire due to rising temperatures.
Ban on working outside:
Both the central and state governments have issued a number of measures to ease the effects of heatwaves, like a ban on working outside during the hottest hours and issuing timely advisories.
Way forward
A multi-sector heat reduction and management plan:
IMD has started issuing heat-wave alerts and their forecast models have improved over years. But there is no policy action that follows after these heatwave warnings by IMD.
National Disaster Management Authority in 2019 published the National Guidelines for Preparation of Action Plan — Prevention and Management of Heat Wave, which is a decent document on improving government response to heatwaves. But no information is available on how many action plans were made.
Ahmedabad and a few more cities of Gujarat have a heat action plan but these are limited to enhancing medical response and drinking water supply during emergencies. Simple things such as stopping outdoor activities like construction and goods delivery during peak heat hours are not incorporated in these plans.
There is a need to develop a multi-sector heat reduction and management plan, and not just focus on surviving the heat waves.
Properly designed buildings and infrastructure:
To effectively shield our population from the scorching sun, efforts need to be made to reduce heat generation within the city.
Cities today are abuzz with heat exhausts like ACs, vehicles, power plants and open fires.
We also have poorly designed buildings and infrastructure that trap this heat.
Focus on reducing pollution sources:
Just like air pollution plans, there is a need to focus on reducing pollution sources within cities and regions so that when the weather becomes hostile, our cities and buildings don't automatically turn into ovens.
Practice Question for Mains
Examine the intense gripping of heatwaves in several parts of India. Suggest the way forward. (250 Words,15 Marks).