[Editorial] Crafting FTAs- Indian Player's Concerns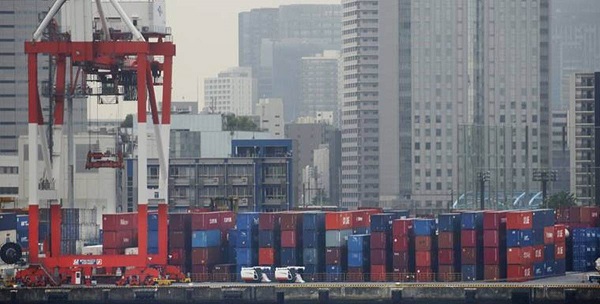 What are the FTAs signed by India?
India-Sri Lanka FTA
SAFTA (Agreement on South Asian Free Trade Area)- involving Afghanistan, Bangladesh, Bhutan, Maldives, Nepal, Pakistan, Sri Lanka and India
India-Nepal Treaty of Trade
India-Bhutan Agreement on Trade, Commerce and Transit
India-Thailand FTA – Early Harvest Scheme
India-Singapore Comprehensive Economic Cooperation Agreement (CECA)
India-ASEAN CECA – Trade in Goods, Services and Investment
India-South Korea Comprehensive Economic Partnership Agreement (CEPA)
India-Japan CEPA
India-Malaysia CECA
India-Mauritius Comprehensive Economic Cooperation and Partnership Agreement
India-UAE CEPA
India-Australia Economic Cooperation and Trade Agreement
Of these FTAs, 3 were signed in just the

last 5 years:
India-Mauritius Comprehensive Economic Cooperation and Partnership Agreement
India-UAE Comprehensive Partnership Agreement
India-Australia Economic Cooperation and Trade Agreement (IndAus ECTA)
In addition to this, 6 limited coverage

Preferential Trade Agreements

have been signed:
Asia Pacific Trade Agreement
Global System of Trade Preferences
SAARC Preferential Trading Agreement
India-Afghanistan PTA
India-MERCOSUR PTA
India-Chile PTA
New Delhi has now commenced talks on an FTA with the

EU

and

UK

.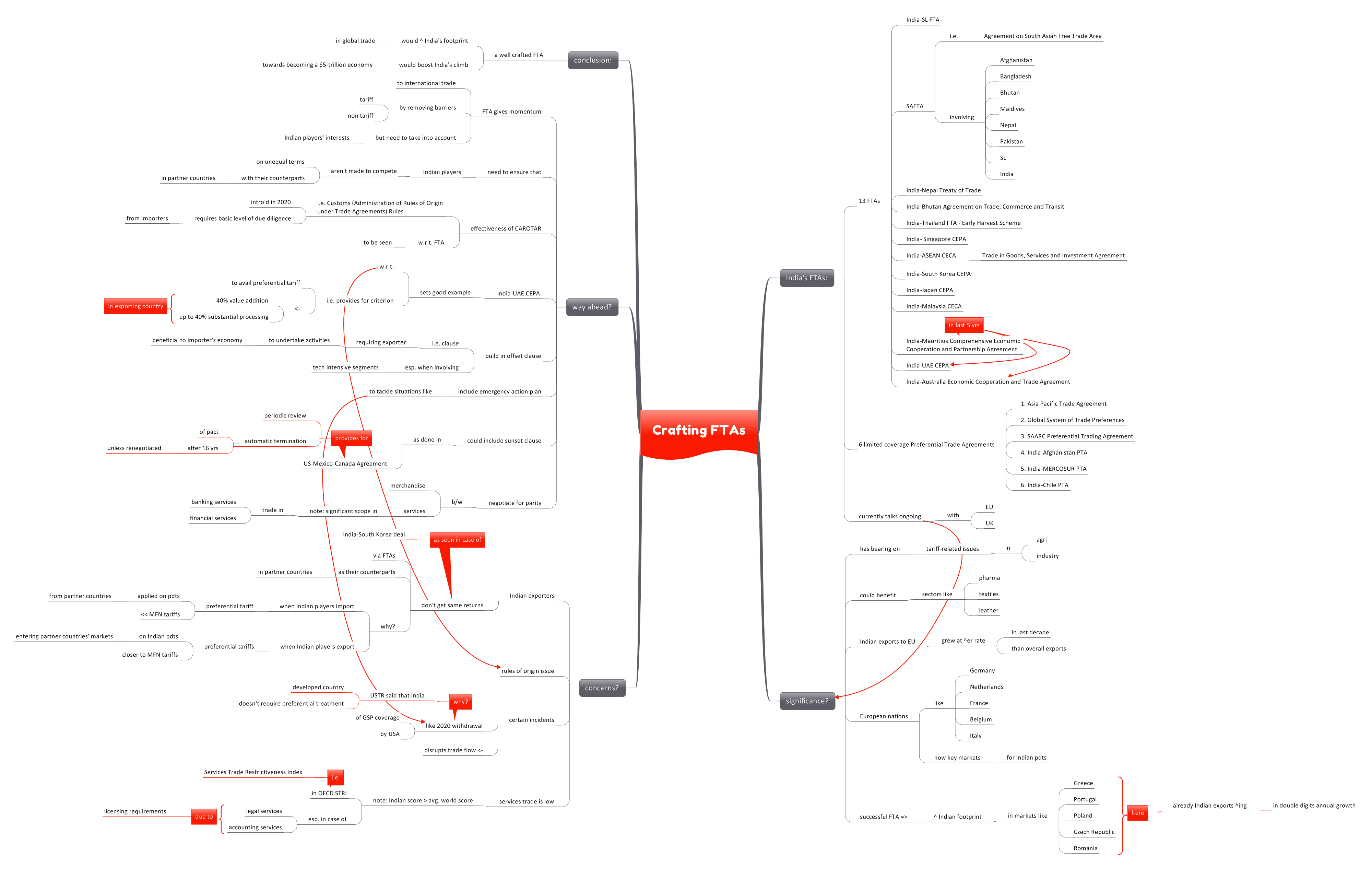 Why are these talks significant?
The ongoing FTA talks have a bearing on

tariff-related issues

in agriculture and industry.
These discussions could benefit sectors like

pharmaceuticals

,

textiles

and

leather

in India.
India's

exports to the EU

have grown at a

faster rate

in the last decade than the

overall exports

of the country.
European nations like

Germany

, the

Netherlands

,

Belgium

,

France

and

Italy

have become

key markets

for Indian products.
Successful FTA between India and the EU would help

increase Indian presence

in markets like

Greece

,

Portugal

,

Poland

,

Czech Republic

and

Romania

. In these countries, Indian exports are already recording

annual growth in double digits.
What are the concerns to be considered while crafting FTAs?
Observations show that Indian exporters

don't get the same returns

as exporters in partner countries. This has been observed in case of

India- South Korea trade.

This is because, when Indian players import, the

preferential tariffs

(from trade agreements) on the products are much lower than the rates applying to countries with

MFN label

(from India). However, when India exports to these partner countries, the preferential tariff on India goods, is often

close to the MFN tariff rates.

'Rules of origin'

is an important bone of contention in most of India's FTAs.
In

2020

, the USA stopped applying GSP to India. The country deemed India to be a

'developed country'

and hence

not requiring of the preferential treatment

under the trade scheme. Such situations tend to

disrupt the trade flow.

Indian trade in

services

is low. Its score in the

STRI (Services Trade Restrictiveness Index of OECD)

is

more than the global average.

This is especially so in case of

legal services

and

accounting services

– because of the

licensing requirements

.
What is the way ahead?
These agreements provide momentum to international trade by removing barriers- tariff and non-tariff. However, care must be taken to account for

Indian players' interests.

While crafting FTAs with partner countries, Indian negotiators must ensure that domestic players aren't made to compete on

unequal terms

with their counterparts in the partner countries.
In 2020, India notified the

CAROTAR or Customs (Administration of Rules of Origin under Trade Agreements) Rules

. These rules require a

basic level of due diligence

from the importer. How these rules perform in the FTAs is yet to be seen.
The recently concluded

India-UAE CEPA

sets a good example in terms of

'rules of origin'

. It provides that

40% value addition

or

up to 40% substantial processing

in the exporting country is a qualifying criterion to avail the preferential tariffs.

Offset clauses

must be built into agreements, especially those involving

technology-intensive segments.

This clause requires the exporting country to undertake activities that

benefit the importer's economy

directly.
Trade agreements could also include an

emergency action plan

. It would help tackle situations like the 2020 withdrawal of GSP-cover.
Lessons can be learnt from the

US-Mexico-Canada Agreement

with regards to

'sunset clauses'

in trade deals. This tri-country deal provides for

periodic review

of terms and pact is to

automatically end in 16 years

, unless the parties

renegotiate

it.
While discussing trade terms, India needs to negotiate for

parity

between the

merchandise

and

service

sectors. It is to be noted that there is significant scope for expanding trade in

banking and financial services.
Conclusion:
A well-crafted FTA would help India increase its footprint in the global trade. It would boost India's climb towards becoming a $5-trillion economy.
Practice Question for Mains
What are the challenges in crafting FTAs? What can be done to cater to Indian interest through these FTAs? (250 words)