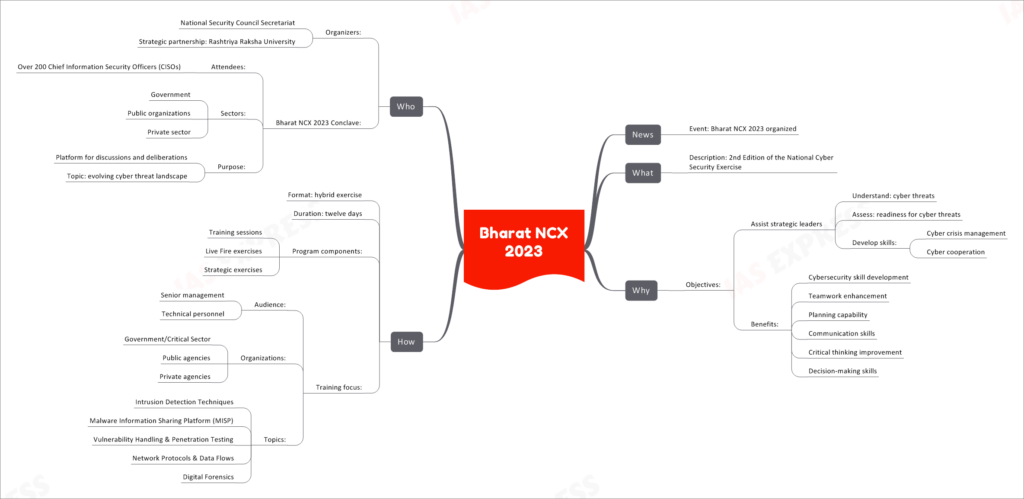 The second edition of the National Cyber Security Exercise, known as Bharat NCX 2023, has been successfully organized. This event aims to enhance cyber resilience in India, with a focus on strategic leaders, government bodies, public agencies, and private organizations.
Bharat NCX 2023: The What
Description
Bharat NCX 2023 marks the 2nd Edition of the National Cyber Security Exercise, a crucial initiative to bolster the nation's cyber defenses and readiness against evolving cyber threats.
The Why: Objectives and Benefits
Objectives
The exercise sets out to achieve several key objectives:
Assist Strategic Leaders: Helping strategic leaders understand cyber threats, assess their organizations' readiness to counter these threats, and develop essential skills in cyber crisis management and cooperation.
Benefits
Participation in Bharat NCX 2023 offers numerous benefits, including:
Cybersecurity Skill Development: Enhancing cybersecurity skills among participants.
Teamwork Enhancement: Fostering teamwork and collaboration.
Planning Capability: Improving the ability to plan and strategize against cyber threats.
Communication Skills: Enhancing communication and coordination.
Critical Thinking Improvement: Encouraging critical thinking in handling cyber incidents.
Decision-Making Skills: Developing effective decision-making skills in cyber crisis scenarios.
How It's Conducted
Format and Duration
Bharat NCX 2023 is conducted in a hybrid exercise format and spans twelve days.
Program Components
The exercise comprises the following components: copyright©iasexpress.net
Training Sessions: Providing participants with valuable insights and knowledge.
Live Fire Exercises: Simulating real-world cyber incidents to assess response capabilities.
Strategic Exercises: Testing the strategic decision-making abilities of senior management.
Training Focus
The training is tailored for:
Audience: Senior management and technical personnel.
Organizations: Government and critical sector entities, public agencies, and private organizations.
Topics Covered
The exercise encompasses a wide range of topics, including:
Intrusion Detection Techniques: Strategies for identifying and mitigating cyber intrusions.
Malware Information Sharing Platform (MISP): Utilizing platforms for sharing crucial malware-related information.
Vulnerability Handling & Penetration Testing: Understanding and addressing vulnerabilities.
Network Protocols & Data Flows: Analyzing network protocols and data transmission.
Digital Forensics: Investigating cyber incidents through digital forensic techniques.
Who's Behind Bharat NCX 2023
Organizers
Bharat NCX 2023 is organized by the National Security Council Secretariat in strategic partnership with Rashtriya Raksha University.
Bharat NCX 2023 Conclave
The event also includes the Bharat NCX 2023 Conclave, featuring over 200 Chief Information Security Officers (CISOs) from government, public organizations, and the private sector. The conclave serves as a platform for discussions and deliberations on the evolving cyber threat landscape.