Durgabai Deshmukh (1909-1981): The Iron Lady of India and Her Impact on Indian Society
I. Introduction
Durgabai Deshmukh was an Indian freedom fighter, lawyer, social worker, and politician who played a significant role in shaping India's Constitution and advocating for social welfare laws. Born in 1909 in Rajahmundry, Andhra Pradesh, she was deeply influenced by Mahatma Gandhi and participated in the Indian freedom struggle from a young age. As a member of the Constituent Assembly of India and the Planning Commission of India, she made key contributions to the nation's development. Durgabai's dedication to women's empowerment, education, and social reform has left a lasting impact on Indian society, and her legacy continues to inspire future generations.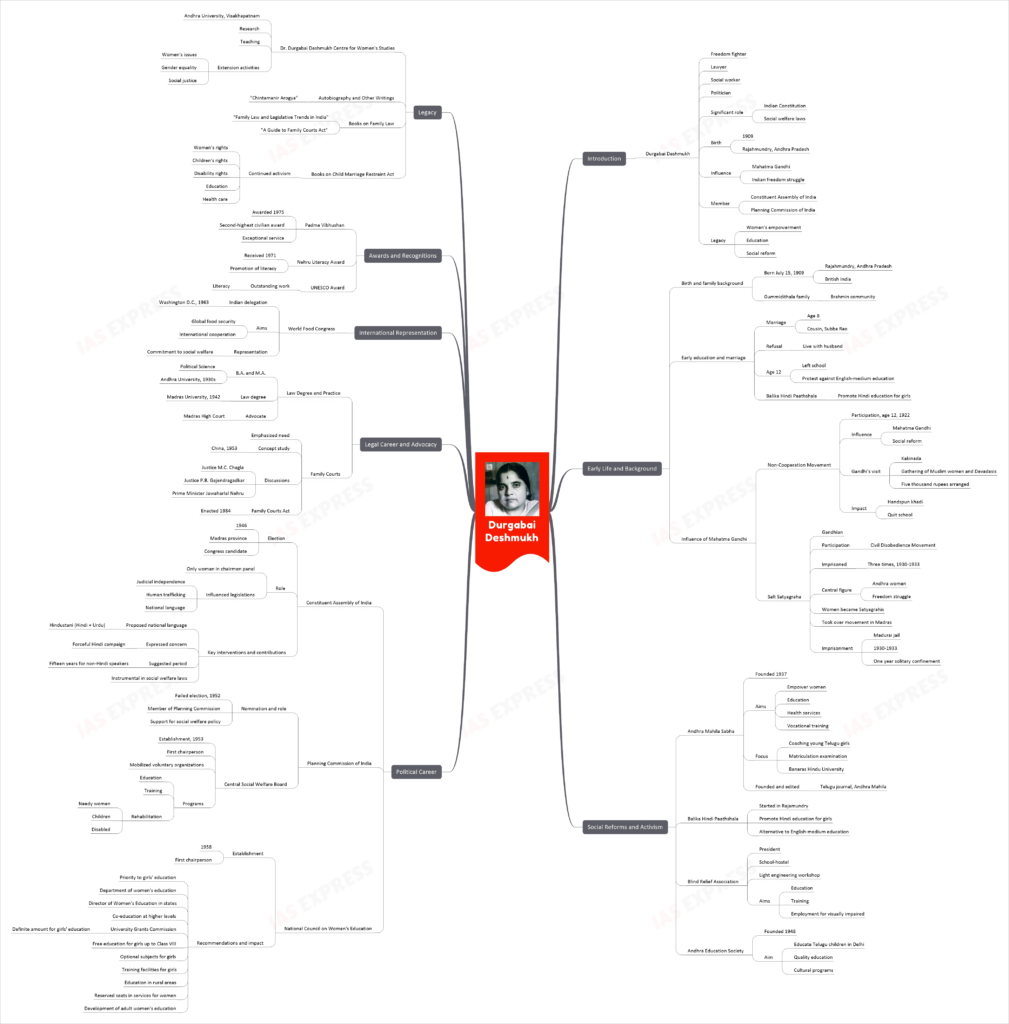 II. Early Life and Background
Birth and family background
Durgabai Deshmukh was born on July 15, 1909, in Rajahmundry, Andhra Pradesh, British India.
She belonged to the Gummidithala family of the Brahmin community.
Early education and marriage
Durgabai was married at the age of 8 to her cousin, Subba Rao.
She refused to live with him after her maturation, and her father and brother supported her decision.
At age 12, she left school in protest of the imposition of English-medium education.
She later started the Balika Hindi Paathshala in Rajamundry to promote Hindi education for girls.
Influence of Mahatma Gandhi
Non-Cooperation Movement
At the age of 12, Durgabai participated in the Non-Cooperation Movement in 1922. copyright©iasexpress.net
She was deeply influenced by Mahatma Gandhi's ideas of social reform.
When Gandhi visited her birthplace, Kakinada, she ensured that he addressed a gathering of Muslim women and Devadasis.
With the help of her Devadasi friends, she arranged for five thousand rupees demanded by the local hosts to present to Gandhi.
Gandhi's visit left a deep impact on the young Durgabai, who decided to start wearing only handspun khadi and quit school to protest the imposition of the English language.
Salt Satyagraha
Durgabai was a dedicated Gandhian and participated in several Gandhi-led Salt Satyagrahas during the Civil Disobedience Movement.
She was instrumental in organizing women in the movement and was imprisoned three times for activities against British rule between 1930 and 1933.
She was the central figure in driving Andhra women to step out of their homes, organize themselves against the British, and join the freedom struggle.
With her support and encouragement, a large number of women became Satyagrahis and faced the hardships of the movement, including prison time.
A young Durgabai was called to take over the Salt Satyagraha movement in Madras after the arrest of freedom fighter T. Prakasam. She herself was imprisoned at Madurai jail for three years from 1930-1933, which included a year in solitary confinement. copyright©iasexpress.net
III. Social Reforms and Activism
Andhra Mahila Sabha
Durgabai Deshmukh founded the Andhra Mahila Sabha in 1937.
The organization aimed to empower women through education, health services, and vocational training.
It focused on coaching young Telugu girls in Madras for their Matriculation examination conducted by the Banaras Hindu University.
Durgabai also founded and edited a Telugu journal called Andhra Mahila to promote the cause of women's education and empowerment.
Balika Hindi Paathshala
Durgabai Deshmukh started the Balika Hindi Paathshala in Rajamundry to promote Hindi education for girls.
This initiative was a response to her protest against the imposition of English-medium education in schools.
The Paathshala aimed to provide an alternative educational platform for girls who wanted to learn Hindi.
Blind Relief Association
Durgabai Deshmukh served as the president of the Blind Relief Association.
In this capacity, she established a school-hostel and a light engineering workshop for the visually impaired.
These initiatives aimed to provide education, training, and employment opportunities for visually impaired individuals.
Andhra Education Society
Durgabai Deshmukh founded the Andhra Education Society (AES) in 1948.
The organization aimed to serve the educational needs of Telugu children residing in Delhi.
AES provided support and resources to ensure that Telugu children had access to quality education and cultural programs. copyright©iasexpress.net
IV. Political Career
Constituent Assembly of India
Election and role in the assembly
Durgabai Deshmukh was elected to the Constituent Assembly of India as a Congress candidate in 1946 from the Madras province.
She was the only woman in the panel of chairmen in the Constituent Assembly.
Durgabai influenced several legislations on issues including judicial independence, human trafficking, and the national language.
Key interventions and contributions
She proposed Hindustani (Hindi + Urdu) as the national language of India but also expressed concern about the forceful campaign for Hindi in South India.
Durgabai suggested a period of fifteen years of status quo to enable all non-Hindi speakers to adopt and learn Hindi.
She was instrumental in the enactment of many social welfare laws.
Planning Commission of India
Nomination and role
Durgabai Deshmukh failed to get elected to Parliament in 1952 and was later nominated to be a member of the Planning Commission.
In her role, she mustered support for a national policy on social welfare.
Central Social Welfare Board
The policy resulted in the establishment of the Central Social Welfare Board in 1953.
As the Board's first chairperson, Durgabai mobilized a large number of voluntary organizations to carry out its programs, which were aimed at education, training, and rehabilitation of needy women, children, and the disabled. copyright©iasexpress.net
National Council on Women's Education
Establishment and chairpersonship
Durgabai Deshmukh was the first chairperson of the National Council on Women's Education, established by the Government of India in 1958.
Recommendations and impact
In 1959, the committee presented its recommendations, which included:

Giving priority to the education of girls by the Centre and State Governments.
Creating a department of women's education in the central ministry of education.
Appointing a Director of Women's Education in each state.
Properly organizing co-education at higher levels of education.
The University Grants Commission specifying a definite amount separately for the education of girls.
Providing free education for girls up to Class VIII in the first phase of development.
Offering facilities in the choice of optional subjects for girls.
Providing training facilities for girls on a liberal basis.
Encouraging the education of girls in rural areas.
Reserving a large number of seats in various services for women.
Initiating and encouraging programs for the development of adult women's education.
V. Legal Career and Advocacy
Law Degree and Practice
Durgabai Deshmukh completed her B.A. and M.A. in Political Science from Andhra University in the 1930s.
She obtained her law degree from Madras University in 1942. copyright©iasexpress.net
After obtaining her law degree, she started practicing as an advocate in Madras High Court.
Family Courts
Durgabai Deshmukh was the first to emphasize the need for separate Family Courts in India.
She studied the concept of Family Courts during her visit to China in 1953.
She discussed the idea with Justice M.C. Chagla and Justice P.B. Gajendragadkar of the Bombay High Court, as well as with Prime Minister Jawaharlal Nehru.
Due to the demands for speedy justice for women in familial matters from women's movements and organizations, the Family Courts Act was enacted in 1984.
VI. International Representation
World Food Congress
Durgabai Deshmukh was sent to Washington D.C. in 1963 as a member of the Indian delegation to the World Food Congress.
The Congress aimed to address global food security issues and promote international cooperation in the field of food and agriculture.
Durgabai's participation in the World Food Congress showcased her commitment to social welfare and her ability to represent India on the international stage.
VII. Awards and Recognitions
Padma Vibhushan
Durgabai Deshmukh was awarded the Padma Vibhushan in 1975 by the Government of India.
The Padma Vibhushan is the second-highest civilian award in India, recognizing exceptional and distinguished service in various fields. copyright©iasexpress.net
Nehru Literacy Award
In 1971, Durgabai received the Nehru Literacy Award for her contribution to the promotion of literacy in India.
The award recognized her efforts in advancing education, particularly for women and marginalized communities.
UNESCO Award
Durgabai Deshmukh was honored with the UNESCO Award for outstanding work in the field of literacy.
This international recognition highlighted her dedication to promoting education and empowering individuals through knowledge.
VIII. Legacy
Dr. Durgabai Deshmukh Centre for Women's Studies
Established at Andhra University, Visakhapatnam, the Dr. Durgabai Deshmukh Centre for Women's Studies commemorates her legacy and contributions to women's empowerment and education.
The Centre focuses on research, teaching, and extension activities related to women's issues, gender equality, and social justice.
Autobiography and Other Writings
Durgabai Deshmukh authored a book titled "The Stone That Speaketh," which provides insights into her life and experiences.
Her autobiography, "Chintaman and I," was published in 1980, a year before her death. The book details her personal and professional life, including her marriage to Chintaman Deshmukh, the first Indian governor of the Reserve Bank of India and Finance Minister in India's Central Cabinet from 1950 to 1956.
IX. Conclusion
Durgabai Deshmukh's impact on Indian society as a freedom fighter, lawyer, social worker, and politician has been significant, particularly in the areas of women's empowerment and social reform. Her unwavering dedication to social causes and her ability to overcome personal and societal challenges have made her an inspirational figure, often referred to as the "Iron Lady" of India. Her legacy continues to inspire future generations to fight for social justice and equality, leaving an indelible mark on the nation's history. copyright©iasexpress.net
Learn More