Contract Farming in India: objectives, Advantages, Disadvantages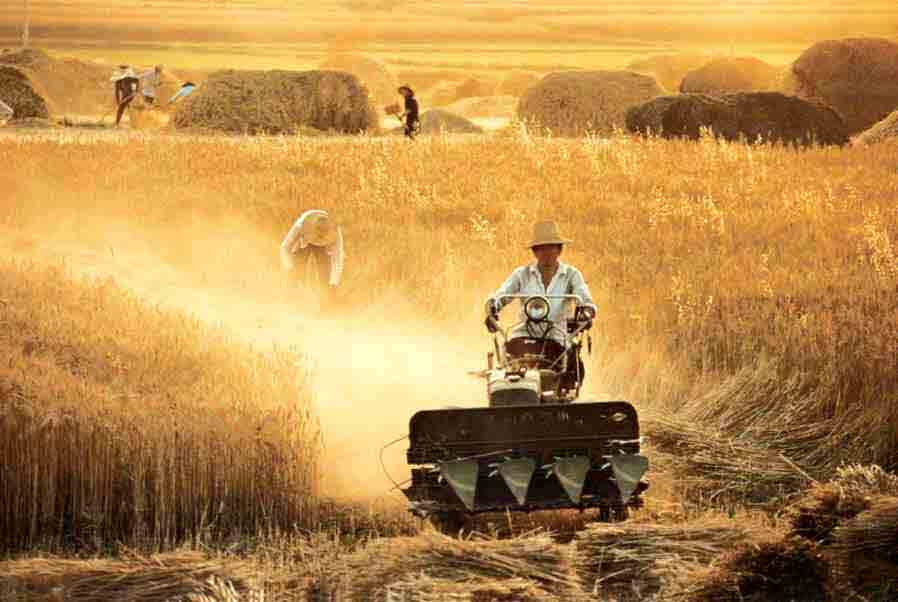 The third tranche of economic measures made significant hints towards contract farming and related policy initiatives. After various state governments taking various steps related to agricultural marketing, the central government has brought an ordinance on contract farming making it legal to sell farm produce beyond traditional APMCs and undergo contract farming.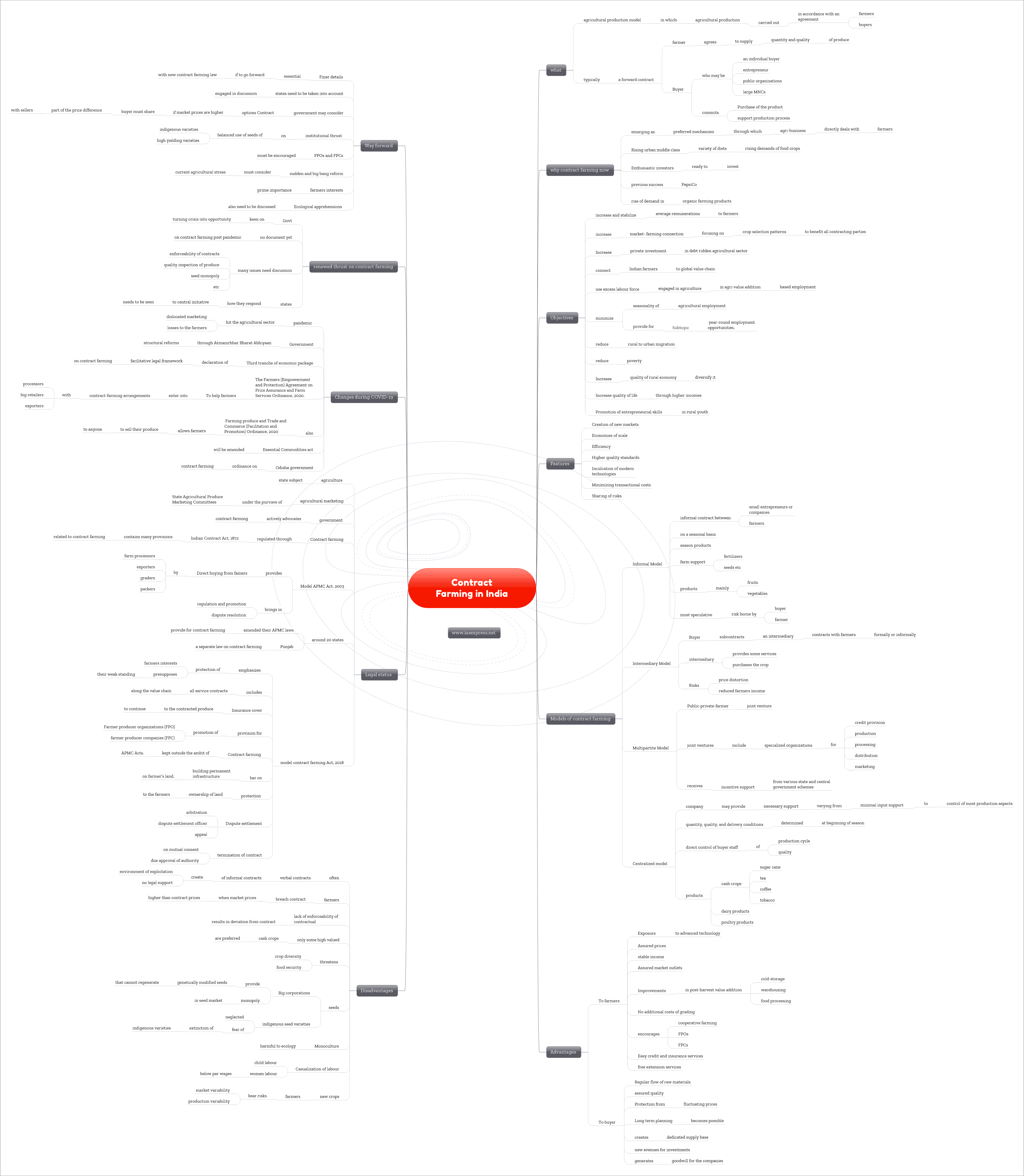 Mindmap Learning Programme (MLP)
Absorb information like a sponge!
What is Contract Farming?
Contract farming is an agricultural production model in which agricultural production is carried out in accordance with an agreement between a farmer and a buyer.
In Contract Farming, typically a forward contract, the farmer agrees to provide the agreed quantity of specified agricultural product. The quality standards of the product and timing of the supply are pre-specified by the purchaser.
In return, the buyer, who may be an individual entrepreneur, company, or government body, commits to purchase the product and, in some cases, to support production through supply of farm inputs, land preparation and technological assistance, etc.
Why give thrust to contract farming now?
Contract farming has emerged as the preferred mechanism through which an agri-business can directly deal with a farmer without any middlemen.
With rising urban middle class which is diet conscious, rising demand for diverse variety of food products, and increased investment in agricultural retailing companies interested in investing in agriculture to provide for such market demands are increasing.
In India, we have previous models of contract farming such as PepsiCo who have successfully tried contract farming and are still in this business.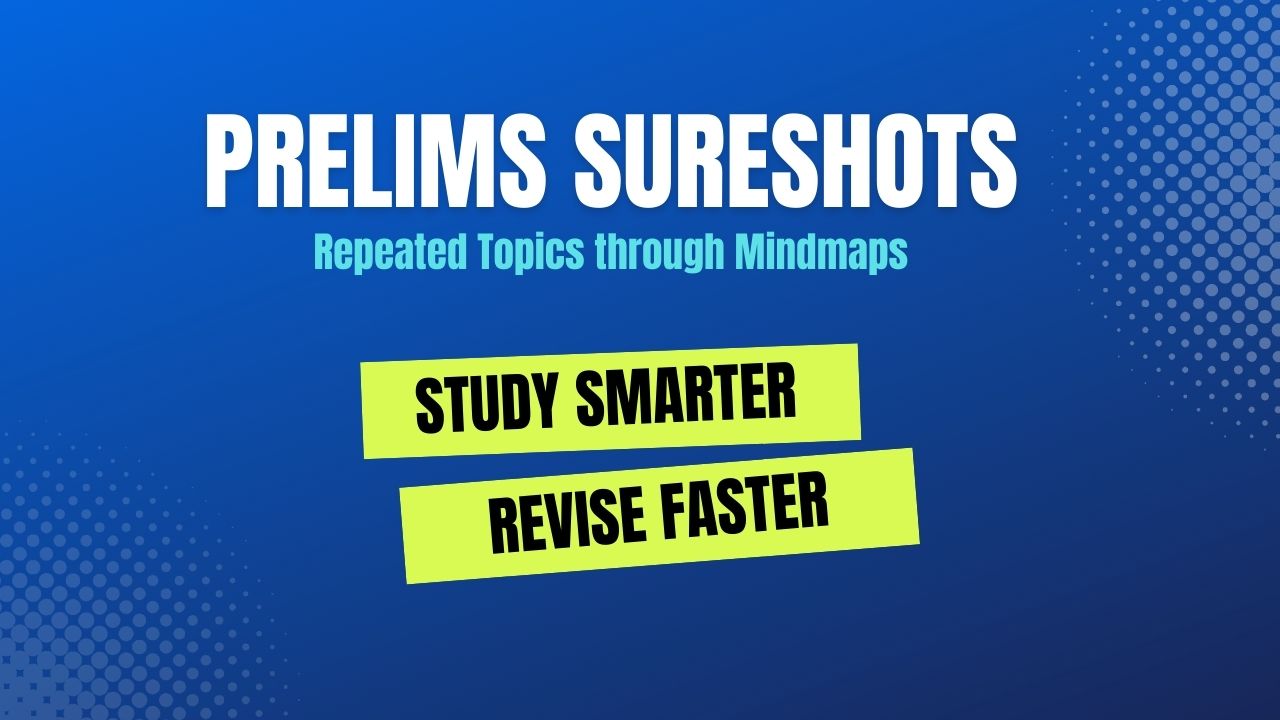 What are the objectives of Contract Farming?
To increase and stabilize average remunerations to the agriculture sector which is reeling under stress, disguised unemployment, low output.
To increase market- farming connection with the market focusing on crop selection patterns and influencing them for the benefit of both farmer and buyer.
To increase private investment in debt-ridden agriculture.
To connect the Indian farm sector to the global value chain of food processing and sale.
To use the excess labor in gainful employment opportunities in Agri-value addition processes.
To minimize the seasonality of agricultural employment and provide for year-round employment opportunities.
To reduce social phenomena like rural-urban migration.
To reduce rural-agricultural population poverty.
Increase the quality of rural economy, formalize it, and in turn improve quality of life in rural areas.
Promotion of entrepreneurial skills and setting up small scale industries based on agro-food products in rural areas.
It reduces the load on the central and state-level procurement system.
What are the features of Contract farming?
Creation of new markets
Economies of scale
Efficiency
Higher quality standards
Inculcation of modern technologies
Minimizing transactional costs
Sharing of risks
What are Contract Farming Business models?
There is a wide range of organizational structures that are included in contract farming. The choice of model depends upon the product, the resources of the company, the social and physical environments, the needs of the farmers, and the local farming system. The contract farming models used in India are
In this model small entrepreneurs or companies enter into informal contracts with farmers on a seasonal basis. Some features are
Small firms contract with farmers for seasonal products.
Farm support is basically fertilizers and seeds, grading, and quality control.
Products are mainly fruits and vegetables.
Most speculative of all models and risks are borne by both farmers and purchasers.
In this model, the buyer subcontracts an intermediary who formally or informally contracts with the farmers. Some features are
The intermediary provides some services and purchases the crop
There are risks of price distortion and reduced income to farmers
A well designed, with proper incentive structure, the contract is always beneficial to the contracting parties.
It is a public-private-farmer joint venture. Some features are
Joint ventures include various different specialized organizations for the purpose of credit provision, production, processing, distribution, and marketing.
This model also receives incentive support from various state and central government schemes.
Under this model, a company may provide necessary support varying from minimal input support to control of most production aspects.  Features are
The quantity, quality, and delivery conditions are determined at the beginning of the season.
The production cycle and quality are directly controlled by the buyer company's staff.
The products that are contracted under this model are cash crops like Sugar cane, Tobacco, tea, coffee, and dairy and poultry products.
What are the advantages of the Contract Farming method?
Contract farming is a method of agro-market integration devised to benefit both the buyers and the farmers.
Exposure to the cutting edge agro-technology will result in improved productivity of farmlands.
Assured prices and income stabilization are achieved through pre-agreed prices and contractual obligations.
Assured market outlets for the farm output.
Improvements in post-harvest value addition will be brought in through cold-storage, warehousing, food processing, etc.
No additional costs of grading, as mandatory for fresh market sale.
Achievements of economies of scale through bulk contracts by a single firm, bulk supply.
Free of cost crop monitoring, technical advice, other extension services.
Easy credit and insurance services.
Freeing up of disguised unemployment and increased entrepreneurial activities in rural areas.
Benefits for the sponsors
Regular flow of raw materials of assured quality.
Protection from fluctuating prices and consequent unhindered business model.
Long term planning is possible
Creates a dedicated supply base
New avenues for investments can be opened as more crops can be brought under contract farming.
It generates goodwill for the corporates in the minds of the people, mainly farmers.
What are the disadvantages of Contract farming?
Contract farming often takes place under verbal or informal contracts which creates an environment of exploitation without any legal support avenue.
The farmers too, tend to sell farm products in an open market (breaching contract) when market prices tend to go higher than contract prices.
The lack of enforceability of contractual provisions so results in a deviation from the contract from parties.
Contract farming limits itself to some high-value crops neglecting crop diversity. It directs farmers towards cash crops.
This may in turn endanger food security of India and vulnerable sections' interests may be put in jeopardy.
Big corporations often provide genetically modified seeds that cannot regenerate, and in this way, MNCs create monopolies over the seed industry.
The indigenous seeds are neglected and this often leads to the extinction of indigenous varieties.
The MNCs promote monoculture which is harmful to farmland and larger ecology.
There is a potential of casualization of labor and use of child labor and exploitation of women labor with low wages, lack of better working conditions.
While growing new crops, farmers face the risk of both market failure and production problems.
Sponsoring companies may be unreliable and tend to exploit a monopoly position
What is the legal status of Contract Farming in India?
As agriculture is a state subject and agricultural marketing comes under the purview of the State Agricultural Produce Marketing Committees.
For long, there has been a compulsion on farmers to sell farm produce in designated Mandis, APMCs only.
The Government has been actively advocating agricultural marketing reforms through model APMC acts.
Contract Farming has been regulated in India under the outdated Indian Contract Act, 1872 which contains many provisions relating to contract farming.
The Model APMC Act, 2003 also had provisions for contract farming such as Direct buying from farmers by farm processors, exporters, graders, packers, etc.
The Model APMC Act, 2003 also sought to bring in regulation and promotion along with dispute resolution.
Around 20 states have consequently amended their APMC laws to provide for contract farming while Punjab has a separate law on contract farming.
The model contract farming Act, 2018 seeks to establish a balanced framework for the contractual parties.
What are the salient features of the Model Contract Farming Act, 2018?
The act presupposes a weak standing of farmers and emphasizes on the protection of their interests.
The act includes all service contracts along the value chain from the pre-production stage to the post production works.
Insurance cover will be provided to the contracted produce.
There is a provision for the promotion of Farmer producer organizations (FPO) and farmer producer companies (FPC) to mobilize small and marginal farmers under contract farming.
Contract farming is to be kept outside the ambit of APMC Acts.
There is a bar on building permanent infrastructure on farmer's land.
The act provides protection of ownership of land to the farmers.
Dispute settlement has been dealt with in the act with provisions of negotiations, third party mediation.
It also provides for a dispute settlement officer and provision for appeal against such an officer's verdict.
There is a provision for alteration and termination of contract on mutual consent and due approval of the authority.
What are the changes brought in recently during the COVID-19 Pandemic?
The COVID-19 pandemic has hit the agricultural sector most with dislocated marketing and losses to the farmers.
The Central government through its Atmanirbhar Abhiyaan, has sought to make structural changes in the agricultural sector also.
Under the third tranche of the economic package, the government declared that a facilitative legal framework would be created to enable farmers to engage with the processors, aggregators, and large retailers for assured returns and quality standardization.
The central government, in line with this reform agenda, has introduced a set of ordinances to create a nationwide market and allow contract farming to protect farmers from price risks.
The Farming produce and Trade and Commerce (Facilitation and Promotion) Ordinance, 2020 allows farmers to sell their produce to anyone outside the APMC structure.
To help farmers enter into contract-farming arrangements with processors, big retailers and exporters, the cabinet also approved 'The Farmers (Empowerment and Protection) Agreement on Price Assurance and Farm Services Ordinance, 2020.'
The ordinance makes a provision that in a situation when the contracted price is less than market price during delivery of produce, the farmers will receive a share of the higher prices.
The government has also indicated that it will amend the Essential commodities act, 1955.
The Odisha government also came up with an ordinance with an aim at registration of farmers with contract farming companies for improved production and productivity.
What does the recent thrust on Contract farming mean?
The Government is keen on turning the ongoing crisis into an opportunity in long waited structural reforms. The agricultural sector forms an important part of those reforms.
The contract farming has been on the list of agricultural reforms along with the agricultural market reforms.
Though the government has presented a possible policy initiative, no document has yet been revealed, so it needs to be seen what the government offers for contract farming.
There are issues that needs to be discussed such as enforceability of contracts, quality inspection of produce, etc.
The states' response to the central initiative is also important as agriculture comes under the state list.
Way forward
The finer details must be dealt with if we are going to have a big-bang reforms in agricultural marketing.
As said above, the states must be brought into the equation if contract farming is to be successful.
The government may consider options Contract to negate the possibilities of disputes arising due to market variables. In the case of a higher market price than contract, the buyer must be obligated to share a part of the price difference with the sellers.
There should be an institutional thrust on indigenous seeds balancing the high yielding genetic varieties to protect local genomes.
The Farmer produce organizers and farmer producer companies must be encouraged to undergo contract farming.
Any big bang reform must consider current agricultural stress and farmers interest protection must be of prime importance.
It is hence necessary that while farmers must be given free hand in deciding the future of their produce, large MNCs and corporate houses don't monopolize the value chain which will further make farmers even more vulnerable.
While discussing economy and income, the ecological apprehensions of contract farming must also be discussed thoroughly and appropriate safeguards must be provided.
Conclusion
It is important to remember that for buyers, the contract is a business proposition but for the selling farmers, it is a livelihood means. The government must take various stakeholders on board while framing any future policy/law on contract farming.
Practice Question for Mains
Critically analyze the potential of contract farming in doubling farmers income. (250 words)