Civil Liability for Nuclear Damage Act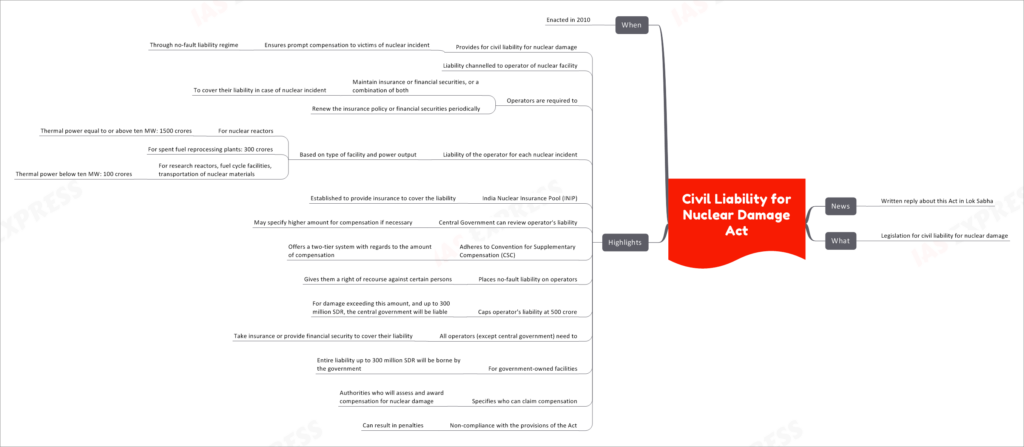 A written reply about the Civil Liability for Nuclear Damage Act was given in Lok Sabha.
What
The Civil Liability for Nuclear Damage Act is legislation that deals with civil liability for nuclear damage and ensures prompt compensation to victims of nuclear incidents through a no-fault liability regime.
Highlights
The Act provides for civil liability for nuclear damage, and the liability is channeled to the operator of the nuclear facility.
Operators of nuclear facilities are required to maintain insurance or financial securities, or a combination of both, to cover their liability in case of a nuclear incident. They must also renew these insurance policies or financial securities periodically.
The liability of the operator for each nuclear incident is based on the type of facility and power output. For example:

Nuclear reactors with thermal power equal to or above ten MW have a liability of 1500 crores.
Spent fuel reprocessing plants have a liability of 300 crores.
Research reactors, fuel cycle facilities, and transportation of nuclear materials with thermal power below ten MW have a liability of 100 crores.

The India Nuclear Insurance Pool (INIP) was established to provide insurance to cover the liability of operators.
The Central Government has the authority to review the operator's liability and may specify a higher amount for compensation if necessary. copyright©iasexpress.net
The Act adheres to the Convention on Supplementary Compensation (CSC), which offers a two-tier system for the amount of compensation.
The Act places no-fault liability on operators but also gives them a right of recourse against certain persons.
The operator's liability is capped at 500 crore. For damage exceeding this amount and up to 300 million SDR, the central government will be liable.
All operators (except the central government) need to take insurance or provide financial security to cover their liability.
For government-owned facilities, the entire liability up to 300 million SDR will be borne by the government.
The Act specifies who can claim compensation and designates the authorities responsible for assessing and awarding compensation for nuclear damage.
Non-compliance with the provisions of the Act can result in penalties.
When
The Civil Liability for Nuclear Damage Act was enacted in 2010.
Learn More