Child Marriage in India – Causes, Impacts, Laws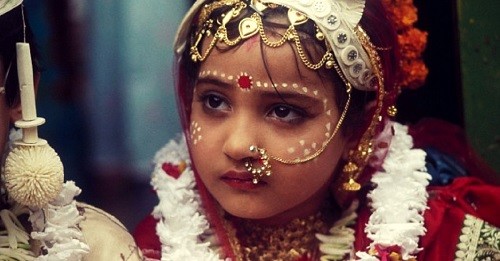 Child marriage is a global problem. Around 15 million girls become victims of child marriage every year across the world. The UN says that more than 21% of young women and 4% young men in the world were married before they turn 18. At present, 650 million girls and women alive were married before their 18th birthday. Africa has the most recorded marriages – more than 70% of its girl population. India contributes about 40% of child marriages across the globe. It is a global issue that is plaguing Nepal, Middle East, Bangladesh and Pakistan. It is an issue even in developed countries like USA and UK. Massive efforts have been undertaken by countries and the UN to prevent child marriages. In the last decade, the proportion of women who were married as children decreased by 15%. Around 25 million child marriages were prevented in the last decade. South Asia showed the largest decline in the prevalence of child marriages. India too has seen a significant decline in the prevalence of child marriage. However, more efforts are necessary to achieve the Sustainable Development Goal within 2030.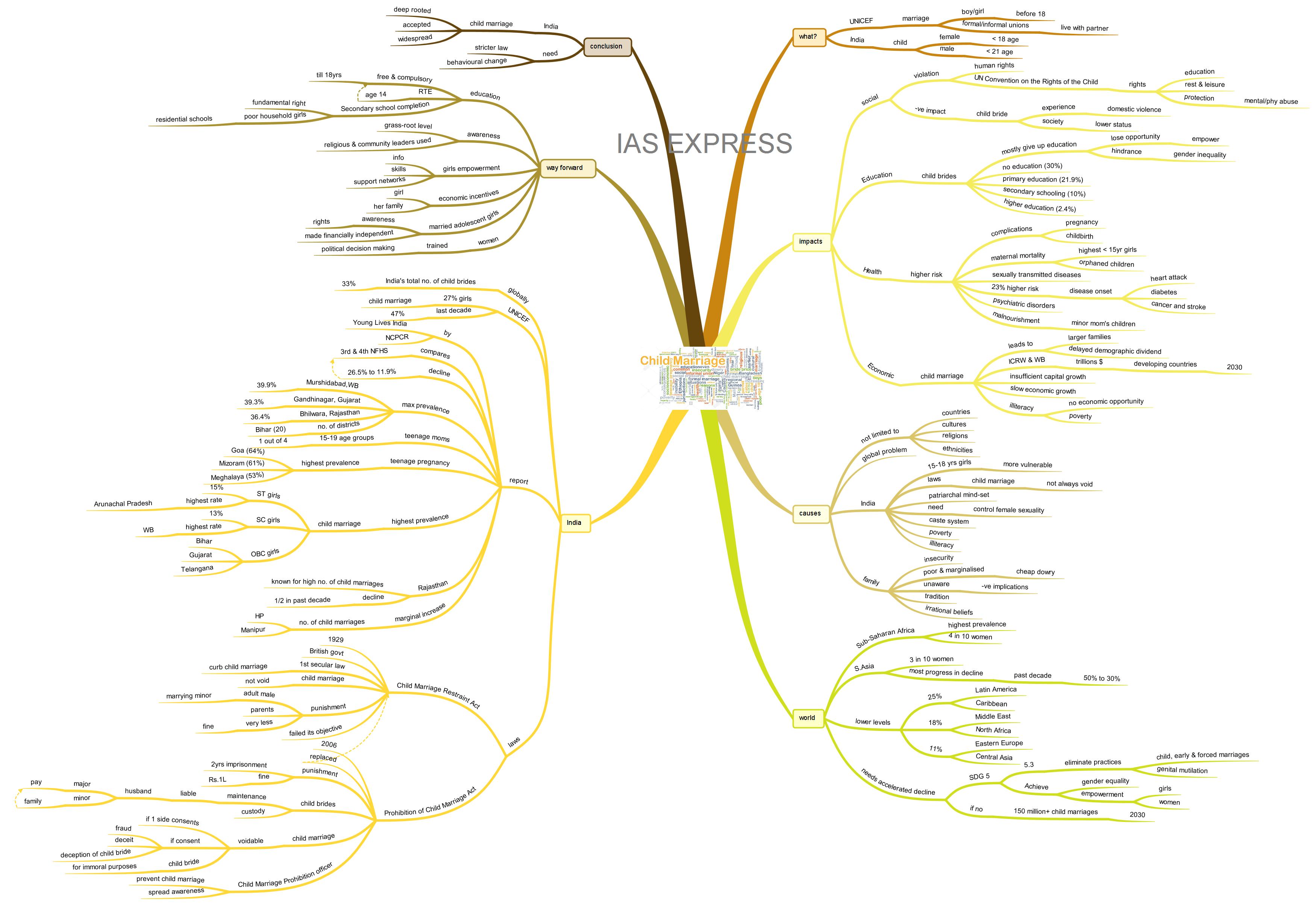 Mindmap Learning Programme (MLP)
Absorb information like a sponge!
What is child marriage?
According to United Nations International Children's Education Fund (UNICEF), child marriage is defined as a marriage of a girl or boy before the age of 18 and refers to both formal marriages and informal unions in which children under the age of 18 live with a partner as if married.
According to India's Prohibition of Child Marriage Act, 2006, a child means a male below 21 years or a female below 18.
What are the negative impacts of child marriage?
Child marriages cause social, economic, health and political implications for child brides, their families and their communities.
Social Implications:
Child Marriage, a violation of human rights, harms the life of the child bride.
Because of child marriages, the girls are deprived of their basic rights and independence.
This violates the UN Convention on the Rights of the Child that provides the right to education, right to rest and leisure, right to protection from mental/physical abuse including rape and sexual abuse.
Child brides are more likely to experience domestic violence and have a lower status in society.
Education:
Child brides most often give up education and thus lose the opportunity to empower themselves. This is a major hindrance to gender equality.
As per statistics, girls who were faced with marriages below the age of 18 had no education (30%), primary education (21.9%), secondary schooling (10%), higher education (2.4%). This shows that child marriages would mean that girls are less likely to be educated.
Uneducated women lose the opportunity to educate their children, increasing the risk of the next generation as well.
Health implications:
Child brides are neither physically nor emotionally prepared to be wives and mothers.
They are more likely to face dangerous complications during pregnancy and childbirth. Risk of maternal mortality is at its highest for adolescent girls under 15.
These complications are the leading cause of death among adolescent girls in developing countries, leaving behind vulnerable and orphaned children.
Child marriages are associated with higher rates of sexually transmitted diseases including HIV.
Women married at 18 or younger have a 23% higher risk of disease onset, including heart attack, diabetes, cancer and stroke and will also face a higher risk of psychiatric disorders.
Also, the children of minor mothers are often malnourished.
Economic implications:
Child marriages contribute to larger families and delayed demographic dividend.
A study by the International Centre for Research on Women (ICRW) and World Bank states that child marriages could cost trillions of dollars to the developing countries by 2030.
With every child bride, the world loses a teacher, doctor, scientist, entrepreneur or political leader.
It could lead to insufficient accumulation of capital and slower economic growth.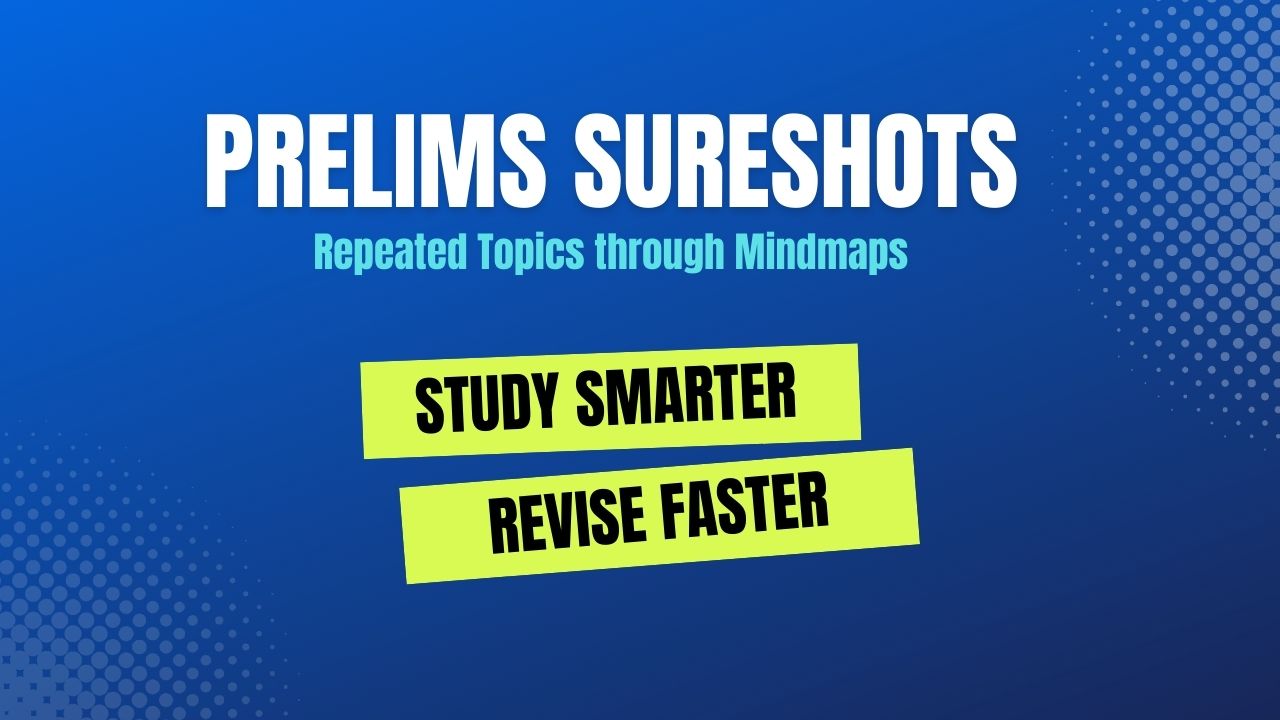 What are the causes of child marriage?
Child marriage is a global problem that cuts across countries, cultures, religions and ethnicities.
Child brides can be found in every region in the world, from the Middle East to Latin America, South Asia to Europe.
There are many causes for child marriage that are not confined to religious beliefs or cultures.
In India, girls between the age group of 15 to 18 years are more vulnerable to child marriage.
This may be due to the insecurity of the family members and their lack of awareness about its negative implications.
In Indian society, the burden of dowry is less for child brides. Thus, the poor and socially backward families opt for it.
The traditions and irrational beliefs also have a role to play in this problem.
Also, though the Indian laws that ban child marriage, they do not always make it void.
The other causes include the patriarchal mindset of the society, the need to control female sexuality and the prevalence caste system, poverty and illiteracy within the society.
India and Child Marriage:
According to estimates, India contributes to 33% of the total number of child brides globally, with approximately 103 million Indians getting married before they turn 18.
As per UNICEF estimates, in India, 27% of girls (nearly 1.5 million girls) get married before their 18th This is better than 47% a decade ago.
A United Nations report stated that there has been a significant decline in the Indian girls being forced to marry.
Report by Young Lives India and the National Commission for Protection of Child Rights (NCPCR):
This report compares data on child marriages from the 3rd and 4th rounds of the National Family Health Survey.
The comparison saw a decline of more than half: 26.5% to 11.9%. However, this statistics is based on a sample survey and not on 100% enumeration.
As per the report, Murshidabad in West Bengal has the maximum prevalence rate of 39.9%, followed by Gandhinagar, Gujarat (39.3%) and Bhilwara, Rajasthan (36.4%).
Bihar houses the maximum number of prevalence districts (20) in India.
More than one out of four married teenage girls in the 15-19 age groups become mothers in India.
The states with the highest prevalence of teenage pregnancy among the married girls are Goa (64%), Mizoram (61%), and Meghalaya (53%).
The highest prevalence of child marriage is reported among the ST girls (15%), followed by SC girls (13%).
West Bengal has the highest rate of child marriages among the SC girls, while Arunachal Pradesh has the highest rate of child marriage among the ST girls.
Bihar, Gujarat and Telangana have a high prevalence of child marriages among the OBC girls.
Rajasthan, notoriously known for child marriages, has shown a heartening decline in the number of child marriages – came down by half in the past decade.
Himachal Pradesh and Manipur have shown a marginal increase in the number of child marriages.
Laws to ban child marriage:
Child Marriage Restraint Act, 1929:
It was enacted by the British Government.
It is the first secular law to curb child marriage in India
However, it did not make child marriage void by itself.
It prescribed punishment to the adult male who married a minor and parents who promoted such marriages.
The punishment under this law was very less and the fine was a very small amount.
This law was amended now and then to increase the age limit.
However, it failed to achieve the objective of removing the practice of child marriage within Indian society.
Prohibition of Child Marriage Act, 2006
This law replaced the Child Marriage Restraint Act, 1929.
The punishment under this Act is 2 years imprisonment and/or fine of Rs. 1 lakh
As per the Act, a child can be a male below 21 years and female below 18.
This law also provides provisions for the maintenance and custody of girl children who have fallen victim to child marriages.
Under this Act, the husband is liable to pay maintenance in case he is a major. In case the husband is a minor, his parents are liable to pay maintenance.
The legal status of child marriage is voidable if decided by one of the parties. If the consent is by fraud, deceit or if the child is enticed away from his/her lawful guardians, and if the sole purpose of it is to use the child for trafficking or other immoral purposes, the marriage will be void.
The law also provides for the appointment of the Child Marriage Prohibition officer to prevent child marriage and spread awareness.
What is the global scenario of child marriage?
At the global scale, the levels of child marriage are highest in Sub-Saharan Africa, where nearly 4 in 10 women are married before the age of 18.
In South Asia, 3 in 10 were married before age 18.
Lower levels of child marriage are found in Latin America and the Caribbean (25%), the Middle East and North Africa (18%) and Eastern Europe and Central Asia (11%).
The prevalence of child marriage is decreasing globally, with the most progress in the past decade seen in South Asia, where a girl's risk of marrying in childhood has dropped to more than a third, from nearly 50% to 30%.
Still, the total number of girls married in childhood stands at 12 million per annum.
Thus, the progress must be significantly accelerated to end the practice by 2030 – the target set out in the Sustainable Development Goal3, "eliminate all harmful practices, such as child, early and forced marriage and female genital mutilations" (under Goal 5 'Achieve gender equality and empower all women and girls).
Without further acceleration, more than 150 million additional girls will marry before their 18th birthday by 2030.
What can be the way forward?
The government should make education free and compulsory until the age of 18. Currently, the Right to Education Act makes education free and compulsory only until the age of 14 years.
Awareness about the evils of child marriage at the grass-root level should be made a top priority. Religious leaders and community leaders must be mobilised for this purpose.
Secondary school completion must be made a fundamental right.
The girls from poor households must be provided with residential secondary schools.
The girls must be empowered with information, skills and support networks so that they can seek necessary assistance when faced with forced child marriage.
Necessary economic aid and incentives should be provided for the girl child and her family so that they are financially independent and is not forced into marriage due to the economic reasons.
Laws should be enacted to make child marriage void.
The married adolescent girls must be supported at the community level. They must be made aware of their rights and must be made financially independent.
Women must be trained and educated so that they are part of the political decision-making activities of the communities.
Conclusion:
In India, despite the stringent laws, the prevalence of child marriage within the society remains deep-rooted, accepted and widespread in many parts of the country. Stricter laws and behavioural change at the societal level across the world must be ensured to address this issue.
Test yourself:
Critically analyse the problem of child marriage in India. Why are the anti-child marriage laws failing to address this issue?