[Personality] Bhikaiji Cama (1861-1936): Mother of Indian Revolution
Introduction
Bhikaiji Cama, often referred to as the "Mother of the Indian Revolution," stands as a beacon of inspiration in India's long and arduous journey towards independence. Her indomitable spirit and unwavering commitment to the cause of India's freedom have etched her name in the annals of history. What sets her apart from many other freedom fighters of her time is her unique distinction of unfurling the first version of the Indian national flag on foreign soil, symbolizing India's aspirations for freedom and sovereignty. This article delves into the life and contributions of this remarkable woman, shedding light on her pivotal role in India's freedom movement and her enduring legacy.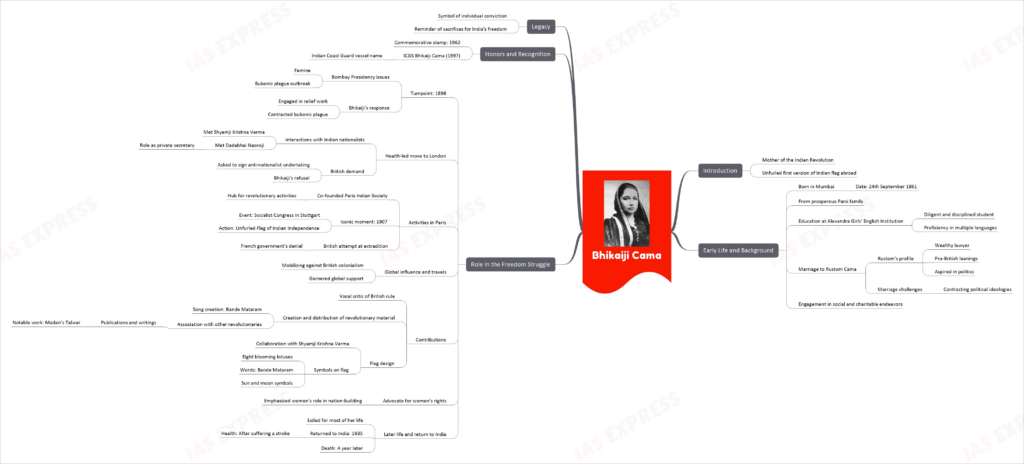 Early Life and Background
Bhikaiji Cama was born in the bustling city of Mumbai on 24th September 1861. Hailing from a prosperous Parsi family, she grew up amidst affluence and cultural richness.
Her educational journey began at the Alexandra Girls' English Institution, where she was recognized as a diligent and disciplined student. Her proficiency in multiple languages was a testament to her intellectual prowess.
Life took a significant turn when she entered into matrimony with Rustom Cama in 1885. Rustom, a wealthy lawyer with pro-British leanings, aspired to make a mark in politics. However, the marriage was fraught with differences, primarily due to their contrasting political ideologies. While Rustom was inclined towards the British, Bhikaiji emerged as a fervent patriot, deeply pained by the British exploitation of India. copyright©iasexpress.net
Despite the challenges in her personal life, Bhikaiji remained undeterred. She channeled her energy into various social and charitable endeavors, showcasing her commitment to societal welfare.
Role in the Freedom Struggle
The year 1896 marked a significant turning point in Bhikaiji's life. The Bombay Presidency was grappling with the devastating effects of a famine, which was soon followed by an outbreak of the bubonic plague. Demonstrating immense courage and compassion, Bhikaiji plunged into relief work, providing care and assistance to the affected. However, in a cruel twist of fate, she contracted the disease herself.
Her deteriorating health necessitated a move to London for treatment. It was during this period in London that she crossed paths with prominent Indian nationalists like Shyamji Krishna Varma and Dadabhai Naoroji. These interactions further fueled her passion for India's independence. She even took up the role of private secretary to Dadabhai Naoroji, deepening her involvement in the freedom movement.
Bhikaiji's fervor for the cause was evident when she was asked by the British to sign an undertaking, promising not to engage in nationalist activities upon her return to India. She staunchly refused, choosing her nation over personal comfort.
Paris became her next abode, where she, along with other nationalists, co-founded the 'Paris Indian Society'. This society became a hub for revolutionary activities against British rule. copyright©iasexpress.net
One of the most iconic moments in her life came in 1907 at the Socialist Congress in Stuttgart, Germany. Bhikaiji Cama unfurled the 'Flag of Indian Independence', becoming the first individual to hoist the Indian flag on foreign soil. This act was not just symbolic but also a powerful statement of India's aspirations.
Her relentless efforts did not go unnoticed. The British authorities sought her extradition from France due to her revolutionary activities. However, the French government denied this request, allowing her to continue her work from Paris.
Bhikaiji's influence was not limited to India. She traveled extensively, mobilizing international opinion against British colonialism in India. Her speeches, writings, and interactions played a crucial role in garnering global support for India's freedom struggle.
Contributions and Legacy
Bhikaiji Cama's contributions to the Indian freedom struggle were multifaceted. She was not just a vocal critic of British rule but also actively engaged in creating and distributing revolutionary material. When the British banned the song 'Vande Mataram', she composed a counter-narrative with 'Bande Mataram', showcasing her spirit of resistance.
Her association with other revolutionaries led to the creation of numerous publications and writings that were smuggled into India, igniting the flames of rebellion. One such notable work was 'Madan's Talwar', penned in response to the execution of Madan Lal Dhingra, a fellow revolutionary. copyright©iasexpress.net
The flag she unfurled in Stuttgart was not just a piece of cloth but a symbol of hope and resistance. Designed by Bhikaiji herself in collaboration with Shyamji Krishna Varma, the flag bore significant symbols: eight blooming lotuses representing India's provinces, the words 'Bande Mataram' in Hindi, and symbols of the sun and moon representing the Hindu and Muslim communities. This flag later served as an inspiration for the design of India's national flag.
Beyond her revolutionary activities, Bhikaiji was a staunch advocate for women's rights. She believed in the power of women to drive change and often emphasized their role in nation-building.
Despite her significant contributions, Bhikaiji spent a considerable part of her life in exile. It was only in 1935, after suffering a stroke and being in a fragile state of health, that she was allowed to return to India. She passed away a year later, leaving behind a legacy of courage, determination, and unwavering commitment to India's freedom.
Recognizing her immense contributions, the Indian government honored her with a commemorative stamp in 1962. Additionally, the Indian Coast Guard named a vessel after her, the ICGS Bhikaiji Cama, in 1997.
Today, Bhikaiji Cama stands as a testament to the power of individual conviction and the impact one person can have in shaping the destiny of a nation. Her life and work continue to inspire generations, reminding them of the sacrifices made by countless individuals in the quest for India's freedom. copyright©iasexpress.net
Conclusion
Bhikaiji Cama's life story is a testament to the indomitable spirit of those who believe in a cause larger than themselves. Her journey, marked by personal sacrifices, relentless pursuit of justice, and an unwavering commitment to India's freedom, serves as a beacon of inspiration for all. Her ability to transcend boundaries, both geographical and societal, to champion the cause of India's independence on international platforms showcases her visionary leadership.
In an era when women were often relegated to the background, Bhikaiji emerged as a formidable force, challenging stereotypes and breaking barriers. Her advocacy for women's rights, coupled with her revolutionary activities, underscores the pivotal role women played in shaping the course of India's history.
In the words of Bhikaiji herself, "Do not forget the important role our women play in building a nation." Her life and contributions serve as a timely reminder of the power of conviction, the importance of resilience, and the endless possibilities that arise when one is driven by purpose and passion.