[In-depth]The Great Resignation – All you want to know!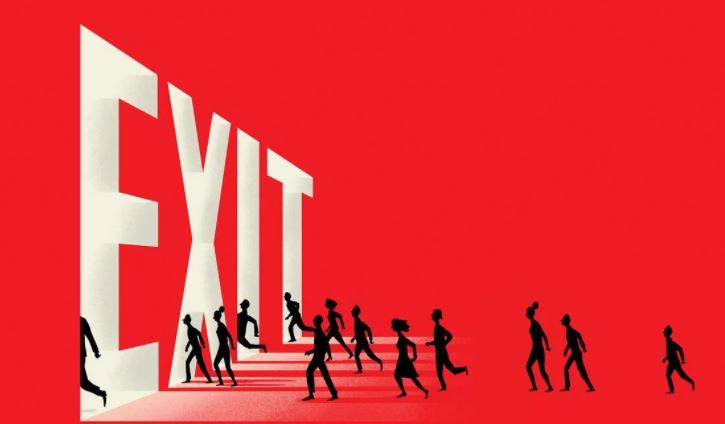 According to the U.S. Bureau of Labor Statistics, 4 million Americans quit their jobs in July 2021. Resignations peaked in April and have remained abnormally high for the last several months, with a record-breaking 10.9 million open jobs at the end of July. In August 2021 alone, around 4.3 million people resigned from their jobs in the country, an increase of 242,000 from the previous month. This figure escalated to 4.4 million in September 2021. Although official data indicate that resignations were high in retail and hospitality sectors, many employees also had a desire to switch jobs and rethink their professional choices. The "resignation pandemic" has not spared India either, with talent acquisition numbers touching record levels, even crossing the pre-COVID-19 mark.

Over the past few months, as the pandemic has appeared to have run its course and businesses have started to develop greater confidence to return to pre-2020 ways of working, a new phenomenon has swept through the United States and some countries in Europe.
Unexpectedly large numbers of people are embracing the credo of "Anti-work", and walking out of their jobs. And just a year after the US saw the highest rate of unemployment since the Great Depression, the quit rate — number of quits in a month as a percentage of total employment— rose to a series high of 2.9 per cent in the bureau's Job Openings and Labor Turnover Summary.
The American psychologist Anthony Klotz has called it the "Great Resignation" — a call to remap priorities in the work-life equation.
So, what is mean by Great Resignation?
The Great Resignation, also known as the Big Quit, is the ongoing trend of employees voluntarily leaving their jobs, from spring 2021 to the present, primarily in the United States. The resignations have been characterized as in response to the COVID-19 pandemic, the American government refusing to provide necessary worker protection, and wage stagnation despite rising costs of living. Some economists described the Great Resignation as a general strike while discussing Striketober, a strike wave in October 2021.
Who's quitting and why?
The COVID-19 pandemic has allowed workers to rethink their careers, work conditions, and long-term goals. As many workplaces attempted to bring their employees in-person, workers desired the freedom to work from home given during the pandemic. With telecommuting also came schedule flexibility, which was the primary reason to look for a new job of the majority of those studied by Bankrate in August 2021. Additionally, many workers, particularly in younger cohorts, are seeking to gain a better work–life balance.
Restaurants and hotels, industries that require in-person interactions, have been hit the hardest by waves of resignations. COVID-19 stimulus payments and rises in unemployment benefits allow those who rely on low-wage jobs for survival to stay home, although places where unemployment benefits were rolled back did not see significant job creation as a result.
Although official data suggests that resignations in the retail and hospitality sectors as high, many employees also expressed the desire to change employment and reconsider their career paths.
According to an Adobe study, the exodus is being driven by Millennials and Generation Z, who are more likely to be dissatisfied with their work. More than half of Gen Z reported planning to seek a new job within the next year.
Which sectors are going to be most impacted?
Sectors with the largest volumes of opportunities are being disproportionately affected including, Tech, Pharma, Fintech, Financial Services and Healthcare. And all levels of employers, from start-ups to multinationals are feeling the pinch as the supply of talent can't currently meet the demands for these rapid growth sectors.
What are impacts of it in various countries?
In October 2021, the U.S. Bureau of Labor Statistics reported that food service workers' quit rates rose to 6.8%, which is well above the industry average of 4.1% over the last 20 years and still higher than the industry's quit peaks of 5% in 2006 and 2019.
The retail industry had the second highest quit rates at 4.7%. A Deloitte study published in Fortune magazine in October 2021 found that among Fortune 1000 companies, 73% of CEOs anticipate the work shortage will disrupt their businesses over the next 12 months; 57% believe attracting talent is among their company's biggest challenges; and 35% have already expanded benefits to bolster employee retention.
A survey of 5,000 people in Belgium, France, the UK, Germany and the Netherlands by HR company SD Worx found that employees in Germany had the most COVID-19-related resignations, with 6.0% of the workers leaving their jobs. This was followed by the United Kingdom with 4.7%, the Netherlands with 2.9%, and France with 2.3%. Belgium had the least number of resignations with 1.9%.
A similar phenomenon is occurring in China, referred to as tang ping. It started roughly during the same time in April 2021.
Striketober and Tang ping
Amidst the Great Resignation, a strike wave known as Striketober began, with over 100,000 American workers participating in or preparing for strike action. While discussing Striketober, The Guardian wrote that some economists described the Great Resignation as workers participating in a general strike against poor working conditions and low wages.
Tang ping is a lifestyle choice and social protest movement in China by some young people who reject societal pressures on hard work or even overwork (such as the 996 working hour system, which is generally regarded as a rat race with ever diminishing returns), and instead choose to "lie down flat and get over the beatings" via a low-desire, more indifferent attitude towards life.
Novelist Liao Zenghu described "lying flat" as a resistance movement, and The New York Times called it part of a nascent Chinese counterculture. It has also been compared to the Great Resignation that began in America (and the western world) around the same time.
Is this a new phenomenon?
It's happening across all sectors in some shape or form. It's a natural shift, it previously occurred as the market emerged from the last recession a decade ago. Employees are being approached and headhunted, new opportunities are becoming available and new ways of working are being explored, all of these factors are contributing to the change we are seeing.
Will the Great Resignation Come to India?
The job market in India is obviously very different from that in the West, and no general analysis can be sufficient. The absence of social security and unemployment benefits meant the luxury of walking out of jobs was not available to most in India.
But interesting post-pandemic trends are visible, "Remote working has made it possible for corporates and employees to have flexible work models. If in the past companies had planned for opening offices in Tier II and III towns, today it is becoming a reality because the pandemic has shifted our spatial economy. There are diffusions now with higher migrations and jobs are moving to people, more than the other way around."
Indians, "have not been planned and productive workers largely because labor costs are low and population resources are high. Besides, we work 365 days, unlike developed countries where climate dictates work hours."
A churn was visible in the IT and ITeS sectors with many professionals switching jobs. "Several start-ups have become unicorns and many are hiring in bulk and are ready to pay significantly higher".
Also, work-from-home has triggered changes in the demand structure in the realty market. "There has been a major uptick in the demand for larger homes as people seek to accommodate home offices and e-schooling in their properties. This new dynamic prompted developers to offer new size configurations such as 1.5, 2.5 and 3.5 BHKs."
So, what can we conclude from this phenomenon?
The Great Resignation may have HR and hiring managers stress about how to recruit and retain people for the moment. But Anthony Klutz, who coined the phrase, isn't so worried. Klotz believes that the wave of boomerang employees will last for the next five years. After which people will start looking to return to the work force. "There's a lot of employees quitting their jobs because they want to explore other areas of their life, other professions, whatever it may be, who knows how they'll feel in two years."
Out of the exhaustion and trauma of Covid-19 could be emerging both predicted and unpredictable new ways of working and looking at work.
Practice Question for CSE Mains Exam
The "great resignation" is a trend that began before the Covid-19 pandemic. Critically comment. (250 Words)
Referred Sources
https://www.theatlantic.com/ideas/archive/2021/10/great-resignation-accelerating/620382/
https://www.thequint.com/news/india/will-the-great-resignation-come-to-india-yeah-no-maybe
https://hbr.org/2021/09/who-is-driving-the-great-resignation
[collapse]