[In-depth] Green Grids Initiative (OSOWOG) – Benefits and Challenges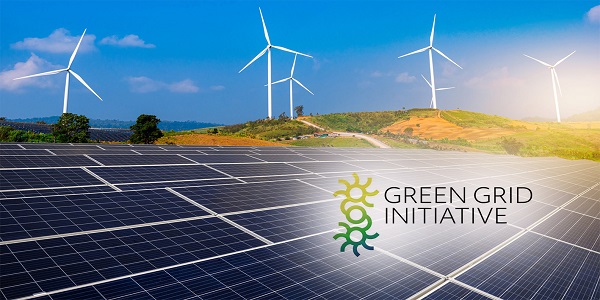 At the recently held COP26 summit, Indian Prime Minister Narendra Modi and UK Prime Minister Boris Johnson launched a 'green grids' initiative named the One Sun One World One Grid (OSOWOG) project. The project aims at connecting energy grids across borders to facilitate a faster transition to the use of renewable energy. The move comes as a positive step towards India's goal of having a sustainable development model and undergoing a climate-friendly energy transition.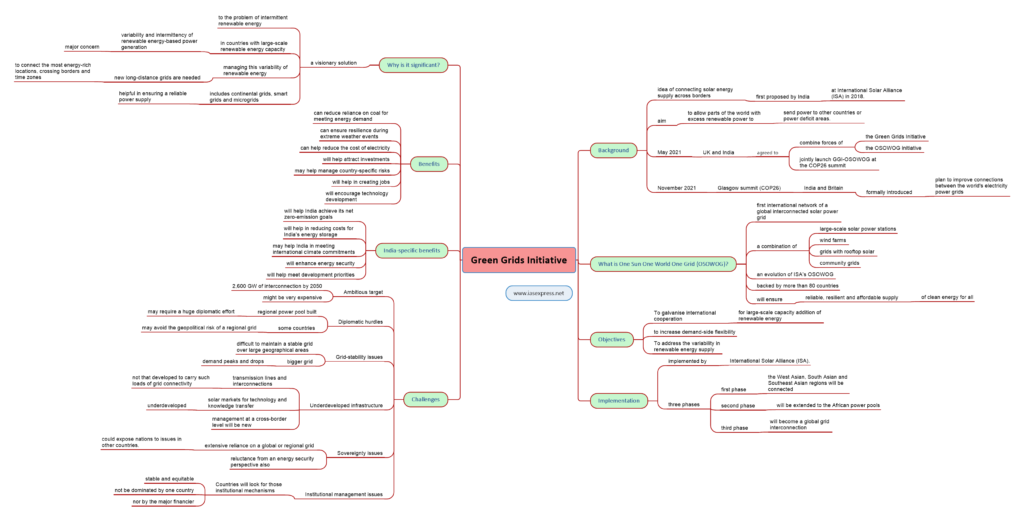 Mindmap Learning Programme (MLP)
Absorb information like a sponge!
Background
The idea of connecting solar energy supply across borders was first proposed by India at the International Solar Alliance (ISA) in 2018.
The aim was to allow parts of the world with excess renewable power to send power to other countries or power deficit areas.
In May 2021, the UK and India agreed to combine forces of the Green Grids Initiative and the OSOWOG initiative and jointly launch GGI-OSOWOG at the COP26 summit at Glasgow in November 2021.
Finally, in November 2021, India and Britain on the side-lines of the Glasgow summit (COP26) in Scotland formally introduced a plan to improve connections between the world's electricity power grids to accelerate the transition to greener energy.
It is an evolution of ISA's OSOWOG – a multilateral drive to foster interconnected solar energy infrastructure at a global scale.
The idea has been backed by more than 80 countries.
What is One Sun One World One Grid (OSOWOG)?
It will be the first international network of a global interconnected solar power grid.
It will be a combination of large-scale solar power stations, wind farms and grids with rooftop solar and community grids.
It will ensure a reliable, resilient and affordable supply of clean energy for all.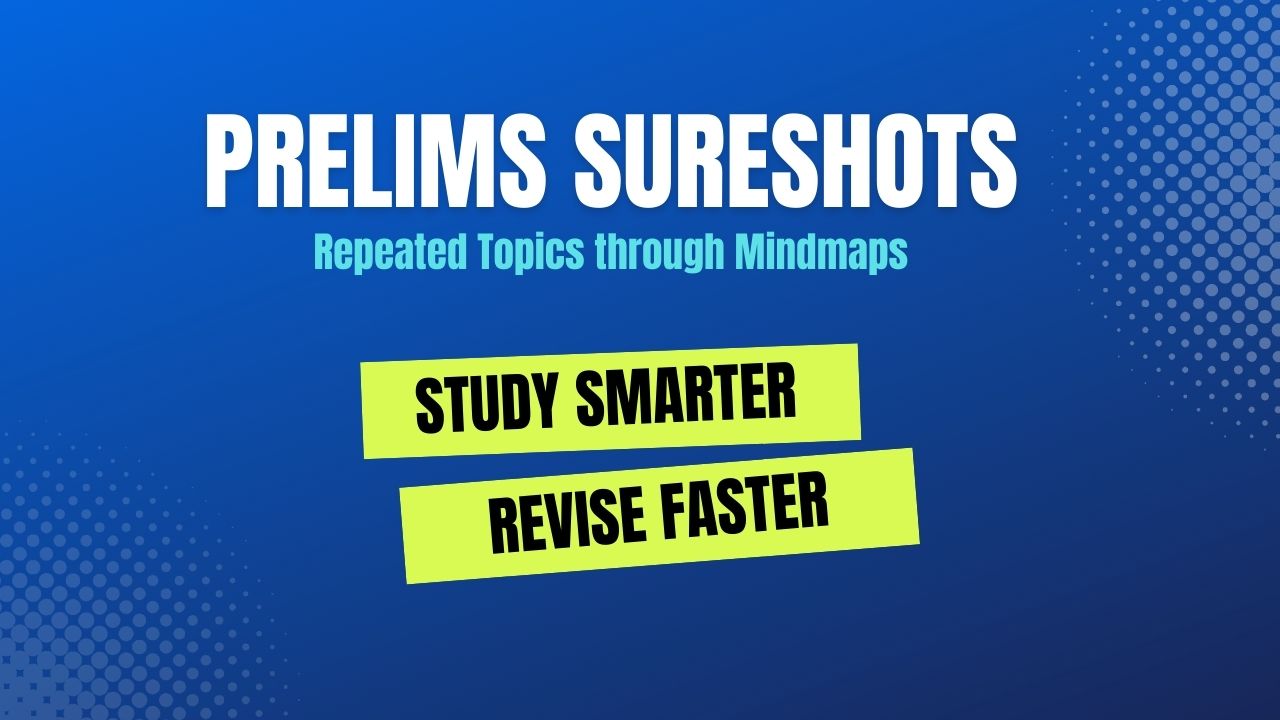 Objectives
To galvanise international cooperation for large-scale capacity addition of renewable energy.
To increase demand-side flexibility.
To address the variability in renewable energy supply.
Implementation
It is being implemented by the International Solar Alliance (ISA).
The project will be executed in three phases:

In the first phase, the West Asian, South Asian and Southeast Asian regions will be connected.
In the second phase, it will be extended to the African power pools.
In the third phase, it will become a global grid interconnection.
Why is it significant?
The project appears to be significant because:
It offers a visionary solution to the problem of intermittent renewable energy.

In countries with large-scale renewable energy capacity, variability and intermittency of renewable energy-based power generation is a major concern.

Wind power is dependent upon the weather, while solar power can't be generated overnight.
Often this acts as a barrier for capacity expansion plans at the national level.
But even in the middle of the night, the sun is always shining on the other side of the planet.
Existing hydroelectric dams, together with batteries, can help balance fluctuations in energy generated from wind and solar farms.

An important strategy for managing this variability of renewable energy is to spread the electricity production and supply capacity over large areas by building regional and international grids.
Therefore, new long-distance grids are needed to connect the most energy-rich locations, crossing borders and time zones.

It includes continental grids, smart grids and microgrids that may prove to be very helpful in ensuring a reliable power supply.

The continental grids may help in large scale renewable energy production and transportation since it includes massively expanded renewable energy generation capacity in energy-rich locations.
The smart grids can be similarly helpful as they will connect millions of solar panels and charging points for electric vehicles.
Mini-grids can help communities to harness local energy resources, bringing electricity to off-grid villages and ensuring a more resilient supply during the heatwaves, storms and floods that are now battering all parts of the planet.

Thus, such a vast power network can tap into an endless supply of renewable energy and could help to deliver clean electricity exactly where it's needed at any time of the day or night.
Benefits
It can reduce reliance on coal for meeting energy demand in periods when renewable energy is not available.
It can ensure resilience during extreme weather events.
It can help reduce the cost of electricity.
It will help attract investments.
It may help manage country-specific risks.
It will help in creating jobs.
It will encourage technology development.
India-specific benefits
It will help India achieve its net zero-emission goals.

India is the world's third-largest emitter (after China and the US) and has pledged to generate 50% of its electricity from renewable sources by 2030.
India has also pledged to achieve its net-zero emissions goals by 2070.
Thus, the project comes as a positive step in this direction.

It will help in reducing costs for India's energy storage.

Solar and wind energy are intermittent and thus they need battery storage or an alternative source of power (usually fossil fuels or large hydropower) to complement renewable energy and stabilise the grid.
As per a study conducted by the Council on Energy, Environment and Water (CEEW), India would need 5,600GW of solar capacity to achieve net-zero by 2070, over 11 times the capacity that India has pledged to reach by 2030.
This would require a huge amount of battery storage – which would be extremely expensive.
OSOWOG project is thus seen as one of the potential alternatives to storage and reducing costs of renewable energy integration for India.

It may help India in meeting international climate commitments.
It will enhance energy security.
It will help meet development priorities.
Challenges
Ambitious target

The target is to achieve 2,600 GW of interconnection by 2050.
This would require large capital investment to set up long transmission lines for transmission of power across vast distances.
According to experts, this might be very expensive.

Diplomatic hurdles

The first step of OSWOG would be solar power transfer between neighbouring countries.
It may require a huge diplomatic effort involved in getting even a regional power pool built.
Furthermore, some countries will want to avoid the geopolitical risk of a regional grid and choose to balance their energy needs domestically through hydropower or battery storage.

Grid-stability issues

It is difficult to maintain a stable grid over large geographical areas especially with energy demand being distributed across a geographically diverse region such as South Asia, where population density, and consequent energy demand, varies widely.
Any grid needs a constant baseload, or a minimum level of electricity flow to function, at any given time.
A bigger grid will experience demand peaks and drops at different times in different places and thus it may be more difficult to stabilise with a steady electric current.

Underdeveloped infrastructure

The transmission lines and interconnections are not that developed to carry such loads of grid connectivity.
Furthermore, the solar markets for technology and knowledge transfer are underdeveloped.
Although high voltage, direct current (HVDC) connections are a well-established technology; it's their management at a cross-border level will be new and thus it will require hard work on the part of the countries involved.

Sovereignty issues

Given the extensive reliance on a global or regional grid could expose nations to issues in other countries.
There could be some reluctance from an energy security perspective also.

Institutional management issues

Countries will look for those institutional mechanisms that are stable and equitable.
They would seek to be part of such a mechanism where it will not be dominated by one country, nor by the major financier.
Way forward
The idea of globally interconnected power grids might have been a fringe idea five years ago but now it is the centre of focus. It has numerous benefits for the participating nations and will be a major step ahead in the global efforts to combat climate change. Although several issues may plague the success of this highly optimistic project and only time can show the practical picture yet intense global cooperation and efficient coordination may help the project reach its aspired goal.
Practise Question
Q. Do you think that OSOWOG is beneficial for India? Substantiate your answer with suitable arguments.