[In-depth] Coal Crisis in India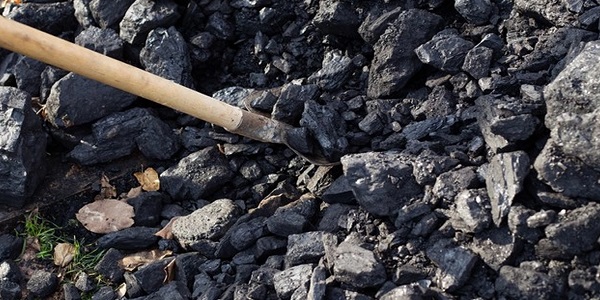 As the Indian economy began to revive after facing the huge shock posed by the second wave of the Covid-19 pandemic, another shock shook the nation when those coal-fired power stations, which produce around 70 per cent of India's power, announced in early October 2021 that they had an average of four days of coal left, the lowest in years. The news sent shockwaves throughout the nation as it could have far-reaching complications for the economy which was on the way to recovery. Therefore, it becomes important to delve deep into the issues that led to such a crisis and how could such a crisis be prevented in the future.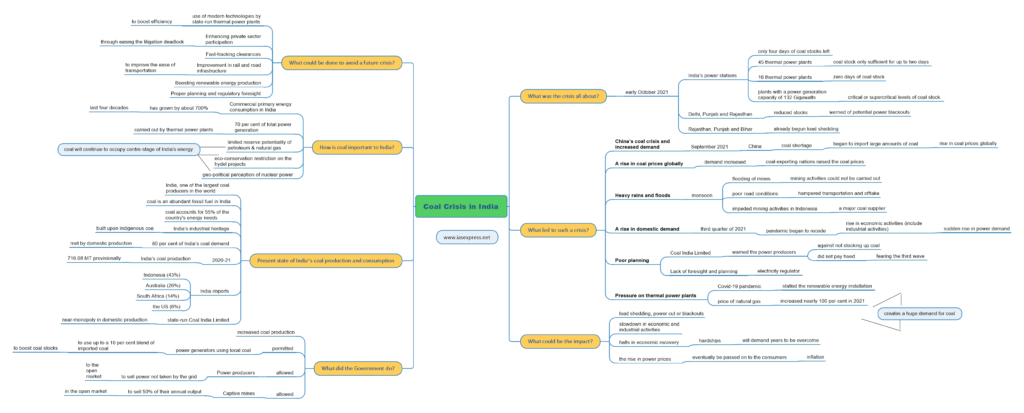 Mindmap Learning Programme (MLP)
Absorb information like a sponge!
What was the crisis all about?
In early October 2021, media reported that India's power stations which share a bulk of power production in India have only four days of coal stocks left for power production.
Usually, the power stations have coal stocks of 13 to 15 days.

As per the government recommendations, the thermal power plants have to hold 14 days' worth of coal stock.
45 thermal power plants with a power generation capacity of 59,790 MW had coal stock only sufficient for up to two days of generation.

Many of the States had reported that their stocks have almost reduced to nothing.

On 4th October 2021, 16 thermal power plants with a power generation capacity of 17,475 MW (megawatts) had zero days of coal stock.

In total, plants with a power generation capacity of 132 Gigawatts (1GW is 1,000 MW) of the 165 GW of capacity monitored daily reported that they had critical or supercritical levels of coal stock.
States like Delhi, Punjab and Rajasthan with reduced stocks of coal warned of potential power blackouts.
The media reported that states like Rajasthan, Punjab and Bihar had already begun load shedding.
What led to such a crisis?
China's coal crisis and increased demand – In September 2021, China was reported to be facing a huge coal shortage leading to a power supply crunch. As this crisis deepened, China began to import large amounts of coal from various nations located in South and Southeast Asia which led to a rise in coal prices globally.
A rise in coal prices globally – As the demand increased, the major coal-exporting nations raised the coal prices. It is to be noted that coal prices in October 2021 were at an all-time high and had almost doubled to $200 a tonne since the start of the year. For India, imported coal became costlier to $160/tonne in September/October from $60/tonne in March 2021.
Heavy rains and floods – Another major reason for supply disruptions was heavy rain and floods from the Indian monsoon. These heavy rains led to the flooding of mines due to which mining activities could not be carried out. Similarly, rains also impeded mining activities in Indonesia which is a major coal supplier. The poor road conditions during the rainy season also hampered transportation and offtake. All these things led to a reduction in coal supplies to the power plants.
A rise in domestic demand – As the influence of the second wave of the Covid-19 pandemic began to recede during the third quarter of 2021, the Indian economy showed an unexpected rebound. This rebound was led and caused by the rise in economic activities (include industrial activities) which resulted in a sudden rise in power demand. As per Crisil, India's consumption of power in August- September 2021 was 18 per cent higher than the corresponding period of 2019.
Poor planning – One of the most important reasons why India had to face this huge power crunch was due to poor planning by power plants and the government. As per reports, the state-run Coal India Limited had warned the power producers against not stocking up coal yet they did not pay heed fearing the third wave of the Covid-19 pandemic. Lack of foresight and planning by the electricity regulator also had a big role to play.
Pressure on thermal power plants – 54 per cent of India's installed power generation capacity consists of coal and lignite thermal power plants. However, they generate 70 per cent of the power generated in the country currently. This creates a huge demand for coal. Additionally, the Covid-19 pandemic had also stalled the renewable energy installation and thus the pressure on the thermal power plants increased. The price of natural gas, too, has increased nearly 100 per cent in 2021 alone. This has hampered the plan to grow the share of renewable energy as well.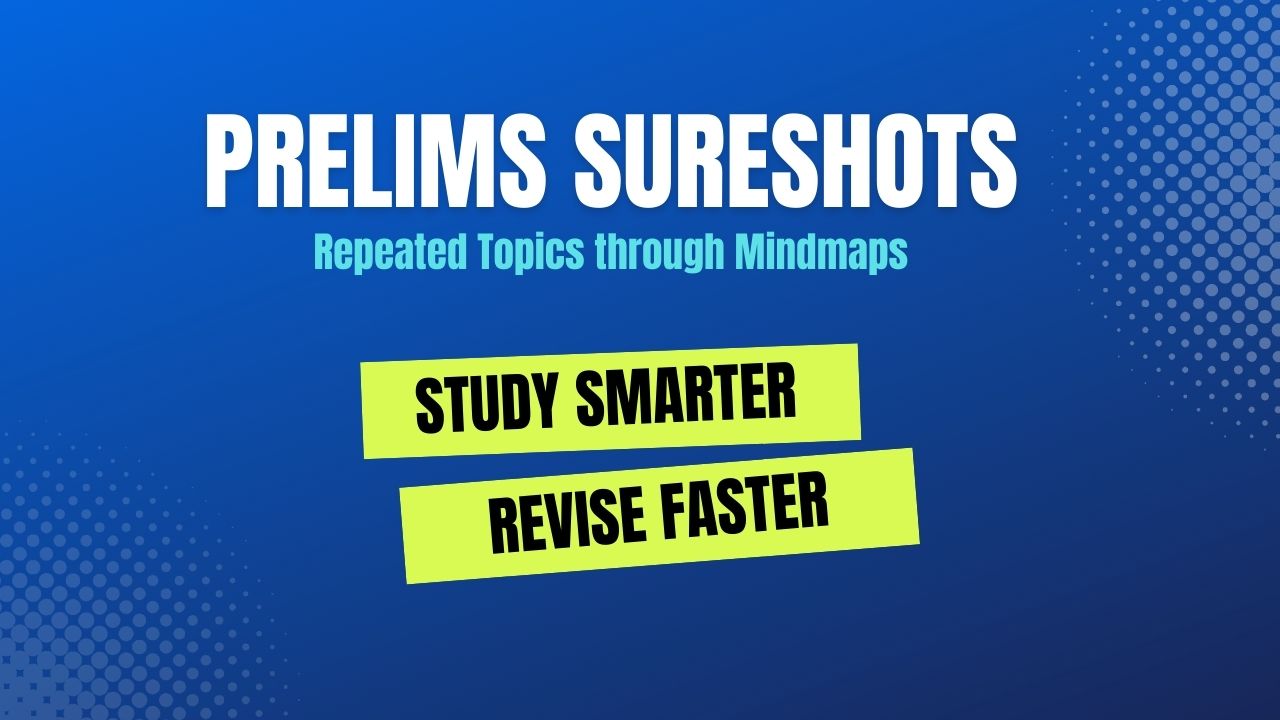 What could be the impact?
The immediate impact could be load shedding, power cut or blackouts.
This could lead to a slowdown in economic and industrial activities. A slowdown in economic activities may halt economic recovery.
For an economy such as India, the economic rebound after the pandemic is essential since many suffered during Covid-19. If a power crunch halts that economic recovery, a large part of the population will face hardships that will demand years to be overcome.
Another impact could be the rise in power prices which will eventually be passed on to the consumers leading to inflation. However, the chances of passing the cost to consumers are minimal since power distribution continues to be a regulated sector in India but that is also the reason, the domestic power producers were forced to go for import substitution putting pressure on domestic coal supply chains.
Overall, the crisis can have a severe impact that will be both short and long-term.
What did the Government do?
The Government of India took a slew of measures to address the situation. Some of them are:
The Government of India increased coal production.
The Ministry of Power (Government of India) permitted the power generators using local coal to use up to a 10 per cent blend of imported coal to boost coal stocks.
Power producers which are usually bound by power purchase agreements with the state grids were allowed to sell power not taken by the grid after 24 hours to the open market.
Captive mines (coal mines that produce coal solely for their use) were allowed to sell 50% of their annual output in the open market too.
What is the present state of India's coal production and consumption?
India is one of the largest coal producers in the world. It is the most important and abundant fossil fuel in India.
Presently, coal accounts for 55% of the country's energy needs.
If we go back in history, India's industrial heritage was also built upon indigenous coal.
As much as 80 per cent of India's coal demand is met by domestic production.
During 2020-21, India's coal production stood at 716.08 MT provisionally.
India imports a bulk of its coal from Indonesia (43%), Australia (26%), South Africa (14%) and the US (6%).
The state-run Coal India Limited has a near-monopoly in domestic production, and along with its subsidiaries, accounted for 596.25 million tonnes of coal production in 2020-21.
How is coal important to India?
Commercial primary energy consumption in India has grown by about 700% in the last four decades driven by a rising population, expanding economy and a quest for improved quality of life, energy usage.
India has a total installed capacity of 3.88,849 MW of power, with the private sector the biggest player, generating 48.2 per cent of total output. The central and state sectors produce 25.2 per cent and 26.6 per cent, respectively.
However, 70 per cent of total power generation is carried out by thermal power plants putting pressure on coal and its demand.
Considering the limited reserve potentiality of petroleum & natural gas, eco-conservation restriction on the hydel projects and geo-political perception of nuclear power, coal will continue to occupy centre-stage of India's energy scenario.
What could be done to avoid a future crisis?
The use of modern technologies by state-run thermal power plants (Coal India Limited and NTPC) can be promoted to boost efficiency.
Enhancing private sector participation through easing the litigation deadlock may help.
Fast-tracking clearances including environmental clearances may further help.
Improvement in rail and road infrastructure to improve the ease of transportation may improve supply chains.
Boosting renewable energy production could be the most important step in this direction.
Proper planning and regulatory foresight will also play a crucial role.
Way forward
Coal shortage in India is not a new phenomenon rather it has been a regular feature in recent years. The nation faced coal shortages during both 2014 and 2018. However, the focus should be on minimising such crises as much as possible. Focus on improvement in certain areas and a strong boost to renewable energy production and installation may be the best way forward.
Practise Question
Q. Can India avoid a coal crisis in future? Substantiate your answer.