Achyut Patwardhan (1905-92): The Lion of Satara

I. Introduction
Achyut Patwardhan, born into a prosperous Brahmin family on February 5, 1905, was a seminal figure in India's struggle for independence and a driving force behind the creation of the Socialist Party of India. A theosophist, philosopher, and advocate for social change, Patwardhan, nicknamed "The Lion of Satara", was deeply involved in the Quit India Movement and renowned for his staunch belief that true societal change begins with the individual. His unique blend of theosophical beliefs and socialistic ideologies continues to inspire social reformers and scholars alike.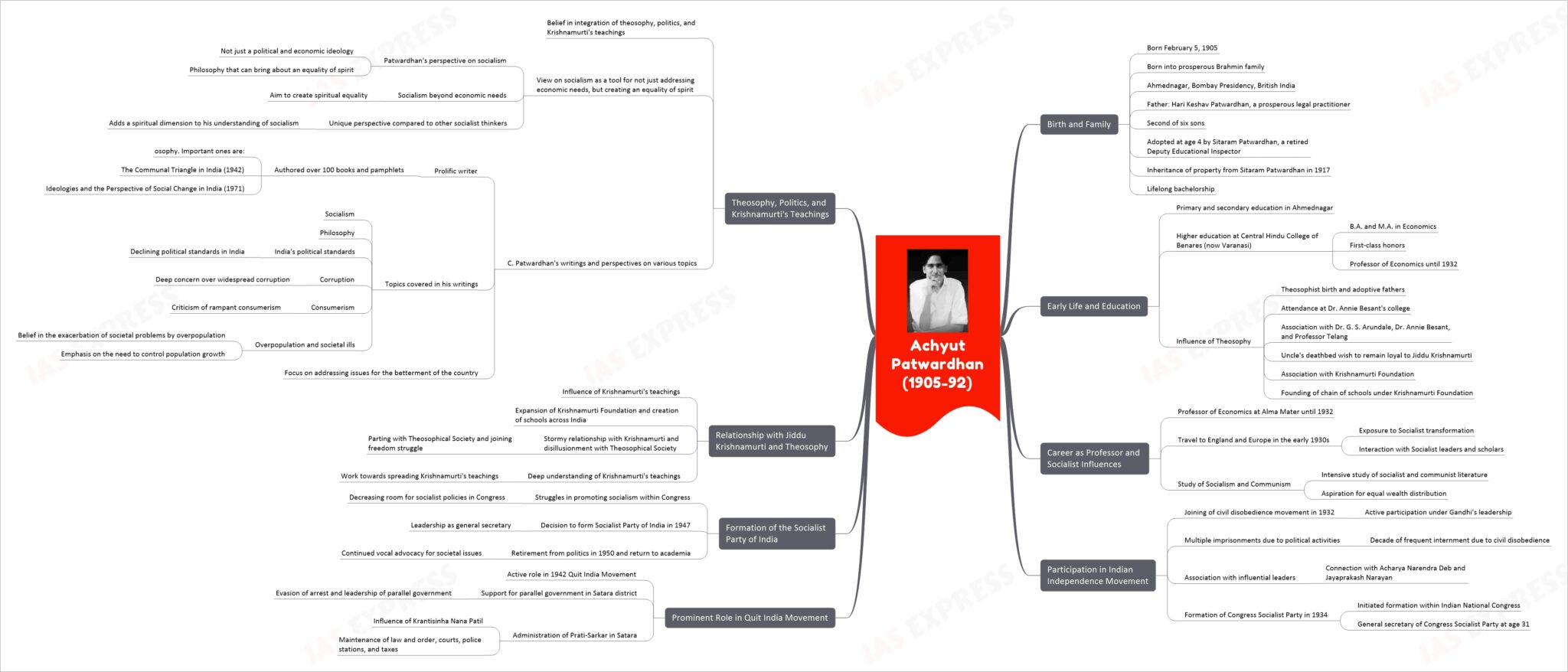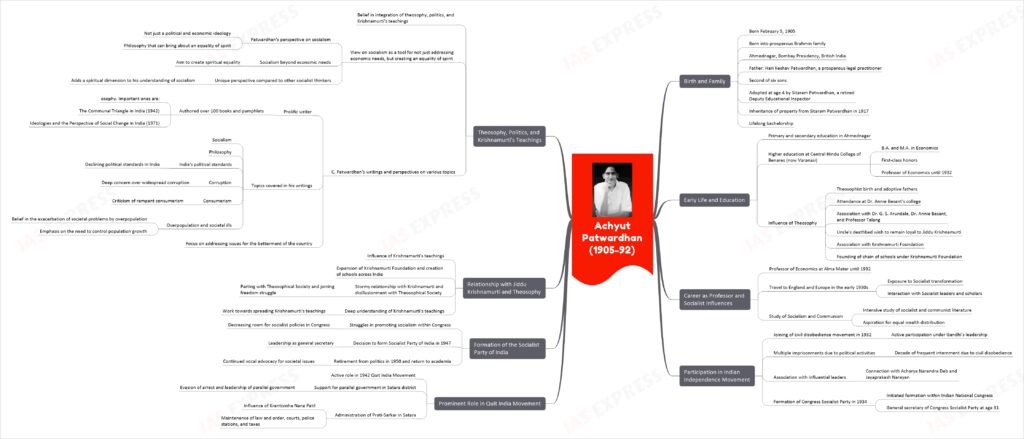 II. Early Life and Education
A. Background
Born on February 5, 1905, in Ahmednagar, Bombay Presidency, British India
Achyut's father, Hari Keshav Patwardhan, was a prosperous legal practitioner based in Ahmednagar
Achyut was the second of six sons in the family
At the age of four, he was adopted by Sitaram Patwardhan, a retired Deputy Educational Inspector, who passed away in 1917, leaving a considerable property to Achyut
Achyut was noted for his lifelong bachelorship, potentially influenced by his theosophist upbringing
B. Early Education
Received primary and secondary education at Ahmednagar
Graduated with B.A. and M.A. in Economics from the Central Hindu College of Benares (now known as Varanasi), achieving first-class honors
His academic prowess led to his position as Professor of Economics at his Alma Mater until 1932
C. Influences
Both his birth and adoptive fathers were Theosophists, a philosophical belief that aims for knowledge of God through spiritual ecstasy and mysticism
As a result, Achyut was sent to the college founded by Dr. Annie Besant, a prominent Theosophist, and women's rights activist
While at college, he was in regular contact with Dr. G. S. Arundale, the Theosophist Principal of the college, Dr. Annie Besant, and Professor Telang
This association greatly influenced his personal development, making him studious, meditative, and ascetic
His family's fervor for Theosophy was further reinforced by his uncle's deathbed wish that he never desert the Theosophical philosopher, Jiddu Krishnamurti
His commitment to Theosophy led to his association with the Krishnamurti Foundation, contributing to its expansion and the founding of a chain of schools across India
His family's alignment with Theosophy and the resultant influence of its precepts had a significant impact on his life and philosophy.
III. Career as a Professor and Socialist Influences
A. Position as Professor of Economics at the College till 1932
After graduation, Achyut Patwardhan joined his Alma Mater, the Central Hindu College, as a Professor of Economics
He served as a professor until 1932, when he left the institution to join the Indian freedom struggle led by Mahatma Gandhi
During his tenure, he demonstrated great dedication to teaching, earning the admiration and respect of his students
B. Trips to England and other European countries, contact with Socialist leaders and scholars
Patwardhan undertook extensive tours to England and Europe in the early 1930s
These tours exposed him to the transformative socio-political changes brought by Socialism in these regions
He interacted with several Socialist leaders and scholars during these trips
People like Jawaharlal Nehru, the future first Prime Minister of India, further encouraged his interest in Socialism
C. Study of Communist and Socialist literature
In his student years, Patwardhan spent significant time studying Socialism and Communism, greatly shaping his political ideology
His deep understanding of socialist and communist principles was also cultivated by his extensive reading and study of Socialist and Communist literature
His exposure to these ideologies fuelled his aspiration for a more equal distribution of wealth in society
These principles would later inform his leadership of the Socialist Party of India, which he founded in 1947, aiming to sway India's politics towards socialist policies.
IV. Participation in Indian Independence Movement
A. Joining the civil disobedience movement led by Mahatma Gandhi in 1932
In 1932, after leaving his professorship, Patwardhan joined the Indian freedom struggle, which was at that time led by Mahatma Gandhi
He became an active participant in the civil disobedience movement orchestrated by Gandhi
His political activism included his involvement in the Civil Disobedience Movement and the Quit India Movement
B. Multiple imprisonments over a decade due to political activities
Throughout the 1930s and 1940s, Patwardhan's political activities resulted in him being frequently interned
His role in the freedom struggle, including his acts of civil disobedience against British rule, led to multiple imprisonments over a decade
Despite these incarcerations, Patwardhan remained dedicated to the cause of Indian independence
C. Association with influential leaders like Acharya Narendra Deb, Jayaprakash Narayan, and others
During his participation in the independence movement, Patwardhan associated with numerous influential political leaders
Notably, he forged strong connections with leaders such as Acharya Narendra Deb and Jayaprakash Narayan
These associations played a key role in shaping his political ideology and strategies
D. Formation of the Congress Socialist Party from within Congress in 1934
In 1934, spurred by his socialist ideologies and the encouragement of like-minded leaders like Jawaharlal Nehru, Patwardhan initiated the formation of the Congress Socialist Party
The Congress Socialist Party was created from within the Indian National Congress, the main political party at the time
Patwardhan served as the general secretary of the Congress Socialist Party at the young age of 31, showcasing his leadership skills and political commitment
However, he observed that the climate within the Congress was inhospitable to socialism, which eventually led him to form the Socialist Party of India in 1947, at the time of India's independence.
V. Prominent Role in Quit India Movement
A. Involvement in the Quit India Movement in 1942
In 1942, Patwardhan took an active role in the Quit India Movement, a civil disobedience campaign calling for immediate end to British rule in India
This was a nationwide movement, but Patwardhan was particularly active in his home region of Satara in the Bombay Presidency
He was one of the last few survivors of the Quit India Movement
B. Support for the parallel government movement in the Satara district, evading arrest
During this time, Patwardhan notably supported and played an instrumental role in the formation of a parallel government in Satara district
This parallel government, or "Prati-Sarkar", was set up in defiance of British rule
Patwardhan skillfully evaded arrest and continued to lead the parallel government movement in Satara, earning him the nickname "The Lion of Satara"
C. Description of his work in Satara, influence of Krantisinha Nana Patil, and the administration of Prati-Sarkar
The parallel government in Satara was a bold initiative to provide an alternative administrative structure against the British rule
Patwardhan was influenced by other leaders in the region, notably Krantisinha Nana Patil, who was also a major figure in the independence movement
Despite the adversities, the Prati-Sarkar succeeded in maintaining law and order, running courts, police stations, and even levying taxes
Patwardhan's involvement in the administration of the Prati-Sarkar was indicative of his determination and commitment to the cause of India's independence
VI. Formation of the Socialist Party of India
A. Struggles in promoting socialism within the Congress
Patwardhan had joined the Indian National Congress with the intention of promoting socialist ideologies within the party
However, the expansion of Congress and inclusion of polarized ideologies led to a diminishing space for socialist policies
Despite his commitment to the party and his active role in the freedom struggle, Patwardhan found it difficult to influence the party's direction towards socialism
The ideological climate within the Congress was increasingly inhospitable to socialist ideas, despite the efforts of Patwardhan and others
B. Decision to form the Socialist Party of India independently in 1947
Due to the above struggles, Patwardhan decided to leave the Congress in 1947 to form the Socialist Party of India independently
He believed that this new party would better represent and promote socialist principles within the political landscape of newly independent India
Patwardhan was at the helm of this newly formed party, leading it as its general secretary
The Socialist Party of India marked a significant phase in Patwardhan's political career, representing his commitment to social equality and economic justice
C. Retirement from politics in 1950 and return to academia
After a few years of leading the Socialist Party of India, Patwardhan chose to retire from active politics in 1950
Despite his retirement, his influence in Indian politics and the socialist movement remained significant
Post-retirement, Patwardhan returned to academia, channeling his efforts towards educational and intellectual pursuits
His return to academia did not signal an end to his activism, as he continued to be vocal about societal issues, particularly regarding India's political standards and overpopulation
VII. Relationship with Jiddu Krishnamurti and Theosophy
A. Influence of Krishnamurti on Patwardhan's thought and life
Jiddu Krishnamurti, a philosopher and former Theosophist, greatly influenced Patwardhan's personal philosophy and ideological outlook.
Krishnamurti's teachings, asserting that real revolution takes place in the human psyche and not through economic and political systems, had a profound impact on Patwardhan.
Patwardhan's commitment to Krishnamurti's teachings was solidified by a deathbed promise to his uncle that he would never desert Krishnamurti.
B. Development and expansion of Krishnamurti Foundation and creation of schools across India
Patwardhan played a crucial role in expanding the Krishnamurti Foundation.
He founded a chain of high-performing schools across India under the banner of the foundation, propagating Krishnamurti's philosophies.
The foundation and the schools continue to be a testimony to Patwardhan's dedication towards Krishnamurti's teachings.
C. Stormy relationship with Krishnamurti and disillusionment with Theosophical Society leading to joining freedom struggle
Despite being influenced by Krishnamurti, Patwardhan's relationship with him was not always smooth.
In 1929, when Krishnamurti broke with the Theosophical Society and left India, Patwardhan was disheartened.
This disillusionment led him to part ways with the Theosophical Society and join the Indian freedom struggle under the leadership of Mahatma Gandhi.
Patwardhan's life was marked by a constant struggle between politics, theosophy, and the philosophies of Krishnamurti.
D. Deep understanding of Krishnamurti's teachings and work towards spreading them
Patwardhan developed a deep understanding of Krishnamurti's teachings, particularly regarding the alleviation of human suffering through spiritual change.
This understanding was solidified after witnessing the devastating bombings of Hiroshima and Nagasaki.
In the 1950s, Patwardhan withdrew from politics to exclusively devote himself to disseminating Krishnamurti's message through the Krishnamurti Foundation.
He seamlessly integrated theosophy, politics, and Krishnamurti's teachings into his life, arguing that socialism should not only cater to man's economic needs but also create an equality of spirit.
VIII. Theosophy, Politics, and Krishnamurti's Teachings
A. Patwardhan's belief in the integration of theosophy, politics, and Krishnamurti's teachings
Patwardhan firmly believed in the integration of theosophy, politics, and Krishnamurti's teachings into a unified philosophical framework.
His life and works reflect the constant interplay of these three elements.
He felt that these three aspects were not mutually exclusive but, in fact, complemented each other in fostering a holistic understanding of life and society.
B. His view on socialism as a tool for not just addressing economic needs, but creating an equality of spirit
Patwardhan viewed socialism not merely as a political and economic ideology but as a philosophy that could usher in an equality of spirit.
He argued that socialism shouldn't be concerned solely with economic needs, but also aim to create spiritual equality.
This unique perspective set him apart from other socialist thinkers and added a spiritual dimension to his understanding of socialism.
C. Writings and perspectives on socialism, philosophy, India's political standards, corruption, and consumerism
Patwardhan was a prolific writer, having authored over 100 books and pamphlets on socialism and philosophy. Important ones are:

The Communal Triangle in India (1942)
Ideologies and the Perspective of Social Change in India (1971)

He expressed deep concern over declining political standards in India, widespread corruption, and rampant consumerism.
In his writings, Patwardhan consistently highlighted these issues and the need to address them for the betterment of the country.
He firmly believed that the societal ills plaguing India were exacerbated by overpopulation and hence emphasized the need to control the burgeoning population in numerous public forums.
IX. Conclusion
Achyut Patwardhan was not just a political activist and a philosopher, but a beacon of moral and intellectual integrity in the tumultuous times of India's struggle for independence. His unwavering commitment to socialism, theosophy, and the teachings of Jiddu Krishnamurti led him to establish a distinctive ideological framework that blended economic justice with spiritual enlightenment. His enduring influence is still felt in the political and educational landscapes of India, reminding us of the potential for harmonizing diverse philosophies for the collective good.
Learn More