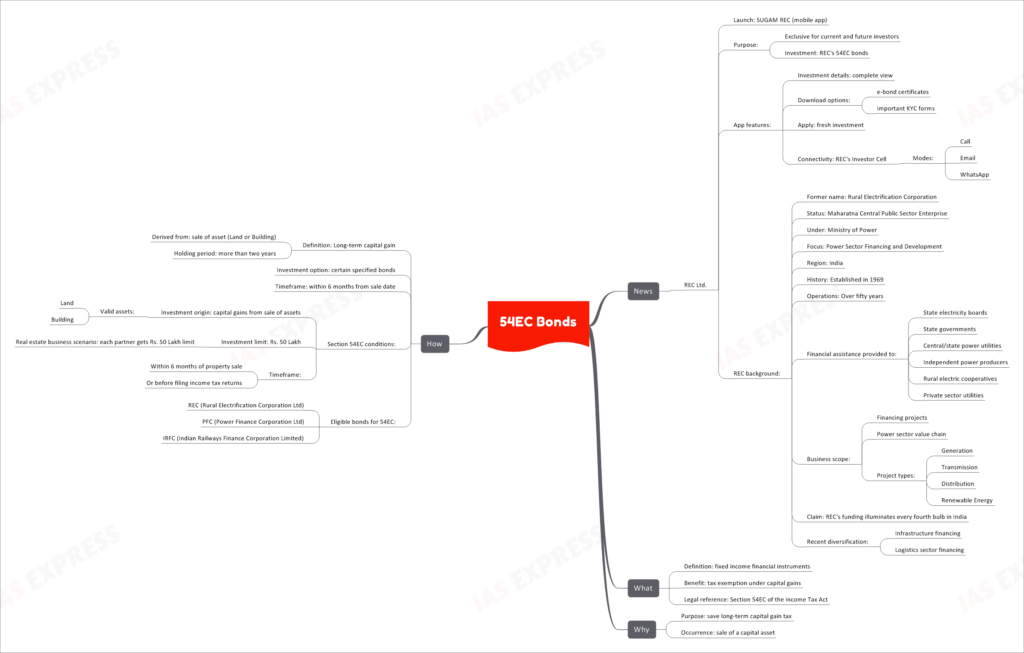 In recent news, REC Ltd. has launched the SUGAM REC mobile app, exclusively designed for current and prospective investors in REC's 54EC bonds.
54EC Bonds – What Are They?
Definition and Benefit
54EC bonds are fixed income financial instruments that offer a unique benefit: tax exemption under capital gains. These bonds serve as a tax-saving avenue for individuals looking to reinvest their capital gains from the sale of assets, particularly land or buildings.
Legal Reference
The foundation of 54EC bonds lies in Section 54EC of the Income Tax Act.
Why Consider 54EC Bonds?
Purpose and Occurrence
The primary purpose of these bonds is to save long-term capital gain tax. This opportunity arises when individuals sell a capital asset, such as land or a building, and wish to reinvest the proceeds while enjoying tax benefits.
How Do 54EC Bonds Work?
Understanding Long-Term Capital Gain
Long-term capital gain is derived from the sale of assets, specifically land or buildings, held for more than two years.
Investment Option
To save on capital gains tax, investors can choose to invest in certain specified bonds.
Timeframe for Investment
Investors must reinvest in 54EC bonds within six months from the date of the sale of the property. Alternatively, they can invest before filing their income tax returns. copyright©iasexpress.net
Section 54EC Conditions
To qualify for the tax exemption, investors must meet certain conditions:
The investment should originate from capital gains obtained from the sale of eligible assets, which include land and buildings.
There is an investment limit of Rs. 50 Lakh per individual. In scenarios involving real estate businesses, each partner can claim this Rs. 50 Lakh limit.
Eligible Bonds for 54EC
Investors have the option to invest in specified bonds issued by institutions like REC (Rural Electrification Corporation Ltd), PFC (Power Finance Corporation Ltd), and IRFC (Indian Railways Finance Corporation Limited).
The REC Background
About REC Ltd.
REC Ltd., formerly known as the Rural Electrification Corporation, holds the status of a Maharatna Central Public Sector Enterprise under the Ministry of Power in India. With a history dating back to its establishment in 1969, REC Ltd. has been in operation for over fifty years. The organization primarily focuses on power sector financing and development.
Operations and Assistance
REC Ltd. provides financial assistance to various entities, including state electricity boards, state governments, central/state power utilities, independent power producers, rural electric cooperatives, and private sector utilities. The scope of their business includes financing projects across the power sector value chain, including generation, transmission, distribution, and renewable energy. copyright©iasexpress.net
Illuminating Every Fourth Bulb
A significant claim to fame for REC Ltd. is that their funding plays a pivotal role in illuminating every fourth bulb in India. Their contributions to the power sector have had a substantial impact on the country's electricity infrastructure.
Recent Diversification
In recent years, REC Ltd. has diversified its portfolio by venturing into infrastructure financing and providing financing solutions for the logistics sector.