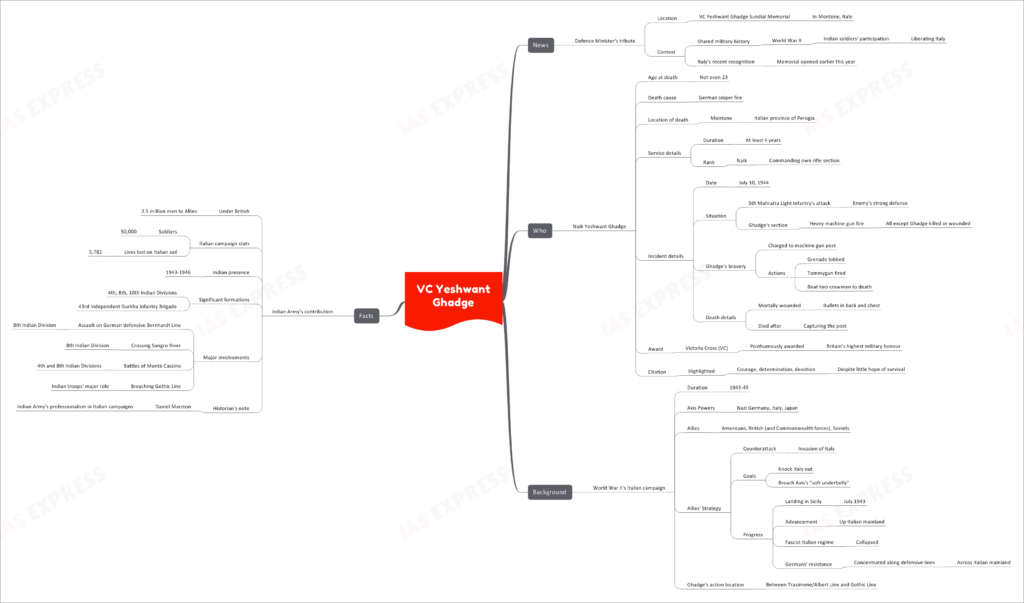 News
Defence Minister's Tribute
Location: VC Yeshwant Ghadge Sundial Memorial in Montone, Italy.
Context: The memorial commemorates a shared military history dating back to World War II, where Indian soldiers played a pivotal role in liberating Italy from Axis Powers. Italy's recent recognition of this contribution led to the memorial's opening earlier this year.
Who
Naik Yeshwant Ghadge
Age at Death: Not even 23 years old.
Death Cause: Mortally wounded by German sniper fire.
Location of Death: Montone, in the Italian province of Perugia.
Service Details:

Served for at least 4 years.
Held the rank of Naik, commanding his own rifle section.

Incident Details:

Date: July 10, 1944.
Situation: During the 5th Mahratta Light Infantry's attack, faced an enemy with strong defenses.
Ghadge's Section: Subjected to heavy machine gun fire, resulting in all except Ghadge being killed or wounded.
Ghadge's Bravery: He courageously charged a machine gun post, lobbing grenades, firing his Tommygun, and beating two crewmen to death.
Death Details: Despite being mortally wounded with bullets in his back and chest, Ghadge captured the enemy post.

Award: Posthumously awarded the Victoria Cross (VC), Britain's highest military honour.
Citation: Highlighted his exceptional courage, determination, and devotion, despite having little hope of survival. copyright©iasexpress.net
Background
World War II's Italian Campaign
Duration: 1943-1945.
Axis Powers: Included Nazi Germany, Italy, and Japan.
Allies: Comprised Americans, British (and Commonwealth forces), and Soviets.
Allies' Strategy: Counterattack by invading Italy, with goals to knock Italy out of the Axis Powers and breach the Axis's "soft underbelly."
Progress: This campaign began with the landing in Sicily in July 1943, advancing up the Italian mainland. The Fascist Italian regime collapsed, but Germans concentrated their resistance along defensive lines across the Italian mainland.
Ghadge's Action Location: Between the Trasimene/Albert Line and Gothic Line.
Indian Soldiers' Heroism
Indian Army's Contribution
Under British: Over 2.5 million Indian men served with the Allies.
Italian Campaign Stats:

Indian Soldiers: 50,000.
Lives Lost on Italian Soil: 5,782.

Indian Presence: 1943-1946.
Significant Formations: Included the 4th, 8th, and 10th Indian Divisions, as well as the 43rd Independent Gurkha Infantry Brigade.
Major Involvements:

Assault on the German defensive Bernhardt Line by the 8th Indian Division.
Crossing the Sangro River by the 8th Indian Division.
Participation in the Battles of Monte Cassino by the 4th and 8th Indian Divisions.
A significant role in breaching the Gothic Line by Indian troops.

Historian's Note: Historian Daniel Marston recognized the Indian Army's professionalism in the Italian campaigns, highlighting their invaluable contributions to the Allied effort. copyright©iasexpress.net