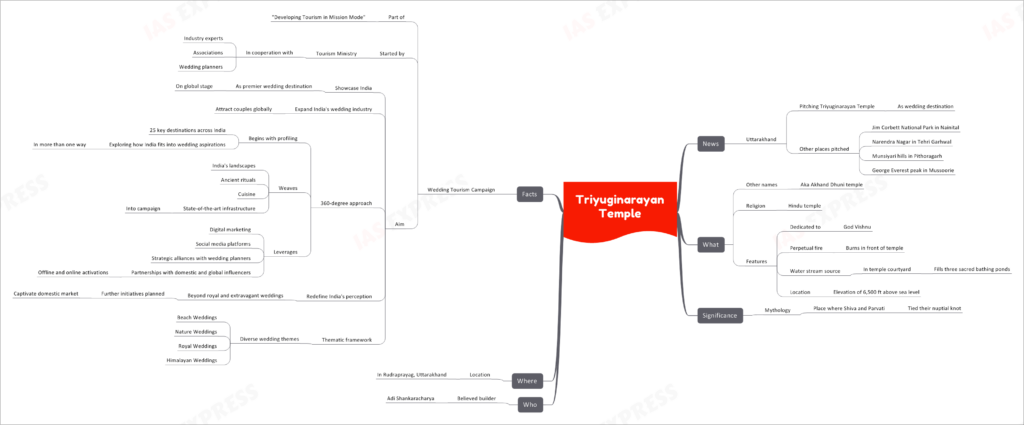 In a remarkable development, the Triyuginarayan Temple in Uttarakhand, India, is being positioned as a wedding destination. This ancient Hindu temple, surrounded by breathtaking landscapes, holds historical and mythological significance.
The Triyuginarayan Temple: An Overview
Other Names and Religious Context
The Triyuginarayan Temple is also known as the Akhand Dhuni temple. It is a Hindu temple dedicated to the deity Vishnu. This temple stands as a symbol of devotion and spiritual significance.
Features and Location
Perpetual Fire: The temple is renowned for a perpetual fire that burns in front of it, adding to its mystical aura.
Water Stream Source: The temple courtyard is the source of a water stream that fills three sacred bathing ponds.
Elevation: Located at an elevation of 6,500 feet above sea level, the temple offers breathtaking views of the surrounding landscapes.
The Mythological Significance
Shiva and Parvati's Nuptial Knot
According to Hindu mythology, the Triyuginarayan Temple is believed to be the sacred spot where Lord Shiva and Goddess Parvati tied their celestial wedding knot. This adds an extraordinary layer of significance to the temple, making it a place of divine union.
The Believed Builder
Adi Shankaracharya's Connection
It is widely believed that the temple was built by Adi Shankaracharya, a revered Hindu philosopher and theologian who played a significant role in shaping religious thought in India. copyright©iasexpress.net
The Location
In the Lap of Uttarakhand
The Triyuginarayan Temple is located in Rudraprayag, Uttarakhand, a region renowned for its stunning natural beauty and spiritual ambience.
The Wedding Tourism Campaign
A Part of "Developing Tourism in Mission Mode"
The promotion of the Triyuginarayan Temple as a wedding destination is part of the larger initiative "Developing Tourism in Mission Mode," a campaign launched by the Tourism Ministry in collaboration with industry experts, associations, and wedding planners.
The Aim
The campaign's primary goals are to:
Showcase India: Present India as a premier wedding destination on the global stage.
Expand Wedding Industry: Attract couples from around the world, thereby boosting India's wedding industry.
360-Degree Approach: The campaign integrates India's diverse landscapes, ancient rituals, cuisine, and modern infrastructure into its narrative.
Leveraging Strategies
The campaign employs a range of strategies, including:
Digital Marketing: Utilizing digital platforms to reach a wider audience.
Alliances and Partnerships: Collaborating with wedding planners, domestic and global influencers, and various stakeholders.
Thematic Framework: Creating diverse wedding themes such as beach weddings, nature weddings, royal weddings, and Himalayan weddings.
Learn More