[Editorial] Thiruvananthapuram-Kasaragod Coastal Highway Project
Kerala is contemplating a significant infrastructure project that involves the construction of an underwater tunnel linking Vypeen and Fort Kochi, as part of the Thiruvananthapuram-Kasaragod coastal highway project. This ambitious initiative, estimated to cost around ₹1,500 crore, aims to ensure seamless connectivity along the proposed highway, currently connected by ro-ro ferries. The Kerala Road Fund Board (KRFB) is spearheading the project, with various stages such as boundary stone laying, household survey, social-impact assessment (SIA), and preliminary environment-impact assessment (EIA) underway.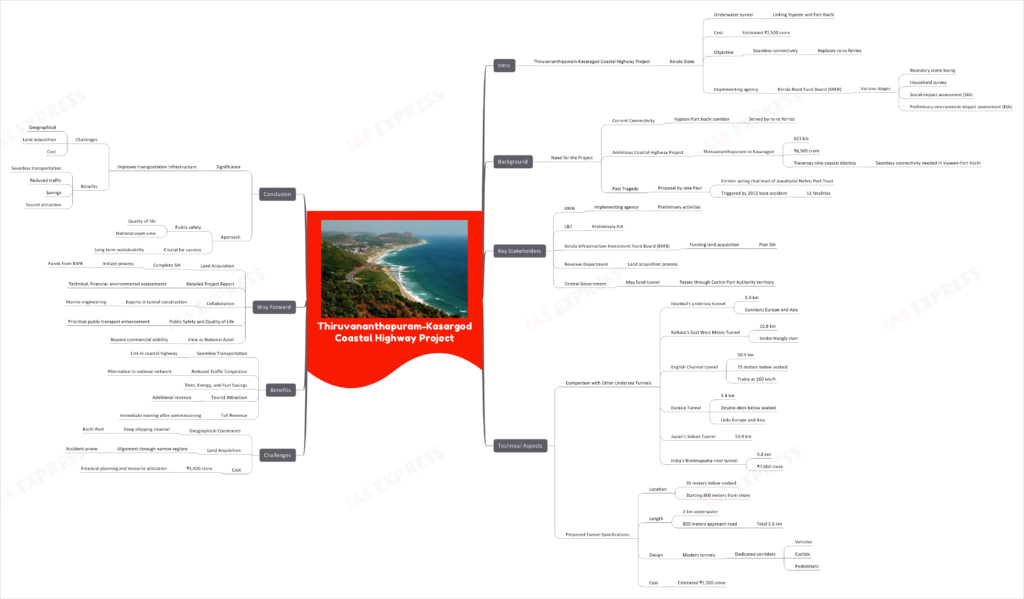 Background
Need for the Project
Current Connectivity: The busy Vypeen-Fort Kochi corridor, through which the proposed coastal highway would pass, is presently served by a pair of ro-ro ferries transporting commuters and vehicles.
Ambitious Coastal Highway Project: The Kerala government has embarked on an ambitious project to construct a coastal highway from Thiruvananthapuram to Kasaragod, covering approximately 623 km at a cost of ₹6,500 crore. This highway will traverse nine coastal districts, necessitating seamless connectivity in the Vypeen-Fort Kochi corridor.
Past Tragedy: The idea for the underwater tunnel was originally proposed by Jose Paul, former acting chairman of Jawaharlal Nehru Port Trust, following a boat accident in Fort Kochi in 2015 that resulted in 11 fatalities. This tragedy underscored the need for a safer and more reliable transportation alternative. copyright©iasexpress.net
Key Stakeholders
Kerala Road Fund Board (KRFB): Implementing agency for the highway project, responsible for boundary stone laying, and other preliminary activities.
L&T: Conducted the preliminary environment-impact assessment (EIA).
Kerala Infrastructure Investment Fund Board (KIIFB): Source of funds for the land acquisition process post completion of the SIA.
Revenue Department: Responsible for carrying out the land acquisition process.
Central Government: May potentially meet the cost of the tunnel as it passes through Cochin Port Authority territory.
Technical Aspects
Comparison with Other Undersea Tunnels
Istanbul's 5.4-km undersea tunnel: Connects Europe and Asia.
Kolkata's 10.8-km East West Metro Tunnel: Runs under the Hoogly river.
English Channel's 50.5-km tunnel: Connects the U.K. and France, 75 meters below the seabed, with trains running at 160 km/h.
Eurasia Tunnel in Turkey: 5.4 km-long, double-deck tunnel below the seabed linking Europe and Asia.
Japan's Seikan Tunnel: 53.9 km long.
India's Brahmaputra river tunnel: Sanctioned ₹7,000 crore for a 9.8-km underwater road-cum-rail tunnel.
Proposed Tunnel Specifications
Location: Approximately 35 meters below the seabed, starting around 800 meters from the shore on either side.
Length: 2 km long underwater section, with an additional 800 meters approach road on either side, totaling approximately 2.6 km.
Design: Modern tunnels with dedicated corridors for vehicles, cyclists, and pedestrians to ensure smooth traffic flow. copyright©iasexpress.net
Cost: Informal discussions with tunnel construction experts suggest total costs may reach approximately ₹1,500 crore.
Challenges
Geographical Constraints: The proposed highway must pass through the deep shipping channel of Kochi Port, representing a significant engineering challenge.
Land Acquisition: The alignment of the proposed brownfield highway passes through narrow and accident-prone regions, necessitating careful planning and potential land acquisition.
Cost: The substantial cost of ₹1,500 crore requires careful financial planning and allocation of resources.
Benefits
Seamless Transportation: The tunnel will provide a critical link for seamless transportation along the proposed coastal highway.
Reduced Traffic Congestion: It will help alleviate traffic congestion and offer an effective alternative to the national transportation network.
Time, Energy, and Fuel Savings: The tunnel will facilitate the transportation of men and material across Kerala via the shortest route, resulting in significant savings.
Tourist Attraction: The undersea tunnel could attract tourists, generating additional revenue for the region.
Toll Revenue: The government can start earning revenue immediately after commissioning through toll charges, contributing to the project's financial sustainability.
Way Forward
Land Acquisition: Complete the Social-Impact Assessment (SIA) and initiate the land acquisition process with funds from the Kerala Infrastructure Investment Fund Board (KIIFB).
Detailed Project Report: Prepare a detailed project report that includes comprehensive technical, financial, and environmental assessments. copyright©iasexpress.net
Collaboration: Collaborate with experts in tunnel construction and marine engineering to ensure the project's technical feasibility and success.
Public Safety and Quality of Life: Prioritize public safety and enhancement of the public transport system and quality of life in Kochi.
View as a National Asset: Consider the tunnel as a national asset and an effective alternative mode of transportation in city limits, rather than focusing solely on its commercial viability.
Conclusion
The proposed underwater tunnel linking Vypeen and Fort Kochi represents a significant step towards improving transportation infrastructure in Kerala. While there are considerable challenges associated with the project, such as geographical constraints, land acquisition, and cost, the potential benefits, including seamless transportation, reduced traffic congestion, time, energy, and fuel savings, and the potential to attract tourists, make it a worthwhile investment. A well-planned approach, focusing on public safety and quality of life, and viewing the tunnel as a national asset, will be crucial for the project's success and long-term sustainability.
Practice Question for Mains
Analyze the pros and cons of the Thiruvananthapuram-Kasaragod coastal highway project. Discuss the technical aspects and provide suggestions for a way forward. (250 words)