Special Session of Parliament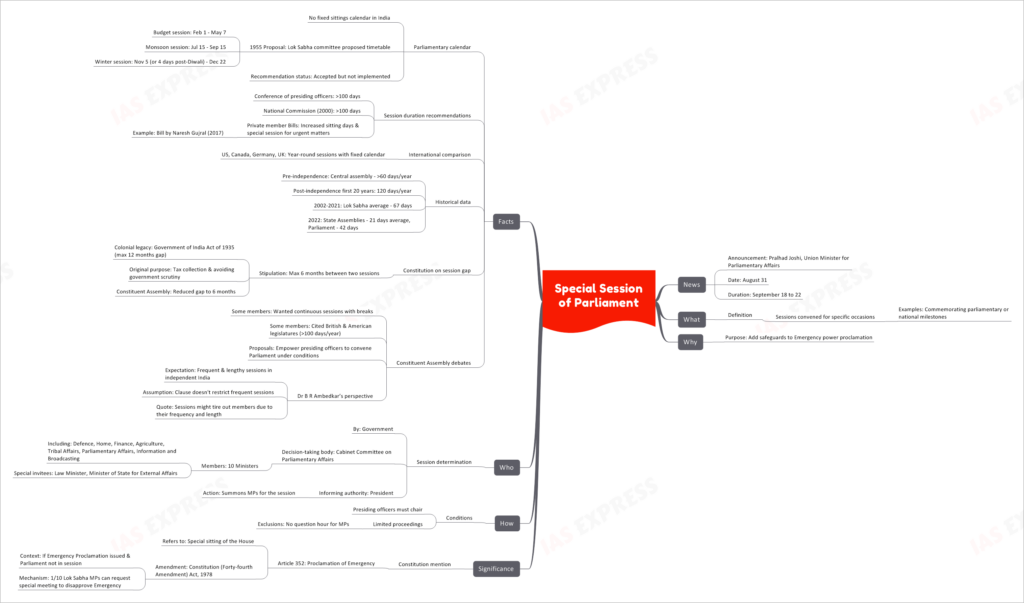 A Special Session of Parliament, as announced by Pralhad Joshi, the Union Minister for Parliamentary Affairs, is set to take place from September 18 to 22.
Understanding the Special Session of Parliament
Definition
Special Sessions are convened for specific occasions, often to commemorate parliamentary or national milestones.
Purpose: Adding Safeguards to Emergency Power Proclamation
The upcoming Special Session aims to introduce safeguards to the power of proclaiming an Emergency.
Significance of Constitution Mention
Article 352 of the Indian Constitution mentions the Proclamation of Emergency.
The Constitution was amended by the Forty-fourth Amendment in 1978, allowing for a special sitting of the House under certain conditions.
Mechanism of the Special Session
Conditions for the Special Session
Presiding officers of both Houses must chair the session.
Limited proceedings are conducted during these sessions, excluding the usual question hour for Members of Parliament (MPs).
Who Decides the Session
The government determines the need for a special session.
The Cabinet Committee on Parliamentary Affairs, comprising 10 ministers and special invitees, takes the decision.
The President is informed and issues summonses to MPs for the session.
Historical Context and Facts
Parliamentary Calendar
India lacks a fixed sittings calendar for Parliament.
A 1955 proposal by a Lok Sabha committee suggested a timetable, but it remains unimplemented. copyright©iasexpress.net
Session Duration Recommendations
Various bodies have recommended over 100 days for sessions.
Private member Bills have been proposed for increased sittings and special sessions for urgent matters.
International Comparison
Countries like the US, Canada, Germany, and the UK have year-round sessions with fixed calendars.
Historical Data
Pre-independence, the Central Assembly had over 60 days of sessions per year.
The first 20 years after independence saw around 120 days per year.
Recent years have seen a decline, with Lok Sabha averaging 67 days in sessions.
Constitution on Session Gap
The Constitution stipulates a maximum gap of six months between two sessions.
This limitation was reduced from 12 months under the Government of India Act of 1935.
Insights from Constituent Assembly Debates
Some members wanted continuous sessions with breaks.
Comparisons were drawn with British and American legislatures.
Dr B R Ambedkar shared differing views on session frequency and length.
Learn More