Need for Space Command in India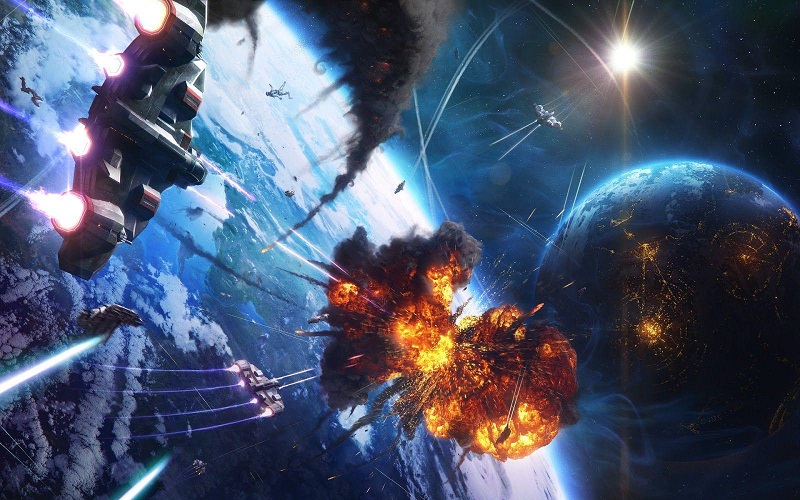 Mindmap Learning Programme (MLP)
Absorb information like a sponge!
Why in News?
In June 2018, US President Donald Trump announced that his country was going to establish a Space Force to fight in space alongside the military.
It sparked a raging debate on a possible space war, with analysts pointing out the need for countries to establish their respective space warfare strategies.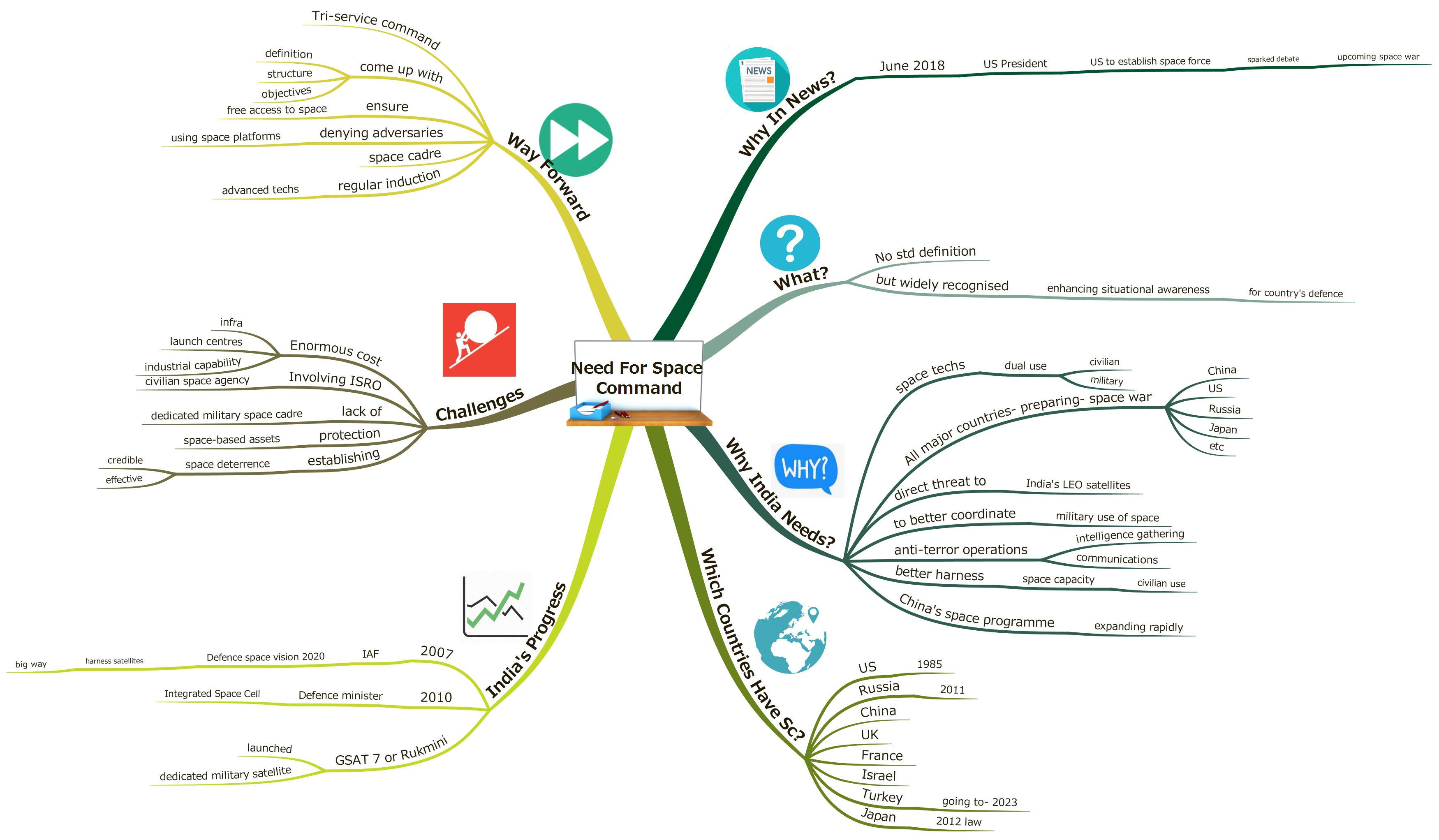 What is the space command?
There is no standard formula or definition for the structure of an aerospace command but it is widely recognized that enhancing situational awareness for the country's defence is one of the key goals of an aerospace command.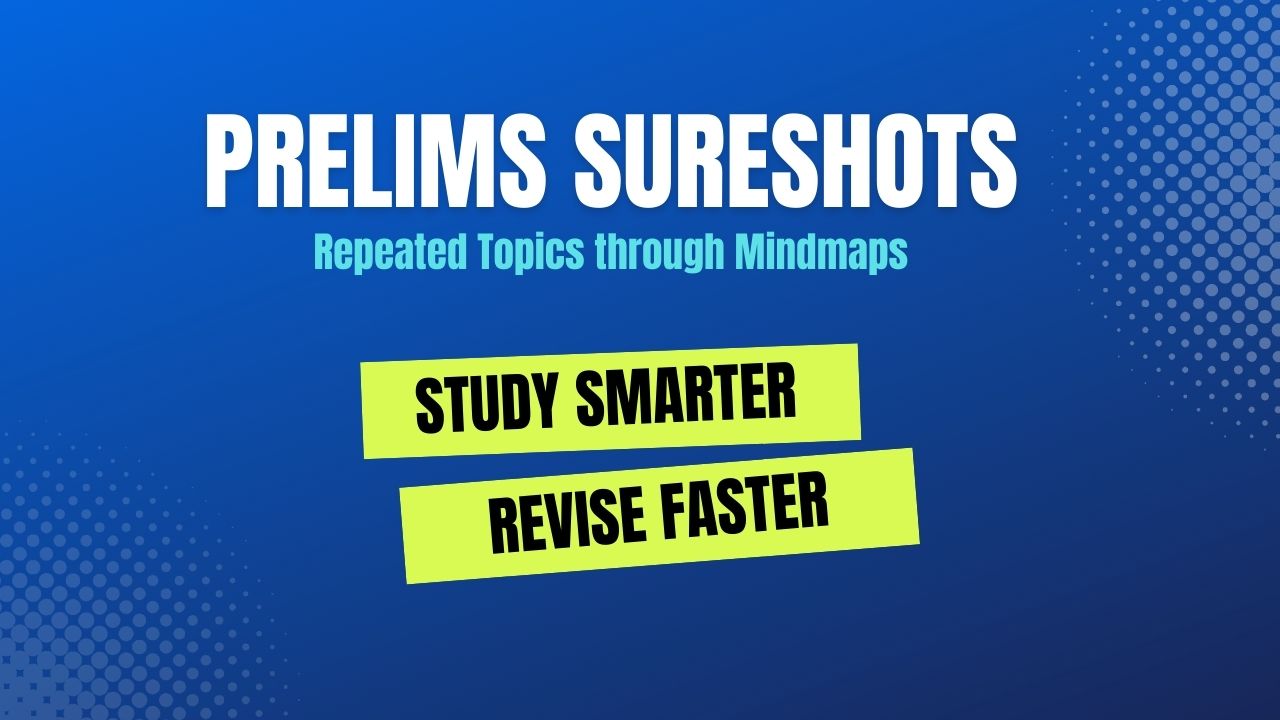 Why India needs a space command?
Technologies in the space domain have dual-use applications (civilian & military). Space is considered the fourth dimension of warfare.
All major economies in the world, including China, Russia, and the US, are preparing for space warfare and that India too needs to be vigilant, considering the many adversaries it has.

The debate actually started in 2007 when China was doing an anti-satellite test which created a lot of space debris. Subsequently, China was carrying out some space activities which provided the indication of their interest towards developing counter-space capabilities.
Russia is also giving the same indication.
The US has a space plane named X-37b, which remained in space for many months, but the US is not ready to tell the purpose behind the mission.
Now in June 2018, Mr. Trump announced that the US would establish a Space Force, the sixth fighting arm for their defence

establishment.

There could be a direct threat to India's Low Earth Orbit (LEO) satellites. Such satellites could be destroyed by using a technology named KKV (Kinetic Kill Vehicle) or by using jamming technologies. Thus India needs to establish a space command as a first step to deter such threats.
India's satellite programme has seen a shift from civil to military use of space such as long-distance communication for soldiers in the field, cross-border surveillance and a more accurate use of firepower. The establishment of a space command would help in better coordination of those efforts.
India requires eyes-in-sky for anti-terror operations as Space technologies are useful in any tactical and strategic operations like intelligence gathering, communications, and navigation.
Indian military is looking to better harness the space capacity of the civilian sector in the light of growing tensions with China and Pakistan, both of them are nuclear powers.
China's space programme is expanding at a rapid pace in both offensive and defensive front. China has been developing anti-satellite (ASAT) missiles and other offensive space capabilities. Hence India has no option but to be fully prepared for "star wars" in the future.
Which countries have dedicated space commands?
The US established a dedicated space command in 1985 itself and ended in 2002 due to the merger with another organisation. Now it is going to be created again with the U.S. President's announcement in June 2018.
Russia established it in 2011.
In contrast to the well-conceived American and Russian Space Commands, the Chinese space structure appears highly unstructured and distributive. But it has space command in a sense.
Other major powers like the UK, France, and Israel have dedicated space commands.
Turkey is expected to establish one by 2023.
Japan's Upper house passed a law in 2012 to shift space policy and budget to open the door for military space development, initially focussed on space-based military warning.
You might want to read: Reusable Launch Vehicle (RLV) – The Road to Cheap Space Travel
What is India's progress?
In 2007, IAF released "Defence Space Vision 2020' which outlines the need to harness satellite resources in a big way to strengthen India's defence preparedness.
In 2010, the then defence minister announced the formation of an Integrated Space Cell, under the aegis of Integrated Defence Staff, as an intermediate initiative towards the establishment of an Aerospace command.
India does not even have dedicated military satellites until recently with the launch of GSAT7 or Rukmini.
India's sheer lack of strategic defence planning can be identified from the fact that even though the armed forces especially the IAF have been demanding an aerospace command for several years, it remains just a dream.
Perhaps India's reluctance can be seen from dealing with unique challenges in establishing the space command.
What are the challenges in establishing space command?
The biggest challenge in the way of an Indian space command is its enormous cost.

India is more distant in realizing an infrastructure sturdy enough to build and launch a large number of satellites at frequent intervals to support aerospace command.
This means that India would need to build not only new launch centres

but also strengthen its industrial capability to build and deliver satellites and launch vehicles in a ready-to-use condition.

Another major challenge would be involving ISRO, a civilian space agency committed to peaceful uses of outer space in order to develop the aerospace command. The involvement of ISRO could easily attract international opposition.
The absence of dedicated military space cadre could be a major shortcoming considering that the international relations, security, air, and space power today constitute a single entity.
Protection of space-based assets and Establishing credible and effective space deterrence would pose a challenge.
What is the way forward?
The creation of just "an integrated space cell" will not suffice. What is needed is a full-fledged tri-service command for effective tactical, operational and strategic functions.
India needs to come up with answers to the questions like definition, structure & objectives of Indian Space Command.
The main objective of the Indian space command should be ensuring free access to space while denying the adversary the advantage of using space platforms in the event of a war.
There is a need to create a dedicated cadre of technological-operational military space professionals at multiple levels of military leadership.
Moreover, an aerospace command is a dynamic entity that needs to be regularly strengthened by the induction of advanced technologies on a sustained basis.
It is high time that India establishes Aerospace command that offers enormous prospects to leverage space for comprehensive national development and serve as "space sword" and "space shield" for conventional and nuclear deterrence.
You might want to read: India's Nuclear Doctrine: Is it necessary to revisit?
Practice Question
Discuss the need for establishing space command in India. Examine the challenges with respect to the establishment.