Ram Nath Kovind Committee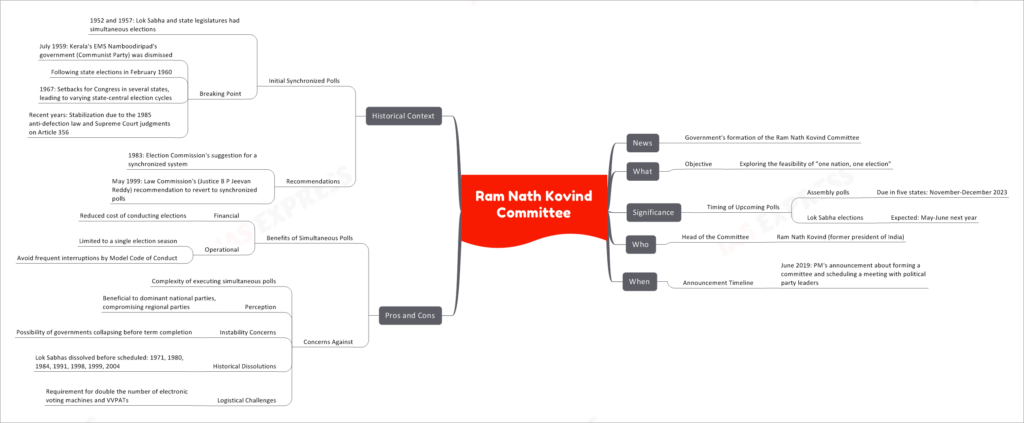 The government has recently formed the Ram Nath Kovind Committee.
What is the Objective of the Committee?
Objective: The primary goal of the committee is to explore the feasibility of implementing "one nation, one election."
The Significance of Timing for Upcoming Polls
Assembly Polls: Five states are due to hold assembly polls in November-December 2023.
Lok Sabha Elections: The Lok Sabha elections are expected to take place in May-June of the following year.
Who Heads the Committee?
Head of the Committee: The committee is led by Ram Nath Kovind, the former President of India.
When Was the Committee Announced?
Announcement Timeline: The committee was announced in June 2019, following the Prime Minister's announcement and a scheduled meeting with political party leaders.
Pros and Cons of Simultaneous Polls
Benefits of Simultaneous Polls
Financial: Simultaneous polls could lead to a reduced cost of conducting elections.
Operational: Conducting elections during a single season could minimize interruptions caused by the Model Code of Conduct.
Concerns Against Simultaneous Polls
Complexity: Executing simultaneous polls on a national scale is a complex undertaking.
Perception: Some argue that this system may benefit dominant national parties at the expense of regional parties.
Instability Concerns: There is a concern that governments could collapse before completing their terms. copyright©iasexpress.net
Historical Dissolutions: In the past, Lok Sabhas have been dissolved before their scheduled terms in 1971, 1980, 1984, 1991, 1998, 1999, and 2004.
Logistical Challenges: Implementing simultaneous polls would require double the number of electronic voting machines and VVPATs.
Historical Context of Synchronized Polls
Initial Synchronized Polls: In 1952 and 1957, Lok Sabha and state legislatures held simultaneous elections.
Breaking Point: The system faced challenges, notably in July 1959 when Kerala's EMS Namboodiripad's government (Communist Party) was dismissed after state elections in February 1960. This led to varying state-central election cycles.
Stabilization: In recent years, the electoral system has stabilized due to the implementation of the 1985 anti-defection law and Supreme Court judgments on Article 356.
Recommendations for Synchronized Polls
1983: The Election Commission suggested a synchronized election system.
May 1999: The Law Commission, led by Justice B. P. Jeevan Reddy, recommended a return to synchronized polls.
The formation of the Ram Nath Kovind Committee marks a significant step in reevaluating the feasibility and implications of "one nation, one election" in the Indian electoral landscape. It addresses both the potential advantages and challenges associated with this ambitious electoral reform.