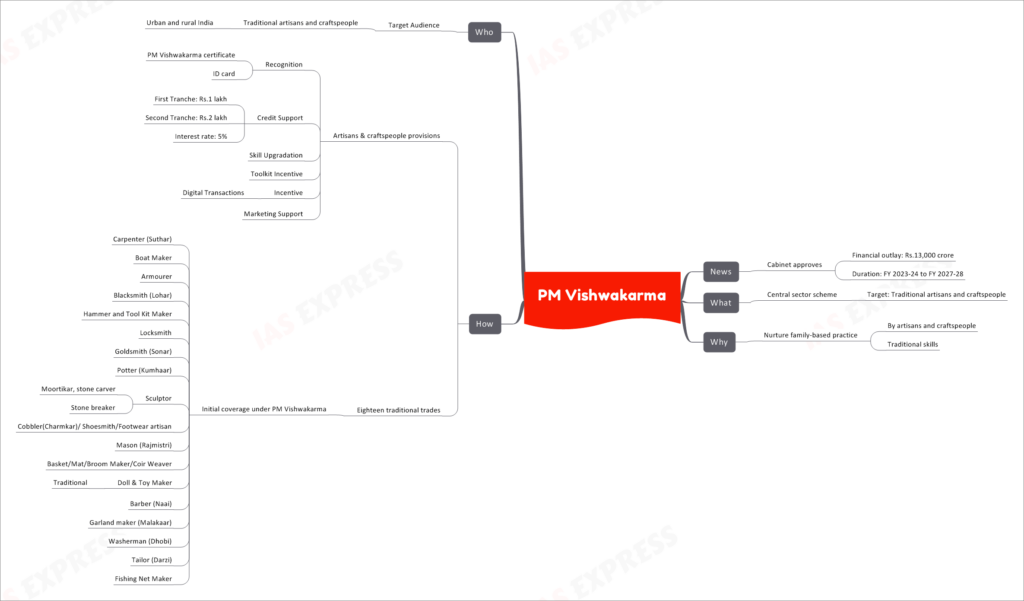 In a significant move, the Cabinet has approved the implementation of the PM Vishwakarma scheme, a central sector initiative aimed at supporting and empowering traditional artisans and craftspeople. With a financial outlay of Rs. 13,000 crore for the duration of FY 2023-24 to FY 2027-28, this visionary scheme is set to breathe new life into traditional family-based practices and skills.
PM Vishwakarma: Reviving Traditional Artistry
Unveiling the Scheme
The PM Vishwakarma scheme is a central sector scheme with a comprehensive vision to bolster traditional art forms and skills practiced by artisans and craftspeople across India. This scheme recognizes the invaluable contribution of these artisans in preserving cultural heritage and promoting creativity through generations.
Empowering Artisans: The Why and How
Preserving Traditional Family-Based Practices
At its core, the PM Vishwakarma scheme is designed to nurture and strengthen family-based practices of artisans and craftspeople. It acknowledges that these traditions are passed down through generations and play a pivotal role in sustaining the rich cultural fabric of the country.
Provisions for Artisans and Craftspeople
To achieve its goals, the PM Vishwakarma scheme offers a range of provisions to support and uplift traditional artisans and craftspeople:
Recognition: Artisans and craftspeople will receive a PM Vishwakarma certificate and an ID card, acknowledging their role in preserving traditional skills. copyright©iasexpress.net
Credit Support: The scheme provides credit support to artisans in two tranches – the first tranche of Rs. 1 lakh and the second tranche of Rs. 2 lakh. The interest rate on this credit support is a mere 5%, making it accessible and affordable for artisans.
Skill Upgradation: The scheme emphasizes skill upgradation, enabling artisans to enhance their abilities and stay relevant in a changing market.
Toolkit Incentive: Artisans will receive incentives for acquiring and maintaining toolkits, helping them perform their craft with efficiency and excellence.
Incentives for Digital Transactions: Incentives for adopting digital transaction methods further modernize artisans' operations and ease financial transactions.
Marketing Support: Recognizing the importance of market reach, the scheme extends marketing support to connect artisans with wider audiences.
Traditional Trades Covered: A Journey through 18 Artistic Disciplines
The PM Vishwakarma scheme initially focuses on empowering artisans in 18 traditional trades, each of which holds unique significance in India's cultural landscape:
Carpenter (Suthar)
Boat Maker
Armourer
Blacksmith (Lohar)
Hammer and Tool Kit Maker
Locksmith
Goldsmith (Sonar)
Potter (Kumhaar)
Sculptor (Moortikar, stone carver; Stone breaker)
Cobbler (Charmkar) / Shoesmith / Footwear Artisan
Mason (Rajmistri)
Basket / Mat / Broom Maker / Coir Weaver
Doll & Toy Maker (Traditional)
Barber (Naai)
Garland Maker (Malakaar)
Washerman (Dhobi)
Tailor (Darzi) copyright©iasexpress.net
Fishing Net Maker
Target Audience: Empowering Artisans Across Urban and Rural India
The primary beneficiaries of the PM Vishwakarma scheme are traditional artisans and craftspeople across urban and rural India. This inclusive approach aims to uplift artisans from various backgrounds and regions, promoting a diverse and vibrant array of traditional artistry.
Learn More