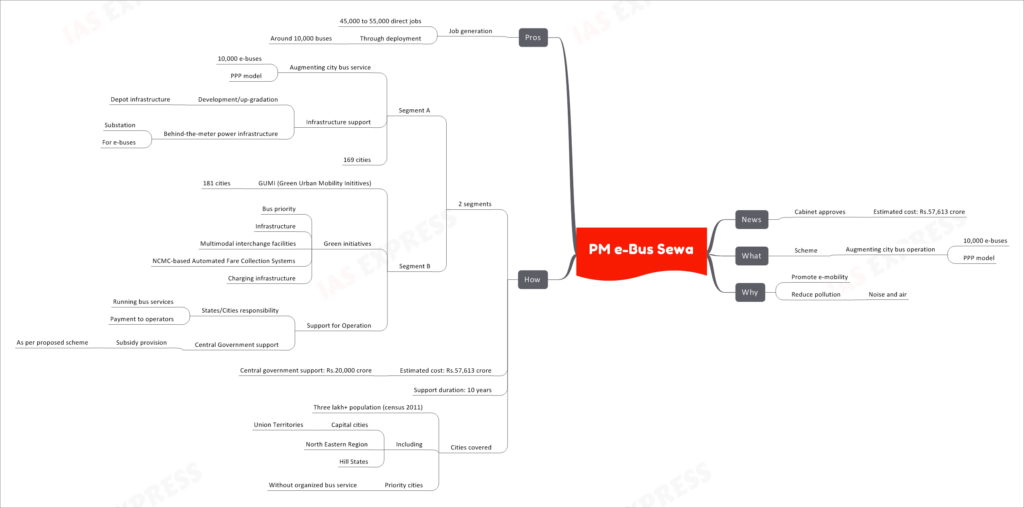 The Cabinet has approved the PM e-Bus Sewa scheme with an estimated cost of Rs. 57,613 crore. This visionary initiative is aimed at revolutionizing urban mobility in India by augmenting city bus operations with a fleet of 10,000 electric buses (e-buses).
PM e-Bus Sewa: A Green Revolution in Urban Mobility
Unveiling the Scheme
The PM e-Bus Sewa scheme, approved by the Cabinet, is a transformative initiative designed to enhance city bus operations across India. Under this scheme, the goal is to introduce 10,000 e-buses into the public transportation system, following a Public-Private Partnership (PPP) model. This move aligns with the broader vision of promoting electric mobility and reducing pollution levels, both in terms of noise and air quality.
Driving Forces: Why Embrace E-Mobility?
The core motivations behind the PM e-Bus Sewa scheme are twofold: promoting electric mobility and mitigating environmental pollution. By introducing a substantial number of e-buses, the scheme aims to reduce the carbon footprint of urban transportation and contribute to cleaner air and quieter streets.
Implementation Strategy: The Two Distinct Segments
The implementation of the PM e-Bus Sewa scheme is divided into two key segments, each addressing different aspects of urban mobility enhancement.
Segment A: E-Bus Augmentation and Infrastructure
In this segment, the primary focus is on enhancing city bus services by deploying 10,000 e-buses through the PPP model. To facilitate this, comprehensive infrastructure support is provided, including the development and upgrading of depot infrastructure. Additionally, behind-the-meter power infrastructure, such as substations dedicated to e-buses, is set up to ensure efficient and uninterrupted charging. copyright©iasexpress.net
The scope of this segment spans 169 cities, envisioning a holistic transformation in urban transportation.
Segment B: Green Urban Mobility Initiatives (GUMI)
This segment, known as GUMI, targets 181 cities and emphasizes holistic green initiatives in urban mobility. The initiatives include:
Implementing bus priority lanes to streamline traffic flow.
Developing infrastructure for multimodal interchange facilities to enable seamless transfers between different modes of transport.
Introducing the National Common Mobility Card (NCMC)-based Automated Fare Collection Systems for a hassle-free payment experience.
Establishing charging infrastructure to support the e-bus fleet.
Financial and Operational Support: Collaborative Efforts
The PM e-Bus Sewa scheme follows a collaborative approach between states, cities, and the Central Government to ensure its successful implementation and operation.
States/Cities Responsibility: States and cities are responsible for running bus services and making payments to operators.
Central Government Support: The Central Government extends its support through a subsidy provision, as per the proposed scheme. An estimated Rs. 20,000 crore will be allocated from the Central Government to facilitate the scheme's execution over a duration of 10 years.
Coverage and Prospects: A Glimpse into the Future
The PM e-Bus Sewa scheme aims to cover cities with a population of over three lakhs, as per the 2011 census. This includes capital cities, Union Territories, the North Eastern Region, and hill states. Additionally, priority will be given to cities without organized bus services, ensuring a comprehensive and inclusive reach. copyright©iasexpress.net
Promising Job Generation
One of the most significant advantages of the PM e-Bus Sewa scheme is the potential for job generation. With the deployment of around 10,000 e-buses, the scheme is expected to create direct employment opportunities ranging from 45,000 to 55,000 jobs. This infusion of employment opportunities can significantly contribute to economic growth and social welfare.
Learn More