Natural Gas Economy – Need, Government Measures, Way Ahead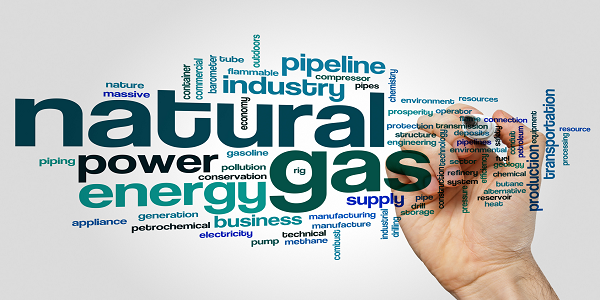 In a bid to move towards the market-based gas economy, series of measures were recently taken by the Indian government, including the approval of the Natural Gas Marketing Reforms and the launching of India's first gas exchange. Though well-intended, these measures fail to cover the majority of gas producers, leading to lesser investments for the development of this sector. Measures need to be taken by the government to address these issues to increase demand for domestic gas and reduce import dependence.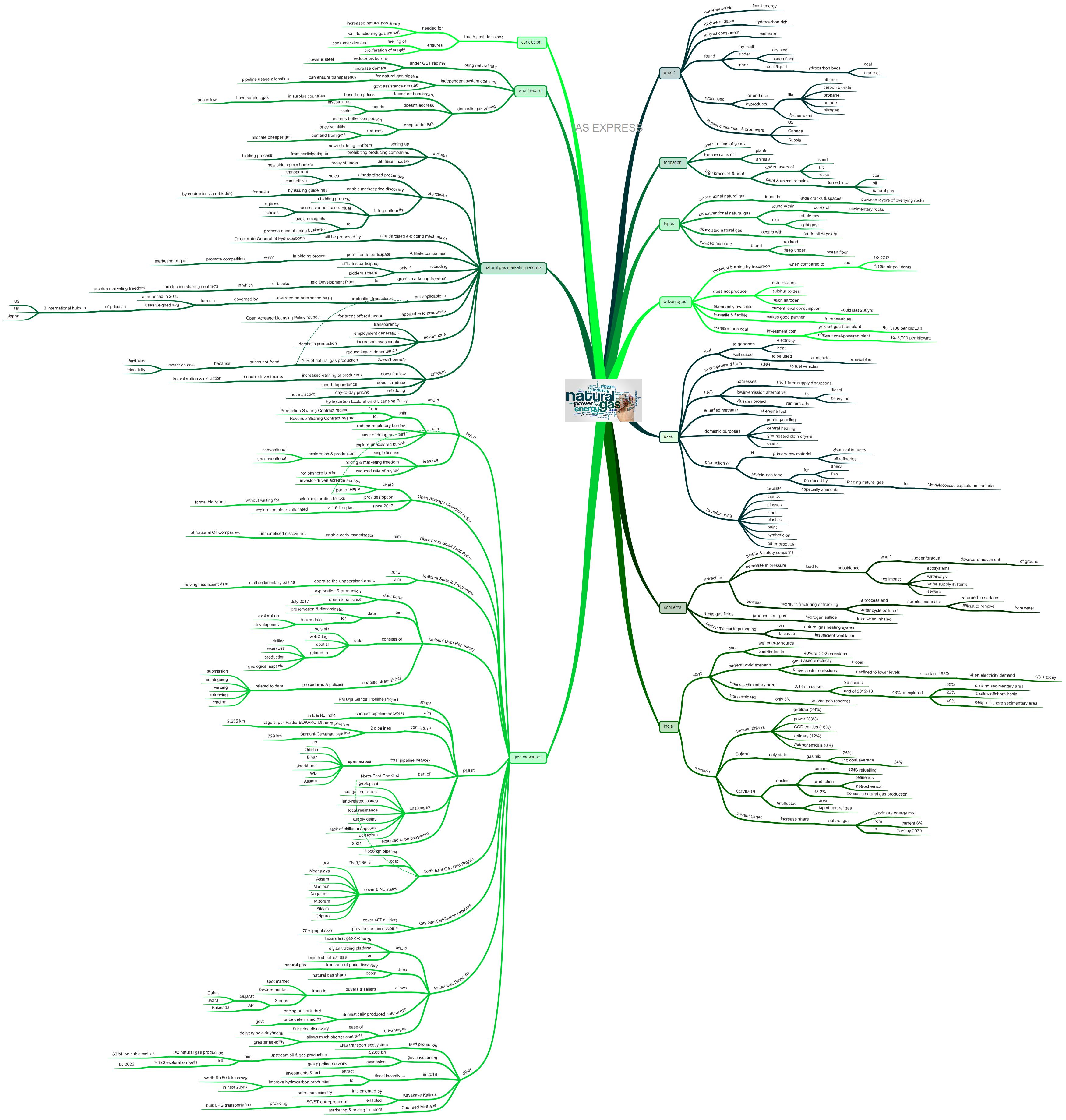 Mindmap Learning Programme (MLP)
Absorb information like a sponge!
What is natural gas?
Natural gas is a non-renewable fossil energy source formed deep beneath the Earth's surface.
It is a mixture of gases that are rich with hydrocarbons.
The largest component of natural gas is methane.
Natural gas is found throughout the world either by itself or in association with crude oil, both under dry land and beneath the ocean floor near solid and liquid hydrocarbon beds like coal and crude oil.
Natural gases are not used in pure form. They are processed and converted into cleaner fuel before consumption.
The by-products obtained during the processing, like propane, ethane, butane, carbon dioxide, nitrogen etc., can be further used.
How is natural gas formed?
Natural gases are formed organically over millions of years from the remains of plants and animals.
The plants and animal materials, over the years, are built up in thick layers on the Earth's surface and ocean floors. They are sometimes mixed with sand, silt and calcium carbonate.
Over time, these layers are buried under sand, silt and rock.
Pressure and heat changed some of these carbon and hydrogen-rich materials into coal, some into oil (petroleum) and some into natural gas.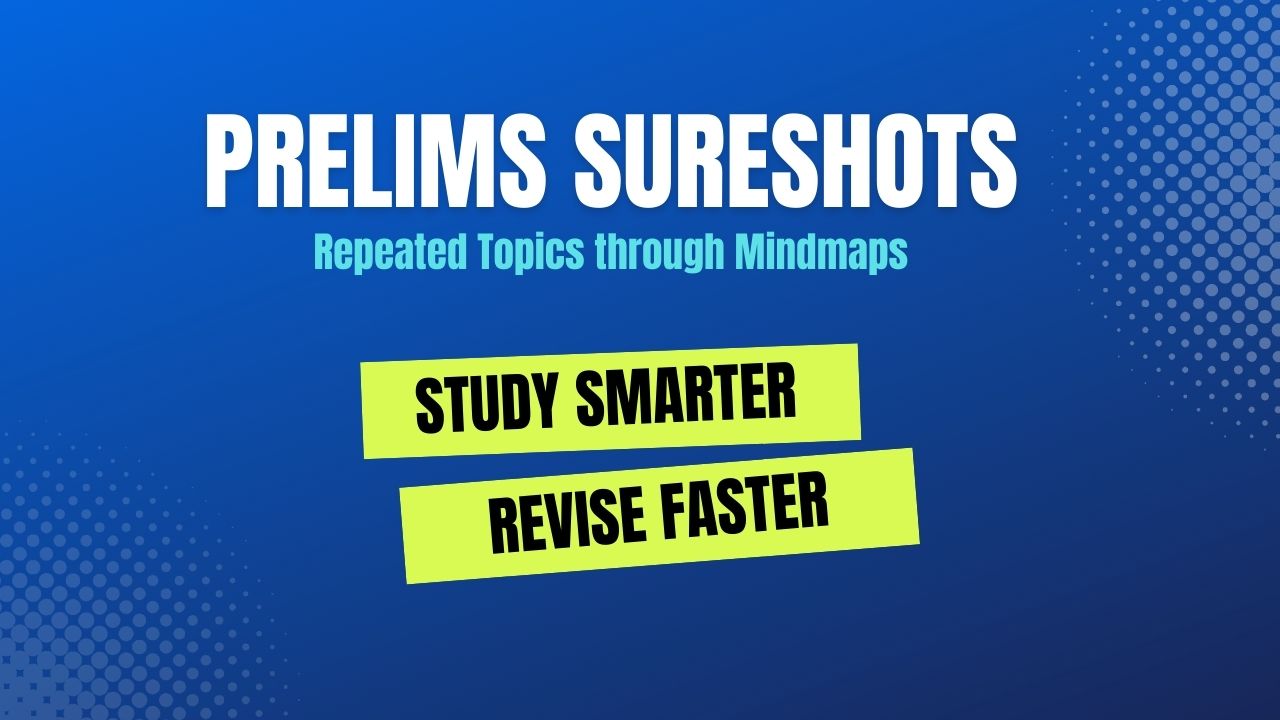 What are the types of natural gas?
Based on the source, natural gases are classified as follows:
Conventional natural gas: In some places, natural gases moved into large cracks and spaces between layers of overlying rocks. The natural gas found in these types of formations is called conventional natural gas.
Unconventional natural gas: Natural gases that occur in tiny pores within some formations of shale, sandstone and other types of sedimentary rocks are called as shale gas or tight gas. These gases are also referred to as unconventional natural gas.
Associated natural gas: Natural gas that occurs with deposits of crude oil is associated natural gas.
Natural gas deposits found on land or deep under the ocean floor is called coalbed methane.
What are the advantages of natural gas?
Natural gas is the earth's cleanest-burning hydrocarbon. It produces half the carbon dioxide and just one-tenth of the air pollutants of coal when burnt to generate electricity. This ensures reduction of near-term carbon emissions and air pollution.
Its combustion does not produce ash residue, sulphur oxides and only negligible nitrogen.
It is abundantly available. If consumption remains at present levels, it is estimated that there would be enough recoverable sources to last around 230 years.
It is versatile. A gas-fired power station takes lesser time to start and stop than a coal-powered plant. This flexibility makes it a good partner to renewable sources of energy like solar and wind, which are sometimes disrupted due to lack of sunshine or wind blows.
In some cases, natural gas production is cheaper than that of coal. According to the International Energy Agency, while the investment cost of the most efficient gas-fired plant is Rs.1,100 per kilowatt, the most efficient coal-powered plant requires Rs.3,700 per kilowatt.
What are the uses of natural gas?
Natural gas is mainly used as fuel for generating electricity and heat.
It is well-suited to be used in association with renewable energy sources like wind or solar.
It is used in compressed form as fuel for vehicles. This is called Compressed Natural Gas (CNG).
Liquefied Natural Gas (LNG) is widely used by countries across the world to deal with short-term supply disruptions. It is considered as a lower-emission alternative to diesel and heavy fuel in transport. Russia is undertaking projects to produce LNG that can be used for running aircraft.
Liquefied methane is used as a jet engine fuel that has more specific energy than the standard kerosene mixes. Its temperature can also cool down the air, which the engine compresses for greater volumetric efficiency. This effectively replaces an intercooler. It can also be used to lower the temperature of the exhaust.
Natural gas is also used for manufacturing fertilizers, especially ammonia.
Natural gas is dispensed in residential buildings via pipes to be used for many purposes like ovens, gas-heated cloth dryers, heating/cooling and central heating.
Natural gas can also be used for the production of hydrogen, which is the primary feedstock for the chemical industry and an important commodity for oil refineries.
Protein-rich animal and fish feed is produced by feeding natural gas to Methylococcus capsulatus bacteria on a commercial scale.
Natural gas is also used for manufacturing fabrics, glass, steel, plastics, paint, synthetic oil and other products.
What are the concerns?
Workforce involved in the extraction of natural gas face health and safety challenges
Some gas fields produce sour gas containing hydrogen sulfide, a toxic compound when inhaled.
Extraction of natural gas leads to a decrease in pressure in the reservoir, which in turn could result in subsidence – the sudden or gradual downward movement of ground with little to no horizontal motion. Subsidence adversely affects ecosystems, waterways, sewer and water supply systems etc.
Natural gas is extracted from subsurface porous rock formations through the process called hydraulic fracturing or fracking. At the end of this process, water, chemicals and frack fluid that returns to the surface of the well often contain radioactive materials, heavy metals, natural salts and hydrocarbons. These are often difficult to remove from the water they are mixed with, which leads to the pollution of the water cycle.
A natural gas heating system may cause carbon monoxide poisoning if ventilation is insufficient.
Why should India increase consumption of natural gas?
Coal, which contributes to 40% of carbon dioxide emissions from fossil fuels, remains the major source of energy for India.
Coal-fired plants generate 72% of India's electricity. This is despite the government's efforts in the renewable energy sector.
The gas-based economy would enable addressing this issue.
The latest report released by the IEA shows that the electricity produced by natural gas worldwide was more than that of coal for the first time ever.
It is revealed that across the advanced economies, emissions from the power sector declined to the lowest levels since the late 1980s when electricity demand was one-third lower than today.
India too can make a change in the emission front by increasing dependence on natural gas, which is comparatively less polluting.
India has a sedimentary area of 14 million square kilometres, comprising of 26 basins.
At the end of 2012-13, around 48% of this sedimentary area remained unexplored.
This includes 65% of the on-land sedimentary area, 22% of the shallow offshore basin and around 49% of the deep-off-shore sedimentary area.
Also, it is estimated that India has exploited only 3% of the proven gas reserves.
Thus, India has enormous potential to shift towards the gas economy and reduce import dependence.
What is the natural gas scenario in India?
The demand for natural gas in India's domestic market is mainly driven by the fertilizer (28%), power (23%), CGD (city gas distribution) entities (16%), refinery (12%) and petrochemicals (8%) industries.
Currently, the world's average natural gas share in the primary energy basket is 24%. The only Indian state that has a higher gas mix than the global average is Gujarat (25%).
Due to the COVID-19 crisis, there has been a decline in power generation, decline in demand for CNG refuelling, fall in refineries and petrochemical production during to April-August 2020, with exception to the production and for urea and piped natural gas (PNG).
This had led to a 2% decline in the domestic natural gas production during the same period.
The current levels remain below pre-COVID-19 situation. However, this situation is expected to improve given the resumption of the economic activities.
Measures are being taken to achieve the target of increasing the share of natural gas in India's primary energy mix to 15% by 2030 from the present level of 6%.
What are the government measures aimed at promoting gas sector?
Discovered Small Field Policy:
In 2015, the Indian government approved 69 marginal field/discoveries under Discovered Small Fields Policy.
Marginal fields are those that may not produce enough net income to make it worth developing. However, changes in technical or economic conditions can make these into commercial fields.
These 69 contract areas were awarded under the new regime of Revenue Sharing Model
The policy was launched to enable early monetisation of unmonetised discoveries of National Oil Companies.
First bidding round under the Discovered Small Field Policy was launched in 2016.
In 2018, approval was given to the Discovered Small Field Policy Bid Round II, which is the extension of the Discovered Small Fields.
Hydrocarbon Exploration and Licensing Policy (HELP)
This policy aims to shift from Production Sharing Contract regime to Revenue Sharing Contract regime, which reduces regulatory burdens and ensures ease of doing business.
It provides for a single license for exploration and production of conventional and unconventional hydrocarbon resources.
It also enables pricing and marketing freedom, reduced rate of royalty for offshore blocks etc.
A new policy was notified last year for incentivising exploration in unexplored basins.
This policy provides fiscal and contractual incentives to encourage exploration and production companies to enter new areas that were largely unexplored.
Open Acreage Licensing Policy:
It is an investor-driven acreage auction process that gives an option to a company that is looking to explore hydrocarbons to select exploration blocks on its own, without waiting for the formal bid round from the government.
This policy was introduced as part of Hydrocarbon Exploration and Licensing Policy (HELP).
Since 2017, more than 1.6 lakh sq km area under 105 exploration blocks has been allocated under this policy.
Unlike in the New Exploration and Licensing Policy (NELP) of 1997, under the OALP, oil and gas acreage will be available throughout the year, instead of cyclic bidding rounds as found in NELP.
National Seismic Programme (NSP)
This policy was formulated in 2016 to appraise the unappraised areas in all sedimentary basins, where there was little to no data available
National Data Repository (NDR)
NDR is a government-sponsored Exploration and Production data bank with advanced facilities and infrastructure for preservation and dissemination of data for future data exploration and development.
It has been operational since July 2017.
It consists of seismic data, well and log data, spatial data, other data related to drilling, reservoirs, production, geological aspects etc.
NDR has enabled streamlining all associated procedures, policies and workflows related to data submission, cataloguing, viewing, retrieving and trading for all concerned parties involved in exploration and production domain.
Pradhan Mantri Urja Ganga Pipeline Project (PMUG)
Launched in 2015, PMUG aims to connect eastern and north-eastern parts of India with pipeline networks.
This project consists of two pipelines – the Jagdishpur-Haldia-BOKARO-Dhamra pipeline (with a length of 2,655 km) and Barauni-Guwahati pipeline (with a length of 729 km).
The total pipeline network will span across Odisha, Uttar Pradesh, Bihar, Jharkhand, West Bengal and Assam.
The pipeline will form a crucial part of the network that will provide connectivity to another flagship project, the North-East Gas Grid.
Challenges faced by the PMUG include geological challenges, congested areas, land-related issues, local resistance, delays from suppliers, lack of skilled manpower, red-tapism etc.
It is expected to be completed in 2021.
North East Gas Grid Project
Under this project, 1,656 km pipeline will be built at an estimated cost of Rs.9,265 crore.
This pipeline will cover 8 northeastern states – Arunachal Pradesh, Assam, Manipur, Meghalaya, Mizoram, Nagaland, Sikkim and Tripura.
City Gas Distribution networks
Currently, strong emphasis is provided for the expansion of city gas distribution (CGD) network across the country, covering 407 districts.
This has the potential to provide gas accessibility to over 70% of the population.
This distribution network would enable the supply of cleaner cooking fuels like CNG to households, industrial and commercial units as well as transportation fuels to vehicles.
Indian Gas Exchange (IGX)
The recently launched IGX is India's first gas exchange.
This digital trading platform is expected to enable transparent price discovery in natural gas and boost the share of natural gas in India's energy basket.
It will allow buyers and sellers of natural gas to trade both in the spot market and in the forward market for imported natural gas across three hubs – Dahej and Jazira in Gujarat and Kakinada in Andhra Pradesh.
Imported LNG will be regasified and sold to the buyers via the exchange, removing the need for buyers and sellers to find each other.
The IGX does not include the prices of domestically produced natural gas, which would be determined by the government.
The advantages of IGX are as follows:
It reduces the need for buyers to contact multiple dealers to find a fair price.
It allows for much shorter contracts – for delivery on the next day and up to a month. Ordinary contracts for natural gas supply are as long as six months or a year. This in turn ensures greater flexibility.
Other measures:
The government intends to invest USD 2.86 billion in the upstream oil and gas production in order to double the natural gas production to 60 billion cubic metres and drill more than 120 exploration wells by 2022.
Investments are also going to be made to expand the gas pipeline network across the country as well as for improving LPG infrastructure, which ensures the promotion of clean energy generation.
In September 2018, the Indian government approved fiscal incentives to attract investments and technology so as to improve hydrocarbon production worth Rs.50 lakh crore in the next 20 years.
Kayakave Kailasa, the government scheme implemented by the Ministry of Petroleum and Natural Gas, has enabled SC/ST entrepreneurs in providing bulk LPG transportation.
To develop an alternate source of natural gas like Coal Bed Methane (CBM) and promote economic growth, the government has provided marketing and pricing freedom for CBM.
What are the new natural gas marketing reforms introduced by the government?
The Union Cabinet has approved three new natural gas marketing reforms to promote gas economy and reduce import dependence.
These include:
Setting up a new e-bidding platform
Prohibiting producing companies from participating in the bidding process
Bringing all different fiscal models under the new bidding mechanism
The objectives include the following:
Provide a standardised procedure for sale of natural gas transparently and competitively.
Enable discovery of market price by issuing guidelines for sale by the contractor through e-bidding
Bring uniformity in bidding process across various contractual regimes and policies to avoid ambiguity and promote ease of doing business.
The reforms will bring all government policies like Discovered Small Field Policy, Hydrocarbon Exploration and Licensing Policy, Coal Bed Methane contracts etc., under a standard procedure for market price discovery of gas.
A standardised e-bidding mechanism will be proposed by the Directorate General of Hydrocarbons (DGH) to ensure transparent discovery of gas market price.
Affiliate companies are permitted to participate in the bidding process. This is to facilitate and promote more competition in the marketing of gas.
However, rebidding will have to be done in case only affiliates participate, and in the absence of bidders.
The policy grants marketing freedom to the Field Development Plans of those blocks in which production sharing contracts already provide pricing freedom.
These reforms ensure transparency, employment generation, increased investments in domestic production of natural gas and lesser dependence on imports.
It should be noted that these reforms would not be applicable for production from blocks awarded on nomination basis, which is governed by a formula announced in October 2014.
What are the issues with the new reforms?
The new e-bidding prices will govern discoveries that came on stream from February 2019.
This means that the new regime will apply to producers from the areas offered under the Open Acreage Licensing Policy rounds.
On the other hand, this does not apply to those discoveries awarded under the nomination regime.
Thus, the new reforms do not benefit over 70% of India's natural gas production.
The reason for not freeing up prices of all natural gas under these reforms is that if gas price increases, the cost of fertilizers and electricity will also increase.
This reform also does not allow for increased earning for producers like ONGC to enable them to invest in exploration and extraction of more gas.
Thus, these reforms do not reduce import dependence, with 60% of India's needs continuing to come from imports.
The e-bidding platform will ensure quicker decision-making. However, no producer will like day-to-day pricing.
The new policy is also criticised for being just a cosmetic endeavour as the majority of gas requirement continue to be met through imports and the domestic production is yet to take off regardless of series of government measures.
What can be the way forward?
To promote domestic production, natural gas can be brought under the GST so as to reduce the cascading impact of taxes on industries like power and steel, which uses natural gas as an input.
This will also ensure increased demand for natural gas, which in turn enables the government to achieve the goal of increasing the share of natural gas in the country's energy basket from 6.3% to 15%.
The companies that own the network are currently controlling the pipeline infrastructure necessary for the transportation of natural gas.
An independent system operator for the natural gas pipeline would help ensure transparent allocation of the pipeline usage.
It would then build confidence in the minds of buyers and sellers because of the neutrality in the allocation of pipeline capacity.
For this to happen, financial assistance from the government is required.
There still remains the issue of the pricing domestically produced natural gas, which based on a formula that determines the Indian gas price based on prices of gas surplus countries like the US, the UK, Russia and Canada.
This provided an independent benchmark to determine domestic gas.
Since most of the benchmark countries have an oversupply of gas, the formula has ensured that India's domestically produced gases are available at a low price.
This does not provide for investment and cost requirements necessary for maintaining and improving domestic production, since the Indian geology is highly risky and challenging.
To address these issues, the domestically produced gases can be brought under the IGX.
Bringing domestic gases under IGX ensures better competition, reduces price volatility and reduces demand on the government to allocate cheaper gas.
Conclusion:
To increase the share of natural gas and to have a well-functioning gas market, tough decisions need to be taken by the government. This is to ensure a vibrant market that fuels consumer demand and proliferation of supply.
Practice question for mains:
India needs to unbottle gas economy to enable self-reliance. Comment. (250 words)