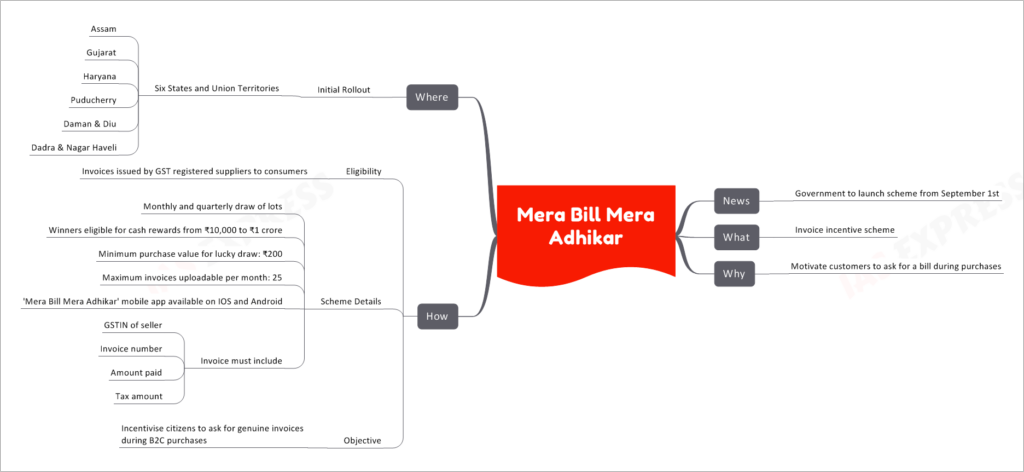 The imminent launch of the "Mera Bill Mera Adhikar" scheme by the government brings forth a novel initiative aimed at promoting transparency and accountability in consumer transactions.
News: A Scheme for Empowering Consumers
As of September 1st, the "Mera Bill Mera Adhikar" scheme is set to roll out, signifying the government's proactive approach to encouraging consumers to demand legitimate invoices for their purchases.
Ushering in the "Mera Bill Mera Adhikar" Scheme
Decoding the Scheme's Purpose
At its core, the scheme is an invoice incentive initiative, designed to incentivize customers to actively request invoices during their purchase transactions.
Igniting Consumer Enthusiasm
The primary objective of the scheme is to foster a culture of consumer awareness and consciousness, motivating individuals to actively seek invoices for their purchases.
Navigating the Scheme's Mechanism
Eligibility Criteria
The scheme applies to invoices issued by Goods and Services Tax (GST) registered suppliers to consumers.
Unraveling the Scheme's Structure
Monthly and Quarterly Draws: The scheme introduces the allure of draws, both on a monthly and quarterly basis.
Reward Spectrum: The fortunate winners of these draws stand to claim cash rewards ranging from ₹10,000 to a staggering ₹1 crore.
Minimum Purchase Requirement: To participate in the lucky draw, consumers need to have made a minimum purchase of ₹200. copyright©iasexpress.net
Invoice Upload Limit: Consumers are permitted to upload a maximum of 25 invoices per month.
Simplified Access: The scheme is accessible through the user-friendly "Mera Bill Mera Adhikar" mobile app, available on both IOS and Android platforms.
Essential Invoice Elements: The invoices uploaded must contain vital details such as the GSTIN of the seller, invoice number, amount paid, and tax amount.
The Grand Objective: Encouraging Authentic Invoices
At its heart, the scheme aims to induce a sense of incentive among citizens to actively demand and secure authentic invoices during their Business-to-Consumer (B2C) purchases.
Initial Implementation Scope
State and Union Territories Initiatives
The scheme's initial rollout targets six states and union territories, namely Assam, Gujarat, Haryana, Puducherry, Daman & Diu, and Dadra & Nagar Haveli.