Menstrual hygiene and taboo in India – Myths, Impact and Suggestions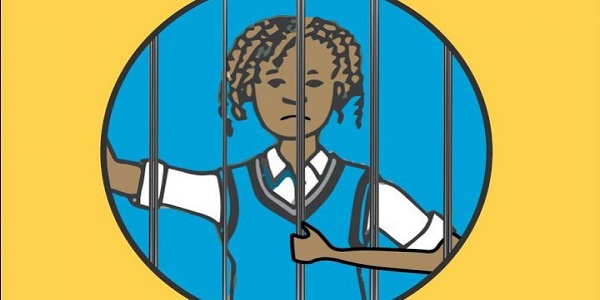 In a recent development, the High Court of Gujarat proposed a set of nine-point guidelines to combat the problem of menstrual taboo in India. The bench also sought the opinion of the state and centre on the proposed set of guidelines. This has brought the issue of menstrual hygiene to the centre of discussion. Menstrual taboo and hygiene have been a topic of discussion for a long time in India yet there has been very little progress noticed in this domain. Taboos related to menstruation have multi-dimensional effects on a woman's life and health. There is a lack of awareness among Indian women regarding menstrual hygiene. Given such a grim situation, it has become important that these issues are taken for discussion and appropriate measures are taken to address these issues.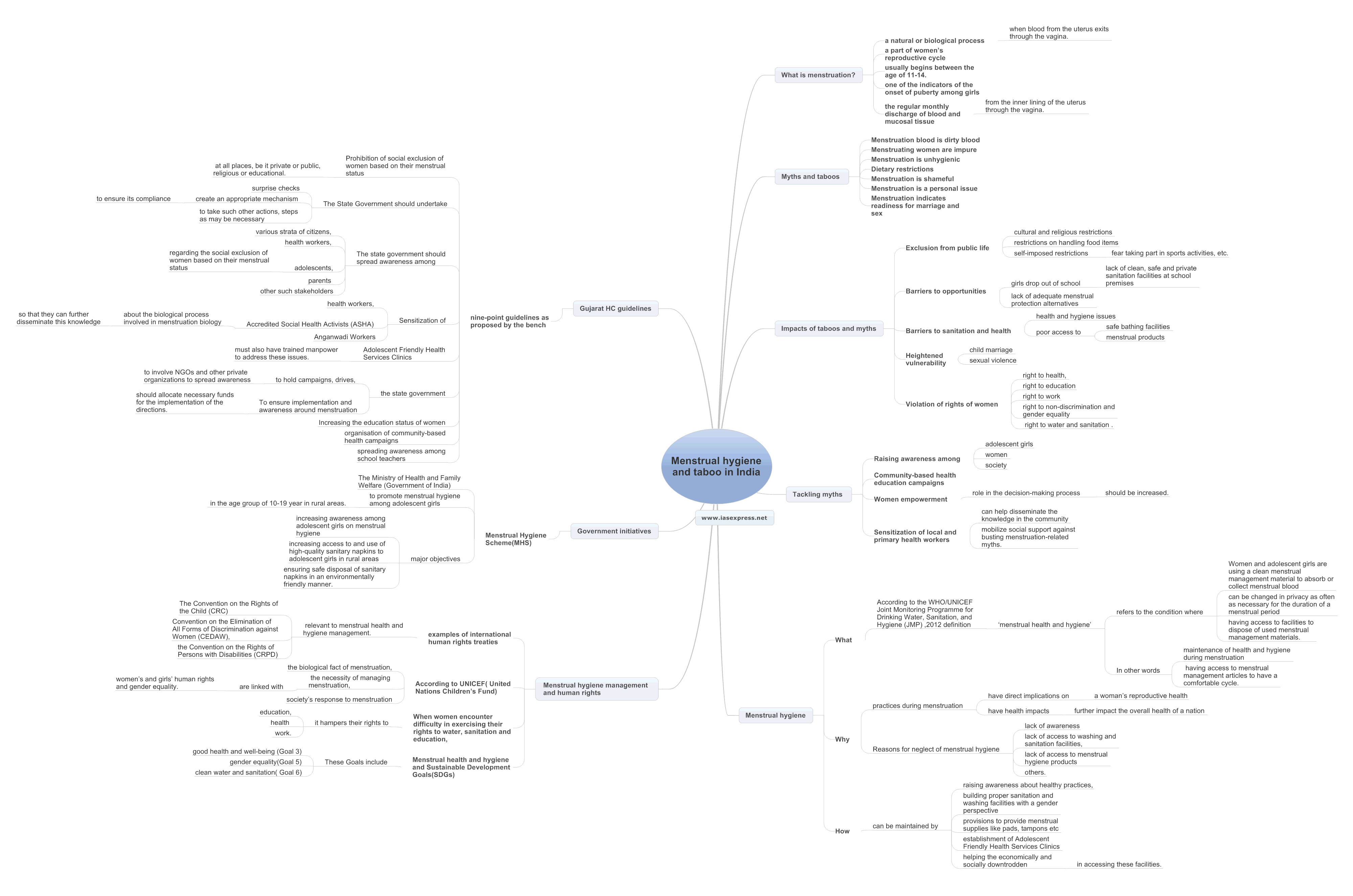 Mindmap Learning Programme (MLP)
Absorb information like a sponge!
What is menstruation?
Menstruation is a natural or biological process when blood from the uterus exits through the vagina. It is a part of women's reproductive cycle and usually begins between the age of 11-14. It is one of the indicators of the onset of puberty among girls. It is the regular monthly discharge of blood and mucosal tissue from the inner lining of the uterus through the vagina.
Myths and taboos related to menstruation in India
Menstruation blood is dirty blood – One of the prominent myths related to menstruation is that the blood that is discharged during menstruation is dirty and impure whereas scientifically it has been proven that menstruation is the result of ovulation followed by a missed chance of pregnancy that results in bleeding from the endometrial vessels and is followed by preparation of the next cycle. Therefore, this notion is wrong that menstrual blood is 'impure'.
Menstruating women are impure – Another myth that is widely believed in India is that women who are on menstruation are impure. Menstruating women are not allowed to enter temples, touch holy books, offer prayers and so on. Women face numerous restrictions on the name of being impure during menstruation.
Menstruation is unhygienic – People often believe that menstruating women cannot touch foods, pickles and cannot enter the kitchen as well. The myth is that their touch may pollute or turn the food bad. This myth is based on another myth that menstruating women emit some specific smell or ray that may contaminate the food they handle.
Dietary restrictions – It is often believed that menstruating women should avoid some specific foods while menstruating like sour foods which may include tamarind, pickle etc. It is believed that such foods will disturb or stop the menstrual flow.
Menstruation is shameful – One of the main reasons that menstruation is considered to be taboo in India is that menstruation is considered to be shameful. There is a huge amount of embarrassment related to menstruation. Women are not allowed to talk about it publicly and this is considered to be something that should be kept a secret.
Menstruation is a personal issue – It is a widespread belief that menstruation is a personal issue and does not need any attention but the issue of menstrual hygiene has been in sharp contradiction to it. Many women face many issues relating to menstrual hygiene. In 2014, the UN (United Nations) declared that menstruation hygiene was a public health issue.
Menstruation indicates readiness for marriage and sex – One of the myths that persist in society regarding menstruation is that the onset of menstruation makes a woman ready for marriage, sexual intercourse and childbirth. While menstruation marks the onset of biological fertility, it does not make a woman mentally, physically and emotionally ready for sexual intercourse or childbirth.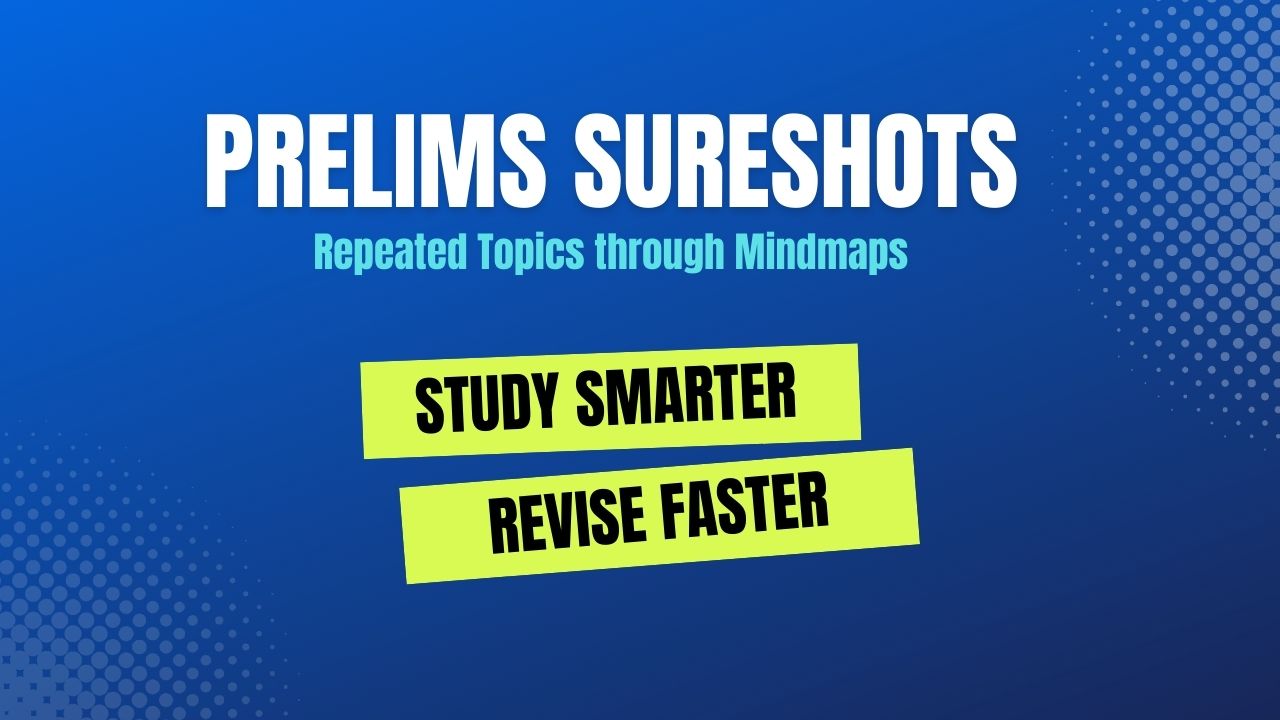 Impacts of taboos and myths
Exclusion from public life – As menstruation is considered to be impure and shameful, women are excluded from public life. Women face cultural and religious restrictions while menstruating. Women are restricted from entering places of worship, they also face restrictions on handling food items. Some of the restrictions are self-imposed. Women fear taking part in sports activities, going to school or taking part in public gatherings.
Barriers to opportunities – As menstruation restrict women from doing some specific activities, it acts as a barrier to them in taking full advantage of the opportunities available to them. Many girls drop out of school when they begin menstruating due to a lack of adequate menstrual protection alternatives and/or clean, safe and private sanitation facilities at school premises. Women are believed to be physically or emotionally less capable during those times.
Barriers to sanitation and health – Many women face health and hygiene issues during and after menstruation. Many women face issues like poor access to safe bathing facilities and menstrual products. Poverty and humanitarian crisis are the main reasons for these.
Heightened vulnerability – The onset of menstruation puts women to risk of human rights violation. In many parts of the world including India, it is believed that the onset of menstruation makes a woman eligible for marriage or sexual intercourse. These beliefs lead to child marriage and sexual violence. These also put women at high risk of mental health problems as they face social ostracization and abuse.
Violation of rights – Restrictions and discrimination on the ground of menstruation leads to the violation of the right to health, right to education, right to work, the right to non-discrimination and gender equality and the right to water and sanitation of women.
Tackling myths related to menstruation
Raising awareness among adolescent girls, women and society at large regarding menstruation. Community-based health education campaigns can help.
Women empowerment and their role in the decision-making process should be increased.
Sensitization of local and primary health workers can also help as they can further disseminate the knowledge in the community and mobilize social support against busting menstruation-related myths.
Menstrual hygiene: what, why and how?
What –  According to the WHO/UNICEF Joint Monitoring Programme for Drinking Water, Sanitation, and Hygiene (JMP),2012 definition, the term 'menstrual health and hygiene' refers to the condition where "Women and adolescent girls are using a clean menstrual management material to absorb or collect menstrual blood, that can be changed in privacy as often as necessary for the duration of a menstrual period, using soap and water for washing the body as required, and having access to facilities to dispose of used menstrual management materials." In other words, it is the maintenance of health and hygiene during menstruation and having access to menstrual management articles to have a comfortable cycle.
Why – Menstrual hygiene is important because many of the unhygienic practices during menstruation have direct implications on a woman's reproductive health. These have health impacts that further impact the overall health of a nation of which women form an integral part.
Reasons for neglect of menstrual hygiene include lack of awareness, lack of access to washing and sanitation facilities, lack of access to menstrual hygiene products and others.
How – Menstrual hygiene can be maintained by raising awareness about healthy practices, building proper sanitation and washing facilities with a gender perspective, provisions to provide menstrual supplies like pads, tampons etc, the establishment of Adolescent Friendly Health Services Clinics and helping the economically and socially downtrodden in accessing these facilities.
Menstrual hygiene management and human rights
The Convention on the Rights of the Child (CRC), Convention on the Elimination of All Forms of Discrimination against Women (CEDAW), and the Convention on the Rights of Persons with Disabilities (CRPD) are examples of international human rights treaties that are particularly relevant to menstrual health and hygiene management.
According to UNICEF( United Nations Children's Fund), the biological fact of menstruation, the necessity of managing menstruation, and society's response to menstruation are linked with women's and girls' human rights and gender equality.
When women encounter difficulty in exercising their rights to water, sanitation and education, it hampers their rights to education, health and work.
Menstrual health and hygiene also form some of the pillars of the Sustainable Development Goals(SDGs). These Goals include good health and well-being (Goal 3), gender equality(Goal 5), clean water and sanitation( Goal 6) and others that are directly or indirectly related to menstrual health and hygiene.
Government initiatives
The Ministry of Health and Family Welfare (Government of India) has introduced the Menstrual Hygiene Scheme(MHS) under the National Health mission to promote menstrual hygiene among adolescent girls in the age group of 10-19 year in rural areas.
The major objectives of the Scheme include increasing awareness among adolescent girls on menstrual hygiene, increasing access to and use of high-quality sanitary napkins to adolescent girls in rural areas and ensuring safe disposal of sanitary napkins in an environmentally friendly manner.
Gujarat HC guidelines
The nine-point guidelines as proposed by the bench include –
Prohibition of social exclusion of women based on their menstrual status at all places, be it private or public, religious or educational.
The State Government should undertake surprise checks, create an appropriate mechanism and to take such other actions, steps as may be necessary to ensure its compliance including the imposition of appropriate penalty against the erring institution,"
The state government should spread awareness among various strata of citizens, including health workers, adolescents, parents and other such stakeholders, regarding the social exclusion of women based on their menstrual status through various mediums like putting up posters at public places, including it in the school curriculum, using audiovisual mediums like radio, entertainment or news channels, short films etc with a strategy aimed at raising the awareness among the adolescent girls related to menstrual health and hygiene.
Sensitization of health workers, Accredited Social Health Activists (ASHA) and Anganwadi Workers about the biological process involved in menstruation biology "so that they can further disseminate this knowledge in the community and mobilize social support against busting menstruation-related myths."
Adolescent Friendly Health Services Clinics must also have trained manpower to address these issues.
The court suggested along with advising the state government to hold campaigns, drives, to involve NGOs and other private organizations to spread awareness while also including the issue of social exclusion of women based on their menstrual status in all existing campaigns/schemes that aim at menstrual hygiene.
To ensure implementation and awareness around menstruation, the court in its proposed guidelines also added that the state government "should allocate necessary funds for the implementation of the directions."
Increasing the education status of women plays an important role in improving the health status of the community at large and overcoming the cultural taboos, in particular, and thus recommended the government to target this aspect.
The organisation of community-based health campaigns and spreading awareness among school teachers may help in dispelling the myths and taboo related to menstruation.
The road ahead
Women face struggles related to menstruation from time immemorial. It is time that we address the issue and raise awareness among people that it is nothing more than a biological phenomenon. By linking physical infrastructure and water and sanitation projects to health education and reproductive health programs the issue can be addressed more holistically. It needs a multi-sectoral approach on behalf of all the stakeholders.
Practise Question
Write a note on myths and taboo related to menstruation and suggest measures to tackle the issue.