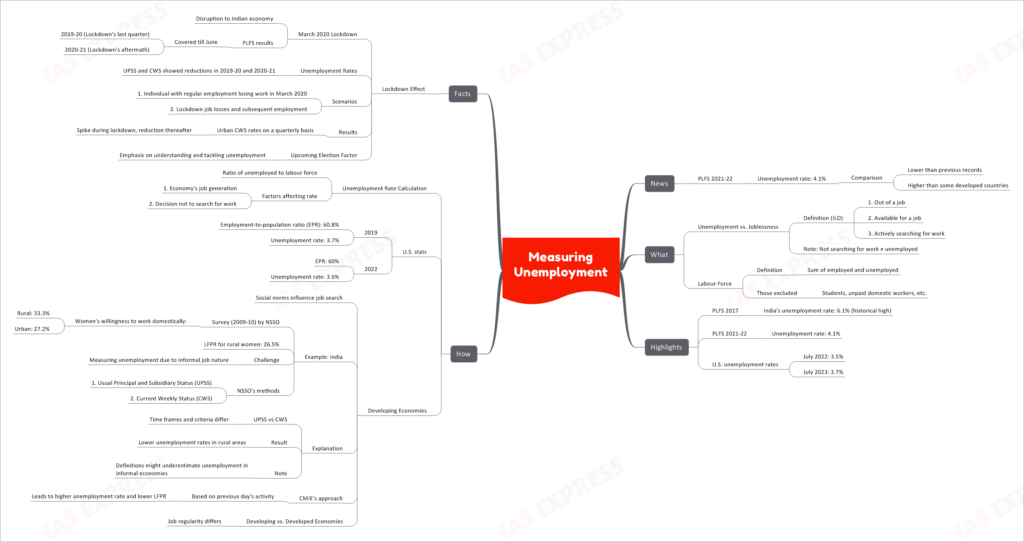 The Periodic Labour Force Survey (PLFS) for 2021-22 revealed an unemployment rate of 4.1% in India, shedding light on the complexities and nuances of measuring and understanding unemployment rates across various nations.
Unemployment Defined
What Does Unemployment Mean?
Criteria by International Labour Organization (ILO):

Currently out of a job.
Readily available for work.
Actively searching for employment.

Key Distinction: Not being in an active job search does not equate to being unemployed.
Understanding the Labour Force
Comprising of: Employed and unemployed individuals.
Those Not Considered: Students, individuals engaged in unpaid domestic tasks, and similar categories.
Comparative Analysis: Unemployment Statistics
PLFS 2017:

India recorded a historically high unemployment rate of 6.1%.

PLFS 2021-22:

Current rate stands at 4.1%.

U.S. Rates:

As of July 2022: 3.5%.
As of July 2023: 3.7%.
Calculation and Influencing Factors
Determining the Unemployment Rate: It's essentially the ratio of the unemployed population to the entire labour force.
Driving Forces:

The capacity of an economy to create jobs.
Individuals choosing not to seek employment.
Variances in Developed and Developing Economies
Cultural and Social Factors
India as a Case Study:

NSSO Survey 2009-10 highlighted a significant percentage of women preferring domestic roles over employment.
Labour Force Participation Rate (LFPR) for rural women was recorded at 26.5%. copyright©iasexpress.net

Challenges:

Informal nature of jobs complicates accurate measurement.
Different methods, such as UPSS and CWS, employed by NSSO can yield varying results.
CMIE's Method
Bases its metrics on the previous day's employment status, which can potentially indicate a higher unemployment rate and a decreased LFPR.
Developing vs. Developed Nations
In developing countries, job regularity is less consistent compared to developed countries.
Impact of Lockdown on Employment
Overview
March 2020: The lockdown due to the pandemic caused significant disruptions in India's economy.
PLFS Data: Covered the period up to June for both 2019-20 and 2020-21, shedding light on the lockdown's immediate and subsequent impacts.
The Lockdown Scenario
Individuals with regular employment before the lockdown faced job losses in March 2020.
Employment statistics showed variations, with a spike during the lockdown and a reduction thereafter, particularly in urban areas as per CWS rates.
The Political Angle
With elections looming, there's a heightened focus on understanding and addressing unemployment issues.
Learn More