Madan Mohan Malaviya – Biography, Contributions, Works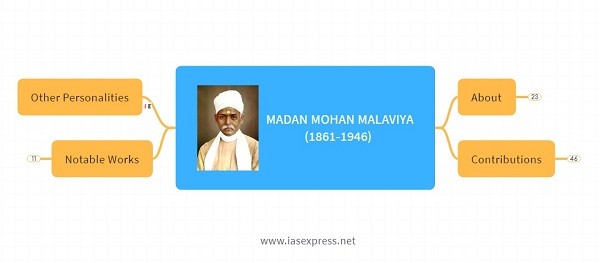 From Modern Indian History Notes » Important Personalities of Modern India
Pandit Madan Mohan Malaviya also called Mahamana (a luminous mind and magnanimous heart) was an educationist, journalist, lawyer, scholar, politician, social reformer and renowned freedom fighter. He was one of those who served as the president of the Indian National Congress (INC) multiple times. He supported Hindu nationalism and worked on various fronts to reform Hinduism. He was conferred with the highest civilian award in India posthumously, Bharat Ratna in 2014.
Early life and education
Madan Mohan Malaviya was born on December 25, 1861, in Allahabad, Uttar Pradesh in a Brahmin family having a humble financial background.
His parents were Pandit Brijnath and Moona Devi. Malaviya was the fifth child (five brothers and two sisters). His father was a noted Sanskrit scholar and was an exceptional Kathavachak, who recited the stories from 'Srimad Bhagavata.'
His great ancestors were also well known for their Sanskrit scholarship and as they originally hailed from Malwa, Madhya Pradesh hence called the 'Malaviyas'.
Malaviya began his life as a student at the age of five. He received his early education at two Sanskrit pathshalas (traditional schools). They were Pandit Hardeva's Dharma Gyanopadesh Pathshala and another school run by the Vidha Vardini Sabha.
In 1868, he joined the Allahabad District School where he began writing poems later published in journals and magazines.
In 1878, when he was sixteen years of age, he married Kundan Devi of Mirzapur.
In 1879, Malaviya passed the F.A. examination from Muir College (now Allahabad University) and in 1884, he passed the B.A. examination from Calcutta University.
Malaviya was interested in pursuing M.A. further but his family's modest financial background did not permit him to do so. So, he took up a job as an assistant master at the Government High School in Allahabad.
In 1887, he left his job as a teacher and joined as the editor of a nationalist weekly. However, he, later on, joined L.L.B. at Allahabad and completed it in 1892 after which he began practising as a lawyer in Allahabad.
Political career
Madan Mohan Malaviya began his political career in 1886 at the age of twenty-five when he attended and addressed the second session of the Indian National Congress (INC) at Calcutta.
He was active in politics from 1886 to 1940. He began serving Congress (INC) in 1886 and participating in India's freedom struggle since then. He was elected as the president of INC four times, that is, in 1909 (first time), 1918, 1932 and 1933.
Malaviya was equally respected by the Moderates and Extremists and thus worked as a harmonizer between the two clans in the INC.
He became a member of the United Provinces' (U.P.) council and Central Council in Delhi in 1903 and 1908 respectively. During his membership, he always worked for the freedom and rights of the Indian masses.
In 1906, he helped establish Hindu Mahasabha and revived it within the Congress in 1922. The Sabha brought various Hindu nationalist movements together. He served as the president of the special session of Hindu Mahasabha in 1922 (Gaya) and 1924.
Pandit Madan Mohan Malaviya remained the Imperial Legislative Council's member from 1912 to 1926 (in 1919 it was transformed into the Central Legislative Assembly).
In 1912, he left his job as a lawyer to complete his dream of establishing a university in the socio-national interest and contribute to the national movement. However, when 177 freedom fighters were to be hanged in the Chauri Chaura case (1922), he was the one who took up their case and got 156 of them acquitted.
In 1918, he was elected to the Municipal Corporation of Allahabad, followed by an election to the Provincial Legislative Council, where he served for nearly three decades.
In 1934, he left Congress (INC) in protest against the Communal Award (1932) which sought to provide separate electorates for minorities. Then, he started Congress Nationalist Party and the party won 12 seats in the 1934 elections.
Contribution to the nationalist movement
Malaviya was closely associated with India's freedom struggle and sacrificed a lot to improve the political and educational status of Indians. He always fought for social, economic and political justice for Indians.
Being a member of the councils, he always opposed all such moves that were directed against Indians and put forward his firm opinion in a justified and rational manner which is why he was respected by British officials and even his opponents.
Being a member of the Industrial Commission (1916-18), Malaviya gave a dissenting note indicting the British economic policy towards India.
In the year 1918, at the Economic Conference of Congress, Madan Mohan Malaviya proposed for establishment of a "Central Purchasing Agency" for transparency in purchases of administration.
He was an important figure in the Non-Cooperation Movement but disliked the politics of appeasement and the participation of Congress in the Khilafat movement.
He along with Lala Lajpat Rai, Jawaharlal Nehru and others participated in the protests and demonstrations against the Simon Commission in 1928.
He participated in Gandhi's Salt Satyagraha (Civil Disobedience Movement) and courted arrest. During the Civil Disobedience Movement in India, he was arrested twice.
Malaviya accompanied Gandhi and represented Indian National Congress (INC) at the Round Table Conference held in 1931 in London.
In 1932, Malaviya launched the All India Swadeshi Sangh and issued a manifesto for "Buy Indian" as a means of easing India's economic suffering and reducing the poverty of the masses.
Malaviya opposed the idea of separate electorates for Muslims under the Lucknow Pact (1916). In the year 1928-29, he also tried to organize a unity conference at Allahabad but it failed. The conference, if successfully organized, it would have left a deep impact on Hindu-Muslim unity in India.
He is also remembered for his role in ending the Indian indenture system, especially in the Caribbean.
Contribution to education
Madan Mohan Malaviya was a visionary and felt the need to educate the Indian masses, especially in their language as they lacked reading materials in vernacular languages. Hence, he established the "Bharti-Bhawan" library with the help of Pandit Balkrishna Bhatt and a rich person named Bhalla Ji in Ahyapur of Allahabad in 1889.
The Muir College (now Allahabad University) became a university in 1887 and had hostels. However, the university lacked a hostel for Hindu vegetarian students. Keeping this in mind, he took an initiative for the construction of a "Hindu Boarding House" in the year 1901. Today, this is the largest hostel of Allahabad University.
Although he was not against any language, he always worked for the development of the languages of the native people. His newspapers, "Abhyuday", "Leader" and the organisations founded by him such as "Hindi Sahitya Sammelan" helped Hindi become a medium of communication in the country.
Malaviya believed that universities like Bombay, Calcutta, Madras, Allahabad and Punjab (Lahore) were attracting the cream of Indian minds but only to serve the colonial purposes of the British Empire.

So, with the intent of serving nationalist aspiration, he proposed the idea of establishing Kashi Hindu Vishwavidyalaya popularly known as Banaras Hindu University (B.H.U.).
It was established in 1916 and Malaviya managed to receive unique types of donations for the development of various facilities on the campus and worked day and night to strengthen B.H.U. and develop a modern India.
For Malaviya, the term 'Hindu' in the name of the University was essential to project a liberal non-sectarian concept that would he believed contribute towards a united and harmonious future.
He served as the Vice-Chancellor of B.H.U. for over 20 years.
Other contributions
As a journalist

Malaviya was a gifted writer and writing for newspapers was his passion. He was appointed as the editor of Hindustan in 1887. Soon, the Government of India press report rated Hindustan as the best-produced and edited vernacular paper (1889-90).
He also served as the co-editor of Indian Opinion and the Advocate for some time.
Around the same time, he helped Sachidanand Sinha start the Hindustan Review (1893) and later the Indian People (1903).
Later on, he started two important newspapers namely, 'Abhyuday' in 1907 and 'Leader' in 1909. The writings in these newspapers highly influenced Indians.
He saved two newspapers from the closure of their publication. These were the Indian Herald (later renamed Leader in 1909) and Hindustan Times.
In 1909, he also started a weekly Urdu paper Swarajya in Prayag and the Hindi monthly Maryada (1910). He was the chairman of the board of directors of the Hindustan Times from 1924 until he died.
One of his major contributions to journalism was deciding the honorarium of writers for their columns. He was the first editor to fix their honorarium according to the column in the paper. He also ensured that the truth was published fearlessly.
Malaviya contributed greatly to Indian journalism by performing varied roles such as editor, publisher, writer, protector of the rights of the writers, a person to give voice to the truth perceived and raised by the common man etc.

Promotion of the Hindi language

Malaviya realised the importance of Hindi for the masses. It was due to his efforts for the development and official recognition of the Hindi language and script in Uttar Pradesh that Hindi was approved as an administrative language in the year 1900.
His concern for the spread of the Hindi language was so genuine that he was the first to introduce Hindi as a subject at the Banaras Hindu University (BHU) at B.A.level.
He was also the first to deliver a convocation address in Hindi at Prayag University which was unconventional in those days.
He wanted people to overcome the complex imposed by English and Pharasi and be independent and self-sufficient in their native language. So, he established "Hindi Uddharini Pratinidhi Sabha" at Prayag to strengthen Hindi.
To make people use and practise Hindi in their daily life and official works, he revitalized "Nagari Pracharani Sabha" at Kashi (Varanasi) in 1889. In 1910 he also established "Hindi Sahitya Sammelan" in Prayag for learning and reading Hindi.
His writings, poems, Hindi journalism, development of several organizations to promote Hindi and mainly his love for the Hindi Language helped Hindi become a language of the masses in those days.

Towards Hinduism

Although Malaviya was a staunch believer in Hinduism (Sanatana Dharma) and its ideals and insisted on the Hindu way of life, he never supported the evils of superstitions and rituals practised by it. He opposed several rituals and traditions which were harmful to society and humanity.
He opposed untouchability and gave mantra-diksha to the downtrodden at Dasashwamedh Ghat in Varanasi sitting with them on the same wooden cot (Chowki).
He also gave mantra-diksha to many downtrodden in Calcutta and proved through open dialogues that untouchability was not a practice in ancient India.
Malaviya made massive efforts to ensure the entry of so-called untouchables into any Hindu temple.
In 1935, his movement against untouchability in Nasik became known to the whole of India.
In the year 1914, he established "All India Seva Samiti" to serve the people coming to Prayag during the occasion of Ardhakumbha and Kumbha.
He also set up the Ganga Mahasabha in 1905 to fight against the possibility of the British completely damming the flow of the Ganga at Bhimgauda in Haridwar following which the British agreed in 1916 to ensure that Ganga's flow would never be interfered with and no decision on Ganga would be taken without the consent of Hindu community.
In 1941, he founded the Goraksha Mandal. He also founded a non-profit organisation called Shri Mathura Vrindavan Hasanand Gochar Bhoomi for the welfare of cows in Vrindavan.
He expounded the values of Sanatana Dharma through his lectures, stories and writings and exhorted his students in university to be faithful to their God and religion.
Achievements
Malaviya started scouting education for Indian students. He was one of the founders of the Bharat Scouts and Guides.
He was an orator par excellence in Hindi, Sanskrit and English. His pronunciation and oratory in all languages were exemplary. He was thus popularly known as the 'Silver-Tongued Orator.'
He is credited with popularising the slogan "Satyamev Jayate", i.e., "truth alone will win."
He was awarded the highest civilian award in India posthumously, Bharat Ratna in 2014.
In his honour, a postage stamp was printed in 1961.
The daily aarti that is performed at Har Ki Pauri, Haridwar was initiated by Madan Mohan Malaviya.
Literary works
A Criticism of Montagu-Chelmsford Proposals of Indian Constitutional Reforms.
Death
Madan Mohan Malaviya breathed his last on 12 November 1946.
Learn More