[Editorial] Jan Vishwas Act- Highlights, Historical Context & Concerns

The Jan Vishwas Act, 2022, a new legislative act, promises improved ease of business in India. However, it stirs controversy due to its changes in the adjudicating and penalizing system, leading to debates about its constitutionality and implications on the separation of powers.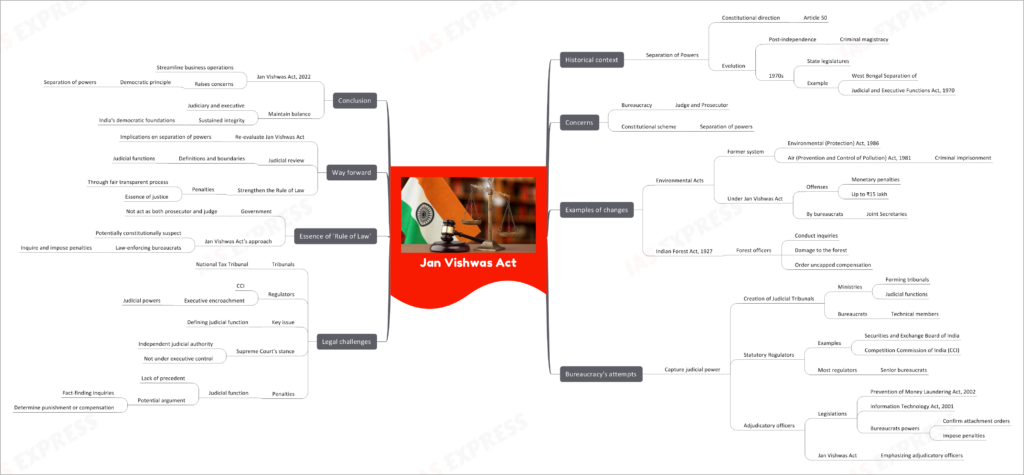 The Jan Vishwas Act: An Overview
Primary Objective: Improve "ease of doing business" by decriminalizing or making offences "compoundable" across 42 legislations.
Shift in Power: Transition from judiciary-imposed penalties to bureaucracy-imposed penalties.
Examples of Changes in Law
Environmental Acts:

Former System: The Environmental (Protection) Act, 1986 and the Air (Prevention and Control of Pollution) Act, 1981 involved criminal imprisonment for certain offenses.
Under Jan Vishwas Act: Offenses lead to monetary penalties up to ₹15 lakh, to be imposed by bureaucrats, specifically Joint Secretaries.

Indian Forest Act, 1927:

Forest officers can conduct inquiries on "damage done to the forest".
Can order uncapped "compensation" for damage.
Concerns and Criticisms
Bureaucracy as Judge and Prosecutor: Lack of opposition to giving bureaucrats the power to both impose penalties and demand compensation.
Constitutional Scheme of Separation of Powers: The act might infringe on the separation of powers principle.
Historical Context: Separation of Powers
Constitutional Direction: While the Constitution does not initially demand it, Article 50 directs the state to separate powers between the judiciary and executive. copyright©iasexpress.net
Evolution:

Post-Independence: Criminal magistracy was part of the executive.
1970s: State legislatures started achieving separation, e.g., The West Bengal Separation of Judicial and Executive Functions Act, 1970.
Bureaucracy's Attempts to Capture Judicial Power
Creation of Judicial Tribunals:

Ministries began forming tribunals for specific judicial functions.
Allowed bureaucrats to be appointed as "technical members".

Statutory Regulators:

Examples: Securities and Exchange Board of India, Competition Commission of India (CCI).
Most regulators led by senior bureaucrats.

Adjudicatory Officers:

Found in legislations like the Prevention of Money Laundering Act, 2002, and Information Technology Act, 2001.
Bureaucrats with powers to confirm "attachment orders" or impose penalties.
Jan Vishwas Act extends this model, emphasizing "adjudicatory officers" to impose penalties.
Legal Challenges
Tribunals like the National Tax Tribunal and regulators like the CCI have faced challenges due to concerns of executive encroachment on judicial powers.
Key Issue: Defining "judicial function".
Supreme Court's stance: Only an independent judicial authority not under executive control should discharge a "judicial function".
Penalties as a Judicial Function:

Lack of precedent on whether imposing a penalty is a "judicial function".
Potential argument: Fact-finding inquiries that determine punishment or compensation should be considered judicial functions.
The Essence of 'Rule of Law'
The government should not act as both prosecutor and judge. copyright©iasexpress.net
Jan Vishwas Act's approach is potentially constitutionally suspect as it allows law-enforcing bureaucrats to inquire and impose penalties.
Way Forward
To uphold the essence of democracy, it's crucial to:
Re-evaluate the Jan Vishwas Act: Understanding its broader implications on the separation of powers.
Judicial Review: Establish clear definitions and boundaries for "judicial functions".
Strengthen the Rule of Law: Ensure that penalties are imposed through a fair, transparent process, keeping the essence of justice intact.
Conclusion
While the Jan Vishwas Act, 2022, aims to streamline business operations in India, it raises pertinent concerns regarding the fundamental democratic principle of separation of powers. It's vital to address these concerns to maintain the delicate balance between the judiciary and the executive, ensuring the sustained integrity of India's democratic foundations.
Practice Question for Mains
Discuss the key provisions of the 2022 Jan Vishwas Act. What are the challenges and way ahead? (250 words)
Learn More