[Editorial] India's Olympics Aspirations- Highlights, Significance & Challenges
India, with a rich history in sports and a rapidly transforming sports landscape, is poised to step onto the global stage by bidding for the 2036 Summer Olympics. Prime Minister Narendra Modi has affirmed the country's commitment and eagerness to make this aspiration a reality, reflecting the dream of its 1.4 billion citizens.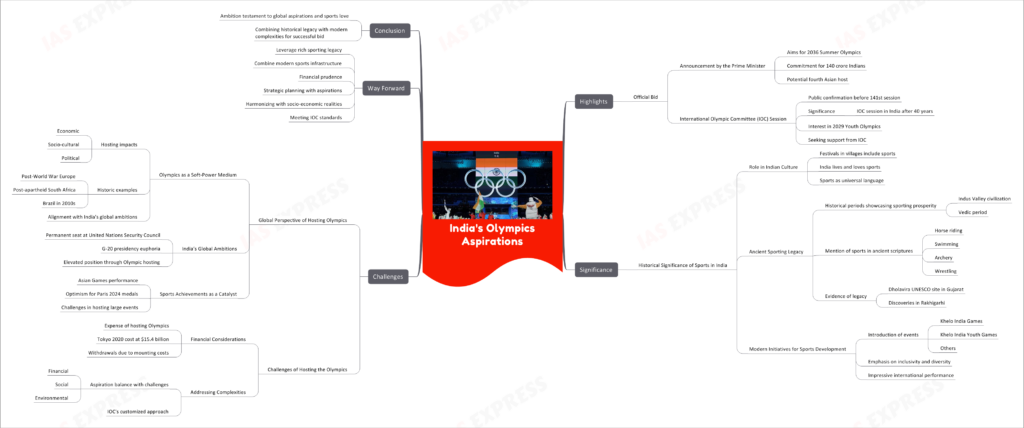 India's Official Bid
Announcement by the Prime Minister:

India aims to host the 2036 Summer Olympics.
The commitment to make this dream come true for 140 crore Indians.
India would be the fourth Asian country to host the Games if the bid is successful.

International Olympic Committee (IOC) Session:

PM Modi publicly confirmed the bid ahead of the 141st session of the IOC.
Significance: The IOC session is taking place in India after a 40-year hiatus.
India also expresses interest in hosting the 2029 Youth Olympics.
The country seeks constant support from the IOC.
Historical Significance of Sports in India
Role in Indian Culture:

Festivals in Indian villages often include sports.
India not only enjoys sports but also lives it.
Sports signifies universal language and spirit.

Ancient Sporting Legacy:

Historical periods like the Indus Valley civilization and the Vedic period showcase India's sporting prosperity.
Ancient scriptures mention sports such as horse riding, swimming, archery, and wrestling. copyright©iasexpress.net
Evidence of India's ancient sports legacy is seen in:

The Dholavira UNESCO World Heritage site in Gujarat.
Discoveries in Rakhigarhi related to sports structures.

Modern Initiatives for Sports Development:

Introduction of events like Khelo India Games, Khelo India Youth Games, and others.
Focus on inclusivity and diversity in sports.
India's impressive performance in international sports events.
The Global Perspective of Hosting Olympics
The Olympics as a Soft-Power Medium:

Hosting offers economic, socio-cultural, and political impacts.
Examples: Post-World War Europe, post-apartheid South Africa, and Brazil in the 2010s.
Prime Minister's announcement aligns with India's global ambitions.

India's Global Ambitions:

Desire for a permanent seat at the United Nations Security Council.
Euphoria around the G-20 presidency.
Hosting the Olympics can elevate India's position in global politics.

Sports Achievements as a Catalyst:

India's growing prowess showcased in the Asian Games.
Optimism about winning double-digit medals at Paris 2024.
However, hosting an event of Olympic magnitude presents challenges.
Challenges of Hosting the Olympics
Financial Considerations:

Hosting the Olympics is expensive.
Costs escalated for Tokyo 2020, amounting to $15.4 billion.
Other countries withdrew bids for games due to mounting expenses.

Addressing Complexities:

Balancing aspirations with financial, social, and environmental challenges.
The IOC's shift from a generic approach to a customized one based on a country's specific realities. copyright©iasexpress.net
Way Forward
India should draw from its rich sporting legacy, combine it with modern sports infrastructure and financial prudence, and leverage its aspirations with strategic planning. The goal is to present a bid that harmonizes with India's socio-economic and environmental realities while fulfilling the standards of the IOC.
Conclusion
India's ambition to host the 2036 Summer Olympics is a testament to its growing global aspirations and its deep-rooted love for sports. As the nation marches forward with its bid, marrying its historical legacy with modern complexities will be crucial to make this dream a reality.
Practice Question for Mains
In view of India's aspirations to host the 2036 Olympics, list out the challenges involved in hosting the international event. How can we address these challenges? (250 words)