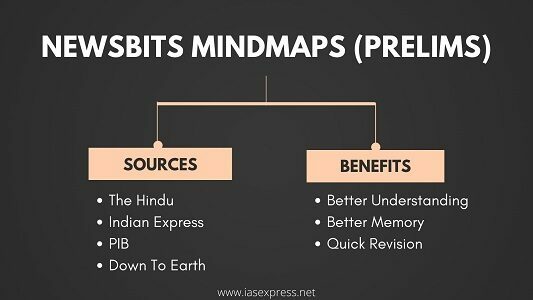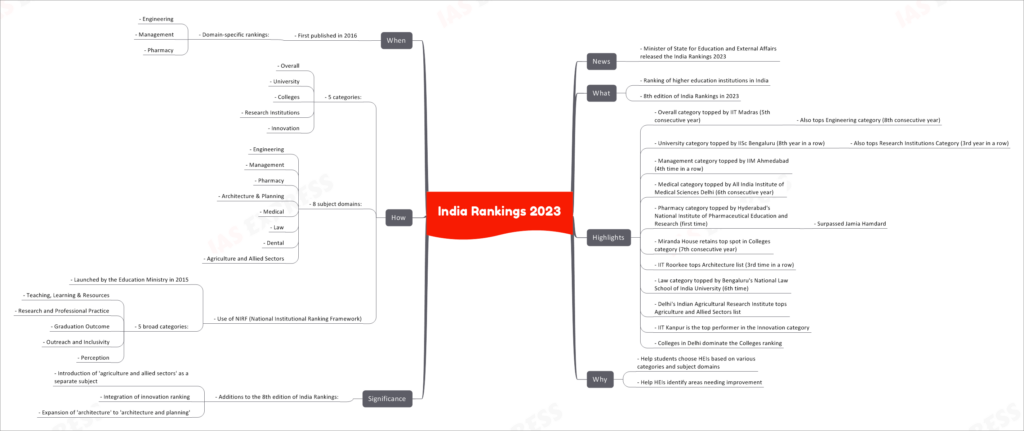 News:
Minister of State for Education and External Affairs released the India Rankings 2023
What:
It is a ranking of higher education institutions in India.
The 2023 India Rankings is the 8th edition.
Highlights:
Overall category topped by IIT Madras for the 5th consecutive year. It also tops the Engineering category for the 8th consecutive year.
University category topped by IISc Bengaluru for the 8th year in a row. It also tops the Research Institutions Category for the 3rd year in a row.
In Management category, IIM Ahmedabad tops the list for the 4th time in a row.
In Medical category, All India Institute of Medical Sciences Delhi tops the list for the 6th consecutive year.
In Pharmacy, Hyderabad's National Institute of Pharmaceutical Education and Research tops the list for the first time, pushing past Jamia Hamdard.
Amongst Colleges, Miranda House has retained the top spot for the 7th consecutive year.
IIT Roorkee tops the Architecture list for the 3rd time in a row.
In Law category, Bengaluru's National Law School of India University retains the top spot for the 6th time.
Delhi's Indian Agricultural Research Institute tops the list under Agriculture and Allied Sectors.
In the Innovation category, IIT Kanpur is the top performer. copyright©iasexpress.net
Colleges in Delhi continue to the dominate the Colleges ranking.
Why:
To help students choose HEIs based on their standing in various categories and subject domains.
To help HEIs identify areas needing improvement
Significance:
3 distinct additions have been made to the 8th edition of India Rankings:

Introduction of 'agriculture and allied sectors' as a separate subject

Integration of innovation ranking (this was previously done by ARIIA (Atal Ranking of Institutions on Innovation Achievements))

Expansion of 'architecture' to 'architecture and planning' to include HEIs providing courses on urban and town planning
How:
5 categories:
8 subject domains:

Agriculture and Allied Sectors

Use of NIRF (National Institutional Ranking Framework)

Launched by the Education Ministry in 2015.

5 broad categories:

Teaching, Learning & Resources

Research and Professional Practice
When:
First published in 2016

3 domain-specific rankings:
Learn More