India-France Relations – All You Need To Know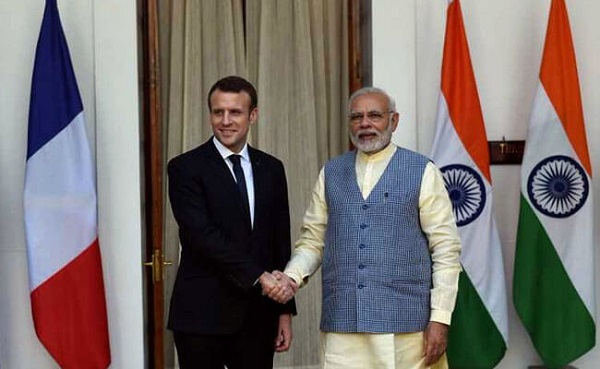 Last year's crisis demonstrated the limitations and vulnerabilities of countries and multilateral institutions in dealing with global threats. With India and France enjoying similar aspirations and interests like in the areas of Indo-Pacific, climate change etc., both countries can cooperate towards multilateral rules-based world order. For this, both countries must work towards strengthening bilateral ties and proactively addressing common challenges plaguing the world.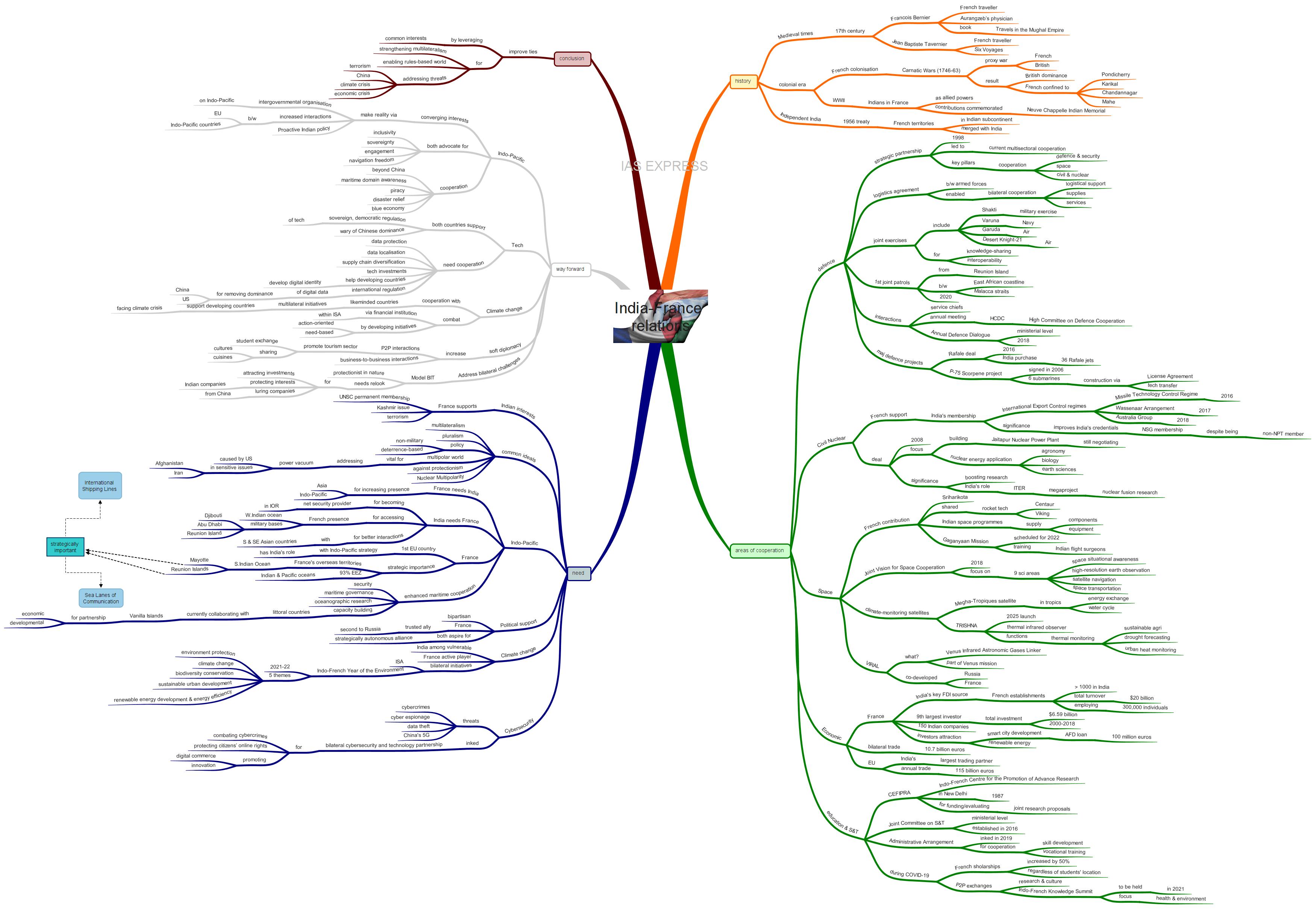 Mindmap Learning Programme (MLP)
Absorb information like a sponge!
History of India-France relations:
Medieval times:
The interactions began in the 17th century with the coming of a French traveller named Francois Bernier to India and becoming Aurangzeb's physician. He documented his stay in the book commonly called "Travels in the Mughal Empire".
Jean Baptiste Tavernier, another French traveller, also provided insights into the medieval era through his work "Six Voyages".
Such notable books have shed light on the life of average people during that period.
Colonial-era:
The subsequent centuries witnessed the French colonising India and fighting Carnatic Wars (1746-63) with the British.
The Carnatic wars are proxy wars between the British and French colonies for regional supremacy.
Eventually, the British dominance prevailed, leading to French influence to be confined to a few parts of India – like Pondicherry, Karikal, Chandannagar and Mahe.
During World War II, Indians fought on French soil as part of the Allied Powers. Their contribution is commemorated through the Neuve Chappelle Indian Memorial.
Relations with Independent India:
The "Treaty establishing De Jure Cession of French Establishment in India" was signed in 1956. It enabled the merging of French territories of India to independent India.
This peaceful transition and shared historical ties eventually paved the way for the amicable diplomatic relationship between the two countries.
What are the areas of cooperation?
Defence:
The inking of a Strategic Partnership in 1998 under French President Jacques Chirac was the first step in the partnership that led to the current multisectoral cooperation across other areas – nuclear, space, cybersecurity, intelligence sharing and counter-terrorism.
Defence and security cooperation, space cooperation and civil nuclear cooperation are the principal pillars of the two countries' strategic partnership.
The growing strategic relationship is evident in the establishment of the ministerial-level Annual Defence Dialogue in 2018.
The Agreement for the Provision of Reciprocal Logistics Support between the Armed Forces was also signed by the two sides in 2018.
The logistics agreement facilitated both countries' armed forces to receive logistical support, supplies and services from each other during authorised port visits, joint exercises, joint training, humanitarian assistance and disaster relief efforts.
This enhanced the Indian Navy's accessibility and operational endurance in the Indian Ocean. It also improved security against piracy, smuggling etc., within the region.
Joint exercises between the three services are a regular feature of the two countries' interactions. They played a major role in knowledge-sharing and interoperability.

In 2020, the two navies conducted joint patrols from the Reunion Island for the first time between the East African coastline and Malacca straits.
Apart from regular interactions between service chiefs, there is also the annual meeting of a High Committee on Defence Cooperation (HCDC), involving India's Defence Secretary and the French Director General of the Directorate of International Relations and Strategy.
The major on-going defence projects include:
Rafale deal: Signed in 2016, it is a defence agreement involving India's purchase of 36 Rafale jets.
P-75 Scorpene project: Signed in 2006, it is a contract between the two countries for the construction of 6 submarines through a License Agreement. These submarines will be built with P-75 Scorpene submarine design via the transfer of technology.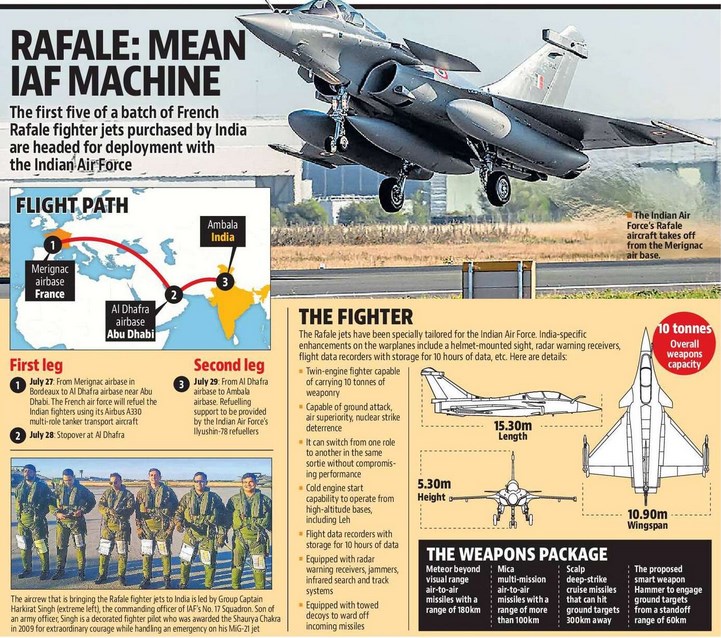 Civil Nuclear Cooperation:
France backed India's membership in three out of four crucial International Export Control regimes – Missile Technology Control Regime (2016), Wassenaar Arrangement (2017) and the Australia Group (2018). This improved India's credentials in the field of non-proliferation despite not signing NPT.
This plays a critical role in strengthening India's bid into the Nuclear Suppliers Group (NSG), which is strongly opposed by China.
An agreement on civil nuclear cooperation was inked in 2008, mainly on building Jaitapur Nuclear Power Plant (JNPP). JNPP negotiations are still under progress.
It also focuses on nuclear energy application in fields like agronomy, biology and earth sciences.
It has significantly contributed to India's research and played a key role in India becoming part of the ITER – international nuclear fusion research and engineering megaproject
Space cooperation:
Space is among the earliest domains of the bilateral cooperation.
France contributed to the setting up of Sriharikota and shared Centaur and Viking rocket technologies in the 1970s.
'Joint Vision for Space Cooperation' was issued in 2018 with the focus on 9 scientific areas of cooperation, which includes space situational awareness (SSA), high-resolution earth observation, satellite navigation and space transportation systems.
Both countries' space agencies are collaborating in numerous climate-monitoring satellites.
Megha-Tropiques satellite observes water cycle and energy exchange in the tropics
TRISHNA, which is to be launched in 2025, is a highly precise thermal infrared observer aimed at providing continuous thermal monitoring for applications ranging from sustainable agriculture to drought forecasting and monitoring urban heat islands.
France remains a major supplier of components and equipment for the Indian space programmes.
Cooperation is also underway in Gaganyaan Mission, which is scheduled for 2022. France has agreed to train Indian flight surgeons, who will be in charge of astronauts' health before, during and after the space mission.
VIRAL (Venus Infrared Astronomic Gases Linker), which will be part of the ISRO's Venus mission, was co-developed by Russian and French agencies.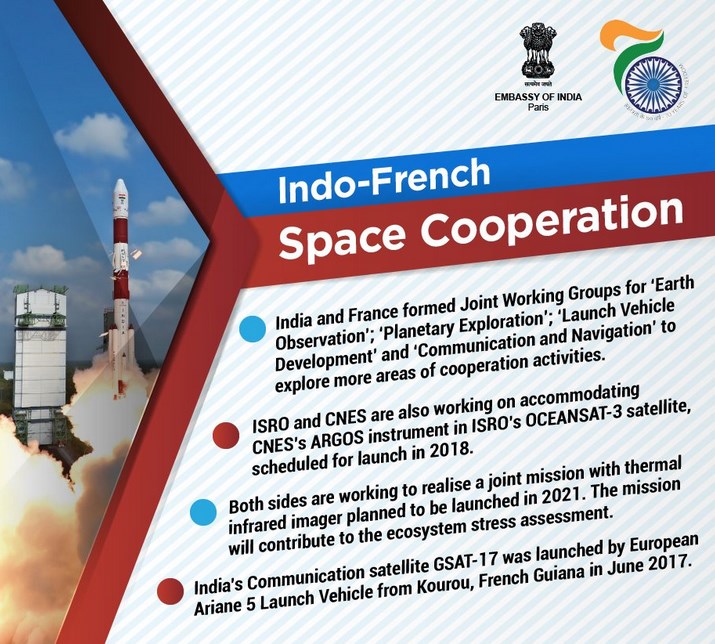 Economic cooperation:
France is a key FDI source for India, with more than a thousand French establishments operating within the country with a total turnover of USD20 billion and employing some 300,000 individuals.
It is the 9th largest foreign investor in India with the total investment of USD6.59 billion in 2000-2018.
More than 150 Indian companies (including subsidiaries) are functioning in France.
Indian projects involving smart city development and renewable energy are attracting French infrastructure companies.
AFD, the French Agency for Development has extended loan worth 100 million euros for the Smart Cities Mission.
Bilateral trade stood at 10.7 billion euros.
India views France as part of the EU, which is its largest trading partner with annual trade worth 115 billion euros
Education and S&T:
The Indo-French Centre for the Promotion of Advance Research (CEFIPRA) was set up in New Delhi in 1987 for funding joint proposals for scientific research and evaluating existing research projects.
Indo-French Ministerial-level Joint Committee on Science and Technology was established in 2016.
In 2019, an Administrative Arrangement was inked for cooperation in skill development and vocational training.
Unlike the US, France had turned the COVID-19 crisis into an opportunity to boost partnerships in education, research and culture.
It explored new ways to maintain cooperation with India even during the pandemic, especially on the education front.
France's scholarships have been increased by 50% amid the pandemic. These scholarships are awarded regardless of whether a student starts the semester in India or France.
Steps were also taken to maintain people-to-people exchanges in the areas of research and culture.
The third edition of the Indo-French Knowledge Summit is to be held in 2021 to bring more focus on health and the environment. This can be a venue for promoting more interactions among people of France and India.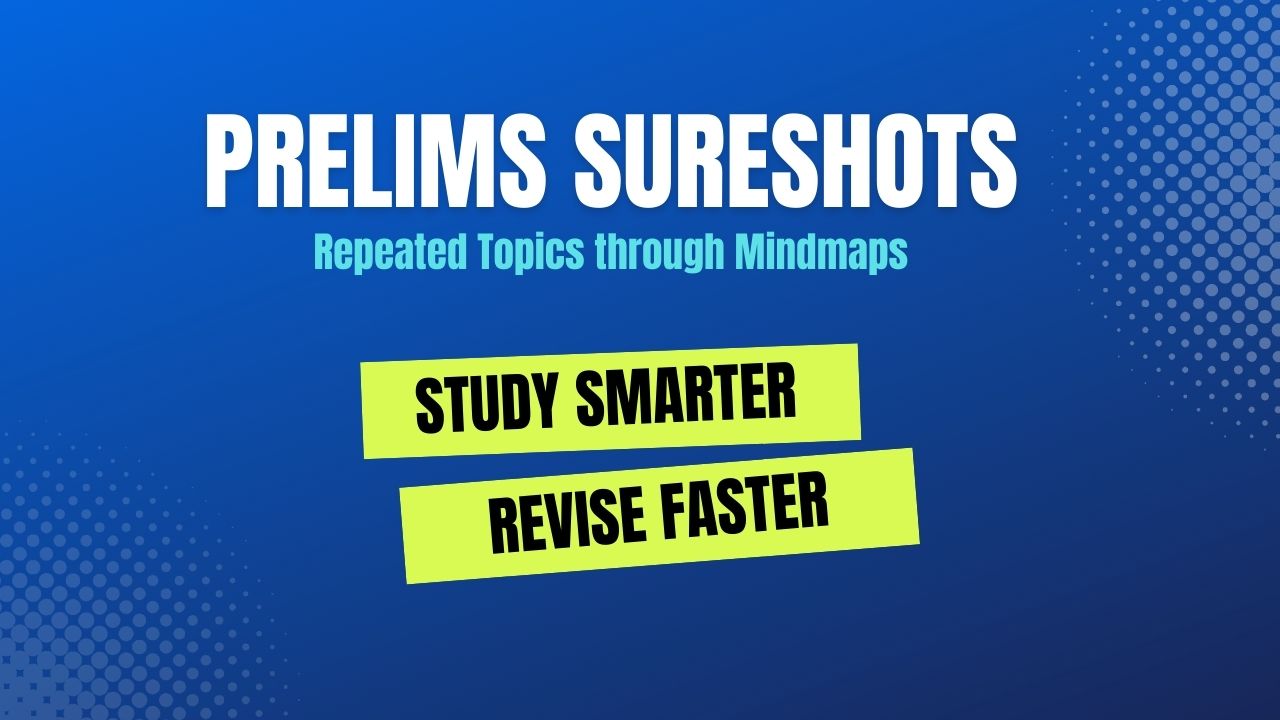 Why is there a need to deepen India-France relations?
Indian interests
France is a key supporter of several Indian interests, like UNSC permanent membership, Kashmir issue, terrorism etc.
Multilateralism:
Both countries share the common ideals of multilateralism, pluralism and non-military, deterrence-based policy. These are vital for tackling issues currently plaguing the world. Eg: climate change, terrorism, Chinese aggression etc.
Both countries aspire for a multipolar world and support multilateral cooperation as opposed to the current prevalence of protectionism.
A multipolar world is especially vital since China is exploiting the power vacuum caused by the US' protectionist policy in some of the most sensitive parts of the world, like Afghanistan, Iran etc.
In addition, France also supports Nuclear Multipolarity, which came in the backdrop of India's nuclear tests.
While France depends on India for increasing its relevance in Asia and Indo-Pacific, India's aspiration play a more vital role as a "net security provider" in the Indian Ocean also requires closer ties with France.
France is the first European country to launch an Indo-Pacific strategy and India plays a pivotal role in the same.
Bilateral cooperation on Indo-Pacific is vital for the security in the Western and Southern Indian Ocean.
93% of France's Exclusive Economic Zone is located in the Indian and Pacific Oceans.
It controls two of the major overseas territories in the Southern Indian Ocean Region – the Mayotte and Reunion Islands. They are strategically important as major Sea Lanes of Communication (SLOC) and International Shipping Lines are closeby.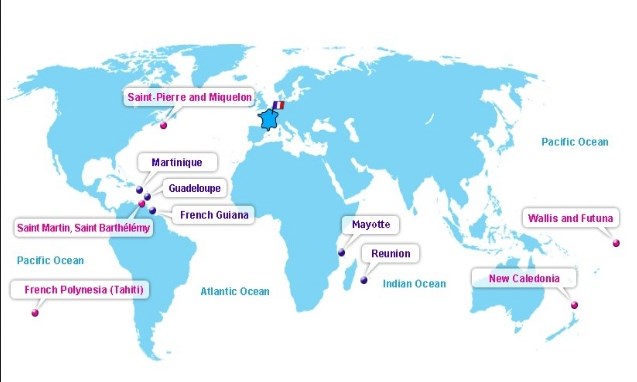 France has enhanced security presence in the Western Indian Ocean, with military bases in Djibouti, Abu Dhabi and Reunion Island. India's engagement with France in this front is vital as it is also looking to build naval bases in Seychelles, Mauritius and Oman.
Closer India-French ties would mean increased involvement of France in the Indian Ocean, which is necessary for India's closer engagement with South and Southeast Asian countries.
Apart from enhanced security, maritime cooperation also encompasses other areas like maritime governance to oceanographic research and capacity building in the littoral countries.
In this regard, both countries are collaborating with Vanilla Islands (Comoros, Madagascar, Mauritius and Seychelles) for exploring economic and developmental partnership.
Political support:
Indo-French relations are free from domestic politics. The French support for India has been bipartisan since the establishment of the 1998 strategic partnership.
France is one of the oldest, most trusted of India's allies, possibly second only to Russia. With Moscow increasingly inclining towards China, India's dependence on France for security interests has increased significantly.
In addition, India and France aspire for strategic autonomy with regards to alliances amid the uncertain foreign interactions. This makes both countries trusted partners for each other.
India is among the most vulnerable countries to the climate change crisis.
According to the Climate Risk Index (CRI), recently released by the Germany-based think tank Germanwatch, India is among the top 10 worst-hit countries due to extreme weather events in 2019.
The report highlighted the economic loss and fatalities caused by climate change-induced extreme weather events.
France is among the few active players in the international arena with regards to combating climate change.
Thus, several key initiatives were taken by both countries like the establishment of the International Solar Alliance.
Just recently, the Indo-French Year of the Environment was launched for the year 2021-22.
Under this initiative, both sides will negotiate on critical areas of collaboration relating to the environment and allied areas.
The focus will be on 5 main themes – environment protection, climate change, biodiversity conservation, sustainable urban development and development of renewable energies and energy efficiency.
Both India and France fall victim to cybercrimes, including data theft, cyber espionage, misinformation etc.
They are also equally wary of China's 5G rollout.
In this backdrop, both sides signed a bilateral cybersecurity and technology partnership for combating cybercrimes, protecting citizens' online rights and promoting digital commerce and innovation.
What can be the way forward?
Indo-Pacific:
India and France have a similar definition of the Indo-Pacific and both advocate for inclusivity, sovereignty, engagement and freedom of navigation.
This provides scope for better collaboration in this arena.
The Indo-Pacific focus must go beyond the emphasis on curbing the Chinese influence.
They can cooperate in areas like maritime domain awareness, piracy, disaster relief and blue economy.
They can augment the converging views on Indo-Pacific into a practical reality via the establishment of the intergovernmental organisation in the Indo-Pacific or promotion of increased interactions between the EU countries and the Indo-Pacific countries.
India, for its part, must be proactive with regards to the Indo-Pacific policy.
Tech cooperation:
The Chinese dominance of several areas of technological growth has considerable influence on the current geopolitics.
With the pandemic furthering the dependence on tech services and novel threats arising from the increased technology usage, there is a need to regulate systemic risks and protect democratic values in tech.
Both India and France support sovereign, secure and democratic regulation of tech.
This provides scope for cooperation in the areas of data protection, data localisation, supply chain diversification and tech investments.
The two countries can work towards enabling developing countries to develop their own digital identity.
They can also cooperate in ensuring the international regulation of digital data. This is necessary for eliminating the dominance of China and the US.
Combating climate change:
Multilateral forums have failed to assist in developing nations' commitments to address the climate crisis.
India and France can cooperate with other like-minded countries to put forth multilateral initiatives aimed at addressing the needs of vulnerable countries.
They can work towards creating a financial mechanism within the ISA and developing action-oriented and need-based initiatives to combat climate change.
Promote soft diplomacy:
Most of the bilateral exchanges largely focus on government level interactions. Increased interactions among people and businesses are a need of the hour.
With the tourism sector being hit by the COVID-19 crisis, the post-pandemic world would likely see limited travels and interactions among people.
A proactive push to address this issue is a need of the hour since people-to-people interactions are vital for furthering the bilateral ties.
In this regard, the focus should be on promoting tourism and student exchange programmes, sharing cultures, cuisines etc.
Address bilateral challenges:
India should attract investments from French companies looking to leverage opportunities provided by smart cities projects and renewable energy sector.
The new Model Bilateral Investment Treaty (BIT) has attracted numerous criticisms from foreign investors because of its protectionist approach.
This requires a relook to attract more foreign investments and also to protect the interests of Indian companies exporting capital abroad.
With China looking less attractive business destination under the current circumstances, India can take this opportunity to address this issue and lure more investors into the country.
Conclusion:
India and France have similar converging interests that can be used for ensuring improved bilateral ties. This is vital, as both countries need each other for strengthening the multilateralism and rules-based world order as well as for addressing common threats like terrorism, Chinese dominance, climate change, economic crisis etc.
Practice questions for mains:
Analyse the potential of India-France ties in addressing global issues currently faced by the world. (250 words)