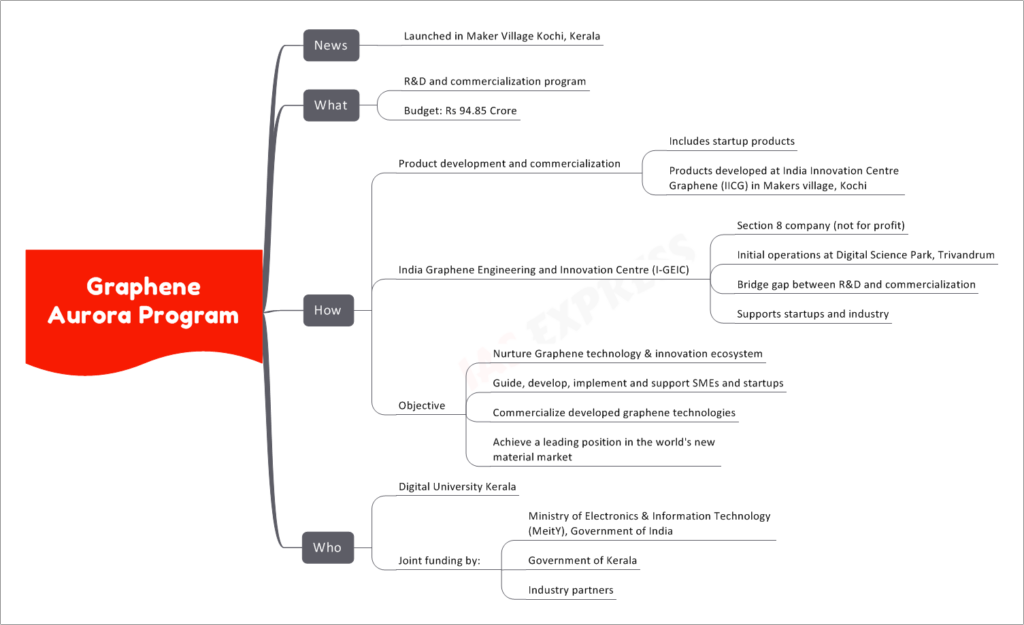 The Graphene-Aurora program has made a dynamic entry onto the technological stage, launching at the Maker Village in Kochi, Kerala. This program signifies a concerted effort towards Research and Development (R&D) and commercialization, aiming to transform innovative ideas into tangible realities. With a budget of Rs 94.85 Crore, the program is set to revolutionize the realm of new materials and technology.
R&D and Commercialization at the Core
The heart of the Graphene-Aurora program lies in its commitment to both research and commercialization. The program encapsulates the entire journey from conceptualization to product realization:
Product Development and Commercialization
The program encompasses a diverse range of product development, spanning from nascent startups to established ventures.
A special emphasis is placed on products emerging from the India Innovation Centre Graphene (IICG) within the Maker Village, Kochi.
India Graphene Engineering and Innovation Centre (I-GEIC)
The program establishes the India Graphene Engineering and Innovation Centre as a Section 8 company, driven by a not-for-profit ethos.
The initial operations are stationed at the Digital Science Park in Trivandrum.
The center functions as a bridge between the world of research and the realm of commercialization, catering to both startups and industries.
Mission and Vision
The Graphene-Aurora program is fueled by a vision to cultivate a robust ecosystem of graphene technology and innovation. The program's core objectives encompass the following: copyright©iasexpress.net
Nurturing Innovation: The program seeks to foster the growth of graphene technology and innovation within India, nurturing a landscape where new ideas can flourish.
Guidance and Development: It aims to guide, develop, implement, and provide support to Small and Medium-sized Enterprises (SMEs) and startups, paving their way to success.
Commercialization of Technologies: One of the central goals is to commercialize the groundbreaking technologies developed through the program, bringing them to the market and society at large.
Global Leadership: The program has its sights set on achieving a preeminent position in the global new materials market, placing India at the forefront of innovative technology.
Collaborative Forces
The Graphene-Aurora program is a result of collaborative efforts between multiple stakeholders, including:
Digital University Kerala: The program is initiated under the aegis of Digital University Kerala, a leading educational institution.
Joint Funding: The funding for the program is a collaborative endeavor, with contributions from:

Ministry of Electronics & Information Technology (MeitY), Government of India: The central government plays a significant role in supporting this technological advancement.
Government of Kerala: The state government of Kerala has also extended its support, emphasizing the importance of innovation in the region.
Industry Partners: Industry players are actively engaged in funding and supporting the program, recognizing its potential for groundbreaking advancements. copyright©iasexpress.net
Learn More