[Editorial] Shielding Doctors from Violence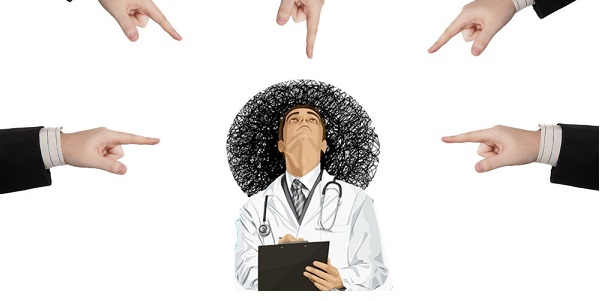 What is the current status?
Doctors are increasingly facing

'malicious prosecution'

and

violence

.

A doctor in

Dausa

, Rajasthan committed suicide after an FIR alleging misconduct and negligence was registered against her.
Following this incident, senior police officers were transferred and the

Station House Officer

was suspended.
In

2019

, following an assault of a doctor in

Kolkata

, the doctors started a

strike

in West Bengal. This soon snowballed into a

nation-wide protest

. The doctor had been assaulted by the relatives of a patient who had died.

Many of these incidents could have been

avoided

and these

aren't isolated incidents

either. There is a steady trickle of reports of violence against doctors and other healthcare personnel from across the country.
The violence is especially from people who had lost loved ones under medical care and blame the personnel for medical negligence.
According to an article, published in

2021 in

Indian Journal of Medical Research

,

doctors' strikes

were reported from one state or the other almost throughout the period between

2018 and 2019.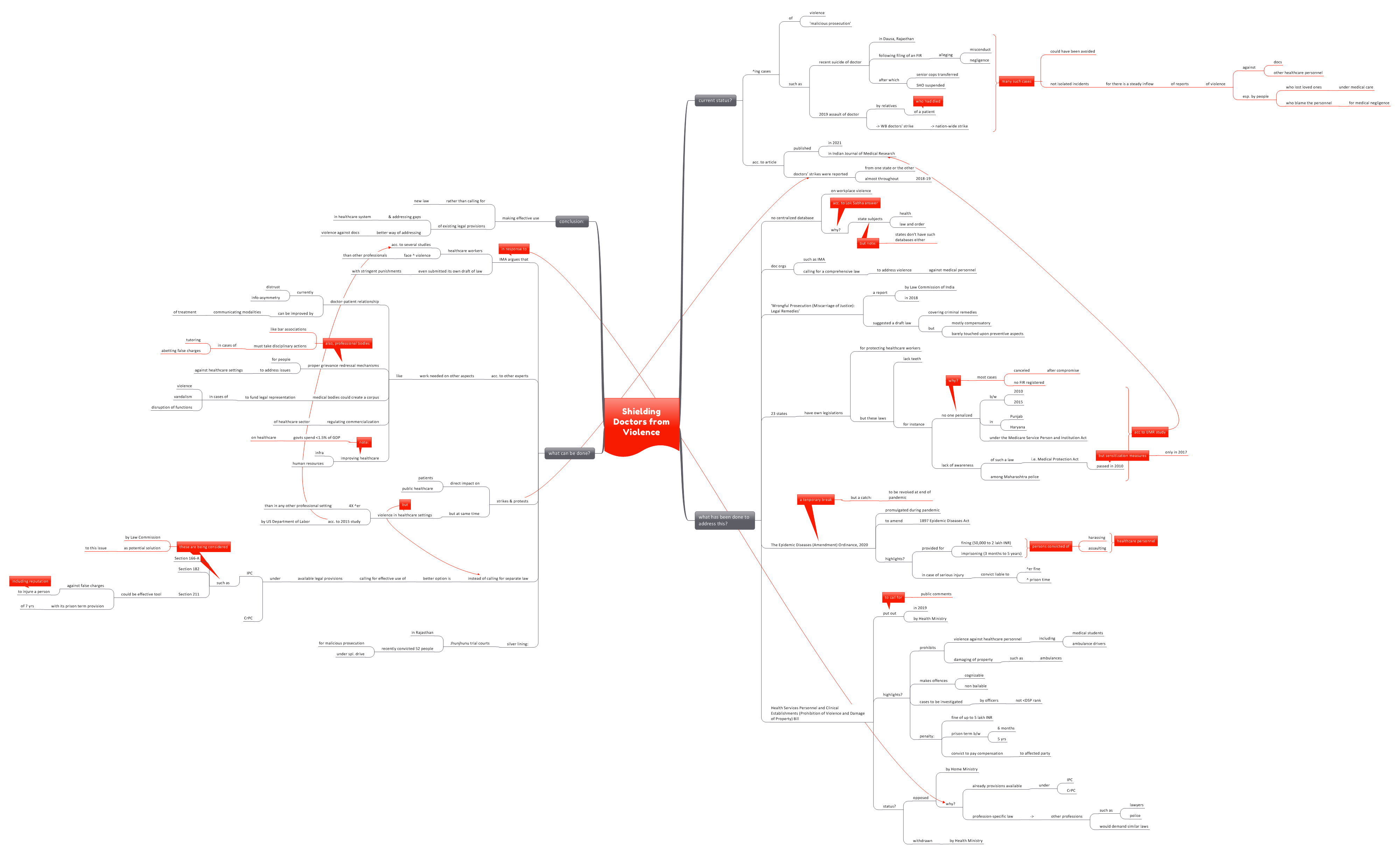 What has been done to address this?
Notably, India

doesn't have a centralized database

on

workplace violence

. In response to a Lok Sabha question, the government held that '

health

' and '

law and order

' are

state subjects

and hence, the central government doesn't maintain such figures. The state governments don't have such databases either.
Doctors' organizations, such as the

Indian Medical Association

, have been calling for

a comprehensive law

to address violence against medical personnel.
In a

2018 Law Commission of India report

, titled

'Wrongful Prosecution (Miscarriage of Justice): Legal Remedies

', suggested a

draft law

that covers criminal remedies. However, it was

mostly compensatory

and barely touched upon

preventive aspects.

Some 2

3 states

have their own legislations for protecting healthcare workers. However, these

lack teeth

and there is

no uniformity

in terms of punishment.

An IJMR study in

Punjab and Haryana

showed that

no one was penalized

under the

Medicare Service Person and Institution Act

in the period between

2010 and 2015.

Most of the cases were either cancelled after a compromise or not even registered.
The paper also noted that the

Maharashtra police

weren't even aware of such a law. The state's

Medical Protection Act

was passed in

2010

, while the

sensitization measures

were started in

2017

.

A temporary break came during the pandemic in form of the

'The Epidemic Diseases (Amendment) Ordinance, 2020':

This ordinance amended the 1897 Epidemic Diseases Act.
It provided for

fining (50,000 to 2 lakh INR)

those convicted of harassing/ assaulting healthcare personnel. It also provided for a prison term of 3 months to 5 years.
In case of an assault resulting in serious injury (on the medical personnel), the convicted person is liable to a higher fine and more prison time.
The catch is that the government would revoke the ordinance at the

end of the pandemic

– going back to square one.

In 2019, the Union Health Ministry drafted the '

Health Services Personnel and Clinical Establishments (Prohibition of Violence and Damage of Property) Bill'

and invited public comments.
Provisions:                                    
It sought to prohibit violence against

healthcare personnel

– including medical students and ambulance drivers. It also sought to protect

clinical property

– like ambulances- from damage.
It made such offences

cognizable

and

non-bailable

. These cases are to be investigated by officers, not below the rank of

Deputy Superintendent of Police.

It provides for a

fine of up to 5 lakh INR

and a

prison term of 6 months to 5 years

(more in case of grievous hurt). The convicted person is also required to

pay compensation

to the affected parties.
 Status:
The Home Ministry opposed the Bill, saying that the

existing provisions

under the

IPC

and

CrPC

would suffice in tackling the issue.
It argued that is such a

profession-specific law

were to be passed, other professionals (such as lawyers and police) would also

demand similar laws.

The Health Ministry has now

withdrawn

this draft legislation.
What can be done?
In response to the Home Ministry's argument, IMA has highlighted how several studies say that

healthcare workers face more violence

than other professionals do.
The IMA has even submitted its own draft of the law with more stringent punishment.
However, other experts- even at the Health Ministry- call for working on the other side of the issue i.e.

patient-doctor relationship

. The

information asymmetry

between doctors and patients contribute to the

general distrust

. Improving communication on the

modalities of treatment

can address this to a certain level.
Having proper

grievance redressal mechanism

to address people's issues with the healthcare setting would help reduce violent incidents.

Professional bodies

like bar associations should take

disciplinary actions

in cases of

tutoring

and

abetting false charges.

Medical bodies could create a

corpus to fund legal representation

in cases of

violence

,

vandalism

of healthcare premises and

disruption

of healthcare functions. This will enable quick conviction.
There is also a call to

regulate the commercialization

of the healthcare sector.
Another area of focus is the

poor healthcare infrastructure

and

insufficient human resource

contributing to a breakdown of India's healthcare system. Governments spend

less than 1.5% of GDP

on healthcare.
Such strikes and protests have a direct impact on

patients

and

public healthcare.

At the same time, a 2015 study by

US Department of Labour

noted that

violence in healthcare settings

is

4-times higher

than in any other professional setting.
Instead of demanding for a separate legislation, medical pressure groups would be better served by calling for

more effective use of available legal provisions

under the IPC and CrPC.
The

Law Commission

has been looking at provisions include

IPC Sections 182 and 211

(for public servants and private complainants) and

Section 166-A

(for public servants) as possible remedies against malicious prosecution and tutored reporting.
Section 211 could be an

effective tool

against

false charges

to injure a person (including reputation). It provides for a prison term of up to

7 years.

While the practice is still rampant, there is a silver lining-

Jhunjhunu trial courts

in Rajasthan have recently

convicted 52 people

for malicious prosecution under a special drive.
Conclusion:
Rather than introducing new legislations, making effective use of the available legal provisions and addressing the gaps in the healthcare system could be a better way of addressing the issue of violence against doctors.
Practice Question for Mains:
Comment of the issue of violence against doctors in India. What can be done to address the issue? (250 words)