[Editorial] Police's Use of Facial Recognition Technology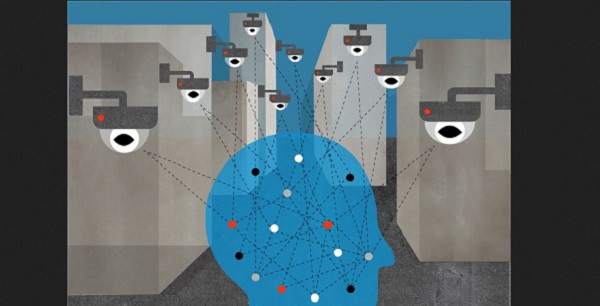 What is facial recognition technology?
Facial recognition

technology is a system that matches a

human face

from an

image

or

video frame

against a

database

of human faces. It does this by identifying and measuring f

acial features

.
Such a technology identifies the

distinct features of a human face

and creates a

biometric map

. This map is then matched to possible individuals in a database using

algorithms

.
What is the status of this technology in India?
Facial recognition technology and similar surveillance technologies are being bankrolled by

government programs

like Smart City, Nirbhaya Fund and Safe City.

Hyderabad

has been collecting photographs of its residents to develop an

FRT database

. This database is to be used in combination with its

increasing network of CCTV cameras

.

More than 6 lakh CCTV cameras

have been installed across the city. These are to be connected to

a real-time network

that is to be managed by the

Command and Control Centre

.
The city is building an Rs 800 crore Integrated Police Command Control Centre in

Banjara Hills

. This is to enable the police to

access real-time footage

of the city from the camera network.
This centre will be undertaking

surveillance practices

like s

ocial media analysis capabilities

and

data analytics

.
In

2020

, the plan to set up a

National Automated Facial Recognition System

was approved by the Indian government. It is to be led by the

National Crime Records Bureau

.
The

Delhi police

made use of FRT for making arrests during the

2019 riots

.
The technology was also deployed for making

over 200 arrests

during the

protests against farm reforms

.
Why is it a source of concern?
Such surveillance is a technological infringement on people's

human rights

. In

2017

, the Supreme Court recognized the right to privacy as a

fundamental right

under the

right to life and liberty

.
To find a match, the system searches through millions of images that have been collected without the

knowledge or consent

of the people. eg: In Hyderabad, the police stopped civilians on the road and collected their photographs in an invasive undertaking.
The exercise in Hyderabad has invited criticism over reports of

random frisking of civilians

and

illegal cordon-and-search operations

.
Deploying such technologies in the

absence of a legal framework

for data protection means that our public spaces are blindly being converted into

technological experimentation sites

. This means that human rights get side-lined for the sake of

profit and control

.
Such surveillance and data collection are

going on unchecked

even as the proposed Personal Data Protection Bill 2019 stagnates in the Parliament.
A

lot of public money

is being spent on these technologies under the guise of protecting children and women. However, their effectiveness has

no evidence

and could simply end up squandering public funds
It is known for

failing often

. There are also evidences that FRT systems display racial and gender bias.
There are concerns that the operation will entrench and automate

policing practices

that are

problematic

and

discriminatory

.
It is seen as a

chilling attempt

by the state to control the

lives of citizens

using technology.
What is the way ahead?
The use of this technology is under

severe scrutiny

by various jurisdictions around the world. Some, like

Luxembourg

and

Belgium

, have already

banned the use

of facial recognition technology.
The

EU

is set to pass a

comprehensive ban

on this technology.
In the

USA

,

bans and moratoria

have been imposed at multiple city- and state-levels.
Even

Facebook

has announced that it would be closing down its facial recognition program.

Over 200 organizations

have called for a ban on the use of

biometric surveillance technologies

that aid discriminatory mass surveillance.
However, the technology continues to be acquired and deployed by police units in India.
A

law is required

to

regulate

data collection and to serve as a,

oversight mechanism

before such invasive technologies are deployed.
Currently, the

human rights violation

resulting from their use far outweighs the purported benefits that these technologies claim to have.
Conclusion:
Hyderabad's surveillance policing model raises significant human rights concerns. It also motivates other states' police departments and the intelligence agencies to undertake similar projects.