Cautionary Tale- Vizag Gas Leak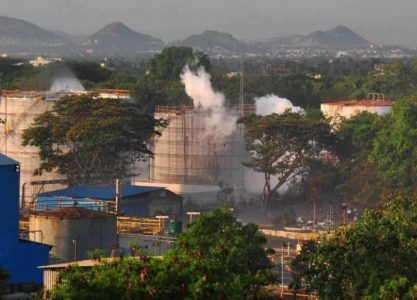 The recent gas leak from LG Polymers India unit in Andhra Pradesh's Vishakhapatnam has affected 2,000 people in a 5km radius. 11 people have died and hundreds have been hospitalized.

What is the Bhopal Gas Tragedy?
The Bhopal gas tragedy, one of the biggest industrial disasters, occurred at a pesticide plant in Madhya Pradesh in 1984.
It led to more than 5 lakh people getting exposed to the toxic methyl isocyanate gas that leaked from the plant owned by Union Carbide India Ltd.
Why did the Vizag Leak happen?
The disaster is said to have resulted from human oversight and callousness according to various accounts.
The old plant was sold when the Vizag city grew denser and closer to it, by its old owners- McDowell & Co.
In 1997, the LG group took over operation of the plant instead of relocating it.
It continued production, involving hazardous feedstock, despite exceeding the capacity permitted by the environmental clearance last year.
The company had sought permission for expansion from the state instead of the actual competent authority- Union Ministry of Environment, Forest and Climate Change. The matter was dropped later.
The styrene was stored for a long time due to lock down-related restrictions on industrial activities.
The hazardous materials in storage and the storage containers were not checked.
Failure to run a safety drill. This is especially important as restarting the production line after long dormancy is no simple process.
The company had failed to secure environmental clearance for restarting the operations.
What is Styrene?
The toxic gas leaked from the plant was identified to be styrene.
It is an organic compound that is the precursor of the polystyrene polymer.
It is an oily liquid that evaporates easily and has a sweet smell.
It is known to be carcinogenic.
It causes irritation of the skin and eyes. It affects the central nervous system to cause vomiting, headache and fatigue. In large doses, it can cause irregular heartbeat, pulmonary edema and even coma.
What is being done?
The people in the vicinity have been evacuated.
The NGT has ordered the company to pay interim damages of 50 crore INR. It has also issued notices to the state, centre and the Central Pollution Control Board.
The police have registered a case of 'culpable homicide and causing grievous hurt' under the IPC against the management.
The state government has set up a 5 member team to look into the incident.
The Union Ministry of Chemicals and Fertilizers has asked the chemical plants in India to reopen with caution.
Source: The Indian Express
Learn More