[Editorial] National Tribal Health Mission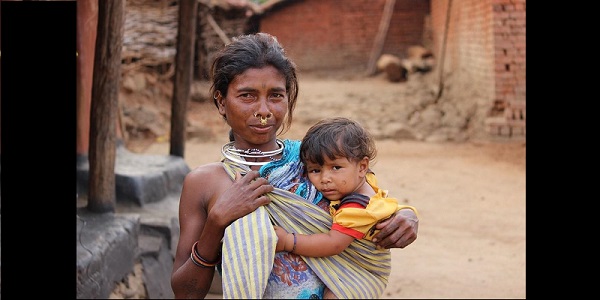 India is now headed by a tribal President- a very positive signal from the government to the tribal communities. On this International Day of the World's Indigenous Peoples 2022, the country would do well in exploring how the symbolic gesture could be turned into a tribal health revolution.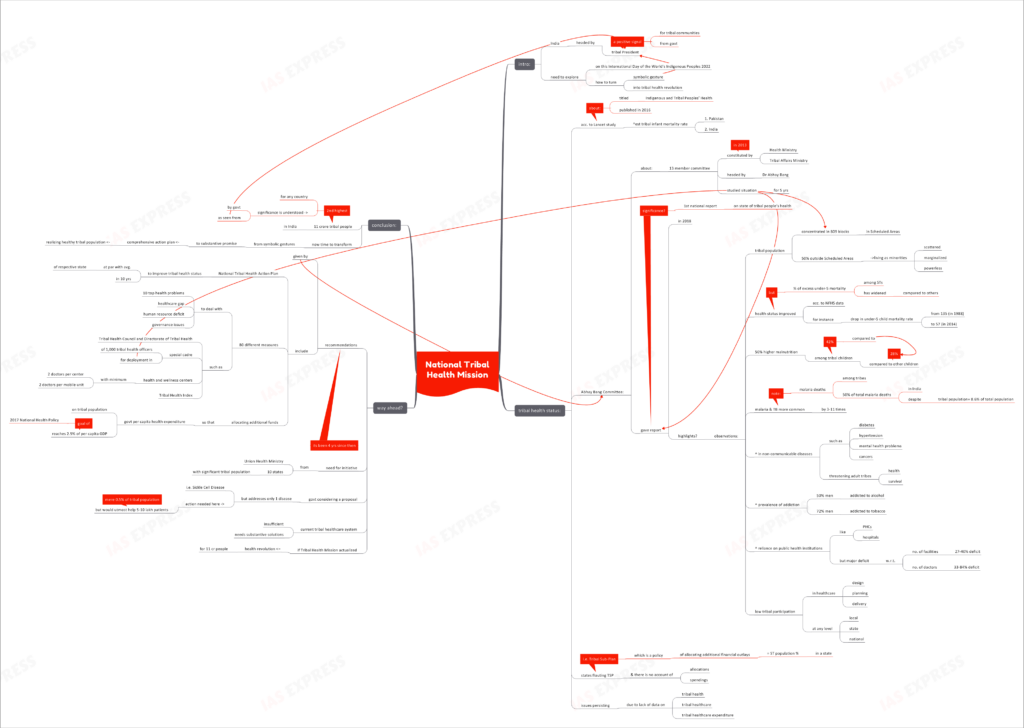 How healthy are India's tribes?
The study '

Indigenous and Tribal Peoples' Health'

, published in The Lancet in

2016

, noted that India has the 2nd highest infant mortality rate among tribal people. The highest tribal infant mortality rate is in

Pakistan

.
Abhay Bang Committee report:
In

2018

, an

Expert Committee on Tribal Health

, headed by

Dr Abhay Bang

, submitted the country's 1st national report on the state of tribal people's health.
This 13 member committee was constituted in

2013

by the

Ministry of Health and Family Welfare

and the

Ministry of tribal Affairs.

The committee studied the situation for 5 years to collect sufficient evidence and paint a national picture.
Some of the findings:

The tribes are concentrated in

809 blocks

in areas designated as

'Scheduled Areas'

. However,

50%

of the tribal population live outside these Scheduled Areas as

minorities

. These minority settlements are scattered, marginalized and powerless.
The tribal population's health status has

improved

over the last 25 years as seen from drop in

under-5 child mortality rate

from

135 (in 1988)

to

57 (in 2014)

, according to NFHS data. However, the percentage of

excess under-5 mortality

among

Scheduled Tribes

has widened compared to others.

Malnutrition

is

50% higher

among tribal children i.e.

42%

compared to the other children's 28%.

Malaria

and tuberculosis are

3-11 times more common

among the tribal populations. Though tribes constitute only

8.6% of the total population

,

50% of malarial deaths

in India occur among them.
Non-communicable diseases, like diabetes, hypertension, mental health problems and cancers, are increasing among the tribes. These are a major threat to the tribal adults' health and survival.
There is also high prevalence of

addiction

–

50

% of men are addicted to alcohol and

72

% of men are addicted to

tobacco

.
Even though tribes are highly reliant on

public healthcare institutions

, like PHCs and hospitals, there is a

27-40% deficit

in the number of such

healthcare facilities

. There is a

33-84% deficit

in the number of

doctors

in tribal areas.
There is barely any

tribal participation

(at any level- local, state or national) in the designing, planning and delivery of healthcare to these communities.

The states have been flouting the

Tribal Sub-Plan

i.e. policy of allocating an additional financial outlay, equal to the ST population% in a state. There is no account of such allocations and spendings.
These issues are persisting due to

lack of specific data

on tribal health, healthcare and the expenditure on such healthcare.
What can be done?
The Abhay Bang Committee prepared a

roadmap

for the future of tribal health. Some of its important recommendations are:

Launching a

National Tribal Health Action Plan

to improve the tribal health and healthcare status at par with the averages of respective states in a decade's time
Undertaking some

80 different measures

to take care of 10 top health problems, healthcare gap, human resource deficit and governance problems, like

Setting up a

Tribal Health Council and Directorate of Tribal Health

Creating a

special cadre of 1,000 tribal health officers

for deployment in the tribal blocks
Establishing

health and wellness centers

with minimum 2 doctors per center and 2 doctors per mobile unit
Creating a

Tribal Health Index

Allocation of

additional funds

so that the government's per capita health expenditure on tribal population reaches

2.5% of per capita GDP

, i.e. a goal of

2017 National Health Policy

It's been 4 years since the committee gave its recommendation. Despite government's promise to not let the report lie on a shelf, the tribal people still await implementation.
There is a need for

initiative

from the Union Health Ministry and the 10 states that have significant tribal population.
Currently, the government is considering a

proposal

but it addresses only one disease-

Sickle Cell Disease

. Though action against this disease is needed, the proposal could utmost help some 5-10 lakh patients- merely 0.5% of the tribal population.
The current tribal healthcare system is

not sufficient

to address the needs of the tribes. A more

substantive solution

is required.
If the Tribal Health Mission is actualized, it could create a

health revolution

for some 11 crore people.
Conclusion:
With 11 crore tribal people, India is home to the 2nd largest number of tribal people in any country in the world. The fact that the current government chose a tribal candidate for presidential election shows that it is aware of the significance of this fact. However, it is time to move from symbolic gestures to substantive promises and from there to comprehensive action plan and subsequently, realizing a healthy tribal population.
Practice Question for Mains:
Examine the status of tribal population's health in India. How can the situation be improved? (250 words)