[Editorial] INS Vikrant- Role in India's Maritime Strategy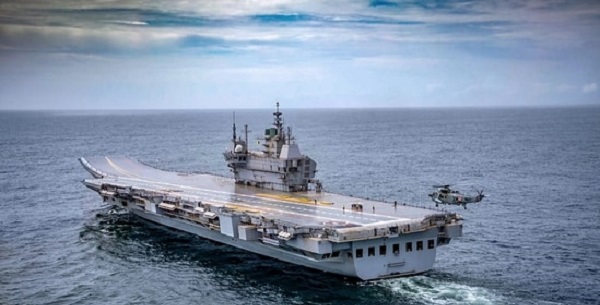 About INS Vikrant:
INS Vikrant or

IAC-I

is an indigenously designed and built

aircraft carrier.

The name Vikrant is from Sanskrit for

courage

. The aircraft carrier holds the

pennant number R11

and motto,

'Jayema Sam Yudhi Sprudhah

'- meaning 'I conquer those who fight against me'- a line from

Rigveda

.
The previous INS Vikrant was originally built as

HMS Hercules

, for the

Royal Navy,

in

1943

.

It was

purchased

from the UK by India in 1957.
It was commissioned into the Indian Navy in

1961

.
It was notably deployed during the

1971 war

against Pakistan.
After

36 years of service

, it was decommissioned in

1997

.

The planning for the new aircraft carrier started in the

1990s

– before the older Vikrant was decommissioned. For a while after its retirement, India deployed

INS Viraat

– an aircraft carrier that previously served the Royal Navy as

HMS Hermes.

The design and construction for the IAC-I was sanctioned in

2003

. The task of building it was given to a public sector shipbuilder,

Cochin Shipyard Ltd.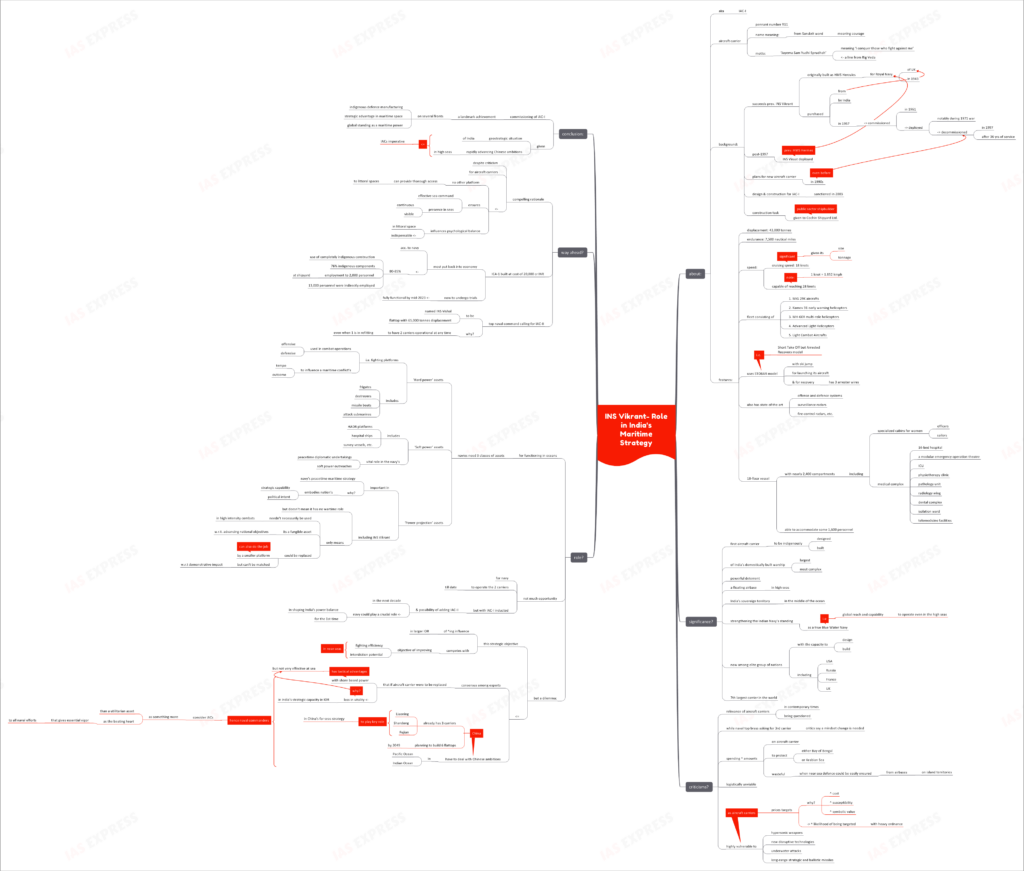 Features:
It has a displacement of

43,000 tonnes.

It has an endurance of

7,500 nautical miles.

It is capable of reaching a cruising speed of

18 knots-

despite its size and tonnage. It is capable of reaching

28 knots.

Its fleet consists of:

MiG 29K aircrafts
Kamov 31 early warning helicopters
MH-60R multi-role helicopters
Advanced Light Helicopters
Light Combat Aircrafts

It uses

STOBAR/ Short Take Off but Arrested Recovery model

with a

ski-jump

for launching its aircrafts. For their recovery, the vessel has

3 arrester wires.

It also has state-of-the-art

offence and defence systems

,

surveillance radars

,

fire-control radars

, etc.
It is an 1

8-floor vessel

with nearly

2,400 compartments

. It is able to accommodate some

1,600 personnel.

It has specialized cabins for

women

officers and sailors too.
It has a

medical complex

with a

16-bed hospital,

a modular emergency operation theatre, ICU, physiotherapy clinic, pathology unit, radiology wing, dental complex, isolation ward and even telemedicine facilities.
What is its significance?
INS Vikrant is the

first aircraft carrier

to be

indigenously designed and built.

It is also the country's

largest

and

most complex

domestically built warship.
This mighty vessel will not only function as a

powerful deterrent

but also as a

floating airbase

in the high seas. It will be

India's sovereign territory

in the middle of the ocean.
It is important in strengthening the Indian Navy's standing as a true

Blue Water Navy

– i.e. a naval force with global reach and capability to operate even in the high seas.
With its commissioning, India joins an

elite group of nations

with the capacity to design and build aircraft carriers- the

USA

,

Russia

,

France

and the

UK

.
It is the 7th largest carrier in the world.
What are the criticisms?
Strategic experts and observers are questioning the

relevance of aircraft carriers

in the contemporary times. Even as top naval officers reiterated the need for a 3rd carrier, there have been calls for a

change in mindset

among the naval top brass.
Critics say that spending

large sums

for an aircraft carrier to protect the Bay of Bengal or the Arabian Sea is wasteful, when

near-sea defence

could be easily ensured from

airbases on island territories.

Critics say that aircraft carriers are not only

logistically unviable

, but also

highly vulnerable

to hypersonic weapons and other new disruptive technologies. Flattops are defenceless against underwater attacks and long-range strategic and ballistic missiles.
It is a fact that flattops, virtually sitting ducks in maritime conflicts, are

priced targets.

This is not only because of their significant cost and susceptibility, but also because of their symbolic value.
Given this value as a target, aircraft carriers are likely to be placed at the receiving end of the opponent's

heavy ordnance.
What is its role in India's maritime strategy?
For navies to function in the oceans, they need 3 types of conventional assets:

'Hard power' assets

– which are fighting platforms like the frigates, destroyers, missile boats and attack submarines. These are used in combat operations- both offensive and defensive. They are intended to influence a maritime conflict's tempo and outcome.

'Soft power' assets

– such as HADR platforms, hospital ships, survey vessels, etc. these have a vital role in the navy's peacetime diplomatic undertakings and soft power outreaches.

'Power projection' assets

– which are an important part of the navy's peacetime maritime strategy. These assets embody the country's strategic capability and political intent.

The INS Vikrant is an example of power projection asset. However, this doesn't mean it doesn't have any

wartime role.

It just means that it needn't necessarily be used in high intensity combats.
It is to be seen as a

fungible asset

when it comes to advancing

national objectives.

While the aircraft carrier could be replaced by a smaller platform that could also do the job, none could match it when it comes to

demonstrative impact.

Till now, the navy hasn't had much opportunity for operating the 2 carriers. With IAC-1 joining the fleet and with the possibility of a third carrier being added over the next decade, the navy could play a crucial role in shaping the Indian Ocean's power balance for the 1st time.
However, there is a dilemma: this strategic objective of

increasing influence

in the

larger Indian Ocean region

competes with the objective of improving

fighting efficiency

and

interdiction potential

in the

near seas.

The consensus among the experts is that if the aircraft carrier were to be replaced with a shore-based air power,

India's strategic capacity

in the IOR would lose its

vitality

. Though shore-based air power has tactical advantages, it hasn't been very effective at sea.
The Indian Navy also has

China's ambitions

in the Pacific Ocean and the Indian Ocean regions to deal with. China already has several operational aircraft carriers- the

Liaoning

, the

Shandong

and the

Fujian

– which are expected to play key roles in the

Chinese Navy's 'far seas' strategy.

In addition to this, China is planning to build

6 flattops

by

2049

.
Hence, the Indian naval commanders consider the aircraft carrier as more than a

utilitarian asset.

They perceive it as

the beating heart

that gives the essential vigour to all naval efforts.
What is the way ahead?
Despite the many criticisms, there is a

compelling rationale

for inducting an aircraft carrier into the Indian Navy. No other platform can provide as

thorough an access to the littoral spaces

. It ensures

effective sea command,

continuous

and

visible presence

in the seas.
Despite its disadvantages, the aircraft carrier's ability to

influence the psychological balance

in littoral space makes it an

indispensable asset

for modern-day navies.
IAC-1 was built at a

cost of 20,000 crore INR

. According to the navy, some

80-85%

of this has been put back into the Indian economy through the use of

completely indigenous construction

,

76% indigenous components

and through the

employment

provided to the

2,000 personnel

at the shipbuilders'. Another

13,000 personnel

were indirectly employed.
Now that the IAC-1 is commissioned, it is to undergo

deck integration trials

of fixed wing aircraft,

flight trials

, etc. After this, the carrier is expected to be

fully operational in mid-2023.

The naval top command has been insisting on a 3rd aircraft carrier-

IAC-II

, to be named

INS Vishal,

with a displacement of

65,000 tonnes.

The idea is to have 2 carriers at any given time, even if the 3rd carrier is in refitting.
Conclusion:
The commissioning of IAC-I is a landmark achievement for India on several fronts- indigenous defence manufacturing, strategic advantage in maritime space and global standing as a maritime power. Despite its costs and other disadvantages of an aircraft carrier, the geostrategic situation of India in the Indian Ocean and the rapidly advancing Chinese ambitions in the high seas are making the IACs imperative.
Practice Question for Mains:
Discuss the significance of INS Vikrant. Critically evaluate India's need for aircraft carriers in the contemporary world. (250 words)