[Editorial] Handling the Monkeypox Issue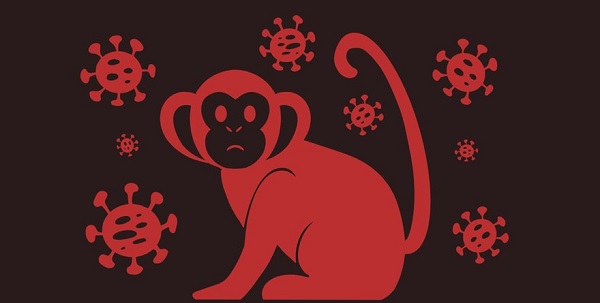 What is monkeypox?
Monkeypox is an

infectious disease

caused by the Monkeypox virus, which is an

Orthopoxvirus

, the same family as

Variola virus

(causes smallpox).
It is a

zoonotic disease

i.e. transmitted from animals to humans. It was discovered among

research monkeys

in

1958

.
Infections have been reported in

Gambian poached rats

,

squirrels

,

dormice

and some

monkeys

.
There is only

limited human-to-human transmission

of the virus. The first known human case was recorded in

1970

.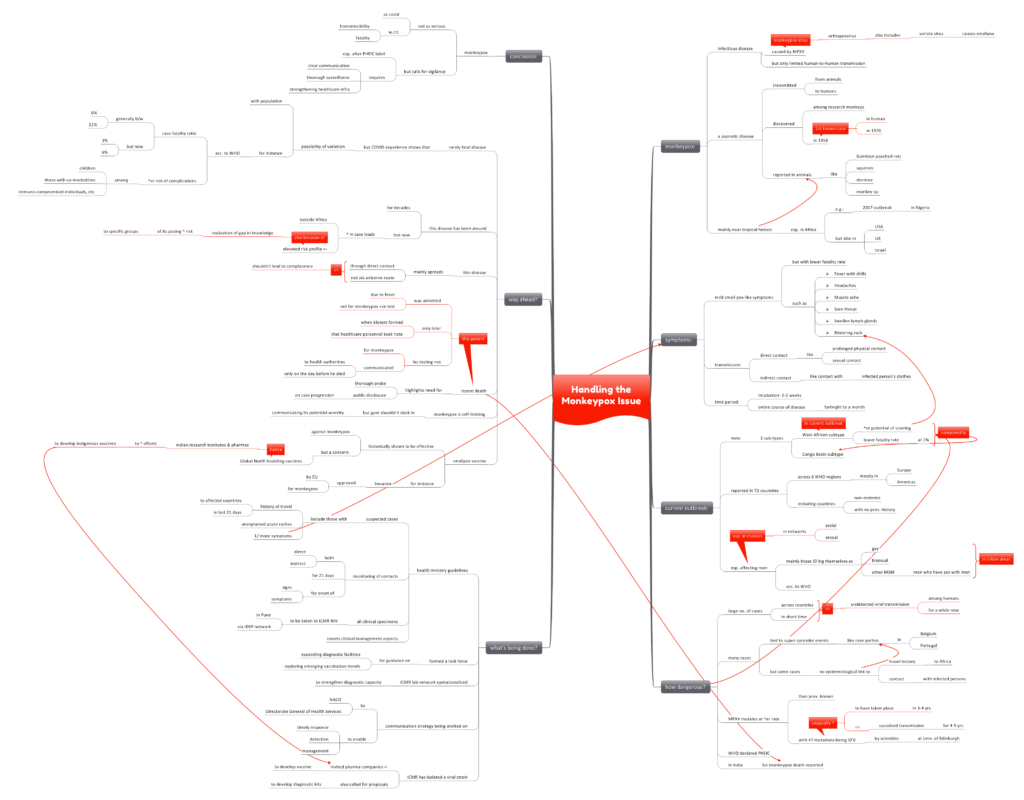 What are its symptoms?
The disease causes

mild small-pox

like symptoms but with lower fatality rate:

Fever with chills
Headaches
Muscle ache
Sore throat
Swollen lymph glands
Blistering rash

The virus spreads through

direct contact

(such as prolonged physical contact or sexual contact) and

indirect contact

(like contact with infected person's clothes).
The

incubation period

of the infection is

1-2 weeks

. The entire course of the disease lasts between a

fortnight and a month.
What about the current outbreak?
There are

2 sub-types of MPXV

– the

West African subtype

and the

Congo Basin subtype

. The current outbreak is because of the

West African subtype.

The disease has been reported in

72 countries

across 6 WHO regions. These include

non-endemic countries

and countries that have

no previous history

of the disease.
Most of the recent cases are being reported from

Europe

and the

Americas

.
According to WHO, most of the recent cases are being reported among

men

– especially those identifying themselves as

gay

,

bisexual

and

other MSMs

(men who have sex with men) in urban areas. These cases are occurring in

clusters

in social and sexual networks.
How much of a danger is it?
The West African subtype has a higher probability of causing

scarring

from the rash but has a

lower fatality rate (1%)

compared to the

Congo Basin subtype (10%).

According to WHO, the

large number of cases

being detected across the countries in a

short time period

suggest that the viral transmission among humans could have been going on

undetected

for some time.
While many cases have been tied to

super-spreader events

like the rave parties in Belgium and Portugal, some cases have

no epidemiological link

to such parties, travel history to African countries or even contact with other infected people.
There is a concern that MPXV

mutates at a higher rate

than previously thought. Scientists at the University of Edinburgh reported

47 mutation

in the viral genome. This is an unusually large number of mutation to have taken place in just 3-4 years. Some opine that this could point to

sustained transmission for the last 4-5 years.

The WHO has declared the outbreak to be

PHEIC

i.e. Public Health Emergency of International Concern.
India has now reported its

first casualty

from monkeypox infection.
What is being done?
The Health Ministry had released guidelines:

Suspected cases would include those with a history of travel to affected countries within the last 21 days and showing unexplained acute rash and one or more of the other symptoms.
It recommends monitoring of an infected person's contacts (direct and indirect) every day for a period of 21 days for onset of any signs/ symptoms.
All clinical specimens are to be taken to ICMR-NIV, Pune, through the IDSP (Integrated Disease Surveillance Program) network.
The guidelines also covers clinical management aspects.

The government has constituted a task force to provide guidance regarding expanding diagnostic facilities and exploring emerging vaccination trends.
To strengthen the diagnostic capacity, the Indian Council of Medical Research network labs have been operationalized.
The National Aids Control Organisation and Directorate General of Health Services are working on a communication strategy to enable timely reporting, detection and management of monkeypox cases.
The ICMR has isolated a strain of the MPXV and has invited pharma companies to develop a vaccine against it. It has also called for proposals to develop diagnostic kits.
What is the way ahead?
Though this virus r

arely causes fatalities

, the experience with SARS CoV 2 shows that there could be

variation

based on the population at hand.
According to the WHO,

case fatality ratio

has ranged between

0-11%

in general population. Recently, the range is between

3% and 6%

. The risk of complication is higher among

young children

, those with

co-morbidities

,

immune-compromised individuals

, etc.
Though the disease has been around for several decades now, the

surge in case load

outside Africa, in non-endemic countries, has

elevated its risk profile

. There is also the realization of the considerable

gap in knowledge

of whether it poses more risk to specific groups (as it happened in case of COVID-19).
That the disease mainly spreads through close contact and not through the airborne route shouldn't lead to

complacence

among the health authorities.
The recent monkeypox death in India shows the need for a

thorough probe

and

public disclosure on case progression

. This patient was admitted because of a fever (as opposed to being confirmed as monkeypox-positive). It was only later when the characteristic blisters showed up that the healthcare personnel took note. The fact that he had tested positive was disclosed to the health authorities only a day before his death.
Fortunately, monkeypox appears to be a

self-limiting disease.

However, the government shouldn't be slack in

communicating

the disease's

potential severity.

Historically,

smallpox vaccines

have been effective against monkeypox. The EU has approved a smallpox vaccine

Imvanex

for monkeypox. However, there is a concern that the

vaccine hoarding

done by the Global North in case of the COVID pandemic could see a repeat in a potential monkeypox crisis as well.
In this context, the Indian research institutes and pharmaceuticals need to step up efforts to

develop indigenous vaccines.
Conclusion:
While monkeypox isn't as serious a threat as COVID-19 with respect to transmissibility and fatality, there is a need to remain vigilant- especially after WHO labelled it a PHEIC. Clear communication, thorough surveillance, contact tracing and strengthening healthcare infrastructure are the key requirements.
Practice Question for Mains:
What is monkeypox? What are the learnings from the COVID-19 pandemic that need to be applied in this PHEIC? (250 words)
Referred Sources
https://www.thehindu.com/sci-tech/health/what-is-the-monkeypox-virus/article65403907.ece
https://www.thehindu.com/opinion/editorial/unpacking-a-conundrum-on-potential-severity-of-monkeypox/article65711345.ece
https://www.thehindu.com/news/cities/chennai/chen-health/who-declares-monkeypox-a-global-emergency/article65675161.ece
https://www.thehindu.com/sci-tech/health/explained-what-are-the-health-ministry-guidelines-on-monkeypox/article65493818.ece
https://www.thehindu.com/news/national/task-force-to-be-set-up-to-provide-guidance-to-govt-on-tackling-monkeypox/article65692827.ece
https://www.ndtv.com/health/monkeypox-here-are-the-basics-you-need-to-know-about-3214589
[collapse]