[Editorial] Draft National Policy on Disability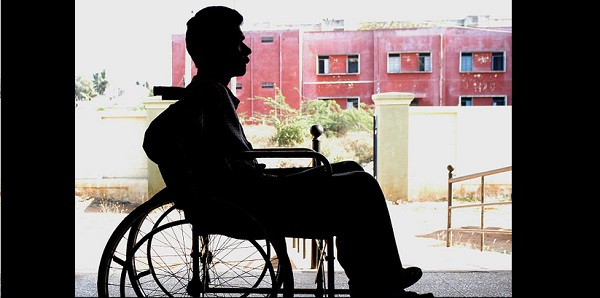 What is the draft policy about?
The draft National Policy on Persons with Disabilities was released by the Department of Empowerment of Persons with Disabilities, under the Social Justice and Empowerment Ministry.
This policy is to replace the 2006 policy.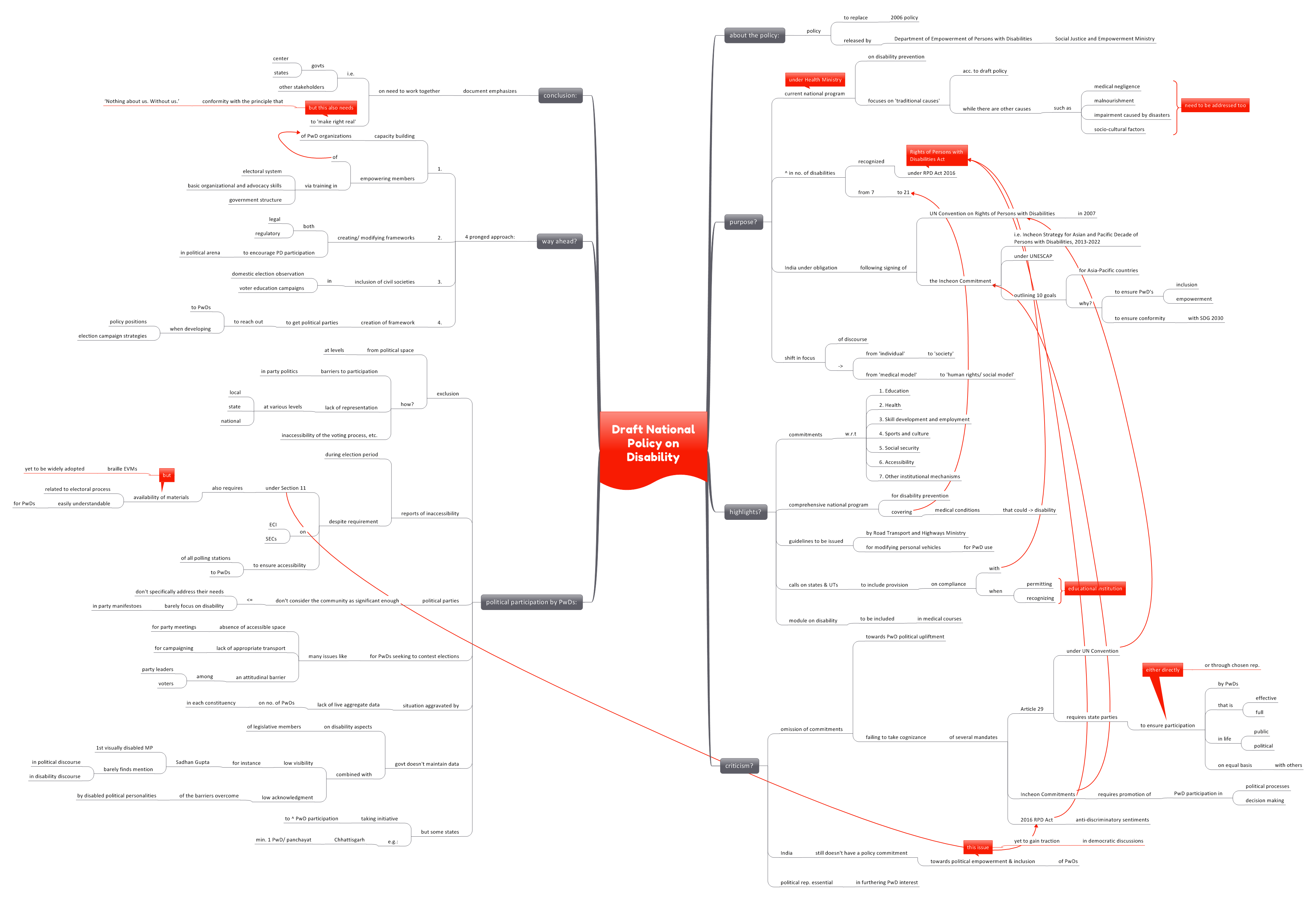 What is the purpose of this policy?
The Health Ministry's current national program on disabilities prevention focuses on 'traditional causes', according to the draft document. However, there are other causes, like medical negligence, malnourishment, impairment caused by disasters and socio-cultural factors. The draft policy seeks to account for these factors too.
The number of disabilities, under the Rights of Persons with Disabilities Act, 2016, has been expanded from 7 to
India is under certain obligations after the signing of the UN Convention on Rights of Persons with Disabilities, in 2007.
India is also party to the Incheon Commitment, i.e.

Incheon Strategy for Asian and Pacific Decade of Persons with Disabilities, 2013-2022.

This commitment, under

UNESCAP

(UN Economic and Social Commission for Asia and the Pacific), outlines

10 goals

, for the

countries in the Asia-Pacific

, to ensure the empowerment and inclusion of PwDs and to ensure conformity with SDG 2030.
These commitments have shifted the focus of discourse around disability, from

individual

to the

society

. There has been a shift from the

medical model of disability

to a

human rights/ social model.
What are some highlights?
The policy gives commitments with respect to:
Sports and culture
Social security
Accessibility
Other institutional mechanisms
It calls for a

comprehensive national program

for

disability prevention

– covering the disabilities listed in the Rights of Persons with Disabilities Act and medical conditions that could potentially manifest as a disability.
The

Road Transport and Highways Ministry

is to issue

guidelines

for

modifying personal vehicles

for use by PwDs.
It calls on states and UTs to include a

provision on compliance

with the Act, when permitting or recognizing

educational institutions.

A module on disabilities is to be included in

medical courses.
Why is it being criticized?
The draft document is criticized for its omission of commitment to

PwD's political upliftment

. By this omission, it fails to take cognizance of several mandates:

Article 29

, of

UN Convention of Rights of PwDs

, require the state parties to ensure effective and full participation, by PwDs, in

public and political life

on an

equal basis

with other members of society. This participation can be done directly or through a chosen representative.
The

Incheon Commitment

also calls for promoting PwD participation in

political processes

and

decision making.

The 2016 RPD Act also echoes these sentiments, with its

anti-discriminatory commitment.

India still doesn't have a policy commitment towards the political empowerment and inclusion of PwDs. This issue is yet to find traction in democratic discussions.

Political representation

is essential in furthering the PwD community's interests. This is why our Constitution-makers introduced the concept of reservations.
What is the political presence of PwDs?
PwDs are

excluded from political space

at all levels, like barriers to participation in party politics, lack of representation at various levels- local, state and national, inaccessibility of the voting process, etc.
There are reports of accessibility issues during the

election period

despite RPD Act requiring ECI and State Election Commissions to ensure

accessibility of all polling stations

to PwDs, under its

Section 11.

The section also requires the commissions to ensure

availability of materials

(related to the electoral process) that are easily understandable by PwDs. Yet, the country is yet to see a widespread adoption of

braille EVMs.

Political parties don't find the PwDs as a significant enough

electorate

to specifically cater to their needs. One seldom sees disability as a major campaign point in

party manifestoes.

For PwDs seeking to contest elections, issues like

absence of accessible space for party meetings

,

lack of appropriate transport for campaigning

and

an attitudinal barrier

among the party leaders and the voters are impediments.
This political marginalization is further aggravated by the

lack of live aggregate data

on the number of PwDs in each constituency.
The government doesn't maintain information on the

disability aspects of legislative members

. The 1st visually disabled MP,

Sadhan Gupta,

barely finds mention in political discourse or disability discourse. We rarely acknowledge the disabled political personalities who do overcome the various barriers in the political space.
However, some states have started

local level initiatives

to increase PwD participation. Eg:

Chhattisgarh

has a program of nominating

minimum 1 PwD in each panchayat

. If a PwD isn't elected, then a compensation is made through a nominated PwD pachayat member. This has increased local level PwD participation.
What is the way ahead?
The policy document's goal, of achieving inclusiveness and empowerment of PwDs, isn't achievable without political inclusion.
A 4 pronged approach can be adopted towards political inclusion:
Capacity building

of PwD organizations and

empowering

its members using

training

in electoral system, basic organizational and advocacy skills and government structure
Creation or modification of l

egal/ regulatory frameworks

to

encourage political participation

of PwDs

Inclusion of civil societies

in conducting domestic election observation and voter education campaigns
Creation of a framework to get

political parties

to reach out to PwDs when developing policy positions and election campaign strategies
Conclusion:
While the document emphasizes how the government- at the center and states- must work with other stakeholders to 'make the right real', this goal can be achieved only by conforming to the principle: 'Nothing about us. Without us.'
Practice Question for Mains
The draft national policy on disability is being criticized for its omission of PwD's political participation. Examine the challenges in the PwD community's political participation. How can these be overcome? (250 words)